(Republished from DefineARevolution.com, By @CherchezLaPorsh)
Tracklist Raekwon – Only Built 4 Cuban Linx…
Striving For Perfection
Knuckleheadz
Knowledge God
Criminology
Incarcerated Scarfaces
Rainy Dayz
Guillotine (Swordz)
Can It All Be So Simple (Remix)
Shark N***** (Biters)
Ice Water
Glaciers Of Ice
Verbal Intercourse
Wisdom Body
Spot Rusherz
Ice Cream
Wu-Gambinos
Heaven & Hell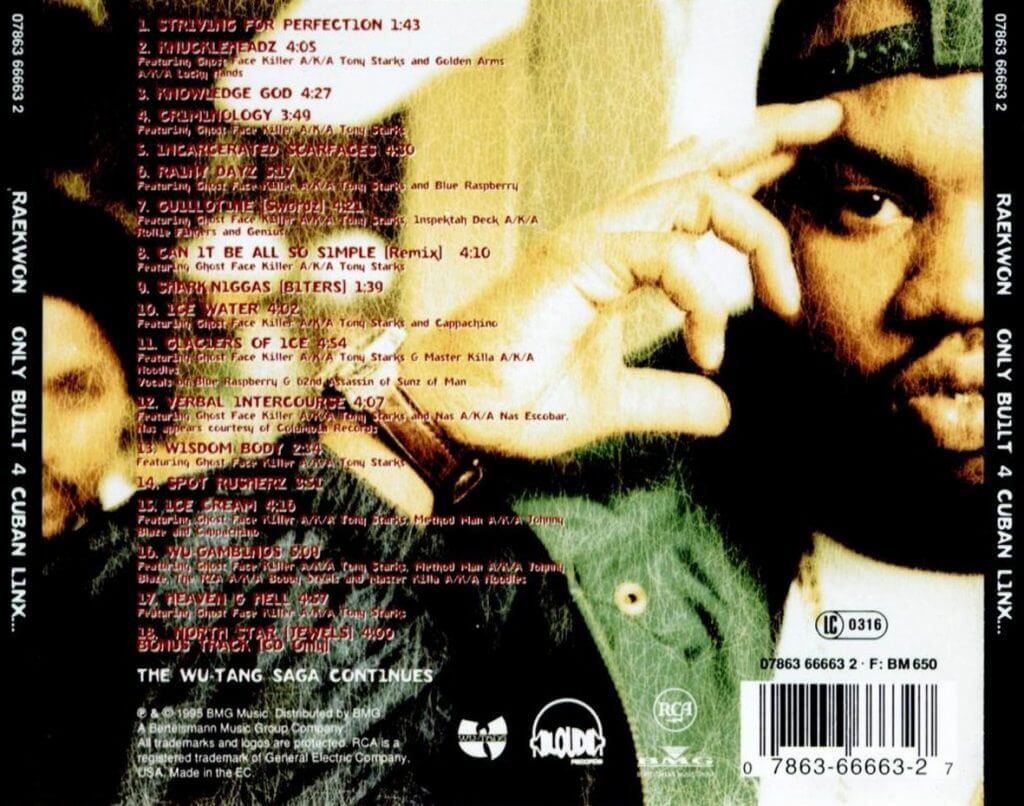 Here I am once again thanking the "36 Chambers" album for exposing fans to a group of very skilled, smart, insightful and all around brilliant MC's. Each one of them excelled at something unique. Raekwon brought with him impeccable storytelling, genuine emotion and a very extensive set of experiences that he would so carefully and methodically deliver on a 17 track album that would really serve as the most cinematic album of the decade, if not all time. Although he wasn't the first to release his solo debut, "Only Built 4 Cuban Linx…" would be the first Wu-solo that would serve two purposes:
1) It would be pivotal in bringing Ghostface out from the shadows and also in introducing Cappadonna as a Wu affiliate
2) It was solidifying the claim that the Clan members were just as strong on their own as well as in the collective.
With hundreds of incredible rap albums that were released throughout the '90's, many find themselves stuck trying to figure out which album is the best of all time, but I'm not one of them. It didn't take many listens before I knew "Only Built 4 Cuban Linx" was a true classic album. This, in my opinion, is the best rap album of all time. Period. Although the tracklist is 17 songs deep, I can only attempt to do it justice by going through the majority. Let's go through what made this so vivid and life-like while appealing to rap fans worldwide and cementing Raekwon as the best MC in the Clan IMO(GZA is right there with him). As much of a presence that Ghostface has on here, it's Raekwon who is at the forefront of lyrics and he truly carries his own album. As always and in true Wu form, we see features from many of the members and affiliates throughout.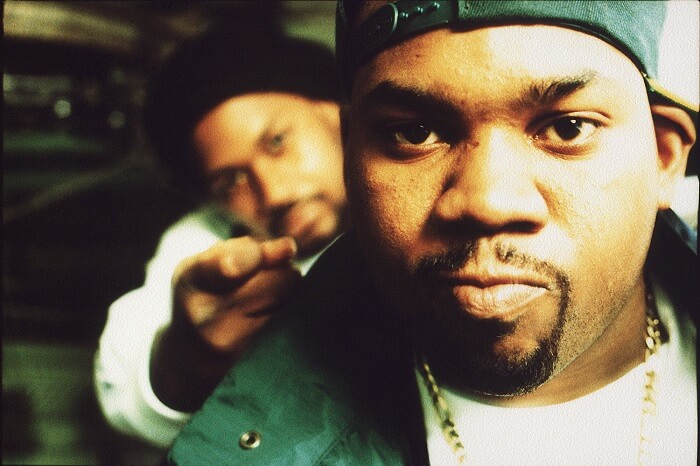 Before I get into the tracklist I have to mention the title. As any Wu-Tang fan knows, nothing these guys do is without meaning and significance. Every concept, title, phrase and word is carefully chosen, with meaning and backstory. So what does OB4CL mean? Well the "Cuban Link" is the neck chain Ghost and Rae would wear, and it's the strongest chain because the links are so close together and tightly packed, nearly indestructible. The "only built 4" is in reference to themselves. From the album cover art, we see Rae with Ghost right behind him, mean mugging. After the experiences, struggles and police bullshit these two went through, it should come as no surprise they are stronger for it, much like the strength of the chain that can't be destroyed, neither can these two.
Like I said there's significance everywhere, but first we have to acknowledge production. All tracks were produced by the RZA (the man is forever a genius in that department), so the cinematography in this is heavily attributed to his approach to the production. Incredible instrumentals, minimal but impeccable sample choices and the most perfect integration of mob/gangster clips to establish the "Gambino" angle and of course (as I mentioned) Rae's extensive recounting of experiences in the streets further cements it. With that said let's take a look at the first track.
"Striving For Perfection" really serves as the opening "scene" of this album. It's a conversation between Chef and Ghost done over the sample of "John Woo's The Killer" and that is the first RZA infusion we get on the album, and if you're familiar with the movie, its use would come as no surprise. It's when they say:
"We gotta move God, we gotta move God, we gotta migrate, Get the fur, get the f*** outta New York… No more no more no more man, then I'm with you, I've been waiting" that you know a story is about to play out which would make track placement and upcoming song titles vital for the coherence of this album. The last line of this is really the most powerful, they leave us with "word is bond, I'm your eyes that's in back of you kid let's do it then…"
"Knuckleheadz" is the first track and features Ghost (of course) and U-God. As much as I appreciate what each Wu member brings, I think U-God's voice and intonation is absolutely perfect for mafioso themed tracks/albums. And this is the track for that. The entire thing plays out as if its a heist, they each play characters and it's actually this track that solidifies this as a cinematic album, they manage to "kill off" U-God's character at the end because he wouldn't be around for the entire recording and wouldn't make further appearances. They utilized him perfectly though because U's voice adds an aggressiveness that the other members don't have and with the timing (unfortunate as it is), it worked so well. As far as track title and content, it is a brilliant starting point as it allows a ton of space to build on. Ghost starts the track off in true Ghost form, his laid back, "don't give a f***" attitude is very obvious and Rae showcases his storytelling from the jump, but it's his references that are the highlight. Take a look:
"My raps play the part like a Get Smart secret agent

In a maze and

Styles blazing

Johnny Blaze and

Tony Starks in a daze and

Rhymin, my n**** Lou Diamond will wrap it up

We like Meth to go and f*** with Noodles"
This is the first time we hear these names and each one has something to do with either a ton of money, real life mafia aliases, or mob characters from movies. When you think about the intricacies and subtle connections, it becomes shocking at how detailed and well thought out this was. On the production side, RZA uses very little sampling (in general) and he's only got one sample from The Dramatics. The tempo, the loop.. everything in the background subtly accentuates the heist that's going on. This is truly a fantastic track and lays the perfect groundwork to build on.
Continuing along with the theme and storyline of drugs, crime and money we get to track 3, which is "Knowledge God". This track is primarily Rae although we do hear Ghostface at the very beginning. Although this isn't my favorite track on the album, it's needed. It's like the "lead character development" scene in a movie, it's focused and serves the purposes of showing what to expect from the person,  and that's exactly what's happening here… Rae is lyrically flexing because he can. He's saying some pretty foul things such as:
"I seen your b****, she was up in this cat's room

Skeyed up, weed the f*** up, to top it off

Look beat up

With two crack fiends huggin your seed up

I took care of that though

But don't worry bout it I got your back though"
I do love the chorus, It flows well and I love the lyrics. It's where we see how Raekwon uses supreme mathematics and the supreme alphabet. This is something that is a signature of the Wu, but it's rampant on this album and specifically the chorus. Its a multi-layered track, each song adds a new component that ties everything in. Like I said, much needed.
Next, we have "Criminology". I absolutely LOVE this song because once again the genius that is RZA has crafted pure perfection. I have to start with the very beginning which is a clip from the movie "Scarface" coupled with the musical samples from Black Ivory and The Sweet Inspirations, and the song starts off very busy and underground crime-ish. It's fitting for the energy that Ghost and Rae bring.
The first verse is incredible, more usage of the supreme alphabet, the references to the 36 Chambers movie and bringing it all together cohesively. As amazing as Ghostface's verse is, Raekwon's verse is better (and it should be). Not only does he play off Ghost's energy well but his wordplay is unreal. Here's my favorite and a dope snippet:
"Lo wears, and Tommy Hil fly s*** with a knot

The witty unpredictable live s***

Drive by s***

Do or die s***

I'll take your life and s***"
He manages to throw in some Wu references in there too! I absolutely love it. The Clan is so tight knit that even in their solo conceptual albums, they manage to have the group at the forefront.
Ah, another movie sample to kickstart the track "Incarcerated Scarfaces", but this time it's from the movie "The Killer", which we hadn't heard since the intro track on the album. The dialogue is dope and obviously very calculated in the placement and usage. Take a look:
"He looks determined without being ruthless

Something heroic in this man

There's a courage about him

Doesn't look like a killer comes across so calm

Acts like he has a dream full of passion"
Again this supports the dialogue between Rae and Ghost in "Striving for Perfection" and the way this ties together is truly brilliant and leaves me speechless. Again the multi-layering this album has is profound. As much as this stays in the same story as the whole album, it's also intended to pay homage to those friends who were locked up while comparing the entire thing to Al Capone who was THE "incarcerated Scarface".
The catchiness of the chorus is also incredible and SO engaging for the listeners. It's the perfect almost midway point… as the beat is different also, a bit more relaxed and a lot less serious. For those who love Mafia bosses as much as I do, this track should be on the favorites list for sure.
I've said this before and I'll say it again and again…Blue Raspberry is the Wu's best kept secret with an absolutely angelic voice. "Rainy Dayz" is where we hear her contribution to Only Built 4 Cuban Linx. Of course we have Ghost as well so really it's all three we need to thank for this. Their dynamic is flawless and the feminine addition is much needed. As far as content: it's really the culmination of the entire running mafioso theme. The lyrics are vivid, the imagery is solid and the rain sound effects adds an eerie feeling that makes lines like "I'ma murder somebody man for real I ain't playin" and the chorus of "It's raining, he's changing, my man is going insane" come to life. Rae's verse is my favorite on this one, his rawness and confidence is evident and it's perfect to leave the rapping on that note. Once again, thank you to the RZA for production and Blue Raspberry for adding the vocals that were missing. They truly executed a flawless track.
I won't spend too much time on this one, but "Guillotine (Swordz)" is another dope song because we get quite a few Wu members. GZA and Inspectah Deck join Ghost and Rae, and Meth isn't on this track but there is a "Tical" sample. For those of us who love "36 Chambers", the clip used in "Da Mystery of Chessboxin" is also used here. Although the lyrics stay true to the Latin-American mafioso theme, the heavy sampling of martial arts stuff is a bit off. In my opinion, it doesn't take away from any aspect of the album, the cinematic style or the consistency. I do think it was a great way to introduce Deck and GZA so it's appreciated.
We find ourselves at the midway point in the album with "Can It Be All So Simple (remix)". We had heard the original on "36 Chambers" and here we have the storytelling we knew to expect from this album. The notable thing about this track is, every sound effect, adlib and everything else we hear is working to bring the lyrics to life and it does. The opening line is:
"Yo, check what happened out of state

I'm knocking off a half-a-cake

Cash Rule, flying at a fast rate"
As they tell this story, we hear sirens, gunshots, busy street sounds, wind and everything else that makes it feel like you're alone in Staten, late at night trying to get away from some shooting. If this isn't cinematography at its best, I don't know what is. As much as I like the original, the remix was a brilliant idea for this album. Not only does it connect "OB4CL" to "36 Chambers", it also feeds in to the storyline and intended concept of this album. Once again, I'm not surprised. This is Wu-Genius at its finest.
Track 9 is "Shark Biters" and really serves as an underhanded diss to BIG, which I'm not a fan of. (BIG would address this in "Kick In The Door) so I'm going to skip over this one…..
Next track, next feature!! We get Cappadonna on "Ice Water" and we are back to mob bosses and real life gangsters. Whenever Al Capone is mentioned in a rap song, it's almost guaranteed to be great much like this. The looped samples are interesting, a bit different from what we've heard so far, but as always it fits. Much like any mob movie, at some point there is talk of "taking out the kingpin" and as we approach the end of the album, it should come as no surprise that it also happens here. Ghost starts us off and then Cap and Rae sort of add to it in an interesting way. Here's what I mean:
Ghostface:
"Take out the rap kingpin, the black Jesus"
Cappadonna:
"Laid up, Rae-Gambino

Mastermind the plan, Tony Starks, Cappachino

Develop while your head be swelling up all for the nation"
Raekwon:
"Get em son, we ain't the one/

Politickin, purse vickin, sick of these Dominicans"
I like the way they sort of tell how this is going to go down, but more importantly, the "Gambino" reference is critical. It's the first time we hear it on this album, but we will hear the elaboration soon.
"Glaciers Of Ice" featuring Masta Killa is what we hear next. Again, I won't spend too much time on this one although it develops the storyline so well. It's the crack slanging, money making, do what you gotta do to remain on top track. If I had to compare this song to a scene from a movie, I'd say it's comparable to the scene in "Scarface" when Tony and his crew take the bags of money to the bank, with no dialogue just the "Push It To The Limit" song while they make moves. That's exactly how I envision this track, and for that reason, I love it!
This next one is probably my third favorite track on the entire album. I love everything about this from top to bottom. "Verbal Intercourse" featuring Nas. Of course. If you've followed the Wu closely you'd know, they NEVER (or rarely) featured an MC outside of the Clan or Wu-Affiliate circle (in the '90's), and this was the first time and Nas did not disappoint. This is just brilliant. The instrumental is just perfect and the interwoven whisper once again gives an eerie feeling to the entire song. RZA once again provides a flawless track. The lyrics are intense to say the least and each MC spits insanely. Here are my favorite parts from each:
Nas:
"It's like a cycle, n***** come home,

some'll go in do a bullet, come back

do the same s*** again

From the womb to the tomb, presume the unpredictable"
Raekwon:
"Perhaps bullets bust n***** discuss mad money

True lies and white guys, we can see it through the eyes"
Ghost:
"Your man's in the kitchen stashing ice picks

Well I'ma end this with a big red cherry on top

Me, Nas, and Rae got the best product on the block"
Personally, I think Ghost nailed it with that last line. These three are truly the best. I think this track was executed very well to stay true to the title, from the convoluted beginning and ending and the interwoven whispering, this track is an entire verbal clusterfuck. I do appreciate that the verses remained untouched by it.
The 13th track is "Wisdom Body" and I won't spend too much time on this one, but it is a much-needed track. It's the first one where we really hear about women, albeit they are referred to as "bitches" and "hoes", but every rap album needs a track like this, especially a gangster rap album. It's part of the culture, part of the image and in all honesty, it sort of adds the finishing touch to the entire gangster package, so there has to be women. I do appreciate that Rae (and really most of the Wu members) never exhausted their albums with too many female-focused tracks. They develop a concept and a theme and they stick to it pretty well.
"Spot Rusherz" is another story, this time about a robbery from the point of view of the drug dealer/robber. Again Raekwon kills it with the way he delivers. At the beginning, we hear a Wu-Tang commercial in the background at the beginning, but that just serves as a lead-up. As far as lyrics, the detail, the flow, the approach…all of it supports the concept and makes the listener feel like they are right there. The beat is dope, the tempo is much faster and Rae keeps up which is great. I appreciate that the drum beat lines up perfectly with the words Rae emphasizes, it reiterates the point and engages the listener. The track placement with this is interesting to me, just after one about bitches and immediately before another one along the same lines.
Finally… my second favorite track on this entire album and the one that is the most fun: "Ice Cream". I don't know where to start, I love everything about this song. I remember when I first heard this track it was two things that drew me in:
The beat. There is no better beat on this album that is as flowing and soft, yet fun and engaging! And…
The use of the "Ice Cream" skit from Eddie Murphy's "Delirious" This was enough to make this a fan favorite.
Then we get into the lyrics. The uniqueness of using ice cream flavors as metaphors for women is brilliant and so appealing to both genders. Method Man, Cappadonna, Ghostface and Raekwon truly convey their deep appreciation for all women and to me that's important, no discrimination here, everyone is loved and they have something great to say about each ethnicity. Apart from the chorus, here are my favorite lines:
"Back to you Maybelline Queen

Let's make a team

You can have anything in this world except CREAM

So whatchu wanna do? Whatchu wanna do?

Let's go ahead and walk these dogs and represent Wu"

 

"You're looking good fly colored Asian

Ghettos, them is your hometown

We can go the whole round"

 

"Gimme your number

Your sexy persuasive ta-ta's and thighs

Catch my eyes like highs

I want your bodily surprise"
And of course all of this:
"One love to my chocolate deluxes, keep your nails done and your wigs tight…

One love to my butter-pecan Ricans for calling me papi That's for real

One love to caramel sundaes, with the cherries on top

And big up to my french vanillas

Parlez vous, francais, mi amor, merci, oui oui, bon bons and all that good stuff"
Like I said the earlier mention of women was needed to fit the concept and this is just pure appreciation. I think the difference between the two is clever and adds to the layers of this album. This is truly a fantastic track.
Immediately after and just about at the end, my most favorite song on this album and arguably the best posse cut in the history of rap: "Wu-Gambinos". I remember a few tracks ago we heard the Gambino reference and this is where the Gambinotion is manifested. Kool G Rap may have been the originator of mafioso rap, but truth be told Raekwon perfected it. With the inception of "Gambino aliases" on this album, he's credited for influencing the formation of groups like "The Firm" and maybe even other legends taking on gangster aliases. Nevertheless, this is the manifestation of it. I can go on forever about beat selection and production. I'm always profoundly impressed with the RZA and his ear for music. He really is godly with it. Verses and lyrics wise, we see Method Man, The RZA, Masta Killa, Ghostface and of course Raekwon on here. Because I love this track so much I can't quote snippets, these guys feed off each other incredibly and to do this track justice, it should be quoted in its entirety. After the "mini gangster break" we just got while listening to "Ice Cream", this track really brings out attention back. This is amazing in every sense of the word.
The last track is "Heaven and Hell" and once again we get to hear Blue Raspberry on the vocals. This song is incredible for a few reasons, seeing as though this is the last thing we hear the instrumental/beat choice is soft and a perfect closer. The content is about redemption, and after all the drug dealing, illegal money making, killing and robbing we just heard of course, there needs to be a need for redemption (think Michael Corleone in Godfather Pt. 3). It fits, it works and the fact that they've come to this realization is a triumphant moment for these two since at the beginning they were talking about "getting out of NY" and "having a better life". Here take a look:
"N***** think it's all about a real live Allah…

A little hundred dollars and that make you a man,

You ain't even promised tomorrow son, word up

N***** don't understand how life can be so short come so fast within the blink of an eye, blink of an eye, you're gone baby"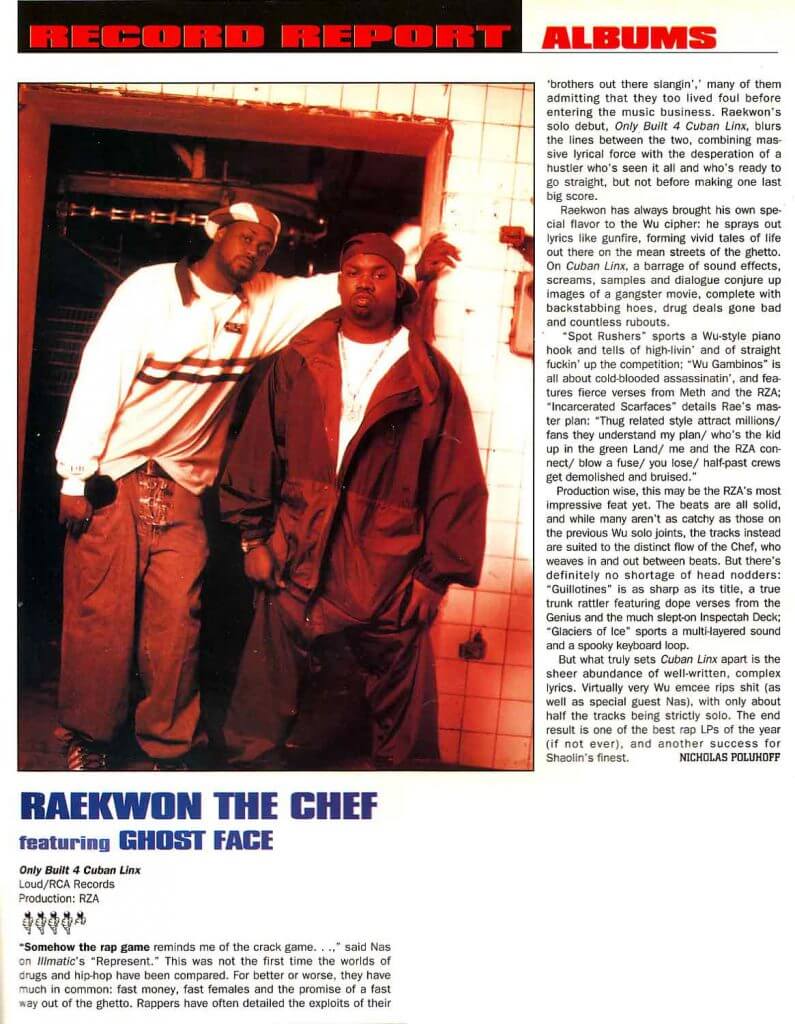 There you have it. Hip Hop's most cinematic album. Like going through scenes in a movie with beats and production changing to sway the intended emotion, and the introduction of heavy Mafia/mobster concepts, this was revolutionary for the genre. It showcased the talent Raekwon brought with himself as well as the incredible abilities of the RZA. This album is nothing short of a masterpiece and (IMO) the very best album in the entirety of Hip Hop. Many have tried, one has come close, but none will ever be able to match the brilliance of this work. Truly flawless in every way.
– Porsha