Welcome to part four of five of "The Top Five Rappers by NYC Borough", my five-part article that will review the top five rappers in each of the five boroughs of New York City. So far, we've taken a journey through Queens, Manhattan and The Bronx, and have already touched on some of the best rappers to ever hold a microphone. Before ending our journey in Brooklyn, we'll first take a trip to Staten Island, an area that isn't quite as rich with Hip Hop acts as other boroughs, but is home to the most legendary crew in Hip Hop history.
The Wu-Tang Clan consists of nine original members, and does have three members representing Brooklyn. Most members were actually born in Brooklyn, but during childhood, the majority of them moved to Staten Island, where they were raised, and where they perfected and marketed their sound. Six of the group's nine members were raised in the Stapleton and Park Hill projects of Staten Island, two impoverished, inner-city areas on an otherwise suburban and middle-class island. Two-thirds of the crew represent "Shaolin", while three others – Masta Killa, Ol' Dirty Bastard and GZA – represent Brooklyn.
Due to the general lack of non Wu-Tang members coming from the island, this list is essentially a Wu-Tang top five out of the six members that represent Staten Island – which, luckily, is a compelling list on its own. Never has such a tightly-knit Hip Hop group had so many talented MC's, so this certainly isn't an easy list for me to put together. It's like asking a parent with five kids to rank their children. Or maybe not. Either way, here's how I see Staten Island's top five.
5. RZA
There are a few producers out there that can rap, but usually a great producer isn't the greatest rapper. RZA, the founder and de facto leader of Wu-Tang, is one standout exception. This is a man whose talents are most noticed behind the boards; RZA is responsible for some of the most unique and incredible production in Hip Hop history. In Wu-Tang's early years, due to RZA's role behind the boards, he would routinely step back and let other MC's shine. However, you'd hear a RZA verse on early Wu-Tang records just often enough to be reminded that RZA was also a rapper, and a talented one at that. RZA's lyrical delivery was often loud and in-your-face, as he would come to the mic with a ton of energy.
In addition to a few notable lyrical appearances on Wu-Tang's first two albums as a group, he'd pop up on the solo albums as well. On "4th Chamber", off of GZA's 1995 classic Liquid Swords, and on "Wu-Gambinos", the second to last track on Raekwon's seminal Only Built 4 Cuban Linx…, RZA drops verses good enough to be ranked up there with the most lyrical members of the Clan. His delivery was always a bit unorthodox, unorganized and frantic, but it always worked well, and his borderline-maniacal rhyme schemes worked perfectly as just another rapping style in Wu-Tang's already diverse selection of MC's.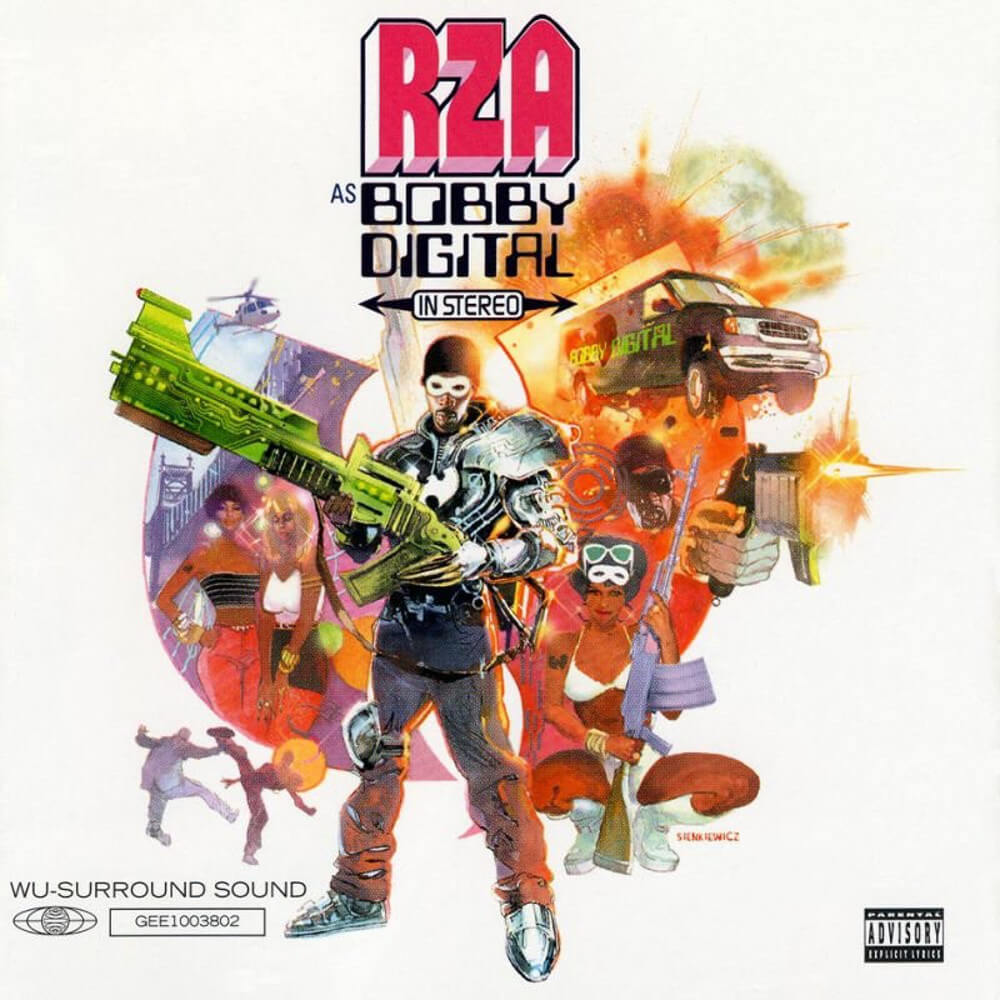 After Wu-Tang's second album, 1997's Wu-Tang Forever, members of the group really started branching out, and away from their group-mates. RZA would begin a solo career in 1998, starting with the release of RZA as Bobby Digital in Stereo. He held his own as a rapper, and the entire album featured just three guest appearances, giving RZA a chance to showcase his rhyming skills. In 1999, he would stay behind the boards, producing the film score to Ghost Dog: The Way of the Samurai, but would release another solo album in 2001, Digital Bullet. Around this time, RZA would make forays into acting while still making many guest rapping and producing experiences. He would then continue with his solo career, releasing several more solo albums in the 2000's.
Let's be clear, RZA is only on this list as the number five rapper. Had he been a bit more featured on early Wu-Tang albums, and had he had the chance to drop more classic verses, he very well may have been higher on this list. He is the heart of Wu-Tang, the most influential of anyone in the Wu-Tang collective, and is truly a renaissance man as far as Hip Hop is concerned. He's a great producer, instrumentalist, actor, and rapper – good enough of a rapper to ever-so-narrowly beat out the very talented and unique Cappadonna for the number five spot.
4. Raekwon
I had trouble figuring out where I wanted to put Raekwon. Part of me wanted to leave him out of the top five or keep him at number five, since he isn't the most tactical rapper (Cappadonna would likely have taken his place), but another part of me had to include Raekwon on here, since his early lyrical output was so unique. His early rapping style was so unique, mainly because of Raekwon's use of slang – "The Chef" could easily write, publish and sell a dictionary full of all of his slang. He is probably one of the top two slang-oriented rappers of all time (you'll find the other one lower on this list), and his delivery on his solo debut and best album, 1995's Only Built 4 Cuban Linx is simply unlike any other rapper in the game or at any time in Hip Hop's long and storied history.
While "Protect Ya Neck" introduced the world to each member of the Wu-Tang Clan, as brief as the verses may have been, it was on "C.R.E.A.M.", one of the other main singles off of 1993's Enter The Wu-Tang (36 Chambers) where we really got to know Raekwon. He dropped one of his best and most recognizable verses on "C.R.E.A.M.", and a lot of hype built around him due to this. On Method Man's debut solo album, 1994's Tical, which was the first of the early Wu-Tang solo albums, Raekwon drops another one of his best verses on the free-form "Meth vs. Chef". By 1995, he had established himself as one of the top MC's from Wu-Tang, and was ready to drop a solo smash of his own.
Only Built 4 Cuban Linx… dropped in the summer of 1995 and subsequently cemented Raekwon as one of the hottest rappers in Wu-Tang at the time. The album was one of the early "mafioso" Hip Hop albums, dealing with topics predominately associated with drugs and mafia-related fantasies. Some of Raekwon's best verses of all-time are on this album, most notably his verses from "Criminology", "Verbal Intercourse" and "Heaven and Hell". However, as I mentioned before, Raekwon is more known for his slang and less for his technicality as a rapper. On Only Built 4 Cuban Linx…, Raekwon is outshined by Ghostface Killah, who appears as a co-feature on the album, and who was the hungrier and more technical rapper.
Raekwon would go on to make a number of notable guest appearances from 1995 to 1998, including on Wu-Tang solo projects, on non-Wu releases, such as on two tracks from Mobb Deep's 1995 masterpiece The Infamous, and on the second Wu-Tang album, 1997's Wu-Tang Forever. He would release his second solo album in 1999, Immobilarity, which, aside from a couple of tracks, was a general disappointment, and marked the beginning of a decline in Raekwon as a lyricist. He would drop another disappointing album in 2003, The Lex Diamond Story, and many had completely written off Raekwon, as his verses both on his solo albums and on Wu-Tang projects sounded increasingly lazier and less ambitious.
Raekwon then took a few years off, which may have helped clear his head. He would return in 2009 with the sequel to his debut, and released the critically acclaimed Only Built 4 Cuban Linx… Pt II. This album truly saw Raekwon return to form lyrically, and surprised many Wu-Tang and Hip Hop fans alike. Pt II was widely praised, as Raekwon seemed to infuse a new type of creativity into his delivery that made him sound so unique back in the early days of Wu-Tang. The album also featured an unprecedented synergy between the other Wu-Tang members who made guest appearances, as well as perhaps RZA's best production work in more than ten years. Raekwon's reputation seemed to have returned. In the 2010s, Raekwon would be featured on two Wu-affiliated albums, 2010's Wu-Massacre, a compilation between Method Man, Ghostface Killah and Raekwon, and 2011's Shaolin vs. Wu-Tang. By 2012 and 2013, Raekwon was making unexpected appearances with a number of underwhelming mainstream rappers, and his 2015 release, Fly International Luxurious Art, reflected a further decline in quality.
While Raekwon has released two truly classic albums in two completely different eras of Hip Hop, his career is almost as well-defined by his lesser-quality work. On Raekwon's "down" albums, his lyricism shows a marked decline, and it seems like his motivation is not what it could be. Perhaps it is hard for a rapper to stay fresh when unique slang is his major selling point, but Raekwon has shown two different sides over his career. Had he been able to stay on the interesting, intriguing, creative side on more than one consecutive album at a time, he would undoubtedly be listed higher.
3. Method Man
When Wu-Tang burst onto the scene in 1993 with Enter The Wu-Tang (36 Chambers), Method Man was perhaps the most accessible MC of the group. He even had his own song on 36 Chambers, the light-hearted "Method Man", which was one of three lead singles off of the album. Meth would be the first Wu-Tang member to have his first solo album, 1994's Tical. From the beginning, it looked like Method Man was going to shoot to stardom, and if anyone in Wu-Tang was going to be a star, it was him.
Tical took just two months after its release to go gold, and went platinum eight months after coming out. The album was backed by the classic single "Bring the Pain", as well as by the energetic "Release Yo' Delf". Tical is one of the most commercially successful of any of the Wu-Tang solo albums, so the world quickly had a very good idea of Method Man and his abilities. I've always seen Method Man as the "cool kid" of the Wu-Tang Clan, the one who everyone pretty much likes, and is the most relatable. He was clearly one of the more successful Wu-Tang members to spit a verse in the early days, and could drop an unforgettable hook just as easily (see "C.R.E.A.M." and "Ice Cream").
RZA once stated that he was grooming Method Man to be the group's commercial success from the beginning. After the success of Tical, and after dropping some of his best rhymes of all-time on "Shadowboxin'" off of GZA's Liquid Swords in 1995, Meth continued his commercial breakout outside of Wu-Tang. He teamed up with Mary J. Blige on a remix of Tical's "All I Need", titled "I'll Be There for You/You're All I Need to Get By". This would become one of the quintessential Hip Hop love songs, and even won Method Man and Mary J. a Grammy for its success and influence. Method Man was riding high by 1996, and had made a number of impressive guest appearances outside of Wu-Tang albums. He was the only other rapper featured on The Notorious B.I.G.'s seminal debut album Ready to Die, appearing on "The What". He would make other notable guest appearances on Showbiz & A.G.'s 1995 album Goodfellas, 2Pac's 1996 opus All Eyez on Me, and on Mobb Deep's 1996 album Hell on Earth. Around the same time, Method Man cultivated a friendship with New Jersey rapper Redman, and the two quickly banded together to become one of Hip Hop's most talented lyrical duos.
When Wu-Tang Forever dropped in 1997, Method Man seemed like he'd seen and done it all, but his rhyming became more technical and mature. He employed more of a laid-back flow but seemed to expand his vocabulary and become one of the more intelligently tactical rappers in Wu-Tang. He would drop his second solo album in 1998, Tical 2000: Judgment Day, which featured some of the best rapping of his career. The album suffered a little from the lack of RZA production, and was never as acclaimed as his debut. In 1999, he would release an album with Redman, the soon-to-be-platinum Blackout!. The album was truly one of the more lyrical releases of the time, as Meth and Redman perfectly complemented each other on the mic, which led the album to receive critical acclaim.
By the turn of the century, Method Man, right up there with Ol' Dirty Bastard and Ghostface Killah as one of Wu-Tang's most recognizable and marketable members, was beginning to show up on TV and in movies. Meth would appear with Redman in commercials, sitcoms, and the popular movie How High. By this time, Method Man was closely associated with marijuana culture along with Redman, and he became somewhat of a representative of Hip Hop to the world of weed.
He would appear on the subsequent Wu-Tang Clan albums of the early 2000s, and would release two more solo albums and one more album with Redman during that decade. Some of his albums were well-regarded, while others were panned critically, with Method Man receiving criticism about his music for perhaps the first time in his storied 10-year career at that time. Most of the criticism was directed towards his 2004 album Tical 0: The Prequel. After 2006, he didn't release a solo album again until 2015's The Meth Lab, which was critically panned perhaps as much as Tical 0.
Method Man has arguably had the most commercial and financial success of anyone from the Wu-Tang Clan other than RZA. In 1993, he was set up to be the most recognizable face of Wu-Tang, and for a good 15 or 20 years, he was pretty much the face of the Wu-Tang Clan. Other Wu-Tang members ranked higher on this list have taken over that distinction in the 2010s, but Method Man's success simply cannot be denied. It all traces back to his incredible lyrical energy and increasingly tactical delivery as the 1990s went on, which makes him one of the most capable MC's out of Wu-Tang. He capitalized on his critical acclaim and success, and went on to be a major star, but never forgot his roots. Method Man is a true lyricist and a talented, tactical MC in all respects. He comfortably holds the number three spot among Staten Island rappers.
2. Inspectah Deck
Inspectah Deck is perhaps the most underrated member of Wu-Tang. When most people think of Wu-Tang, they think of Method Man, Ghostface Killah, Raekwon, RZA, GZA and Ol' Dirty Bastard. More than a few casual Wu-Tang fans tend to neglect the less-celebrated members of the group, and Deck is the one out of the less-celebrated members that deserves the most respect – by far. He is responsible for some of the absolute best verses in the history of Wu-Tang Clan, and in my mind, is the second most tactical rapper in the group.
Inspectah Deck was born in Brooklyn, but was raised in the Park Hill Projects of Staten Island. He was one of the original members of the group, and was recruited for his laid-back yet advanced lyrical style. On 36 Chambers, Deck dropped the second-most verses on the record, including the heralded second verse on "C.R.E.A.M." and the very first verse on the seminal "Protect Ya Neck" – many people were first exposed to Wu-Tang through "Protect Ya Neck", and the very first MC on the track was Deck, setting the stage. Deck quickly established himself as one of the more serious but intellectual rappers in Wu-Tang, and could hang with anyone else in the group lyrically. He was a major part of the acclaim that 36 Chambers received, and would drop equally tactical verses on "Da Mystery of Chessboxin'" and "Wu-Tang Clan Ain't Nuthin ta Fuck Wit".
While Method Man, Ol' Dirty Bastard, Raekwon and Ghostface Killah dropped solo albums between the first and second Wu-Tang albums, Deck only provided guest appearances. However, when Deck did emerge as a guest lyricist, he often stole the show. He dropped probably the most technical and impressive verse on the entire Tical album, on the song "Mr. Sandman". He provided an incredibly sharp verse on Only Built 4 Cuban Linx…, on the track "Guillotine (Swordz)", one of the most lyrical songs on any Wu-Tang project. On Ghostface Killah's 1996 debut Ironman, he rapped circles around Raekwon, RZA and Masta Killa on "Assassination Day".
In 1997, when Wu-Tang got together for Wu-Tang Forever, RZA made sure that the song "Triumph" would go down the centerpiece of the album, and released it as one of the album's singles. The song was a sort of sequel to "Protect Ya Neck" – it featured verses from all nine MC's with no chorus. Kicking off the action was Deck, who dropped what is often considered the strongest Wu-Tang verse of all time. Inspectah Deck's verse in "Triumph" is in fact considered one of the most technical and complex verses in all of Hip Hop. Like "Protect Ya Neck", RZA purposely put Deck's verse first, giving the listener an instant dose of just how good Wu-Tang was lyrically. Deck was the man to get it all started, a high honor when there are eight other MC's to compete with.
Deck dropped a number of other notable verses on Wu-Tang Forever, including on "For Heaven's Sake", "A Better Tomorrow", and "Hellz Wind Staff". Deck was the only MC out of the Clan to have his very own song on the album, "The City", and also had a hand in producing on the album, getting behind the boards for the song "Visionz".  He didn't appear quite as much as he did on 36 Chambers, as the hype and focus was mostly on Ghostface, Raekwon and Method Man in 1997, but again, when he did appear, he delivered.
He began his solo career in 1999 with the release of Uncontrolled Substance. The album showcased his continued lyrical talent, and Deck produced a number of tracks on the album on his own. The record was one of the more respected albums of the second wave of Wu-Tang solo albums, and peaked at #19 on the Billboard charts. He returned in 2003 with The Movement, which was not as well-received as his debut. Deck would release The Resident Patient in 2006 and Manifesto in 2010 – neither of which made much of a positive impact on critics.
The kicker for my choice to list Inspectah Deck at number two on the Staten Island list comes with his recent resurgence in the underground scene. It is rare for a rapper in his 40's to re-emerge with some of the best critical success of his career after a number of down years, but Deck has done just that with the Czarface project. Czarface is a collaboration between Deck and Boston underground Hip Hop duo 7L & Esoteric. The collaborative group released their self-titled debut album in 2013, which was critically acclaimed, and saw Deck rhyming at a level that the world hadn't seen since Wu-Tang Forever. Czarface would capitalize on the first album's success by releasing their second album, Every Hero Needs a Villian in 2015, which received just as much acclaim as the debut. Deck was 45 by the time the second album was released, and stood leaps and bounds ahead of most long-term veterans still putting out music 20 years later. Very seldom does an artist go so strong, so far into their career. In fact, the only other true exception of this, across all of Hip Hop, mind you, happens to also be from Staten Island, and takes the top rank on this list.
1. Ghostface Killah
While Inspectah Deck resurged in the 2010s, having great success with the Czarface project, it must be acknowledged that he had his down years. While it is extremely impressive that Deck came back with such a huge resurgence in his career, his Wu-Tang bandmate, Ghostface Killah, is also still dropping quality albums in his mid-40s, in the 2010s. The main difference between Deck and Ghostface in this respect is that Ghostface has never really had a decline in quality over a twenty year solo career. He remains as perhaps the most consistent solo rapper of all-time, and has put together what I believe to be the most impressive solo discography in all of Hip Hop. Did I mention that he's also the most talented lyricist from Wu-Tang?
While Inspectah Deck kicked off "Protect Ya Neck", Ghostface was awarded the first verse on the first track of 36 Chambers, "Bring Da Ruckus". Right away, the listener is treated to a high-pitched, intense and incredibly rugged flow that would follow Ghostface throughout his storied career. Also on 36 Chambers, Ghost teamed up with Raekwon for the first time on the mesmerizing "Can It Be All So Simple", and spit absolute darts on "Da Mystery of Chessboxin'". He and RZA penned some conscious rhymes on "Tearz", and Ghost had one of the strongest verses on "Protect Ya Neck". After Wu-Tang's debut album, Ghostface had set the stage for his emergence as a star.
He would re-emerge in 1995 as the co-star of Raekwon's Only Built 4 Cuban Linx…, and had as many verses on the album as Raekwon himself. In fact, Ghostface out-rapped Raekwon on the album, bringing his rugged, high-pitched delivery a notch higher with his incorporation of slang and even some abstract lyrical material. Ghost stands out the most on "Criminology", "Ice Water", "Verbal Intercourse", "Ice Cream", and the stunning closing track, "Heaven & Hell".
Naturally, after his performance on Cuban Linx…, it was Ghostface's turn to drop a revolutionary solo record. Ironman was released in 1996, and featured Raekwon as heavily as Ghost was featured on Raekwon's debut. Ghostface still gave the best lyrical performance, but Wu-affiliate Cappadonna gave him a run for his money. However, the album was a smash both in the sales department and in the critical category, and remains one of the most heralded Wu-Tang solo albums to this day. Ghostface showcases his lyrical prowess throughout the album, but most notably on "Iron Maiden", "260", "Daytona 500", and the emotional tracks "Motherless Child" and "All That I Got Is You". The latter was a radio success, featuring Mary J. Blige, and some consider it one of the deepest Hip Hop songs of all-time.
By the late 1990s, partially due to the success of Ironman, Ghostface was absolutely on fire. Putting out a follow-up of the same quality as Ironman seemed tough, but it was done flawlessly. After a few memorable guest appearances, Ghost dropped Supreme Clientele in early 2000. While most other Wu-Tang members' solo albums around the time were really no better than average, Supreme Clientele showed an evolution of Ghostface lyrically, and the album turned out to be even more celebrated than his debut. Ghost took the slang to a whole new level on this album, and constructed some of the flashiest, most unique rhymes of his career. He seems a bit more aggressive in his lyrics, but does it in such an intelligent and unique way that any flaws are basically unnoticeable. Tracks such as "Nutmeg", "One", "Mighty Healthy", "Malcolm", and the radio-hit "Cherchez La Ghost" showed an incredibly high level of quality and Ghost's love for his craft. Supreme Clientele still stands as one of the top Hip Hop albums of 2000.
Things were far from over for Ghostface. His 2001 release Bulletproof Wallets was a step down from Supreme Clientele, but mainly for production reasons. Ghostface still remained an untouchable MC on most tracks, although there was a bit more of a commercial feel to the album. However, Ghost would return in 2004 with The Pretty Toney Album, which got most critics back in his corner. He would continue his success in 2006 with the critically-heralded FishScale, an album that took forays into mainstream Hip Hop, but did so in a way that even the most hardcore fans could enjoy. The album was on many "album of the year" lists for 2006, and is retrospectively respected almost as much as Ghost's first two albums. Ghostface goes on a lyrical tear from front to back on FishScale. From the intensely high-energy "Shakey Dog", to the laid back sounds of "R.A.G.U.", to the serious and emotional "Whip You With A Strap", to the hardcore "Dogs of War", Fishscale has it all. The album was a commercial and critical success, and remains one of Ghost's strongest albums.
By 2006, Ghost had dropped his third "classic" album, and it was becoming clear that he was the man that represented Wu-Tang most consistently in the 21st century. He would release four more solo albums and one collaboration album between 2006 and 2010, though albums such as Ghostdini: Wizard of Poetry in Emerald City were not well-received critically. Like Method Man, it took Ghostface about 15 years to finally release an album that wasn't widely celebrated. In the 2010s, Ghostface has already dropped three of the decade's best Hip Hop albums, and has collaborated with different, non-Hip Hop artists to do so. 2013's Twelve Reasons to Die and 2015's Twelve Reasons to Die II were done with composer and film score producer Adrian Younge, and are both intricate concept albums. 2014's 36 Seasons showed a bit more subdued but still intense side of Ghostface, and 2015's Sour Soul with jazz trio BADBADNOTGOOD showcased Ghostface rapping over yet another unique musical idea. Ghost is set to release the sequel to Supreme Clientele in 2016.
Let's completely disregard Ghost's incredible discography for a second. Let's pretend all of those quality albums I just mentioned never existed. Just judging by his work on Wu-Tang's first four albums, Ghostface still stands out as the most talented rapper in the group. His energetic, charismatic, high-pitched, flashy, sometimes-stunning delivery is one of Hip Hop's most unique. Until Action Bronson emerged in 2011, there was no rapper that sounded anything like Ghostface – not only was his content unique, but his voice and flow was as well. If you add back in that incredible discography, you'll realize why Ghostface is the top rapper out of Wu-Tang Clan, and is subsequently the top rapper from Staten Island. He is going strong well into his 40's, and has put out a steady stream of solid albums since 1996, with the highest concentration of these albums being after 2010. This shows me that Ghostface, despite his incredible legacy and lyrical accomplishments, has way more to offer to the world, and will only continue to cement his legacy as Wu-Tang Clan's and Staten Island's best MC.
Honorable Mentions
Cappadonna (ALMOST worthy of the #5 spot due to his verse from "Winter Warz" alone)
Shyheim
U-God
Haas G and Kool Kim (UMC's)
JoJo Pellegrino