March 2023 Round-Up: The 9 Best Hip Hop Albums Of The Month: For this piece, we selected our 9 favorite Hip Hop albums released this March. Did we miss any albums you feel need to be mentioned? Let us know in the comments!
Also read: The Best Hip Hop Albums Of 2023
1. JPEGMAFIA & Danny Brown - SCARING THE HOES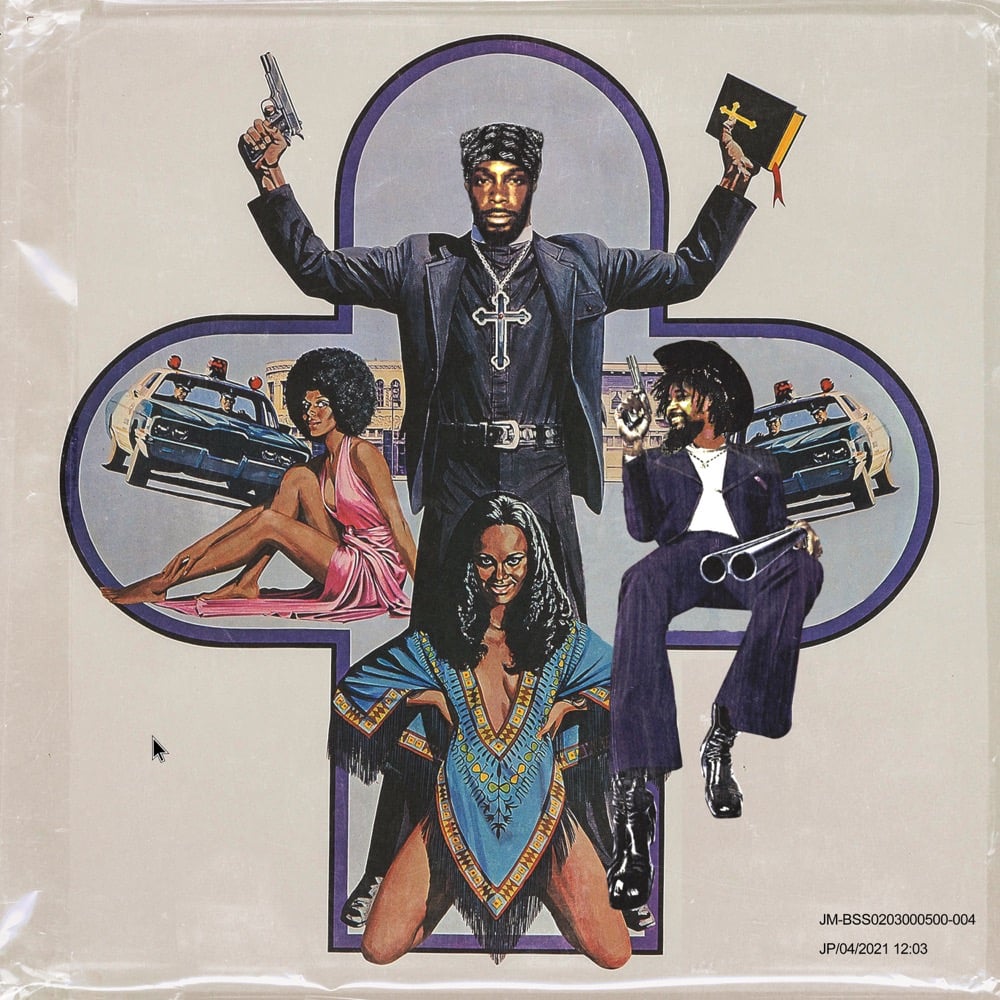 JPEGMAFIA and Danny Brown are two of the most forward-thinking artists in Hip Hop, responsible for some of our favorite experimental Hip Hop albums released in recent times – Danny Brown's sophomore album X X X (2011), the underrated Old (2013), and the masterful Atrocity Exhibition (2016) are excellent works of art, as are JPEGMAFIA's boundary-pushing Veteran (2018), All My Heroes Are Cornballs (2019), and LP! (2021).
Knowing both artists' previous works, it's no surprise this JPEGMAFIA and Danny Brown collaboration album is an exciting project, that showcases the dynamic range and the creative audacity of both artists to great effect, seeing the two building on each other's strengths even. The frantic energy created by Peggy's abrasive soundscapes perfectly matches Danny Brown's erratic flows and lyrical intensity. And while the overwhelming production drowns out some of Danny Brown's and Peggy's vocals here and there, the rawness of the mixing actually adds to the feeling of daring experimentation that forms the foundation of SCARING THE HOES – the rough mixing seems more like a stylistic choice than as a bug.
Because of the combination of intense lyrical performances and the distorting noise of some on the instrumentals, it takes some effort trying to decipher what the two are actually saying in most of the album's 14 songs. Each track is packed with clever wordplay though: sometimes funny, sometimes thought-provoking, sometimes disturbing, and yes, sometimes unintelligible – but always entertaining. "What kind of rapping is this?!" Peggy asks on the opening track. Maybe it will take a while, but the answer to that question will be found somewhere in the future, by which time SCARING THE HOES will be considered a landmark album. Anyway: the wild and weird SCARING THE HOES is a triumph of originality and creativity, a killer collaboration between two of Hip Hop's most interesting left-fielders, and a future classic.
Release date: March 24, 2023.
2. Larry June & The Alchemist - The Great Escape
The Great Escape is the first collaboration album between top-tier producer The Alchemist and San Francisco rapper Larry June. Larry June has been a dope act in the underground for a good while with a bunch of strong releases on his name, but this collab with The Alchemist is his best work to date, some next-level sh. Uncle Al's elite touch is unmistakable, his authentic-sounding drums, vibrant basslines, and appealing soul sampling accumulating in beautifully smooth instrumentals that are tailor-made for Larry June's lazy flow and down-to-earth rapping style. 45 minutes of music, 15 full tracks, expert sequencing, no time wasted on useless interludes or skits, and great cover art that matches the vibe of the content – this is a blueprint of how to make an LP. A group of A-listers like Action Bronson, Big Sean, Ty Dolla $ign, Slum Village, Boldy James, Evidence, Wiz Khalifa, Jay Worthy, Joey Bada$$, and Curren$y show up for guest appearances to help round out what turned out to be one the best albums released in the quality-filled month of March of 2023.
Release date: March 31, 2023.
3. AJ Suede & Televangel - Parthian Shots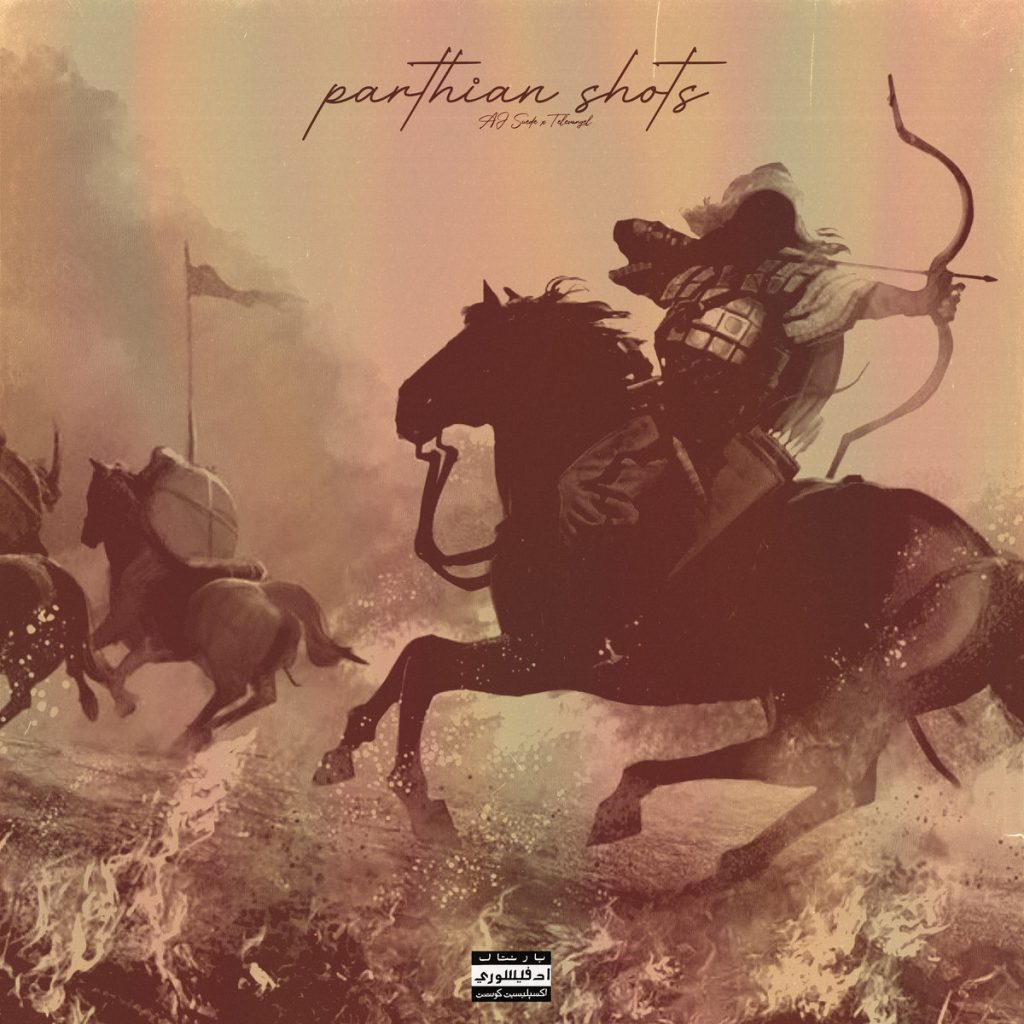 Parthian Shots is AJ Suede and Televangel's second collaborative album, following last year's Metatron's Cube. Metatron's Cube ended up in the top 40 of our best of 2022 list, and Parthian Shots is just as good as its predecessor. Televangel can always be relied upon to deliver a robust set of immaculately produced moody instrumentals – on this album a little less edgy than on Metatron's Cube, but once again a perfect fit for AJ Suede's smooth stream-of-consciousness flows. Parthian Shots has appearances from Onry Ozzborn, Rich Jones, Old Grape God, Milc, Nacho Picasso, Mr. Muthafuckin Exquire ("PBS Kids" is one of the album's highlights), and Bruiser Wolf to help round out what is an abstract Hip Hop tour-de-force and another AJ Suede must-listen.
Release date: March 3, 2023.
4. Kool Keith & Real Bad Man - Serpent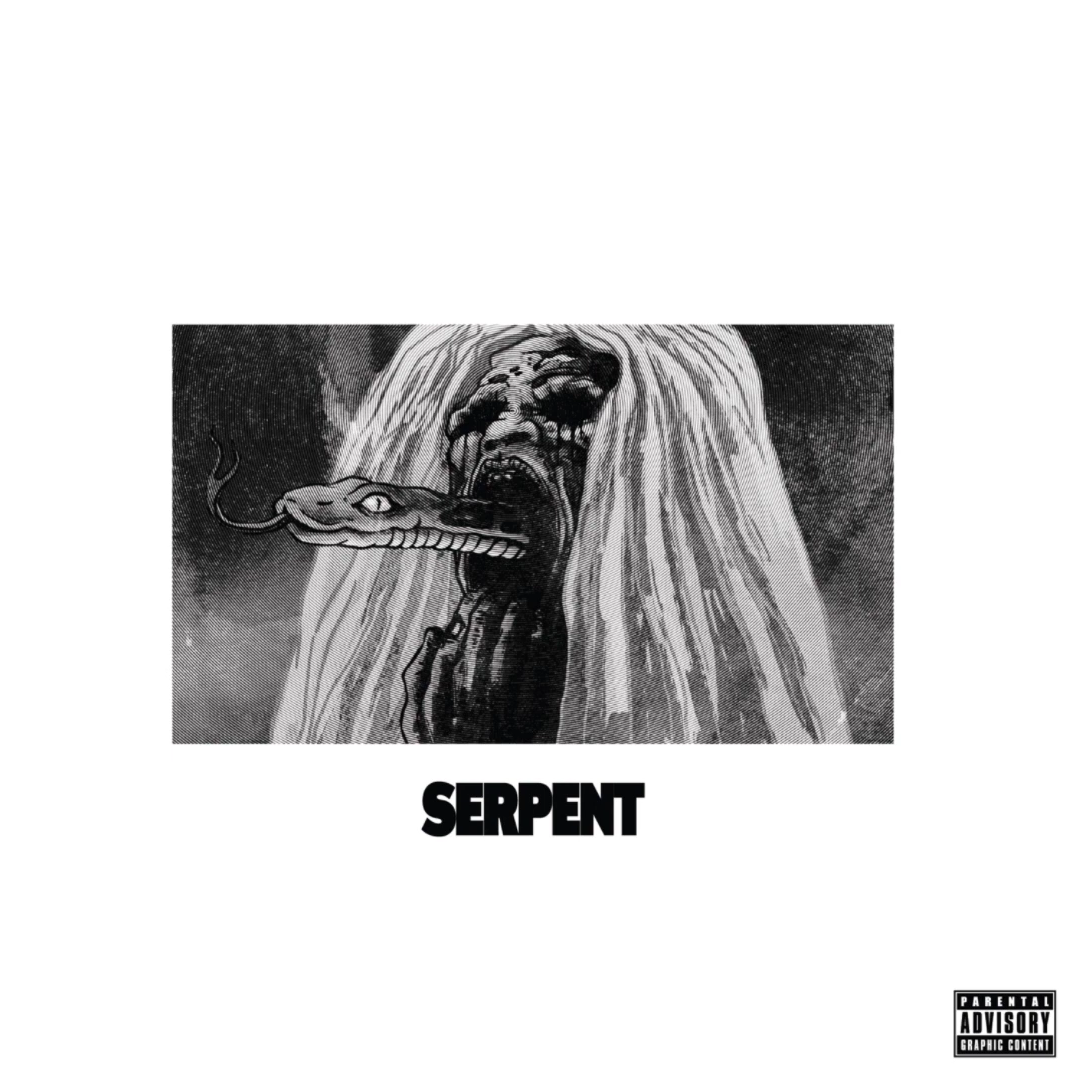 Kool Keith has been an enigma ever since he appeared on the Hip Hop scene as part of the Ultramagnetic MCs crew more than 35 years ago, debuting in 1988 with the innovative classic Critical Beatdown. Always out of the mainstream spotlight, his signature style is a stream-of-consciousness lyrical flow with complex vocals usually peppered with bizarre, disjointed, even delusional or disassociated themes, concepts, and references – skills that earn him a perennial nod from the underground Hip Hop community. Quality control has never been his main concern, but among his almost endless stream of albums, EPs, bootlegs, mixtapes, and collaborations there are enough classics to consider Kool Keith a bonafide Hip Hop icon, one who gives meaning to the word longevity.
Serpent is one of the better Kool Keith albums in recent years – arguably his best since the underappreciated Feature Magnetic (2016). Kool Keith has always needed a producer he could vibe with to bring out the best in him, and as the likes of Ced Gee, Dan The Automator, and Kutmaster Kurt did for him in the past, Real Bad Man hits the right notes with his production on Serpent. Real Bad Man's profile is rising since his recent work for the likes of Pink Siifu and especially Boldy James, and the sinister beats he crafted for Kool Keith here once more prove he is a producer to watch. So – the instrumentals are dope throughout and Kool Keith sounds inspired and is clearly having fun – plus there are features from Atmosphere's Slug, Ice-T (with appearances on two tracks, but not with an actual verse), ZelooperZ, Cool Calm Pete, and Edan to add some extra spice to an album that comfortably fits in the top quarter of Kool Keith's vast catalog.
Release date: March 24, 2023.
5. Recognize Ali - Back To Mecca II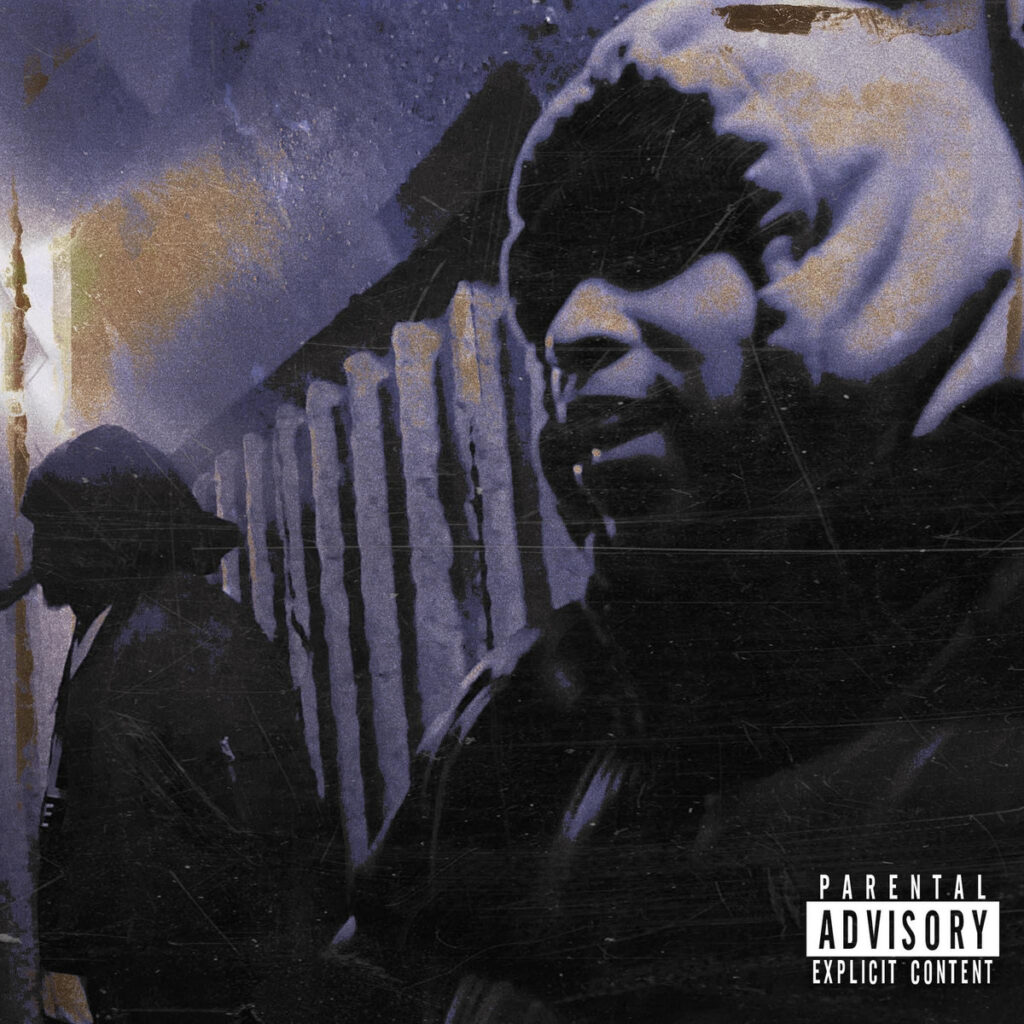 After having a quiet 2022 elite underground emcee Recognize Ali returns in 2023 with Back To Mecca II – a sequel to his 90s-inspired Back To Mecca (2017) with producer Giallo Point. Recognize Ali is taking the listeners back to like 1993 on this album, once again with production from Giallo Point, with additional beats provided by Anu EL, Sibbs Roc, and Hobgoblin. Back To Mecca II offers some of the hardest beats and overall raw gutter production you will hear this year. Recognize Ali is a lyrical emcee who's got bars for days, and his raspy flow is made for the rough and rugged beats he gets to work with here. Recognize Ali dropped plenty of dope projects in recent years, and Back To Mecca II is one of his best yet.
Release date: March 24, 2023. 
6. Talib Kweli & Madlib - Liberation 2
Liberation 2 is the sequel – ten years in the making – to Talib Kweli and Madlib 2006's Liberation album, sporting a 15-song tracklist and a bunch of guest appearances – from Talib Kweli's children Diani and Amani, and from artists like Q-Tip, Roc Marciano, Westside Gunn, Pink Siifu, Roy Ayers, and the late Mac Miller (among many others). Liberation 2 was exclusively released on the Luminary Podcasts platform, suffering from the same terrible roll-out strategy that severely killed hype, attention, and potential exposure for last year's Black Star album. Too bad, because Liberation 2 is a dope project – more fleshed-out and better-rounded than the first Liberation album.
The Biz Markie homage "One For Biz" (with Q-Tip and Wildchild) is an easy favorite, "Ad Vice" (with Diani & Pink Siifu), "Marathon Thru Babylon" (with Meshell Ndegeocello), "Something Special" (with Roy Ayers), and "Best Year Ever" are other standouts. Close to 50 minutes of music, stacked with intelligent, empowering, and entertaining bars complemented by lush Madlib production – Liberation 2 is a great record by two industry icons and a host of interesting guests, a project that deserves more spotlight than it will probably get.
Release date: March 6, 2023.
7. Spectacular Diagnostics - RAW LESSONS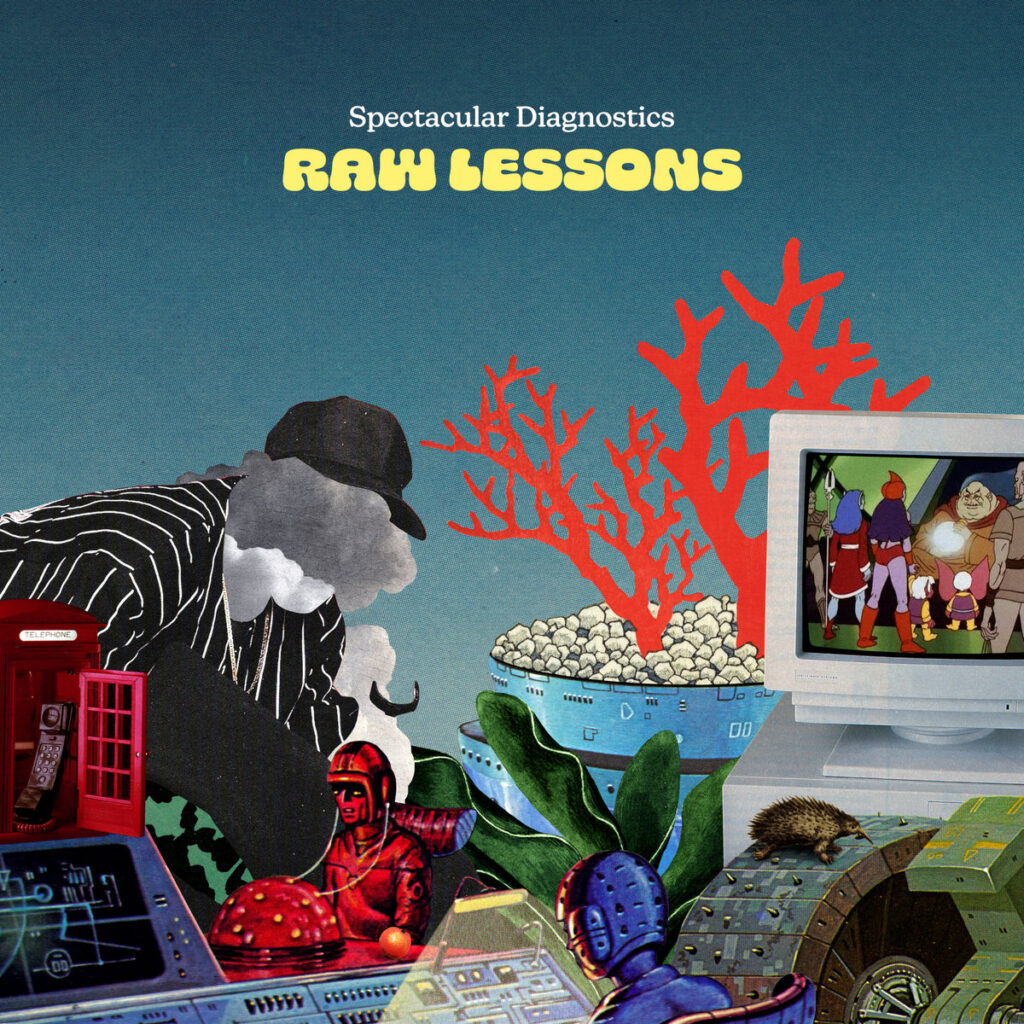 Chicago-based producer Spectacular Diagnostics' RAW LESSONS is his best work yet. His elegant boom-bap beats have a throwback vibe here and there, but Spectacular Diagnostics adds layered sound elements that give his music a definite own unique feel. To add rhymes to his captivating instrumentals he recruited 18 vocalists –  from Wrecking Crew and Backwoodz affiliates Curly Castro and PremRock to the distinct signatures of Fatboi Sharif and Bruiser Wolf to UK representation with features by SonnyJim, King Kashmere, CLBRKS, Lee Scott, Bisk, and others. We are fans – RAW LESSONS is one of the best producer's albums you will hear this year.
Release date: March 24, 2023.
8. B. Cool-Aid - Leather Blvd
Leather Blvd is the third project by B. Cool-Aid, the duo of rapper Pink Siifu and producer Ahwlee, following BRWN (2017) and Syrup (2019). For Leather Blvd, Pink Siifu and Ahwlee took clear inspiration from jazz and classic neo-soul, musical influences that serve as the foundation for what is a hazy, almost meditative, listening experience that is consistent from beginning to end – and not a second too long even if the album has a runtime of over an hour. Pink Siifu's raspy and sometimes quasi-whispered delivery works smoothly with the warm and immersive production, and guests like Ladybug Mecca of Digable Planets, Liv.E, Jimetta Rose, Quelle Chris, Big Rube, and Denmark Vessey (among many others) appear to add vocal variation to the songs. Some of the tracks on Leather Blvd exceed the 5-minute mark ("We Good At Leather Tht Leather This" is the longest track at 9 minutes) – so this album might provide somewhat of a challenge for the short attention span people who have gotten used to the 25-minute projects we see so many of these days. We love the stretched-out feel of Leather Blvd though, Ahwlee's perfectly produced soundscapes simply couldn't be rushed and thankfully they aren't. GUMBO'! (2021) was the last Pink Siifu winner, Leather Blvd is even better.
Release date: March 31, 2023.
9. Arrested Development - On The Cutting Room Floor
So normally we do not include mixtapes that are composed of leftovers from recording sessions for other albums, but for this Arrested Development project, we have to make an exception. On The Cutting Room Floor contains ten tracks (actually nine and an interlude) recorded in the last ten years that were left off albums Arrested Development dropped in that time period. The fact that the songs on On The Cutting Room Floor didn't make the cut is a testament to the quality of Arrested Development's latest releases – it's not for nothing Don't Fight Your Demons and For The FKN Love rank high on our best-of-the-year lists of 2020 and 2021.
There are plenty of albums that get released where it would have been better if they had ended up on the cutting room floor, but in this case, it clearly is the other way around – we can be thankful to Speech and company they decided not to keep the songs on this tape from the public. All songs on On The Cutting Room Floor are terrific pieces of music, and there's a cohesiveness to the project that belies the origin of them – no way these tracks feel like leftovers from different albums. Sequencing is done to perfection to achieve this cohesiveness, and to top it off the cover artwork is exquisite – this has to be one of the most beautiful album covers of the year. This may be a collection of leftover songs, but make no mistake: On The Cutting Room Floor is way too good to be ignored – check it out.
Release date: March 17, 2023.
Honorable Mentions
ICECOLDBISHOP – GENERATIONAL CURSE
Navy Blue & Budgie – Ways Of Knowing
sleepingdogs – i'm fakin' my own death just to get some rest
Knowledge The Pirate – 5 Lbs Of Pressure
Rigz – Heal In
Jae Skeese – Abolished Uncertainties
Cunabear & Steel Tipped Dove – Steel Tipped Bear Claws 2: Phantasmagoria
Kota The Friend & and Statik Selektah – To See A Sunset
Illinformed – Illin' For Meds
NIKFUQ – Agartha
Snowgoons & Grind Mode Cypher – Goon Mode
The Musalini & John Dutch – Gentlemen Of Leisure
Deem Spencer – adultSW!M
WateRR – Compendium Of Arcanum
Sankofa – Multitudes Vol. 1
Kurt Solid – The Process
Estee Nack & V DON – BRAP
The TroubleShooters – Production
Lil Eazy-E & Daz Dillinger – The Legacy
Kidd Called Quest – On The Beat
Lord Apex & Drae Da Skimask – The Elevated And Elusive
F.A.B. – EYE AM
Mestizo – IWWIW​/​IIWII
Reignmakers – The Eye Of The Storm
Big Dese & Mike Martinez – Tommy DeVito
Oakland GMOs – System 2​.​0
Alius Pnukkl & O1ad – Find Myself
Zelooperz – Microphone Fiend
Hit-Boy – Surf Or Drown