At a time when the genre was growing uncontrollably, 1993 was arguably Hip Hop's most significant year. Wu-Tang Clan dropped what's touted by many to be the greatest album of all time with Enter The Wu-Tang (36 Chambers), a young Snoop Dogg lit up the West Coast scene with Doggystyle, Atlanta duo Outkast printed the South's stamp firmly on the Hip Hop game with the release of their funky single 'Players Ball' and a certain 21 year old Tupac Shakur broke onto the scene to spark what would become one of history's defining careers. If there was a Mount Rushmore of Hip Hop acts, all of the following would be carved into its side and they would be joined by A Tribe Called Quest who released their third album, Midnight Marauders.
Unlike all those above, the Tribe had been around since Hip Hop's relative infancy, releasing the two classics People's Instinctive Travels and the Paths of Rhythm (1990) and The Low End Theory (1991), both of which received rave 5 mic reviews from the Source, the former being the first ever album to do so. Midnight Marauders joins Jay Z's Reasonable Doubt and GZA's Liquid Swords in an illustrious episode of, 'Why the hell didn't these albums get 5 mics?!' They only rewarded it 4 and the use of 'only' exemplifies the ridiculous quality and consistencies the group worked to. Notwithstanding this, the album still achieved commercial and critical success, reaching #1 on the R&B/HipHop Charts and #8 on the Billboard 200 in 1993.
Over twenty years on it's easy to remember New York's classics such as Biggie's Ready to Die but it was the Tribe who saw Hip Hop's transition from one golden age to another. This album is perhaps the most agonisingly overlooked album to stake a claim to the 'Greatest of All Time' title.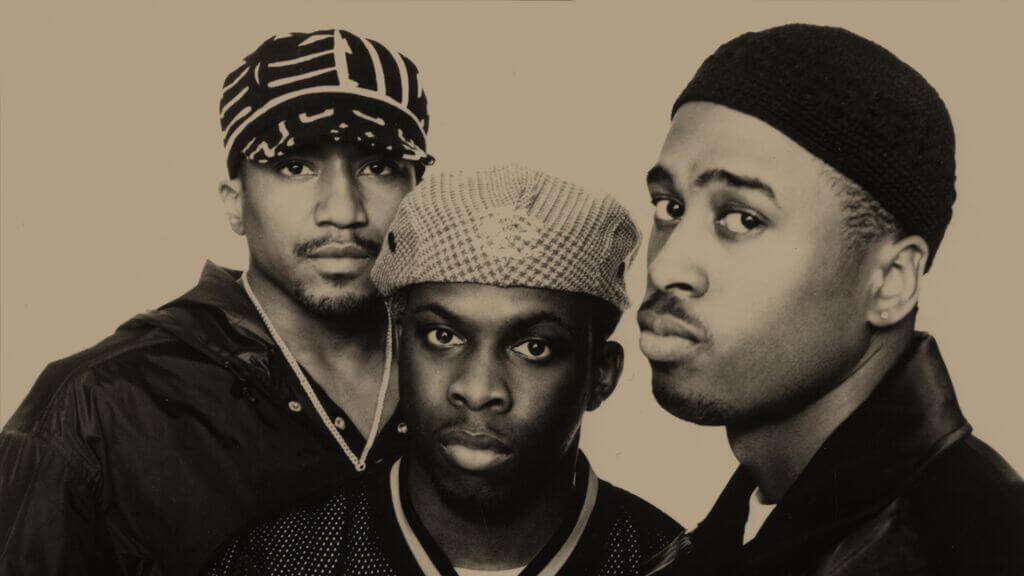 Before even listening to this album, just looking at the cover captures everything the group are about: unity. They said in an MTV interview that they wanted their cover to reflect Hip Hop unity by inviting artists from all regions to appear on the cover. This included West Coast artists, making the album a statement to the whole Hip Hop community, during the infamous East vs West coast clash, that all should come together.
Ali Shaheed Muhammad aptly described the album's name this way: "We decided to call the album 'Midnight Marauders' because A Tribe Called Quest are like sound thieves looting your ears." The album is driven by the smooth, jazzy beats, complemented by the sharp drums that we've become accustomed to. However, it also manages to combine variety with cohesiveness and insane consistency. Not ONE song sounds the same and not ONE track is weak. Even Illmatic with 'One Time 4 Your Mind' and Aquemini with 'Mamacita' have tracks that aren't as strong as others but this has nothing of the sort. Even the skits, a robotic like voice providing insightful social commentary and album context, don't feel forced.
Piloting the album are the 3 incredible singles, "Award Tour", "Electric Relaxation" and "Oh My God", some of the jazz-rap genre's paramount tracks. The former is a wonderful ode to the groups success, with a guest appearance from Dove of De La Soul. Interestingly, though, guest appearances are relatively sparse on the album and there are no posse cuts to be found that were key in propelling The Low End Theory into the history books. This compliments the more chilled nature of the album and no other song illustrates this greater than the second single, "Electric Relaxation".
A playful track about chilling with a lady, calming her and trying to get her in a freaky mood. The warm bass guitar with the beautiful sample of "Mystic Brew" by Ronnie Foster that simply melts in one's ears makes this the quintessential track to lounge to.
Once you reach track 7, you'll unearth a real gem. The most overlooked track, not just on this album, but in the entirety of the Tribe's catalogue of work "We Can Get Down" is Sandwiched in the middle. It's a message to all of Hip Hop, declaring that there are too many wack rappers searching for airtime and that all the beef isn't necessary. Let's just all make great music, enjoy it and get down together. As Tip says:
"We have a slew of rappers pushing positivity
Hip Hop will never die yo, it's all about the rap"
Possibly the greatest thing about this album is that is dispels the myth that Q-Tip carries the group. Ponder for a minute who has some of the most memorable and witty lines? Yep, it's the late, great Phife. From boastful call outs to other MCs to hilariously clever 1 liners such as this gem from "Electric Relaxation":
Granted, Tip still may still steal the show for the overall lyricism, slickly waxed in the tracks "Sucka N****" and "Midnight" but no longer is there a huge imbalance of Tip's lyrical monopolisation or an awkward period where The Five Foot Assassin doesn't contribute too much.
The entire album not only scans and delves into societies problems, but also paints a picture of positivity with some humorous anecdotes and resonates everything the Tribe stands for. The seamless production fuses tightly with the both playful and serious lyrics to create 51 minutes of sheer pleasure. It's almost impossible to criticise this album, it's even outstandingly accessible. Props for this must go to the ever-present Ali Shaheed Muhammad and the album's recording engineer Bob Power, who even gets a mention in "The Chase Pt II".
If I was to pick a minor scab it would be that if you're looking for a more gritty, brutal and street-wise album, this perhaps isn't for you. This album won't send you into a spiral of sleepless nights like the brilliantly haunting album, The Infamous.
Sadly, this album marks the end of a classic trio of Tribe releases. Beats, Rhymes and Life (1996) and The Love Movement (1998) both have their moments, the former especially, but fail to reach the unassailable heights that we all once witnessed.
Listening to this reminds me greatly of fellow Native Tongue members De La Soul's classic album Buhloone Mindstate – ironically also their triennial release. Both are shadowed by earlier, more successful albums but in fact have a more cohesive sound and greater lyrical maturity. I have been listening to the album endlessly for the past couple of years and I can't see that changing for a very long time. It is truly a Hip Hop great and for me, the greatest album of all time in both the world of Hip Hop and music.
I'll be listening to it again tonight, at Midnight of course.