(Republished from DefineARevolution.com, By @CherchezLaPorsh)
Tracklist A Tribe Called Quest – The Low End Theory
Excursions
Buggin Out
Rap Promoter
Butter
Verses From The Abstract
Show Business
Vibes And Stuff
The Infamous Date Rape
Check The Rhime
Everything Is Fair
Jazz (We've Got)
Skypager
What?
Scenario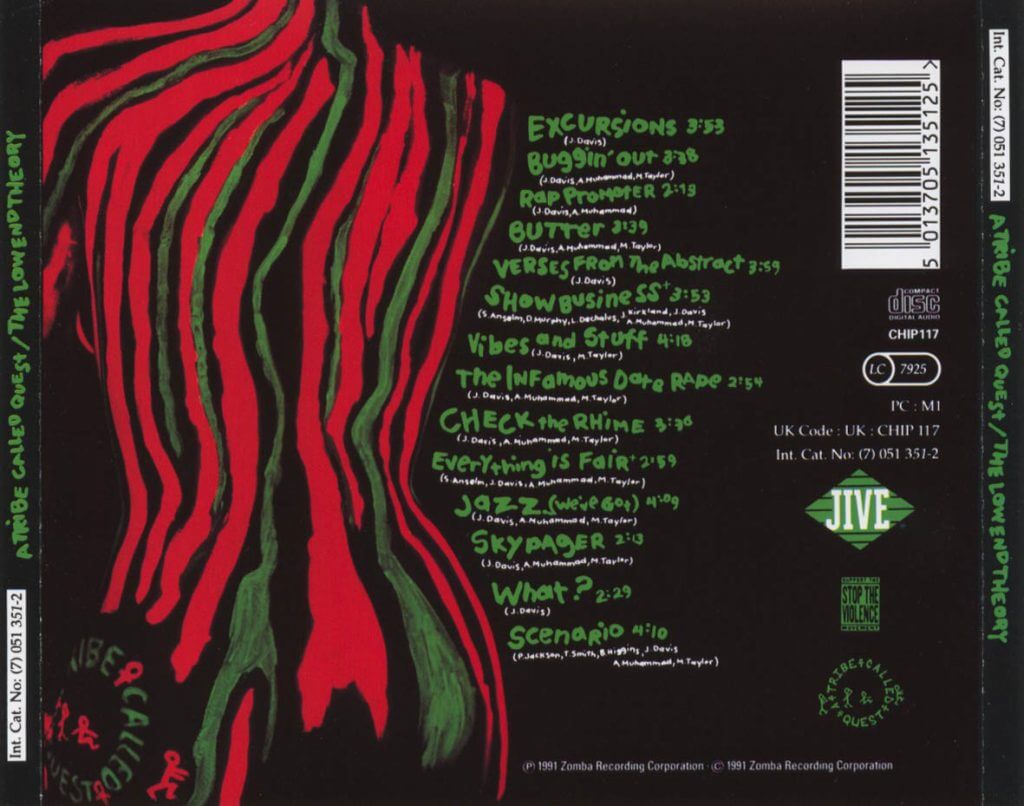 Let's go back about 31 years ago to Queens, New York where two childhood friends would spark the formation of a group that would help shape a new sub-genre in Hip Hop culture. About five years later (in 1989/1990), they would release their debut album and Hip Hop would know those two friends as Q-Tip (the Abstract) and Phife Dawg. The group would be known as A Tribe Called Quest consisting of the above-mentioned duo as well as Jarobi White and Ali Shaheed Muhammad.
Tribe was not only revolutionary for the culture, but they would prove to be of legendary caliber. What we wouldn't know until years later is that the sub-genre they helped shape as "alternative-jazz Hip Hop" would bridge the generational gap between fans as they perfected the use and integration of jazz and soul beats with intellectual, socially forward themes and concepts. This album along with every release after would gain the group endless notoriety and distinction.
While fans nationwide (and worldwide) turned to A Tribe Called Quest for feel good, elevated lyricism, varying delivery and flow styles from both Tip and Phife for decades, March 23rd would rattle the Hip Hop world when we learned of the passing of Phife Dawg due to his health complications. It was this devastating loss that unified fans of every age in their remembrance of the impact Tribe's lyrics and group's presence had. We saw through quotable lyrics, stories, and pictures how vital Tribe would be to the culture.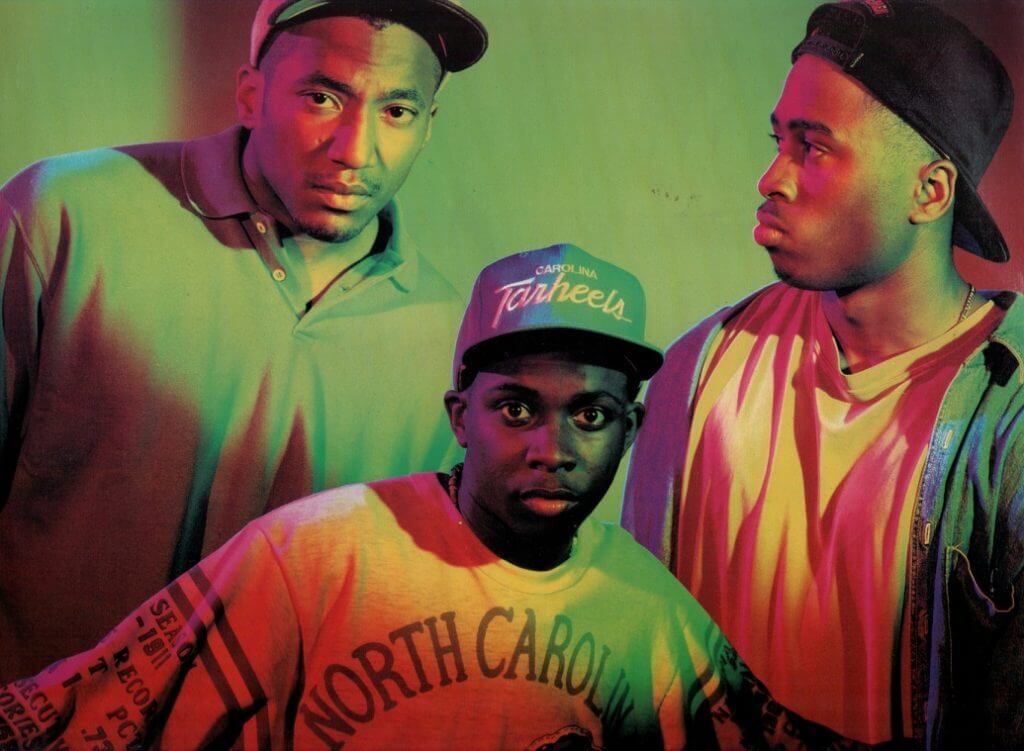 For those of us who still think of the contributions and words of Phife along with the other members, September 24, 2016 allowed us to celebrate the 25th year anniversary of the release of ATCQ's sophomore project "The Low-End Theory" which only served to cement the popularity of the group after their debut. This fourteen track masterpiece would be regarded as (possibly) the group's best work. A near, if not perfect album and what brought the revolutionary aspect of "alternative Hip Hop" to life.  Let's take a closer look at what went into making this such a Hip Hop gem.
What I love about a group of this caliber is that everything is laced with layers upon layers of meaning, take the title for example. "A Low End Theory" for those who aren't music savvy, is in reference to the frequency at which we hear various sounds. The "low end" of that sound range accentuates the bass sounds (which we hear throughout) and filters out the high pitches and treble, perhaps a technique used in the production of the album to seamlessly infuse jazz to make it "pop" within the Hip Hop beats. Another take on it could be the groups interpretation of rap philosophy and the "theory" therein. Whichever way you look at it, the title is a glimpse into what we are about to experience. Now let's get right into the tracklist…
Tribe starts us off with "Excursions", which is a very well put together song and glimpse into the emotional side of Q-Tip. The track is the story he tells regarding the relationship with his father and their dynamic with regards to his pursuit of rapping. I love the snippet of conversation he uses:
"My pops used to say, it reminded him of be-bop

I said, well daddy don't you know that things go in cycles

The way that Bobby Brown is just amping like Michael"
And here we get the first reference to the African American culture which would be at the forefront of Tribe's themes (which we also hear again in the track's outro)… here take a look:
"All the way to Africa aka The Motherland

Stick out the left, then I'll ask for the other hand

That's the right hand, Black Man

Only if you are noted as my man"
And my favorite line in the entire song:
"What you gotta do is know the Tribe is in the sphere

The Abstract Poet, prominent like Shakespeare"
It's ridden with metaphors and those layered meanings ATCQ is so good at using. On the production side, Ali Shaheed is genius. He kept the samples to a minimum, the intricacies to a simplistic form and let Tip shine. This was an incredible way to kick off the album.
Since the deal was that Phife would have more involvement on this album compared to their debut, it comes as no surprise that on "Buggin' Out" we get to hear Phife drop some pretty incredible verses beginning with the first. This shows his clever delivery and wittiness as well as some unexpected wordplay. Take a look at this:
"The five foot assassin with the ruffneck business

I float like gravity

Never had a cavity

Got more rhymes than the Winans got family"
"You wanna diss the Phifer but you still don't know the half

I sport New Balance sneakers to avoid a narrow path"
I appreciate the play on "diss Phifer"/"decipher" as it fits perfectly and he delivers it flawlessly. As much as I love the lyrics what I appreciate even more than that is how well Q-Tip and Phife play off each other. They hand off verses to one another with a fluidity that is truly unmatched by any other duo in Hip Hop. As a listener, the transition from one rapper to the next is so seamless, if it wasn't for their voice differences you would think they are the same person.
They prove to be a force and with Ali Shaheed on production, they absolutely nail this. The "low end theory" is evident with the heavy use of bass which again works against the rappers' voices. This is a perfect track in every way and indicative of what we can expect from these two.
Next up, we get another track with Q-Tip all on his own except it has a dash of Phife on the hook. We know that Q-Tip is incredible and no matter what the content, his lyrics are solid. You can expect the same on this track as he delivers incredibly. Again the simplicity in the production allows his voice to shine, but overall this is a fun track: "Diggi-dang-diggi-dang, di-dang-ga-dang-a-diddy" how can you not love that?
I've said this before and I'll say this again, every rap album needs to have at least one track dedicated to women or women problems and Tribe has given us their version with "Butter". This is one of my most favorite tracks on this album for that reason. I absolutely love the approach and I love the way Phife delivers his verses because he is the primary rapper on this (we see Tip on the hook). He takes us back to "1988 at Garvey High" and then introduces us to "Flo" and every other girl in comparison. The realism is great because it's relatable. Here take a look:
"Was a stone cold lover, you couldn't tell me jack

Settlin' down with one girl, wasn't tryin' to hear that

I had Tonya, Tamika, Sharon, Karen

Tina, Stacy, Julie, Tracy

Used ta love 'em, leave 'em/ Skeeze 'em, tease 'em

Find 'em, lose 'em

Also abuse 'em

My whole attitude was new day, next hon"
I think everyone (especially the fellas) have shared the sentiment. The beat production is a masterpiece. The hard drum keeps us engaged and the soft instrumental in the background softens it out while the jazz infusion is heard on the hook. This is a highlight yet another perfect track.
Next we get Q-Tip spitting "Verses From The Abstract". His talent and abilities on the mic have never been doubted and that's largely due to tracks like this. He spits bar after bar, makes it sound amazing and allows us to appreciate his smooth unique sounding voice.  Another great addition to an already solid track list.
Tribe is joined by Brand Nubian members Lord Jamar and Sadat X as well as Diamond D who is a member of the NY based Diggin' In The Crates Crew to gNY-basedShow Business", which serves as a tale of the rap industry as they experienced it. A Tribe Called Quest was mostly anti-label and as a result of this, emerging artists realized quickly how twisted and messed up the commercial side of the industry really was. Q-Tip starts it off with:
"Let me tell you 'bout the snakes, the fakes, the lies

The highs at all of these industry shing-dings"

 

"Yo, I gotta speak on the cesspool

It's the rap industry and it ain't that cool

Only if you're on stage or if you're speakin' to your people

Ain't no one your equal"
Lord Jamar:
"They're givin' you the business and puttin' on a show

You're a million dollar man that ain't got no dough"
Phife Dawg:
" I got so much trouble on my mind

'Bout these no-talent artists gettin' signed, they can't rhyme

And if that ain't bad, you got bootleggers

Goin' out like suckers"
Sadat X:
"'Oh, he's a cutie', yeah, real cute

But I wasn't that cute when I didn't have no loot"
Diamond D:
"The rhyme was condensed in

A matter of minutes so it must be told

All that glitters' not gold

Everybody wants a deal, help me make a demo"
I love the coherence and aligned thought. This track is articulated so well, it becomes evident that there is a elevated mindset and it's much appreciated.
We're at the halfway point in the album when we get to "Vibes And Stuff" and after that we get the buzz-worthy track "The Infamous Date Rape". Now in 1991, date rape cases were being reported at staggering rates. So it was a big deal to have a title of this nature and this got some people talking, but the topic much like the earlier track "Butter" is a realistic story but this time about non-consensual sex and to avoid being accused of rape. Q-Tip conveys this very straightforwardly:
"Listen to the rhyme, it's a black date fact

Percentile rate of date rape is fat

This is all true to the reason of the skeezin

You got the right picking but you're in the wrong season"

If you're in the wrong season, that means you gotta break

Especially if a squad tries to cry out rape"
As laid back and chill as ATCQ is, they manage to emphasize the importance of certain topics and convey their intended point so well.
The next track "Check The Rhime" is my favorite for so many reasons: It's my favorite to quote and ever since Phife passed away, it brings tears to my eyes to listen to. The friendship and dynamic of Phife and Q-Tip (at the time) just permeates the speakers. These two sound like they have a ton of fun with this track and they do. It doesn't even matter what they are talking about, it sounds perfect. That fluidity and smoothness of their back and forth was first heard on the second track, but it's perfected here. They start off by taking us back to the street they grew up on, giving the listeners a quick four minute version of their beginnings.
"(Tip) Back in the days on the boulevard of Linden

We used to kick routines and presence was fitting

It was I the abstract

(Phife) And me the five footer."
And they continue on reminiscing about all the things they use to do, using anecdotes so to speak that give the listeners a glimpse into their friendship. And as I mentioned, my most favorite A Tribe Called Quest lyric to quote ever is:
"You on point Tip?

All the time Phife.

You on point Tip?

Yeah, all the time Phife."
Personally I love their dynamic, I love their openness and I appreciate so much that the brotherhood was felt. (This song always makes me miss Phife a little more and makes me realize how vital his contributions were to making this album so great).
I'll skip over the next two tracks "Everything Is Fair" and "Jazz(We've Got)", though as expected both are amazing, but "Jazz" is the epitome of what the group was aiming for in alternative Hip Hop. That track is the perfect incorporation of jazz sounds..snare heavy, trumpets and a piano loop make it flawless. The breaks and changes are perfectly timed and Phife's incorporation of his Trinidadian (West Indian) roots is perfect. I would expect nothing less and these two deliver incredibly.
As we approach the end we get to hear Tribe's ode to the pager (I chuckled while typing that) "Skypager". This track is really the epitome of the '90's when everyone had a pager and it was inadvertently used as a status symbol, and Q-Tip does a great job of explaining that. Here take a look at the first verse:
"Do you know the importance of a skypager?

Those who don't believe, see you're laid behind

Got our skypagers on all the time

Hurry up and get yours cuz I got mine"
This is probably the best nostalgic track and they have fun with it. On the production side, it's a little different. The samples, the looped beat and the recorded audio makes for a busy background, but it fits well with the song. Once again, Tip and Phife keep it short and sweet and to the point.
The second to last track is "What?" which is the perfect title for what we are about to hear. Basically this is two and a half minutes of rhetorical questions… I don't know how these two manage to make this sound good because they are the only ones that could. The beat is dope, it has a much faster tempo than what we've heard, but it forces the duo to keep up which they do without a problem. Conceptually I like this, it's clever and fun.
Last track and probably the most well received is "Scenario", also considered one of the best posse cuts ever and definitely one of my favorite tracks. They feature Leaders Of The New School and it's just four minutes of pure Hip Hop enjoyment. Busta and his crazy mic antics are always a treat so all of them fill this with talent and feel good Hip Hop. Here are some snippets:
Phife:
"Aiyyo Bo knows this (what?) and Bo knows that (what?)

But Bo don't know jack, cause Bo can't rap

Well whaddya know, the Di-Dawg, is first up to bat

No batteries included, and no strings attached"
Charlie Brown:
"For the flex, next, it's the textbook old to the new

But the rest are doo-doo

From radio, to the video, to Arsenio

Tell me! Yo, what's the scenario"
Busta Rhymes:
"The rear c*** diesel, for chicks they were kickin

Yo, bustin out before the Busta bust a nut the rhyme

The rhythm is in sync (UHH!) the rhymes are on time (TIME!)

Rippin up this dance just like a radio

Observe the vibe and check out the scenario!!"
What a dope way to end an album of this caliber. I appreciate that this was saved to very end and I think Leaders of the New School were a perfect collaboration choice. They all meshed so well together, fed off each other's energy and made this such a gem and a posse cut that can never be rivaled.
A Tribe Called Quest came to Hip Hop with a vision of something new, never before heard and one that would appeal to fans of the culture [of Hip Hop]. They achieved this with their debut album, but perfected it 25 years ago with "The Low End Theory" . Upon its release, this album made ATCQ legends almost instantly. Their intelligence, modest lyrics and smooth soulful sounds truly captivated audiences of every age group. They left an imprint in the Hip Hop world that will forever be regarded as revolutionary. As heart-wrenching as it was to accept the passing of Phife, I'm forever thankful that he infused each one of the albums with pieces of his personality, insight, wisdom, and heart. Without Phife, Tribe will never be the same but this album has him laced throughout and at his best.
…All the time Phife!
– Porsha