Single classic albums, back-to-back classics, even three-peats are far from uncommon in Hip Hop. But how many artists managed to release four top-notch consecutive albums? More than you might think, perhaps. For this piece, we've selected ten acts that dropped four classic or near-classic albums in a row. Common would have been in this top 10, were it not for Electric Circus (2002), which broke a run of near-perfect albums – Resurrection (1994), One Day It'll All Make Sense (1997), Like Water for Chocolate (2000), and Be (2005). Kanye West could have made the list, if not for 808's & Heartbreak (2008), without which he would have had an exceptional four-album run. Lots of other acts that had great three-album runs besides Common and Kanye (Eminem, 2Pac, ATCQ, Ice Cube, Mobb Deep, UGK, and Rapsody come to mind), and there also are plenty of artists (like Nas, Jay-Z, Tech N9ne, Ghostface Killah, Masta Ace, Scarface, MF DOOM, and Aesop Rock) with more than four classic or near-classic albums on their name, just not released consecutively in a four-album run. Anyway, here are the ten acts WE think had the best four-album runs in Hip Hop history. What do YOU think?
10. EPMD (1988 - 1992)
EPMD is one of the most consistent and well-respected duos in Hip Hop. Erick Sermon and Parrish Smith had a huge influence on the Hip Hop scene with their funk-based grooves and laid-back rhyming. Even though there were a couple of split-ups (and subsequent reunions) during the Long Island duo's career, they managed to drop a string of high-quality albums, as a duo and as solo artists. Especially the first four albums the duo released as EPMD – Strictly Business (1988), Unfinished Business (1989), Business As Usual (1990), and Business Never Personal (1992) – are widely considered undisputable Hip Hop classics.
9. Pharoahe Monch (1999 - 2014)
Pharoahe Monch is an emcee from Queens New York, who has been at the forefront of lyrical innovation for three decades now. Not only is he one of Hip Hop's preeminent lyricists, crafting intricate rhyme schemes and intelligent raps, but he is also an incisive political and social commentator, using Hip Hop as a platform for political engagement.
Pharoahe Monch's name is derived from the monkey doll Monchhichi. After receiving a bad haircut, which left Monch looking like a "chimpanzee", girls in Monch's class at the High School of Art and Design began calling him "Monchhichi", which was later shortened to "Monch". Monch adopted the "Pharoahe" prefix after meeting future Organized Konfusion partner Prince Po.
Monch released three albums as part of the rap duo Organized Konfusion with partner Prince Poetry: The self-titled Organized Konfusion, Stress: The Extinction Agenda, and The Equinox. The duo handled a large amount of production on these albums themselves. All albums received positive critical reviews, but moderate sales. As a result, the duo split up after recording their final album The Equinox in 1997.
Pharoahe Monch then signed to Rawkus Records, an indie label. After making several guest appearances on albums like the best-selling Rawkus compilation Soundbombing II, Monch's much-hyped debut, Internal Affairs was released in 1999. The first single of the album, "Simon Says", became a hit single. Despite its success, the song caused controversy when Monch was later sued for the song's use of a sample from Akira Ifukube's Gojira Tai Mosura in the hook. The uncleared sample use caused a halting in his album's distribution.
After Internal Affairs and the controversy over its hit song, Pharoahe would not release another solo project for several years. He did still make some songs and guest appearances, however. In 2000 he featured with Mos Def and Nate Dogg on the hit song "Oh No" from the Rawkus compilation record Lyricist Lounge 2. In 2003 Pharoahe released his final single through Rawkus Records, "Agent Orange", a war-inspired song that revisited the 1991 Organized Konfusion track "Releasing Hypnotical Gases".
In June 2007, Monch released his second solo album Desire to critical acclaim. Monch said about the album; "…it's very soulful, very gospel, a fresh, new sound for me." The album's lead single was the self-produced track "Push", with "Let's Go" as its B-Side. Pharoahe Monch released his third solo album W.A.R. (We Are Renegades) in March 2011, and his fourth album, PTSD: Post Traumatic Stress Disorder, on April 15, 2014, under his independent label, W.A.R. Media. The album is a conceptual follow-up to his third album, W.A.R. (We Are Renegades).
8. Ice T (1987 - 1991)
Ice T is one of Hip Hop's biggest icons, one of the pioneers of gangsta rap. The difference between Ice T and most of the countless gangsta poseurs that would follow in his wake is that Ice T always had an air of authenticity AND that he not just glorified the gangsta lifestyle. He always had that extra layer of humor and intelligence to set him apart from the rest – with the ultimate message that a gangsta life will most likely end badly (exactly the reason he got out early and turned to music). He built an impressive career with some excellent records by just being hard and real, without having to try to be.
Despite his mainstream acting career and celebrity status, he effortlessly retains full Hip Hop credibility – precisely by always being authentic, true to himself and to the game. His excellent Hip Hop documentary "The Art Of Rap" and initiation of the annually returning "Art Of Rap" Hip Hop Festivals only cements his status as one of the most respected elder statesmen of Hip Hop.
Rhyme Pays (1987), Power (1988), The Iceberg (1989), and Original Gangster (1991) all are iconic albums, we even have Original Gangster as a top 25 Hip Hop album of all time.
7. The Roots (1995 - 2002) & (2006 - 2011)
The Roots started out in Philadelphia, formed in 1987 by emcee Tariq 'Black Thought' Trotter and drummer and bandleader Ahmir 'Questlove' Thompson. Throughout their whole career, The Roots have captured with style and grace the essence of true Hip Hop, using live instrumentation, intelligent lyrics, and masterful rhythmic engineering. Having Black Thought as the lead emcee – who has to be recognized as one of the greatest emcees EVER – only helps to solidify The Roots' status as one of Hip Hop elite acts.
The Roots' catalog is one of the most consistent in Hip Hop history. They do not have just one strong four-album run, but two – it was impossible to choose between the two and name one run of albums better.
Do You Want More?!!!??! (1995), Illadelph Halflife (1996), Things Fall Apart (1999), and Phrenology (2002) represent a virtually flawless four-album run, and Game Theory (2006), Rising Down (2008), How I Got Over (2010), and the conceptual Undun (2011) is just as good a series of albums.
6. Run The Jewels (2013 - 2020)
In 2012 El-P produced Killer Mike's album, R.A.P. Music – one of our favorite albums of 2012 – which was soon followed by Killer Mike's appearance on the track "Tougher Colder Killer" from El-P's Cancer 4 Cure. When R.A.P. Music and Cancer 4 Cure were released within weeks of each other, the two decided to tour together. The success of the tour eventually led to the decision to form Run The Jewels.
Run The Jewels (2013), Run The Jewels 2 (2014), and Run The Jewels 3 (2016) all are among the best Hip Hop albums of the 2010s, three important albums for Hip Hop as a genre. Run The Jewels 4 (2020) was the best album of the first year in the 2020s. Killer Mike and El-P sound powerful and hungry across all four albums, proving that Hip Hop can still be entertaining as well as meaningful. El-P's top-notch production is like a perfect evolution of the famed Bomb Squad sound and the politically-charged lyrical content is intelligent, hard-hitting and thought-provoking in the best Public Enemy tradition. At this point, we can start calling Run The Jewels one of the best duos in Hip Hop history. Four phenomenal albums in a row, it's undeniable.
5. Public Enemy (1987 - 1991)
Ever since they exploded on the scene in 1987, Public Enemy has been one of the most influential and powerful forces in Hip Hop. Over 30 years of nearly constant world-touring has secured their status as one of the best and most impactful (live)acts in Hip Hop ever. Public Enemy's first four albums Yo! Bum Rush The Show (1987), It Takes A Nation Of Millions To Hold Us Back (1988), Fear Of A Black Planet (1990), and Apocalypse 91… The Enemy Strikes Black (1991) all are classics, Nation and Fear chief among them, of course.
"Public Enemy No. 1", "You Gonna Get Yours", "Miuzi Weighs A Ton", "Bring The Noise", "Don't Believe The Hype", "Terminator X To The Edge Of Panic", "Black Steel In The Hour Of Chaos", "Night Of The Living Baseheads", "Louder Than A Bomb", "She Watch Channel Zero", "Prophets Of Rage", "Brothers Gonna Work It Out", Welcome To The Terrordome", "Burn Hollywood Burn", "911 Is A Joke", "Fear Of A Black Planet", "Can't Truss It", "By The Time I Get To Arizona", "Night Train", "Shut Em Down" – nothing but classic P.E. songs on these iconic albums.
4. Gang Starr (1991 - 1998)
Gang Starr – DJ Premier and the late Guru – left us with a discography of incredible consistency and superior quality. Their debut No More Mr. Nice Guy (1989) was a great album in its own right, but the four that would follow – Step In The Arena (1990), Daily Operation (1992), Hard To Earn (1994), and Moment Of Truth (1998) – all are indisputable classics. Premier's signature sound and Guru's unique voice never get old – these timeless albums only get better and better as time goes by.
3. De La Soul (1989 - 1996)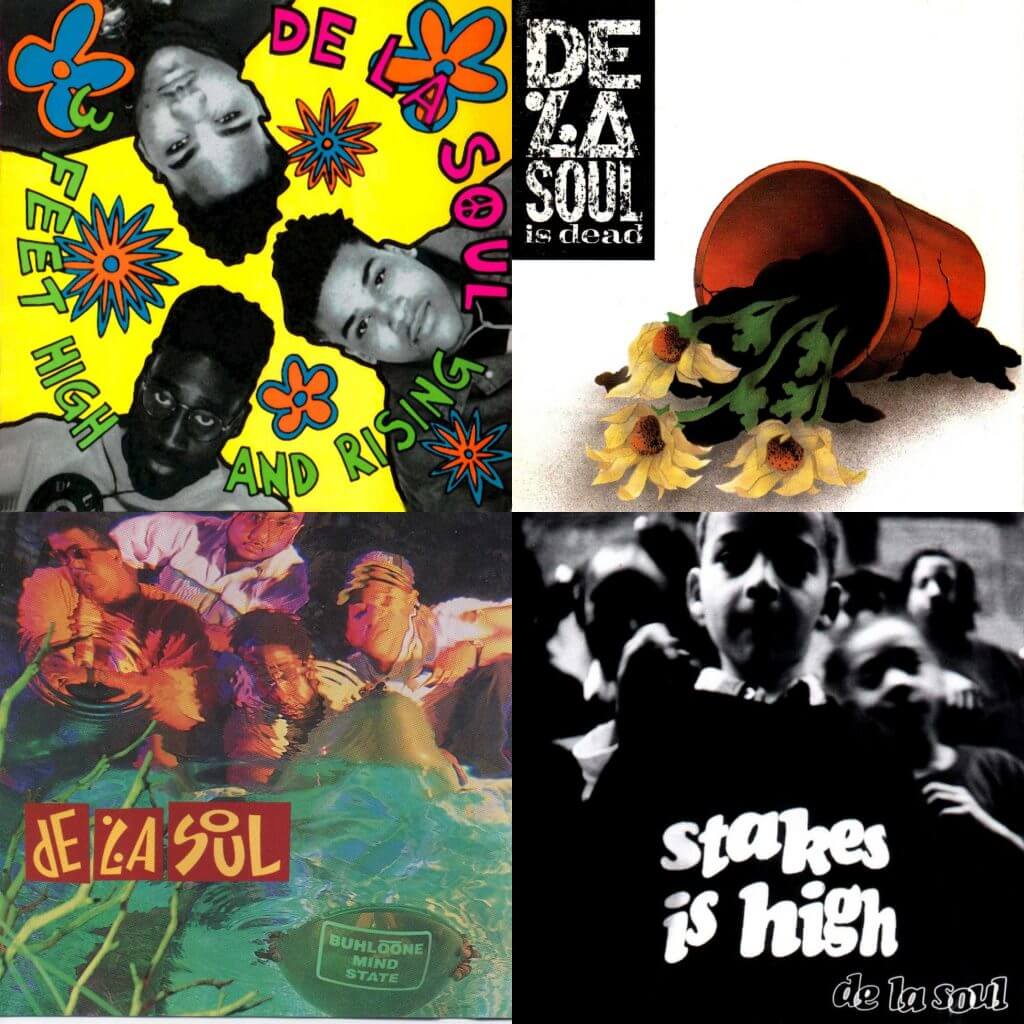 De La Soul's status in Hip Hop is virtually unparalleled – no other group (with the possible exception of The Roots and Public Enemy) can boast the same longevity, never wavering authenticity and consistent A+ quality output. The first four De La Soul classics all are classics. The quirky and innovative 3 Feet High Rising shook up Hip Hop in 1989, creating a new lane in Hip Hop (along with Jungle Brothers' 1988 release Straight Out The Jungle), paving the way for acts like A Tribe Called Quest, The Pharcyde, Freestyle Fellowship, Digable Planets, and many others. De La Soul Is Dead (1990) was a reinvention and so far ahead of its time Hip Hop still hasn't caught up yet, Buhloone Mindstate (1993) is a tasteful, jazz-flavored masterpiece (and De La Soul's most underrated album), and Stakes Is High (1996) turned out to be the mature and confident culmination of all that came before. De La Soul usually doesn't get the props they deserve – but we have no doubts about stating that this trio is one of the most important acts in Hip Hop history and that their first four albums firmly belong to the best 100 Hip Hop albums of all time.
2. OutKast (1994 - 2000)
OutKast: one of the most critically acclaimed AND commercially successful duo in Hip Hop ever, with enduring Hip Hop credibility and massive mainstream appeal at the same time. Big Boi and Andre 3000's endless innovative creativity, incredible musicality, eccentric style, and superior mic skills made sure the South would forever be a Hip Hop region to be reckoned with. Unfortunately, Big Boi and Andre split up in 2006 with no reunion in the cards, but they left us with a near-perfect discography with especially the first four albums – Southernplayalisticadillacmuzik (1994), ATLiens (1996), Aquemini (1998), and Stankonia (2000) – being straight-up classics, not even confined to the Hip Hop genre.
1. Eric B & Rakim (1987 - 1992)
Eric B & Rakim will forever be celebrated as one of Hip Hop's most illustrious and most important duos. Their seminal 1987 debut Paid In Full was hugely influential and instrumental in maturing and changing the direction of Hip Hop, musically but especially lyrically. Rakim's lyricism was unprecedented and even now virtually unequaled. Between 1987 and 1992 Eric B & Rakim dropped four classic albums – Paid In Full, Follow The Leader (1988), Let The Rhythm Hit Em (1990), and Don't Sweat The Technique (1992).
Paid In Full was a gamechanger with nothing classic songs like "Eric B Is President", "My Melody", "I Ain't No Joke", "Move The Crowd", "I Know You Got Soul", and the underrated "As The Rhyme Goes On" on it. Follow The Leader was a confirmation (with the best opening trio of songs ever with "Follow The Leader", "Microphone Fiend", and "Lyrics Of Fury"). Nobody will dispute the 'classicness' of these first two, but we feel the last two Eric B & Rakim albums are kind of underappreciated.
Let The Rhythm Hit Em is a super tight album, a bit darker sounding than the previous two, with Rakim as good as ever and classic cuts such as "Let The Rhythm Hit Em", "The Ghetto", "Mahagony", "Run For Cover", and "No Omega" on it. Don't Sweat The Technique may pale a bit in comparison with the first three, but is still better than most other Hip Hop albums. The sequencing is a bit off (the first song "What's On Your Mind" should have been album closer), but with songs like "Teach The Children", "Pass The Hand Grenade",  "Casualties Of War",  "The Punisher", "Don't Sweat The Technique", and of course "Know The Ledge" there are plenty of Eric B & Rakim classics on this album too. For us, Eric B & Rakim are four-for-four, and responsible for what we consider the best four-album run in Hip Hop history.
Honorable Mentions
Run DMC (1984 – 1988)
LL Cool J (1985 – 1990)
Beastie Boys (1986 – 1994)
Boogie Down Productions (1987 – 1992)
Too Short (1987 – 1992)
King Tee (1988 – 1995)
Ice Cube (1990 – 1993)
A Tribe Called Quest (1990 – 1996)
2Pac (1991 – 1996)
Redman (1992 – 1998)
Jedi Mind Tricks (2000 – 2006)
Brother Ali (2003 – 2017)
Kendrick Lamar (2011 – 2017)