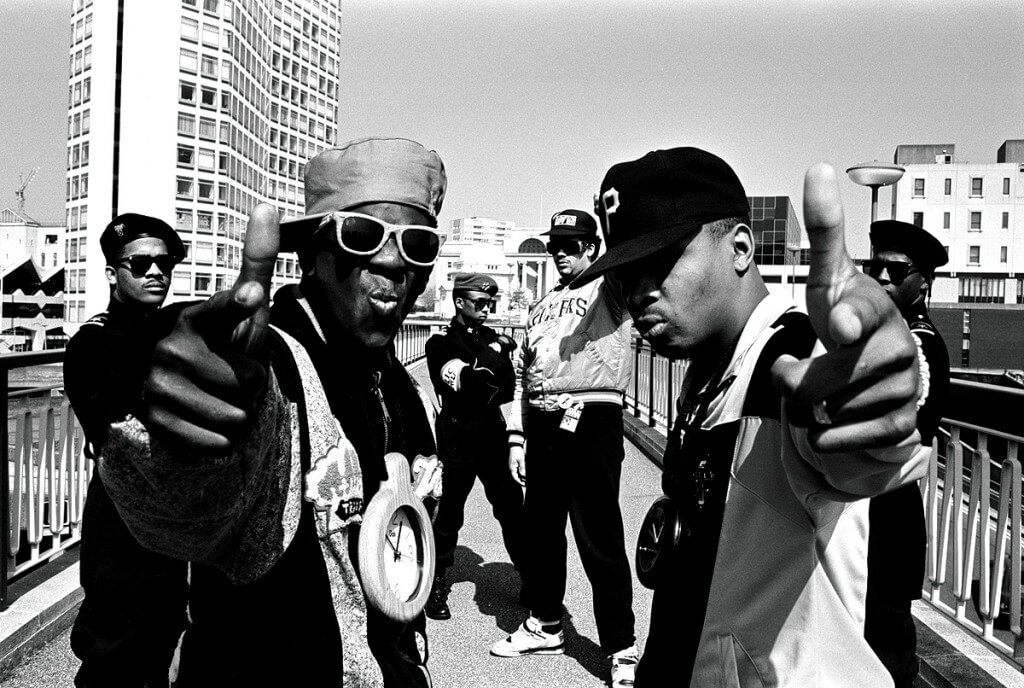 Ever since they exploded on the scene in 1987, Public Enemy has been one of the most influential and powerful forces in Hip Hop. Over 30 years of nearly constant world-touring has secured their status as one of the best and most impactful (live)acts in Hip Hop ever. Three decades of recording grade-A Hip Hop has produced countless classic songs. For this particular selection of best Public Enemy songs we will limit ourselves to our favorite period in Hip Hop and only consider tracks from Public Enemy's first four albums (Yo! Bum Rush The Show (1987), It Takes A Nation Of Millions To Hold Us Back (1988), Fear Of A Black Planet (1990) & Apocalypse 91… The Enemy Strikes Black (1991). So here it is: our top 15 Public Enemy songs.
Agree? Disagree? Discuss!
15. Night Of The Living Baseheads (1988)
"Here it is, BAM! / And you say "Goddamn, this is the dope jam" / But let's define the term called dope / And you think it mean funky now, no…" 
The third single released from It Takes a Nation of Millions to Hold Us Back. The lyrics deal with the effects of crack cocaine and the classic video that goes with the song only enhances the strength of the message.
14. Brothers Gonna Work It Out (1990)
"History shouldn't be a mystery / Our stories real history / Not his story…" 
Wow! What an album opener. This high-octane, sample-heavy banger – with that signature Bomb Squad sound – kicks of P.E.'s third album Fear Of A Black Planet in perfect style. Musically as dense as any track off It Takes a Nation Of Millions, this song showed that P.E. had every intention and full confidence to follow up the uber-classic It Takes A Nation with yet another masterpiece album.
13. Prophets Of Rage (1988)
"With vice I hold the mic device / With force I keep it away of course / And I'm keeping you from sleeping / And on stage I rage / And I'm rolling / To the poor I pour in on in metaphors / Not bluffing, it's nothing / That we ain't did before / We played you stayed / The points made / You consider it done / By the prophets of rage…" 
Anyone who has ever seen Public Enemy performing live knows they used this one as the show-opening song for a long time. No better track to get the party started right and get the crowd hyped up. Clear the way for the prophets of rage!
12. By The Time I Get To Arizona (1991)
"Well, I got 25 days to do it / If a wall in the way, just watch me go through it / Cause I gotta do what I gotta do / P.E. number one, gets the job done" 
A scalding accusation against the state of Arizona for not recognizing the birthday of Martin Luther King as a national holiday. Arizona and New Hampshire were the only states that did not recognize the Martin Luther King holiday when this song was released in 1991.
11. You're Gonna Get Yours (1987)
"In this corner with the 98 / Subject of suckers, object of hate / Who's the one some think is great / I'm that one (son of a gun)…" 
None of the political and social consciousness that would become so typical for Public Enemy yet, this track is an ode a 98 Oldsmobile with an instrumental that perfectly fits the lyrics. For a lot of people, this will be the first P.E. track they ever heard, when they went into the record store to listen to the album before buying it (remember those days?). The first track of side A – who was not sold on Public Enemy after You're Gonna Get Yours was finished?
10. Bring The Noise (1987)
"Bass! How low can you go? / Death row, what a brother know / Once again, back is the incredible / Rhyme animal / The uncannable D, Public Enemy Number One…"
Originally included on the Less Than Zero movie soundtrack, Bring The Noise was released as a single in 1987. Lyrically and sonically complex, this track was instrumental in the development of the trademark Public Enemy sound. One of P.E.'s most recognizable songs.
9. Welcome To The Terrordome (1990)
"I got so much trouble on my mind / Refuse to lose / Here's your ticket / Hear the drummer get wicked" 
One of the centerpieces of P.E.'s monumental third album. The immediacy, controversy and sonic density that characterize Fear Of A Black Planet all come together in this classic Public Enemy track.
8. Can't Truss It (1991)
"Kickin' wicked rhymes like a fortune teller / Cause the wickedness done by Jack / Where everybody at divided and sold / For liquor and the gold / Smacked in the back for the other man to mack" 
In this poignant song, Chuck D links the modern corporate world to the days of slavery. The brilliant video makes the message even stronger.
7. Don't Believe The Hype (1988)
"Don't believe the hype, it's a sequel / As an equal can I get this through to you / My 98 booming with a trunk of funk / All the jealous punks can't stop the dunk"
P.E.'s classic critique of false media and rumors is yet another winner from It Takes A Nation Of Millions To Hold Us Back. Classic beat, classic rhymes, classic hook.
6. Shut Em Down (1991)
"I like Nike but wait a minute / The neighborhood supports, so put some money in it / All corporations owe, they gotta give up the dough / To my town or else we gotta shut 'em down" 
The fourth single of P.E.'s underrated fourth album Apocalypse 91… The Enemy Strikes Black. Although not as groundbreakingly classic as it's two predecessors, this album was solid Public Enemy. Shut Em Down is one of the highlights. The beat goes hard, as does Chuck's message to corporate America.
5. Burn Hollywood Burn (1990)
"Burn Hollywood burn I smell a riot / Goin' on – first they're guilty, now they're gone / Yeah I'll check out a movie / But it'll take a Black one to move me"
Addressing Hollywood's persistent exploitation and stereotyping of blacks, on this track Chuck D pulls no punches as usual. Ice Cube and Big Daddy Kane hold it down too. Fierce.
4. Black Steel In The Hour Of Chaos (1988)
"I got a letter from the government the other day / I opened and read it, it said they were suckers / They wanted me for their army or whatever / Picture me giving a damn – I said never…" 
This has to be one of the most impactful songs Public Enemy ever did, and that is saying something. A powerful story of a jailbreak, directed at the US government and its prison system. Hard-hitting lyrics, perfect instrumental – this is Public Enemy at its best.
3. Public Enemy No. 1 (1987)
"Well I'm all in, put it up on the board / Another rapper shot down from the mouth that roared / 1-2-3 down for the count / The result of my lyrics, oh yes, no doubt" 
Public Enemy's debut single. Remember, this was 1987. Musically, nothing like this was done before, ever. Highly innovative, this unique sound would become trademark Public Enemy. Throw Chuck D's booming voice and his back-and-forth with joker Flavor Flav in the mix and the signature sound of one of Hip Hop biggest acts ever is born.
2. Rebel Without A Pause (1987)
"Yes – the rhythm, the rebel / Without a pause – I'm lowering my level / The hard rhymer – where you never been I'm in / You want styling – you know it's time again" 
The first single and one of the big tracks from It Takes A Nation Of Millions To Hold Us Back. Released in 1987, it was sort of a bridge from the still somewhat unpolished sounds of Yo! Bum Rush The Show to the Bomb Squad produced perfection on It Takes a Nation Of Millions To Hold Us Back.
1. Fight The Power (1989)
"I'm ready and hyped plus I'm amped / Most of my heroes don't appear on no stamps" 
Public Enemy's best-known song, the musical theme for Spike Lee's classic movie Do The Right Thing is universally regarded as one of the best songs of all time. We agree.