Run DMC 'took the beat from the street and put it on TV'. They were the first multi-platinum act in Hip Hop and they were responsible for introducing Hip Hop to new (MTV generation) audiences all over the world and ushering in the Golden Age of Hip Hop. The tag-team rhyming and perfect synergy between Run and DMC, the humorous wordplay, the musical genius of Jam Master Jay, the thundering beats, the fashion-style, and all-around coolness – Run DMC were king of the hill for a good while and will always be one of the most important and influential groups in the history of Hip Hop. This is our top 15 Run DMC songs. Agree? Disagree? Discuss!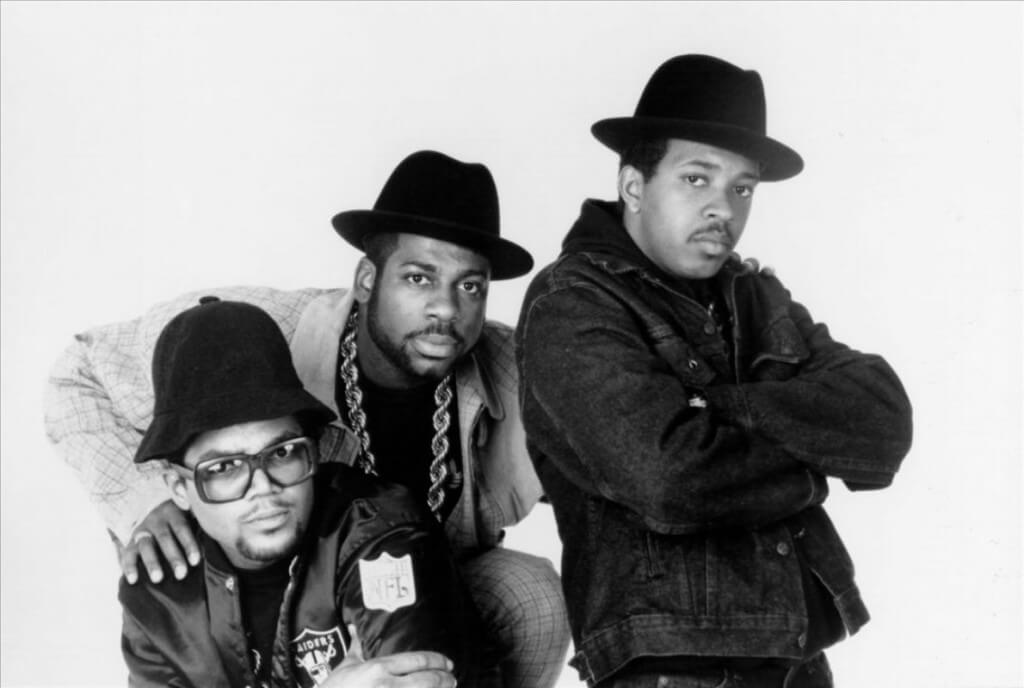 15. Rock Box (1984)
For all you sucker MC's perpetrating a fraud / Your rhymes are cold wack and keep the crowd cold bored / You're the kind of guy that girls ignored / I'm driving Caddy, you fixing a Ford…" 
The third single from Run DMC's debut album Run DMC. This track is groundbreaking because it's the first time a Hip Hop record incorporates rock, with a heavy rock guitar riff and solos, taking a big departure from the disco-glossed rap of most of their predecessors. Run DMC would continue to develop this sound on their following albums with their break-out song King Of Rock and especially the worldwide crossover hit Walk This Way with rock band Aerosmith.
14. Hit It Run (1986)
"I'm the devastating mic controller D.M.C / And can't nobody mess around with me" 
Just one of the classic tracks from the monumental Raising Hell album.
13. It's Like That (1983)
"You know it's like that, and that's the way it is / Because it's like that, and that's the way it is…" 
It's Like That is Run DMC's debut song (with all-time classic Sucker MCs on the B-side of the 1983 cassette release). It has Run and DMC delivering social commentaries in their trademark back and forth style. Hugely successful, it put Run DMC on the map and was instrumental in changing the direction of Hip Hop.
12. My Adidas (1986)
"My Adidas, walk through concert doors / And roam all over coliseum floors / I stepped on stage, at Live Aid / All the people gave, and the poor got paid"
A classic example of product endorsement in music. Commercially inspired or not, this song is a dope B-boy tribute to their preferred footwear. Classic beat, classic rhymes.
11. Darryl And Joe (1985)
"I'm the rapper of the year and this the year of the rap / And I'm never drinking beer, it's champagne at the tap / And I'm cold making money on a regular basis / Pullin out, knockin sucker MC faces" 
The second sequel of sorts to Run DMC's debut banger Sucker MCs.  Just straight up rhyming over a dope drum beat, with Jam Master Jay tearing up the turntables.
10. Run's House (1988)
"Name is Run my son, number one for fun / Not a gun, that's done, and get done by none / The other act, in fact, ya just wack I kill (Why?) / It's fun, my son, and Run heads the bill!" 
By 1988, the rap game was rapidly changing with other acts becoming front runners and with Run DMC no longer as Hip Hop's single top act. Run's House was Run DMC's way of showing they were not played out just yet. Who's house? Run's house!
9. Jam Master Jay (1984)
"J-A-Y are the letters of his name / Cutting and scratching are the aspects of his game / So check out the Master as he cuts these jams / And look at us with the mics in our hands / Then take a count, 1 2 3 / Jam Master Jay, Run-D.M.C" 
One of the best tracks from their 1984 debut album. Run DMC's way of showing Jam Master Jay is an integral part of the group. You have to know Run DMC is not a duo, but a trio: Run, DMC and Jam Master Jay.
8. King Of Rock (1985)
"I'm the king of rock, there is none higher / Sucker MC's should call me sire / To burn my kingdom, you must use fire / I won't stop rockin' till I retire"
The lead track from their second album, King Of Rock is another rock-infused song that helped cement Run DMC's status of Hip Hop's newest superstars with massive crossover appeal.
Did you know Run DMC performed this track at the legendary Live Aid concert in 1985?
7. Down With The King (1993)
"Sucka emcees could never swing with D / Because of all the things that I bring with me / Only G-O-D could be a king to me / And if the G-O-D be in me, then the king I be" 
After the disappointing 1990 album Back From Hell, Run DMC returned to form somewhat for the last time with the 1993 Down With The King album. The absolute stand-out track from that album is this collaboration with Pete Rock & CL Smooth. Peep the video and see if you can spot all the cameo appearances!
6. Raising Hell (1985)
"Kings from Queens from Queens come Kings / We're raisin hell like a class when the lunch bell rings…" 
Walk This Way was the monster hit from Run DMC's 1986 masterpiece Raising Hell. The titular track of the album is OUR favorite rock-infused song of the album, though. Run and DMC in top form and the instrumental goes hard too – gotta love Raising Hell.
5. Together Forever (Live) (1984)
"It's like that y'all, and we don't stop the body rock / Now it's together (forever) forever (together) / Run-D.M.C. and we're tougher than leather / We're making and breaking and snatching and taking / The deal's for real we could never be faking…" 
Another perfect song that has Run and DMC trading their rhymes over a simple but dope 808 beat. Straight up Hip Hop.
4. Hollis Crew (1984)
"Microphone master, super rhyme maker / I get def as the others get faker / It's me, D.M.C. in the place to be / And I still got the same old harmony / I'm the devastating mic-controller / The word wizard and the chief rock roller…"
Hollis Crew is a dope continuation of Sucker MCs and an adaptation of the 1983 live track Here We Go, which is dope as hell too.
3. Beats To The Rhyme (1988)
"Beats to the rhyme, the rhyme I just made / Party at the jammie til lights the night fade / Trooping for the feature we all get paid / So let's go…"
This track is HARD. Sick instrumental and rhymes – arguably the best track of Run DMC's fourth album Tougher Than Leather.
2. Peter Piper (1986)
"His name is Jay / To see him play / Will make you say / God damn that DJ made my day" 
Another tribute track to the multi-talented Jam Master Jay. On this DJ-favorite, Run and DMC trade lyrics based on nursery rhymes and fairy tales while at the same time paying homage to JMJ's skills on the turntables. Perfect tag-team rhyming, perfect instrumental – perfect song.
1. Sucker MCs (1983)
"Two years ago, a friend of mine / Asked me to say some MC rhymes…" 
First released in 1983 on cassette together with It's like That, this two-sided release marked the start of Run DMC's career and the beginning of the 'new school' in Hip Hop. The minimalist, hard beats marked them out from their predecessors in Hip Hop and would prove hugely influential to a host of artists who would follow in Run DMC's footsteps. To this day, Sucker MCs has one of the most recognizable beats in Hip Hop and it will always be one of Hip Hop's most important and classic songs.