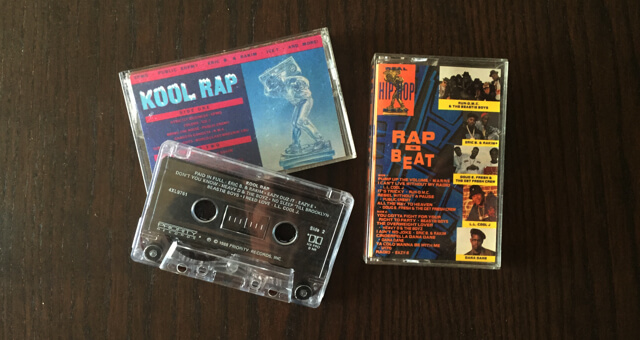 (Republished from Semi-Rad)
A few months ago, a headline claiming "The New Dad-Rock Is '90s Rap" filtered through my newsfeed. I didn't click on it at the time; I figured, well, whoever wrote that is probably right. I'm 36, and lots of men my age are dads, and probably listened to '90s Hip Hop. Despite our feeling that the music from that era will always be cool, way too cool to ever be heard in an elevator, a chain coffee shop, or a shopping mall, everyone gets older, and the edge our music had in its heyday eventually dulls. And Midnight Marauders might be playing in a few minivans right now.
Everyone has a several-year period of music in their life that actually sounds better to them than anything else (it's science), and more than any other type of music, I go back to the Golden Age of Hip Hop: I go through my collection of dozens of albums from 1986 to 1994, watch documentaries about artists from that time, listen to podcast interviews of Hip Hop legends, read every Hip Hop history book I can get my hands on, and wish someone would put the archive of Yo! MTV Raps episodes on Netflix or Amazon Prime or something. I'm not sure why we do things like this, but I'm sure everyone does at some point, and experiences that particular nostalgia for a simpler time when we really heard music.
Last week, my friend Aaron, who is a dad of teenage sons, messaged me, saying, Didn't you tell me about Joey Bada$$ a couple years ago? My son is getting into him now. He reminded me of this thing I had sent him, a piece I wrote without thinking about where/if it could ever be published: Stories about 12 Hip Hop songs I listened to, from age 11 to age 32. I know most of the stories on my website are about outdoor adventure—this is about as opposite as you can get from that. If you have an interest in how music fits into our lives, you might like it. At the very least, it might make you think about what 10 or 12 songs your story fits around.
Track 1. "It Takes Two," Rob Base & DJ EZ Rock
Red Oak, Iowa, 1990: I am 11 years old, at KMart, with the $5 my dad pays me every week for yardwork. I flip through the racks of music, about to buy something I will listen to in a knockoff Walkman for months, and then keep for more than 20 years. This is a big day, but I don't know it. I'm just losing interest in G.I. Joe and maybe looking for something else.
The cassette is called Rapmasters 1: The Best of The Jam, ©1989 Priority Records, a compilation, the cover orange with a silhouette of a B-boy statue, overlaid with the track listing:
• Rob Base & DJ EZ Rock: It Takes Two
• Kid 'N' Play: Gittin' Funky
• Salt 'N' Pepa: Get Up Everybody (Get Up)
• Big Lady K: On A Mission
• Dana Dane: Cinderfella Dana Dane
• Run-DMC: Tougher Than Leather
• Doug E. Fresh And The Get Fresh Crew: Lovin' Every Minute Of It
• Stetsasonic: Sally
• The Real Roxanne: Respect
• Hurby's Machine: Let The Drummer Get Ill
I'm white. None of the 8,000 other people living in my hometown are black. The nearest black people live in Omaha, an hour away, and not that many of them. I'm an altar boy at the Catholic church a half-block away from our house, and when I'm not in school, I like to shoot baskets on the hoop my dad put in our driveway, most of the time with a boom box plugged in and playing music through the open garage door.
"It Takes Two" is the first song on side A of this cassette, so it was the first Hip Hop song I ever owned, rewinding over and over in the cassette player, learning every verse of the party rhymes, learning who Rob Base was, according to Rob Base: Not internationally known, but known to rock a microphone because he gets stupid, meaning outrageous, stay away from him if you're contagious.
My new cassette was the only place I could hear those songs. Hip Hop was not on the radio, not on the Omaha stations we could pick up.
Track 2. "Fight The Power," Public Enemy
Red Oak, Iowa, 1991: I am 12. Spike Lee's 1989 movie Do The Right Thing is on network television, with all the "motherfuckers" edited out. I am in junior high, convinced that I will someday be good at basketball or football. Same as other kids my age, 90 percent of my sports heroes are black men. For a year now, I have been listening to what some people call "n—er music," like "Fight The Power," the Public Enemy track that blasts out of Radio Raheem's boombox every few minutes in Do The Right Thing. I record the movie on a VHS tape and watch it dozens of times.
In one scene, the young black pizza delivery guy, Mookie, and the pizzeria owner's two Italian sons, Pino and Vito, stand leaning on the cigarette machine in Sal's Famous Pizzeria in Bedford-Stuyvesant and talk:
MOOKIE: Who's your favorite basketball player?
PINO: Magic Johnson.
MOOKIE: And not Larry Bird? Who's your favorite movie star?
PINO: Eddie Murphy.
MOOKIE: Last question: Who's your favorite rock star?
Pino doesn't answer, because he sees the trap he's already fallen into.
MOOKIE: Barry Manilow?
Mookie and Vito laugh.
MOOKIE: Pino, no joke. C'mon, answer.
VITO: It's Prince. He's a Prince freak.
PINO: Shut up. The Boss! Bruuucce!!!!
MOOKIE: Sounds funny to me. As much as you say n—er this and n—er that, all your favorite people are "n—ers."
PINO: It's different. Magic, Eddie, Prince are not n—ers, I mean, are not Black. I mean, they're Black but not really Black. They're more than Black. It's different.
The album "Fear of a Black Planet," including "Fight The Power," is the first compact disc I own. The liner notes, containing Chuck D's lyrics, send me to the library to study black history. I write down names and events and go to the card catalog and the encyclopedias: Marcus Garvey, Emmett Till, Malcolm X, Stokely Carmichael, Huey Newton, Elijah Muhammad, Bensonhurst, Selma, Medgar Evers, the Black Panthers.
Track 3. "Colors," Ice T
Okoboji, Iowa, July 1991: I have this cassette in my backpack, Kool Rap, another Priority Records compilation tape from 1989, that I found in one of the discount stores in my hometown. My uncle Felix, who lives in Cleveland with my aunt and her three sons/his stepsons, is driving the car back from the amusement park in Okoboji, with my brother and I and my cousin Aaron. He lets me put my cassette in the stereo of the Crown Victoria, and we make it through the first song, EPMD's "Strictly Business," just fine. Uncle Felix even recognizes the sample from Eric Clapton's version of "I Shot the Sheriff."
Then "Colors," Track 2, Side A, plays. I have that feeling when the other person in the front seat doesn't like the music playing, and is just tolerating it. I know it's probably not going to get any better, that Uncle Felix isn't going to love Hip Hop no matter what. Finally, Ice T spits out
Don't try to act crazy, cause that shit don't faze me
If you ran like a punk, it wouldn't amaze me
And Uncle Felix's hand goes directly from the steering wheel to the eject button less than a second after the word "shit" comes out of the speakers. My mother's side of the family is all devout Catholics and "shit" is a curse word. We don't have to have a long discussion about the lyrical content, an angry black man from L.A. rhyming and glorifying gang life and violence, painting a fascinating picture of what sounds like another planet. Uncle Felix just says "That's enough of that," and we are done listening to Hip Hop for the rest of the car ride.
I forget that Uncle Felix is a career police officer in Cleveland, and maybe has a low tolerance for gangsta rap. A year later, Ice T will form a metal band called Body Count, and will be crucified by politicians and the media for the song "Cop Killer." It is not a Hip Hop song, but Ice T is known as a "rapper," which is what everyone says when they talk about how appalled they are at the song. I think they just mean he's black, and they say "rapper" to mean that. In my 20s, when I hear people say that musicians shouldn't talk about killing police officers, I think of Eric Clapton's cover of "I Shot the Sheriff," and wonder how that is so different from Ice T's song.
Uncle Felix and I always got along, even though we had different tastes in music. He retired from his law enforcement career when I was 23, and died less than two years later of colon cancer.
Track 4. "They Reminisce Over You (T.R.O.Y.)" Pete Rock and C.L. Smooth
Red Oak, Iowa, August 1992: I am 13 years old, up every Saturday morning, too old for cartoons but just old enough for Yo! MTV Raps. In 20 years, people will talk about how this show brought Hip Hop to suburban and rural America.
I'm drawn to the music videos on Yo! MTV Raps, and They Reminisce Over You, with a jazzy saxophone sample and a subtle doo-wop "wooo-hooo" layered into its beat, is the No. 1 song on Yo!'s summer countdown. It is so good, so exemplary of what will be called Hip Hop's "Golden Age," that I will still listen to it 20 years later.
When I am 13, I just like the lyrics, mostly about MC C.L. Smooth's family, his absent father, car salesman uncle, charming grandfather, and grandmother who kept everyone together. Inner-city scenes of concrete schoolyards, black men with hoodies and handshakes on street corners and in barbershops flash on the TV, and it's all so exotic compared to the manicured lawns and endless cornfields outside our front door. I wish I was better at football and basketball and less good at reading books, and I wonder if I'll get my first kiss next year in eighth grade, and wonder if it should have already happened.
Track 5. "Crooklyn," The Crooklyn Dodgers
Crossroads Mall, Waterloo, Iowa, July 1994: I am getting away with something. I'm 15. Sam Goody and Musicland, the two record stores here, have anti-theft devices on all their CDs and cassettes—big plastic frames clipped to the cases, which they remove when you pay for your purchases at the counter. But the cassette singles only have an adhesive anti-theft patch on them. My friend Travis's brother has driven us and hour to Waterloo to go to a movie, since we're not old enough to drive yet. We're not yet sophomores in high school, but Travis has already been drunk and smoked weed and been in trouble at school a bit and has long hair compared to the rest of us, so I'm surprised he's so gun-shy to shoplift anything. I grab a $3 cassette single off the rack, glance at the counter, peel the sticky anti-theft patch off the back, and slid it into my pants under my belt.
My heart rattles against my chest and my face gets hot for just a second. I stall, wait a few seconds, try to casually walk out of the front of the store and act like I'm still browsing the items near the front. A few hundred feet away, I move the cassette out of my pants and into my front pocket. I ask Travis if he got anything and he says no, and I can't understand why.
A few weeks later, an employee at Sam Goody will approach me and tell me he knows what I'm thinking about doing, and trust him, don't do it. I nod, and pay $3 plus sales tax for the cassette single of "I Got Cha Opin" by Black Moon, one of whose members, Buckshot, is featured on the "Crooklyn" single.
Track 6. "Method Man," Wu-Tang Clan
New Hampton, Iowa, 1994: I read about the Wu-Tang Clan in an issue of The Source during my freshman year of high school. The Source story says the Wu-Tang Clan is a group of eight MCs and producers from New York, obsessed with old martial arts movies, and they've just put out an incredible, raw album called Enter the Wu-Tang: 36 Chambers. Even in the glossy magazine photos they look rough, and everyone has three nicknames. They wear camouflage and work clothes and ski masks, and overall seem too rowdy to be a commercial act. And I hadn't even heard the music yet. I can't buy the album in a store because of the Explicit Lyrics label, but a friend's older brother has it on CD, and makes me a cassette copy.
Later, people would say the rough, gritty sound of the album paved the way for the success of more well-known New York MCs like Jay-Z and Notorious B.I.G. It was also the first cassette my mother told me to throw in the trash. In the skit preceding the track "Method Man," a couple group members talk about different torture ideas, including
I'll fucking pull your fucking tongue out your fucking mouth
and stab the shit with a rusty screwdriver
Through my upstairs bedroom door one night before dinner, my mother hears something, opens my door and tells me to throw the cassette away, that it's filthy and I didn't need to be listening to it. I keep the cassette, buy the CD in college, and keep listening to it well into my 30s, still in disbelief of its creative vision, how dirty and dark all the beats sounded, and how it ever succeeded when it did, all rhythm and bravado and no polish.
Track 7. "Can't Nobody Hold Me Down," Puff Daddy
University of Northern Iowa campus, Cedar Falls, Iowa, spring 1998: You can almost hear the flash of diamonds and gold and platinum in the rap songs that popped out of doorways in Rider Hall, my dorm at the University of Northern Iowa. Puff Daddy, Will Smith's "Gettin Jiggy Wit It" and Wyclef Jean's "We Tryin' To Stay Alive." Yo! MTV Raps has been off the air for three years now, and Hip Hop shows up on MTV only on Total Request Live.
"Can't Nobody Hold Me Down" feels too clean, too flashy. It unashamedly steals the beat from Grandmaster Flash and the Furious Five's "The Message," a landmark Hip Hop track from 1982. Puff Daddy will later claim in an album title, "We Invented the Remix." I think he invented ripping off huge, obvious samples, entire choruses of famous songs, which is not what Hip Hop production is all about: artful samples pulled from sometimes obscure funk and jazz records, and used to architect truly original beats and background tracks—not jacking hooks from Diana Ross singles and re-purposing them for a rap song. And whoa, suddenly I'm 19 and I have an opinion about what Hip Hop should be. Like it owes me something.
The clubs and bars in my small college town bump all kinds of music, and the hip hop they play—Will Smith, Wyclef, Puffy, Ma$e, is commercially successful, is far more polished and digestible than the albums that made up my adolescent stash. You could make money as a Hip Hop artist, and it just felt different. I was different, too. Free from my parents, I start to flourish into a full-blown disaster alcoholic. I go through eight fake IDs before I turn 21, start to rack up tickets for open containers, underage possession, then rides in police cars and nights in jail. I wreck cars, run into things, get jumped in an alley more than once, and the year after we all graduate with degrees in marketing, accounting, education, and business administration, I sign up for court-ordered substance abuse treatment at 23.
Track 8. "Lose Yourself," Eminem
New Hampton, Iowa, January 2003: I am up late on a weeknight, sitting in my parents' basement in Iowa during my holiday break from graduate school at the University of Montana. I am six months out of rehab and nine months sober after eight years of drinking. I am 24 years old. I am single for the first time since I was 20, finally really broken up from my on-again, off-again girlfriend from college. She called my parents' house the other night, drunk and slurring her words about how she missed me, and her new boyfriend out in New York was OK, but he wasn't me. I bit my lip in the basement. I was a mess, drunk whenever I could be, and easily talked into going home with girls who were not my girlfriend. Now I was trying to stay sober and convince myself that I wasn't such a dick, if you took away the booze. I don't know what to tell my ex-girlfriend on the phone, so I just listen and shift around in my seat.
On MTV2, a show called Jammed is about to surprise 1,600 students at Michigan State University, with the help of Eminem. The students know they are seeing the world premiere of Eminem's movie, 8 Mile, but they don't know that when the closing credits roll, the movie screen will come up and Eminem will come from backstage, yelling the verses from the movie's theme song, "Lose Yourself." I respect Eminem without really loving his music—the lyrics are incredible, but the beats don't grab me. Too new-school, no samples, no drum breaks pulled from old records.
I have now listened to Hip Hop for more than half my life, sometimes wondering why. And this moment in this episode of Jammed, I see: A black college student, a young woman, standing in the first few rows of this surprise concert, screaming a white MC's lyrics back to him. She is a fan. This is a music I have always felt shy about listening to, as a white man. There is another black student on the TV, singing along too. Then another one. A white man is making black music for black people, and he didn't steal it, like white people did with jazz and rock and roll. He came into Hip Hop as a guest and is now its biggest star, and no one cares that he's white. Although they did in the movie version of his story.
Track 9. "Little Man," Atmosphere
Denver, Colorado, September 2006: My walk to work the first year at the newspaper in downtown Denver takes me through the scrappy section of Capitol Hill down 14th Avenue, through Civic Center Park, past the back door of the U.S. Mint and into the office of the Rocky Mountain News, which is struggling. It's a strange time to work for a newspaper; the Rocky, as it's called by its employees, will be dead in two years. I don't hate my job, but I never feel quite at home there. My master's degree in journalism prepared me for newspaper work, so that's what I'm trying to do. I am poor, and buy my business-casual work clothes at thrift stores. Every morning, I try to feel comfortable in dress pants and collared shirts, and I can't, and I walk to work.
This album, You Can't Imagine How Much Fun We're Having, is my soundtrack for my walk to work, past the homeless folks and the characters who drift off Colfax, and the dope dealers in the park. Atmosphere is a duo from Minneapolis, producer Ant architecting layered beats and MC Slug writing real lyrics—about problems, relationships, life; not rims and jewelry and Cristal and guns, the things people always talk about when they talk about why they don't listen to Hip Hop.
Atmosphere brings me back to Hip Hop, as a 27-year-old, pulls me back in and ignites the curiosity again—this is so good. What else is out there? I'm enthusiastic again, partly because of the material—devoid of all the clichés that pushed me away from the music and made me say that "Hip Hop was better when you couldn't get rich and famous making it."
But it's also partly because I'm sad, and I don't know it. This song, "Little Man," is a series of letters Slug writes to three people: His son, his father, and himself. The lyrics draw a portrait of a man and his dysfunctional relationships—with his parents, with the women in his life, and with his young son. I think I love it for its raw honesty and its original artistic concept, but the truth I won't know until I can look back is that I love it because I'm sad, lost and confused.
I am living with my girlfriend, the seventh year of an on-again, off-again nine-year relationship that for the most part survived alcoholism (mine) and the confusion of a long-term eating disorder (hers). The next summer, we'll get married. Then we'll realize we've been growing apart. The summer after we get married, we'll slowly chop down the tree that is our friendship, ending it in September, standing at the Denver courthouse signing the failure papers and swallowing lumps in our throats, trying to hold it together until we can get out of the building.
Track 10. "Paid In Full," Eric B. and Rakim
Wallowa Mountains, Oregon, 2010: "It's 'Ra-KIM," I correct Trae as we stand around the campfire. Trae is 15, I'm 31. I am telling a young black man how to pronounce the name of one of the most revered MCs in the history of Hip Hop. I am an adult role model, one of the leaders of a backpacking trip for "at-risk" urban teens—five young men from Portland.
People have mispronounced Rakim's name since the '80s, saying "ra-KEEM." Just as I turned the corner on 30 years old, I started to dig back into Hip Hop's "Golden Age," rebuilding and expanding my collection with music made between 1985 and 1995, roughly. Rakim was the Michael Jordan of MCs during that time, the master, and MCs were still paying tribute to him in songs in 2010, biting a line or two of one of his rhymes and working it into their new songs in an homage to the master.
I had become a rock climber, and spent long days on weekends walking up into and back out of the mountains, and when I walked by myself and got bored, I would recite in my head the lyrics to Rakim's classic "Paid In Full," to see if I could still remember them start to finish. I told people it was "the greatest continuous 60 seconds of rhyming in Hip Hop," syllables metered carefully, but so smoothly, along a bass line, and it all fit together as naturally as the sound of a train rolling down the tracks:
Thinkin of a master plan
This ain't nothin but sweat inside my hand
So I dig into my pocket, all my money's spent
So I dig deeper, I'm still comin up with lint
So I
Start my mission, leave my residence
Thinkin how could I get some dead presidents
I talk to Trae about Hip Hop, and as I begin to tell him Nas' Illmatic was the greatest Hip Hop album of all time, I realize he was born two years after it was released. Suddenly I was old, a guy telling a teenager that all the music nowadays was garbage compared to back in the good old days. What is that shit you're listening to? You kids don't know anything about music. The best music was recorded when I was a young man, in the prime of life. Let me tell you all about it.
Except Trae wasn't my son; he was a young black kid from the city, getting a lecture about his people's music from a long-haired granola-eating rock climber who grew up in the middle of a million miles of cornfields.
Track 11. "Check the Rhime," A Tribe Called Quest
Queens, New York, 2012: Syd and I park the rental car in the lot of Nu-Clear Cleaners, 193rd and Linden Boulevard in Queens. I am 33, and I have been in New York City for less than two weeks. Syd was born in Harlem, is 52, and loves Hip Hop as much as I do. So we rented a car and created our own Hip Hop history tour. There is no plaque here, no memorial, no sign, nothing that says A Tribe Called Quest filmed the video for "Check the Rhime" on the roof of this building in 1991, launching the first single on The Low End Theory. The album was revolutionary in linking Hip Hop and jazz, and over the next 20 years, would be viewed as an all-time classic of not just Hip Hop, but music in general—Bob Power, the sound engineer, would call it "the Sgt. Pepper's of Hip Hop." It was part of the soundtrack to my lonely, confusing adolescence, an album that was all mine in a town where no one else listened to Hip Hop.
I don't really know if anyone in Queens gives a shit about Check the Rhime or Nu-Clear Cleaners. For a second I wonder what I would think if two guys were standing outside taking photos where I was picking up my dry cleaning.
This morning, Syd and I parked a block away from the apartment building at 1520 Sedgwick Avenue in the South Bronx, walked up to the building's front door and snapped a few photos. No plaque, no sign. The building was recognized as the birthplace of Hip Hop, where DJ Kool Herc first spun records at parties in the rec room in 1974, looping the "breaks" of certain songs, extending the breakbeats, the drum solos, the funkiest parts of songs, so dancers could work their magic longer. The dancers became breakdancers, and breakbeats became the backbone of Hip Hop, and 38 years later, Syd and I showed up at the building just to look at it, to be there where it all started. Because Hip Hop was a piece of me, and I wanted to be close to the site of its genesis just once, same way I visited Jack Kerouac's fire lookout in the Cascade Mountains in Washington, and Ernest Hemingway's grave in Ketchum, Idaho.
Track 12. "Make the Money," Macklemore & Ryan Lewis
Seattle, March 2012: I am 33. I have had the word "Writer" tattooed on my chest for eight years, right where a name badge would be on a shirt if I worked at an old gas station. Someone introduced me to the music of Macklemore, a white MC from Seattle last year.
I liked Macklemore for his dedication to his voice and his music, expressed in this song and a few of his other tracks. He is from Seattle, not exactly a legendary hotbed for Hip Hop talent, but he is fiercely proud of it, and his city, and its Hip Hop culture. He has not signed with a major label or even released a full-length album, but his fan base is rabid, growing through Facebook, YouTube videos and sales of singles on iTunes.
Macklemore doesn't try to be anyone else, or imitate anyone's style to try to succeed as a newer version of what's worked in the past. His lyrics say This Is Who I Am, and you believe his passion will power him to the top. Or I do. I want to see parallels in his career and mine. Last year, I left my job to become a contract copywriter, to give me the freedom to pick up freelance magazine work. I put up a web site, and watched it grow from 500 page views a month to 50,000. Work began to come in. After years of writing e-mails to national magazines and hearing nothing back, I got a few feature stories printed. Big checks. Editors e-mailed me with story ideas, asking if I'd like to take on a story.
I was finding my voice. I wrote a book-length manuscript, hoping not for a big publisher to take it on in a one-in-a-million shot, but for someone to merely print it so I could sell it, grassroots-style, like Macklemore.
Driving in my van one morning driving down I-5 south of Seattle, I listened to "Make the Money," and rewound the track several times to re-listen to lines about writing lyrics and staying in the studio late at night.
I think about two-plus decades of listening to this urban, black music, and not knowing how to feel about it. Like maybe I had to explain it to people, or defend myself, and if I had to, I would never have a good answer of why I loved music made by people who weren't "my people." Nobody ever walks up to you in the MOMA and tells you you can't possibly relate to Starry Night because you didn't grow up in the Netherlands in the 1860s.
These black men from New York, from Brooklyn and Queens — and now white men from Seattle— had always talked about writing rhymes. Their songs contained far more words than traditional songs with sung lyrics. And I had spent most of my life in love with words, whether they were Frank McCourt's, Norman Maclean's, Ernest Hemingway's, or Rakim's, or Chuck D's. I loved the words in Hip Hop, and the DIY ethic, and the guys coming up from having nothing and making a living making art. And after twenty-plus years of it, I finally felt okay that my favorite poetry came from streets that looked nothing like the places I'd grown up.