We've been covering all these dynamite and historic cities and states that have been so vital to the success of Hip Hop over these last forty years. Places such as Houston, Queensbridge, Compton, Chicago, Detroit, Philly, Bronx and North Carolina have all been staples within the progression of Hip Hop, but we're not done.
Next up, we have New Jersey, which is home to such people as Shaq, Bill Bellamy, Jack Nicholson, Job Bon Jovi, and the late, great icon Whitney Houston. Jersey played a big time role in music, sports, and movies. Do you remember the movie New Jersey Drive? Yeah, the movie wasn't bad but the soundtrack was quite dope. Anyways, over the last two to nearly three decades, Jersey has delivered some unbelievable Hip Hop talent and we will go over several of the best projects to come from the Garden State.
20. Artifacts - Between A Rock & Hard Place (1994)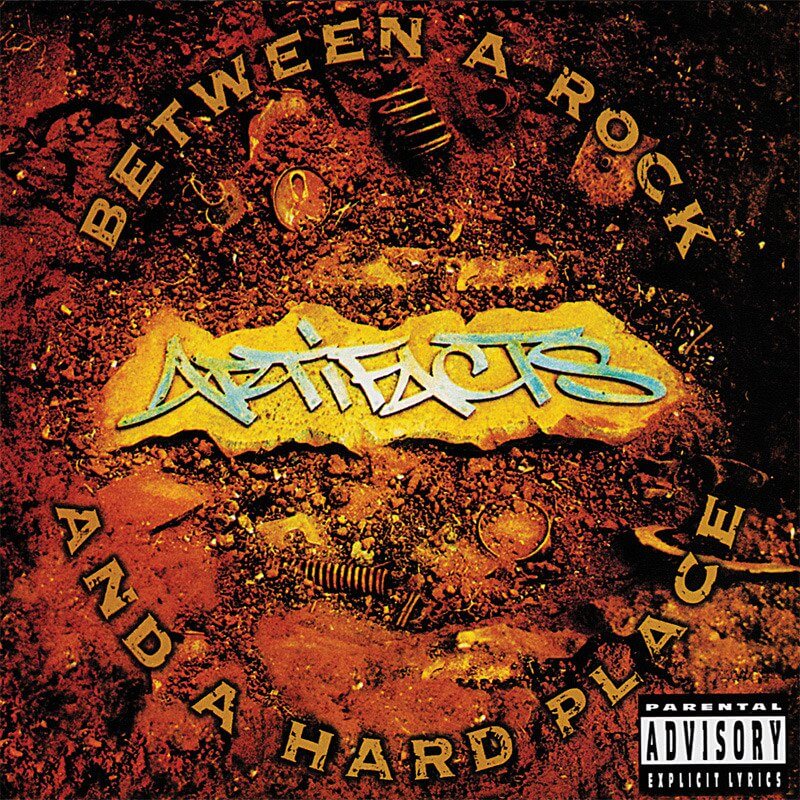 The duo of El Da Sensai and Tame One were known for graffiti art around Newark but were also noted for being quite the formidable Hip Hop duo. Their debut album, Between A Rock & A Hard Place, was a rugged album that sounded so raw and so unfiltered. Led by the instant classic hit "Wrong Side Of the Tracks", these two had lyrics for days and much like their Queens counterparts Organized Konfusion, they could go toe to toe with any duo to merge during this time whether underground or mainstream. Complex vocab and slang were a-plenty – this album was a very dope introduction to the duo.
19. Pacewon & Mr. Green - The Only Color That Matters Is Green (2008)
Outsidaz member Pacewon and burgeoning producer Mr. Green came together on the silent near the end of the first decade of the millennium to deliver The Only Color That Matters Is Green, arguably the most slept on powerhouse of 2008. Rock solid production by Green and the usual rugged microphone acrobatics of Pacewon matched each other pretty damn well, as cuts like "Hip Hop" and the SICK "Children Sing" made this album one of the best albums you never peeped of that decade.
18. Young Zee - Musical Meltdown (1996)
Here's another Outsidaz member we must highlight, and this time it's Young Zee. In the mid-nineties, anticipation was fairly high for the former hubby of former Outsidaz member, turned Flipmode member Rah Digga. Musical Meltdown, had momentum and was gaining steam until the album got shelved thanks to a horrible two-mic rating in The Source at that time. Let it be known: this album goes way harder than a two-mic rating merits. In fact, Zee showed a lot of promise with this album. Along with guests such as Lauryn Hill, KRS-One and Busta Rhymes, this was a fairly power-packed and more than decent debut.
17. Wyclef Jean - The Ecleftic: 2 Sides II A Book (2000)
One thing you can always expect from Wyclef, and that's no box containment. That means one can not totally put Clef into one category of music. While Hip Hop at heart, he's also a lover of music as a whole, thus wide varieties of genres will often be incorporated with his albums. Such was the case with his follow-up to his worldwide acclaimed debut The Carnival – The Ecleftic: 2 Sides II A Book.
While Hip Hop was prevalent with cuts like the water cooler favorite "Where's Fugees At" and "Hollyhood To Hollywood", he also brings elements of reggae, pop, and world music, much like on his debut. Even the guests are fairly all over the place, as people such as Kenny Rogers to even famed actor/former eight-time WWE Champion The Rock make appearances. One will never be bored or complacent listening to a Wyclef project, and this one is no different.
16. Joe Budden - Rage & The Machine (2016)
One emcee that reps Jersey all over his back is Joe Budden. Jersey Joe, as he sometimes refers to himself as, is one of the most talented and personal emcees around, and with his fourth full-length album Rage & The Machine, he goes to back to ornery, chip-on-the-shoulder Joe like we hadn't seen in quite a long time, or at least on his own when he's not with his Slaughterhouse groupmates (BTW, can we PLEASE get another album from you guys?)
Unlike his Love Lost trilogy, this Joe has a fire underneath him, and it's shown throughout the entire album. That may be helped by the intense production by AraabMuzik, but whatever the case, Joe gave a big middle finger to any and all who doubted that he could still slay a microphone at will.
15. Artifacts - That's Them (1997)
Hoping to continue the momentum from their aforementioned strong debut Between A Rock & A Hard Place, Artifacts delivered their sophomore album That's Them – and it rocked every bit as hard, if not harder than their debut. More focused and more polished, Tame and El presented more of the same in terms of to-the-throat lyrics over no joke production by the likes of Da Beatminerz and Shawn J. Period. Led by the headjerker cuts "The Ultimate" and especially "Art Of Facts", this album should've had the duo go damn near to the moon. Sadly, this would be the last we would hear from Artifacts for a very long time to come.
14. Redman - Dare Iz A Darkside (1994)
In comes the mayor of Brick City (Newark) himself, Mr. Reggie Noble. This seasoned microphone veteran had dropped his debut album Whut? Thee Album in '92, to sincere acclaim. It was one of the most legit debuts during that time period (keep in mind, the year his debut came out, other giants such as The Chronic, Mecca And The Soul Brother, Business Never Personal, and Daily Operation were also released).
In '94, Redman delivered the much darker Dare Iz A Darkside, an album that was recorded during a bleak time in Redman's life. While this was a heavy, drug infused album, this was also among his best projects sonically. Gone are the Parliament-samples such as on the debut and included is wigged out knocking production instead. Although Redman openly has said he's not necessarily proud of this album due to the period in his life this was done, please believe this album was still a knocker.
13. Queen Latifah - All Hail The Queen (1988)
In '88, we were exposed to different caliber female emcee. While we were nuts over MC Lyte and Roxanne Shante, a young lady named Dana Owens came aboard the rap game with an assertive presence and a manner that commanded attention and respect. Named Queen Latifah, she delivered the feminist anthem with close associate Monie Love, "Ladies First" and from there dropped her debut, All Hail The Queen. The album screamed of Black woman empowerment and self-confidence, but it also highlighted how multi-talented Latifah was over some varied production. From boom-bap to house music, Latifah showed the game that she was here, and would be around for a long time to come.
12. Wyclef Jean - The Carnival (1997)
After the split of The Fugees, everyone was enamored with Lauryn Hill's debut – and rightfully so as it became a complete game-changer. Not to be outdone, Wyclef delivered quite the classic as well with his debut release The Carnival. Mixing various musical genres and styles, the album served as an inclusion of everyone's taste – he had something for everyone. From the street appeal of cuts like "Apocalypse" and "Bubble Goose" to the Cubano-flavored "Guantanamera" and Hatian of "Yele", this album covered almost every flavor around. A true lover of music as a whole, Wyclef presented a fulfilling collection of cuts that really was designed to be a world party.
11. Rah Digga - Dirty Harriet (2000)
The first lady of Flipmode had quite the anticipation for her solo debut, Dirty Harriet. This rugged, almost baritone-voiced emcee had lyrics for weeks, and this scorching debut highlighted that. From one of the most insane intros one would ever hear all the way through, the album was for the streets and the backpackers. Led by the crazy singles "Tight" and "The Imperial", Digga more than held it down for the ladies waiting to have one of their own show the fellas that the females can more than hold their own on the mic as well. Easily one of the best projects to come out the Flipmode camp, bar none.
10. Redman - Doc's Da Name 2000 (1998)
After delivering the album of his career with Muddy Waters, the pressure was on to come back with a project just as good if not better. In 2000, he dropped his fourth effort, Doc's Da Name 2000, led by the instant anthemic "I'll Be Dat" (complete with one of the most hilarious videos one could ever ask for). While there were far too many skits, the album at large was a sizzler and put Redman as a certified star, earning his first and only platinum plaque as a solo artist (he hit triple platinum units with smoke partner in rhyme Method Man for Blackout).
9. Joe Budden - Some Love Lost (2014)
The second part of his Love Lost trilogy had Jersey Joe going from fairly happy and chilling to migrating into darker places within his psyche. This EP served as a precursor to All Love Lost – quite the personal effort, as he touched on loyalty issues, trust issues, and more internal complexities. Definitely a career highlight, this EP was a great taste of things to come.
8. Queen Latifah - Black Reign (1993)
With the success of previous efforts All Hail The Queen and Nature Of A Sista, Queen Latifah was ready for crossover appeal, and Black Reign was the first step in that direction. Known for empowerment and community uplifting, the album was recorded in midst of personal tragedy with the unfortunate passing of her brother, but out of it came inspired and determined music. From the ageless "U.N.I.T.Y." to the true to life "Just Another Day", Black Reign officially put Queen over to that next level we knew that she would rise towards.
7. Naughty By Nature - 19 Naughty III (1993)
After dropping a hell of an album just two years earlier, Treach, Vin Rock, and Kaygee came back with another benchmark with their sophomore effort, 19 Naughty III. Led by the anthemic "Hip Hop Hooray" and the sultry "Written On Ya Kitten", this album marked the second straight success for the trio, as the album went platinum and officially killed any noise of there being a sophomore slump. If anything, they continued to further their legend with yet another critical and commercial smash.
6. Redman - Whut? Thee Album (1992)
Talk about a whopper of a debut. In '92, Redman delivered his highly anticipated debut, Whut? Thee Album and it was an instant hit. Still riding the momentum of his appearance on EPMD's Business Never Personal on the classic cut "Headbanger", his energy level was on a thousand. Over some incredibly funked-out production by Erick Sermon and himself, there were little to no blemishes on this album and Hip Hop's newest mic avenger had arrived.
5. Joe Budden - All Love Lost (2015)
Every emcee eventually hits that benchmark that defines his career after many say they were sitting on their potential to produce such an album. Joe Budden was one of those emcees, but that changed with 2015's All Love Lost. A personal diary for the masses of sorts, this is a very heavy listen, as he tackles insecurities, loss, struggles of being an recovering addict, and relationship woes among other things.
This album could easily be compared to 2Pac's Me Against The World or Slaughterhouse groupmate Royce Da 5'9″'s Death Is Certain in terms of bleak and depressing efforts being so astounding. Hopefully this became the audio therapy session he has long been needing to have with his fans and the public.
4. Redman - Muddy Waters (1996)
In '96 Redman dropped Muddy Waters, the album that would be his career benchmark. After two heralded efforts, he delivered a next level performance with this third album. With yet another gold plaque added to his career, Redman was starting to be one of the most consistent emcees in the game. He left behind the demons that were haunting him with his previous effort, Dare Iz A Darkside, and went back to having fun.  The result was a simply fantastic album.
3. Naughty By Nature - Naughty By Nature (1991)
Three East Orange cats that were proteges of Queen Latifah named Naughty By Nature delivered this stellar self-titled debut album (debut as Naughty By Nature that is, they already dropped an album in 1989 as The New Style). When we first heard the classic "O.P.P.", we were immediately hooked to this trio, and when they followed with "Ghetto Bastard" and "Yoke The Joker" this album became an instant smash. The Naughty guys had arrived, and the game was theirs for the taking thanks to this impeccable record.
2. Fugees - The Score (1996)
One of Hip Hop's greatest masterworks came in the form of The Fugees' second album The Score. What more can be said that hasn't already been said about this album? Breathtaking, timeless, and groundbreaking are just a few of the adjectives used to describe this album – and that's just scratching the surface. Not to mention, it became one of the highest selling Hip Hop albums of all-time. What could possibly outdo this one? Scroll down.
1. Lauryn Hill - The Miseducation Of Lauryn Hill (1998)
Much like the #2 album on this list with her fellow Fugees, what more can be said about the musical milestone? This album is considered one of the greatest musical accomplishments of all-time and will be forever be remembered for its heartbreaking and passionate odes to motherhood, lost loves, and the determination to be happy. This is an album that once you hear it, you hear greatness and will never be the same.
Honorable Mentions
Queen Latifah – Nation Of A Sista
Outsidaz – Night Life (EP)
Pacewon & Mr. Green – The Only Number That Matters Is Won
Pacewon – Won
Lords Of The Underground – Here Come The Lords
Heather B – Eternal Affairs
Heather B – Takin' Myne
Real Live – The Turnaround: A Long-Awaited Drama
Wyclef Jean – The Carnival II: Mémoires of An Immigrant
Naughty By Nature – Poverty's Paradise
Redman – Red Gone Wild: Thee Album
Redman – Mudface
Joe Budden – Joe Budden
When all is said and done, New Jersey definitely has some fantastic, and even surefire classic material in its legacy. One can best believe that whomever comes up to extend and deepen the legacy of the Garden State better be willing to go through scrutiny because they take their Hip Hop very seriously. While there have been one or two cats that came out and have seemingly bastardized the Jersey sound (and they shall remain nameless), here's hoping that Jersey can still roll on and upward to more sincere heat and keep being one of the most talented Hip Hop states around.