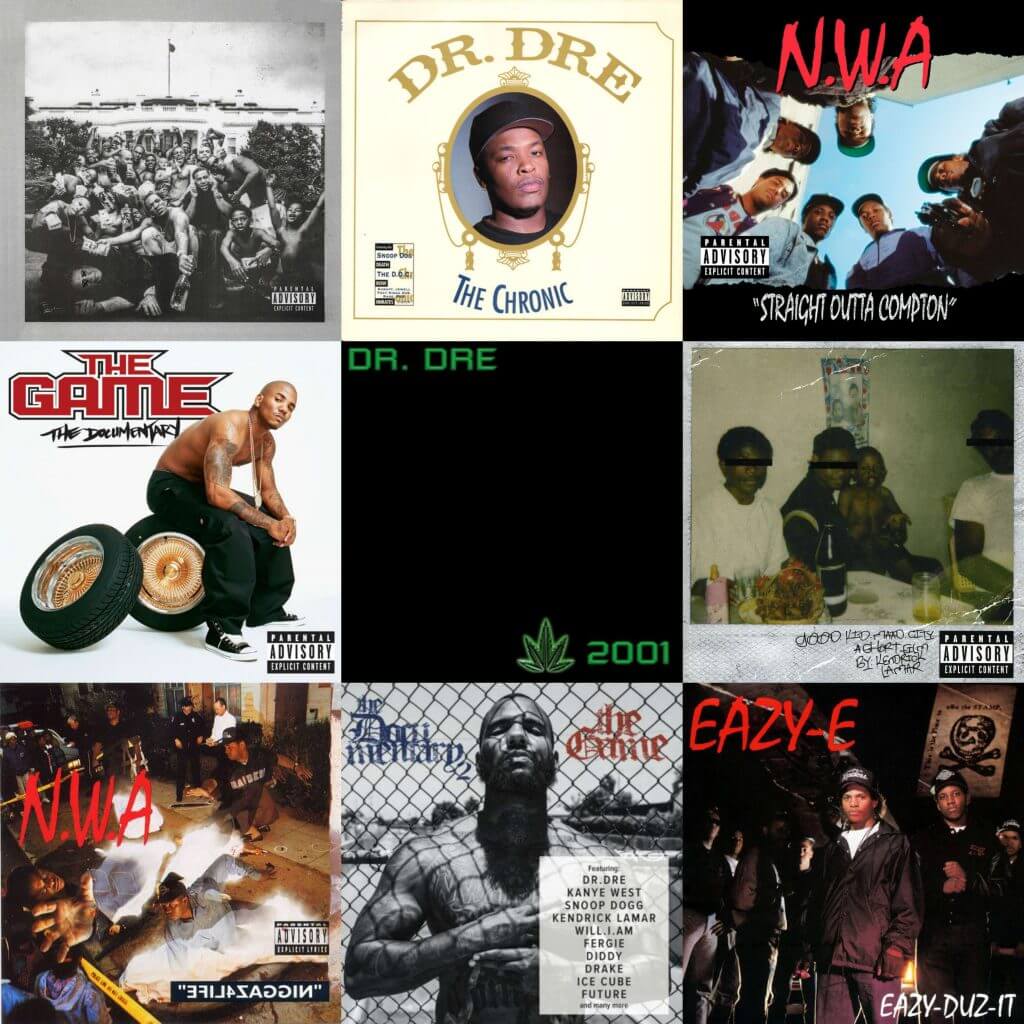 After giving props to Queensbridge and all the greatness that particular section of Queens NY presented, it was only right to travel across the country to the left coast and salute the most legendary city in the county of Los Angeles – and that is Compton.
For a fairly small town (in contrast to bigger cities in California like San Francisco, Oakland, and San Diego) Compton is home to many celebs and dignitaries, such as the iconic Williams sisters, actor Anthony Anderson, actress/comedienne Niecey Nash, actor/comedian Paul Rodriguez, legendary professional wrestler Leon White (aka Big Van Vader), and a slew of others.
The world didn't know much about that Compton life however until a group of six men named N.W.A emerged, who were determined to put it on for their city. Following their world shattering debut in 1988, a whole lot of other outstanding and landmark albums would come from this city. Let's take a look at the twenty best albums with the Compton stamp of approval on them.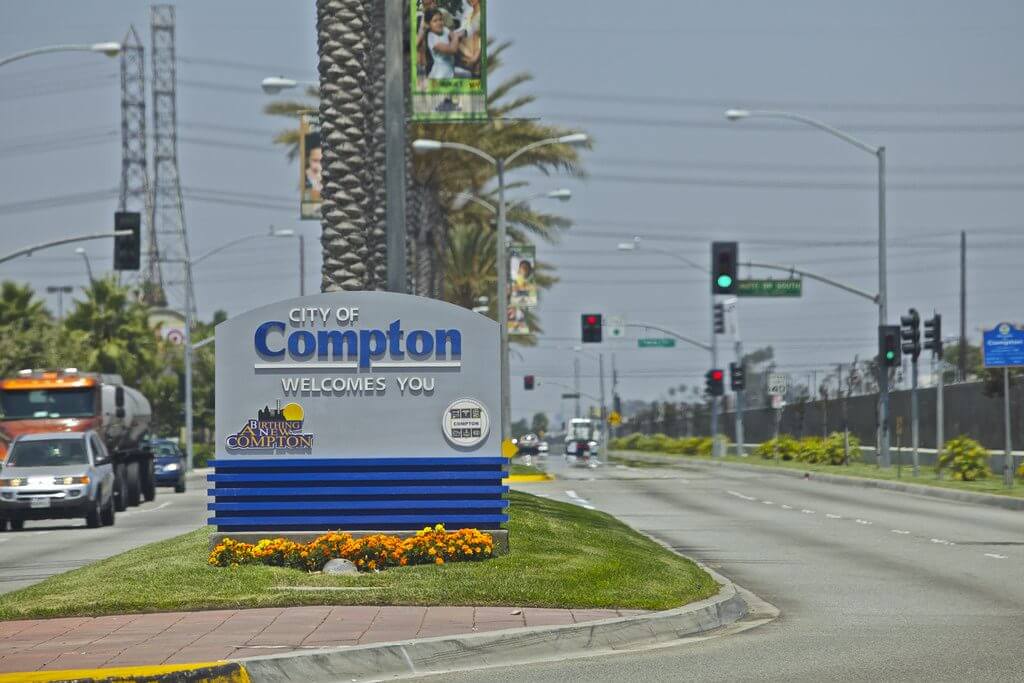 20. MC Eiht - We Come Strapped (1994)
After the break up of Compton's Most Wanted, lead emcee MC Eiht was still on the lips of all gangsta lovers – especially after his tremendous role in the riveting classic movie Menace II Society as the ruthless hustler  A-Wax. With this role as well as with his breakout solo cut, the exceptional "Streiht Up Menace", it was time to drop his debut album We Come Strapped – an album that definitely delivered all of what made him such a regarded emcee within the gangsta genre. Draped with gangsta lyrics and menacing production, the album went gold and showed that MC Eiht would keep the CMW name going strong all by himself.
19. The Game - 1992 (2016)
If there is one person to come from the west with a very consistent catalog filled with tremendous music, it has to be The Game. Following up his monster of an album The Documentary 2/2.5 (see later) wasn't an easy task, but damn if he didn't do it with excellent 1992.
1992 was a pivotal year in the life of Jayceon Taylor, as he not only grew to fully accept Hip Hop into his life, but he also embraced the streets and the gang culture. Balancing gang life with his love for Hip Hop, Game does a great job blending the two on this album. With no true filler on 1992, you can strike it as not only just another smash for The Game but truly one of his finest offerings.
18. DJ Quik - Safe + Sound (1995)
One of the most heralded producing emcees in the game ever is the legendary DJ Quik. Known for his penchant for creating distinctive melodies and a love of funk and soul, Quik had established a loyal fan base by the time '95 came around, thanks to his first two outstanding releases Way Too Fonky and Quik Is The Name (see both later). For his third album Safe + Sound Quik got up with Deathrow Records CEO Suge Knight to have him executive produce this album.
The album includes Quik's contribution to the Murder Was The Case soundtrack, "Dollaz & Sense", as well as the title track, and the carefree "Summer Breeze". At this time, he was also at the height of his beef with aforementioned fellow Compton native MC Eiht evidenced by the cut "Sucka Free". On a whole, this album was rock solid, officially making DJ Quik a household name – if he wasn't already.
17. King Tee - At Your Own Risk (1990)
Arguably the most under-appreciated legend to emerge from the CPT is King Tee. Among the forefathers to rep the Compton banner, King Tee generated an early buzz with his 1988 debut Act A Fool. It was At Your Own Risk – his second album – that got his name out more nationally and with just as much, if not more, acclaim. Filled with syrup-thick funk for your ass, King Tee had the sound strictly for your Impalas while cruising the strip on a Saturday night in the summer.
16. The Game - Doctor's Advocate (2006)
There was no album from the west that was even coming close to touching The Game's stellar debut, The Documentary in '05. Hoping to continue that momentum, Game dropped his sophomore effort Doctor's Advocate, just over a year later. After a highly notable falling out with 50 Cent and G-Unit, plus not being on good terms with mentor Dr Dre, he went at it without help from either, as opposed to his debut album. The results were almost just as fantastic, though. Pound for pound, this is his best album not named Documentary, as every cut is well constructed and focused. Even without 50 and Dre, Jayceon Taylor's sophomore effort fared more than okay.
15. Dr. Dre - Compton: A Soundtrack By Dr. Dre (2015)
After being away from the booth for over a decade, the mighty Dr Dre returned in quite the surprising fashion. Around the time of the release of the Straight Outta Compton movie, Dre dropped his third, and reportedly final, solo album, Compton: A Soundtrack By Dr Dre.
Critics were dying to see if this was the highly talked about and discussed Detox that had been promised to us for as long as he had been away. According to the good doctor himself, Detox never could come together, but this was a way better project. The album itself shattered any notion questioning whether or not Dr Dre still had it. The (near) billion dollar man showed that he was still more than capable of creating an album for today's generation. Plus we saw the emergence of a star in Anderson.Paak with this release as well.
14. DJ Quik - Way Too Fonky (1992)
After the tremendous critical acclaim of his debut Quik Is The Name, DJ Quik came back in '92 with his follow-up, Way Too Fonky.
Way Too Fonky was a smooth, although sometimes aggressive, ride through Compton and the soulful grooves of the album made the trip hotter than Phoenix in the peak of summer. The album produced one of his most known singles, "Just Like Compton" and resulted in a gold plaque for the highly talented emcee/producer.
13. Compton's Most Wanted - It's A Compton Thang (1990)
In '90, while the east coast was infatuated with the Nubian grooves of the Native Tongues clique and their respective releases, the west saw the emergence of an up-and-coming crew known as Compton's Most Wanted.
Emcees Boom Bam, Tha Chill, and MC Eiht, along with DJ Mike T, provided a gritty and vivid soundtrack to the brutal streets of Compton with their debut, It's A Compton Thang. Unforgiving and as real as you could get during those days, C.M.W. made you believe you were on the streets with them and you were in their world of violence and robberies.
12. MC Ren - Shock Of The Hour (1993)
After the unfortunate breakup of N.W.A., the one member people were a little concerned about in terms of his future in the game was MC Ren. Often seen as the most underrated member of the group, Ren is the only one of the group (along with DJ Yella) to remain with Eazy-E and Ruthless Records. His debut EP, Kizz My Black Azz, was an in-your-face lyrical assault to those that doubted his strength within N.W.A. The EP was met with much acclaim, but many wondered how Ren would fare with a full-length album. The question was answered with Shock Of The Hour, and it was every bit of a critical smash as was predicted.
There was a new tone for part of the album, as Ren had converted to Islam and much of the ideologies of the Muslim faith are shown on the album while balancing his loyalty and love of the streets that raised him at the same time. The first half of the album was aggressive and full of angst, where the other half was cautionary and full of jewels. It's a conflicting album and a very important piece to the puzzle of the formation of Compton Hip Hop in the early nineties.
11. Compton's Most Wanted - Music To Drive By (1992)
A seminal release in the gangsta genre, C.M.W.'s Music To Driveby was unrelenting and unabashed. Continuing the momentum off their aforementioned debut, It's A Compton Thang, and their very decent follow-up Straight Check'n Em, this album took C.M.W. to another level.
Music To Driveby provided shot after shot, especially disses to DJ Quik and Tim Dog on "Def Wish II" and "Who's Fuckin; Who" respectively. Best known for the hit "Hood Took Me Under", Music To Driveby was a true gangsta's paradise.
10. DJ Quik - Quik Is The Name (1991)
A young man named David Blake and known as DJ Quik had been making noise in Compton with his mixtapes and his production abilities. After generating enough buzz Quik was signed to a major label and he released his debut album Quik Is The Name to big time acclaim.
In a year where we were blessed with classics such as De La Soul Is Dead, The Low End Theory, and Niggaz4Life, Quik Is The Name can easily be mentioned in the same breath. With classic cuts like "Tonite" and the anthemic "Born & Raised In Compton", this album established Quik in the game and signalled the start of a legendary career.
9. Eazy-E - Eazy Duz It (1988)
Many regarded him as the unofficial mayor of Compton, he was definitely as charismatic as he was a visionary. The late, great Eric "Eazy-E" Wright was the epitome of a Hip Hop rock star in the late eighties. The mastermind behind the timeless album Straight Outta Compton with N.W.A., Eazy delivered his debut solo album Eazy-Duz-It the same year.
Every bit as popular as Straight Outta Compton, the album sold double platinum units and made Eazy-E a worldwide star. A knack for compelling, sometimes hilarious, stories of the streets, Eazy became known as one of the true godfathers of the gangsta genre, and Eazy-Duz-It remains one of the most appropriate examples of the heights of the genre.
8. The Game - The Documentary 2/2.5 (2015)
In a year that saw some of the most stunning and breathtaking Hip Hop releases in over a decade, The Game's exceptional double album was up there with the best of them. Not since his debut, The Documentary, had we heard Game sound this hungry, fresh, and innovative. Although two separate discs were released within a week of each other, this was unquestionably a double album which should be considered one of the greatest double albums of all-time in Hip Hop.
Incredibly consistent, both production-wise and lyrically, this is the best album Jayceon Taylor had presented in many years, and that's saying a mouthful considering how good his albums have been for the most part. Say what you will about Game, but you can't deny the consistency he has brought over the years – and this one is definitely in the talks of his best effort ever.
7. N.W.A. - Niggaz4Life (1991)
With Straight Outta Compton establishing them as certified superstars, N.W.A was riding a super wave of momentum. That is until the departure and subsequent beef with Ice Cube, which threw the energy of the group off for a bit. That said, the remaining four members came back strong with Niggaz4Life.
Many have said that the group without its strongest and most notable lyricist made the album not as dazzling, however as the years have gone by, some have actually stated that the album might be even better than Straight Outta Compton. It can be easily argued that Dre's production stepped up quite a few levels with this album, but so did the misogyny and violence within the album. More of a shock value album than a cultural statement, this would be N.W.A's last album – with Niggaz4Life they went out in superb fashion.
6. Kendrick Lamar - good kid, M.A.A.D. city (2012)
One of the strongest debuts in many years – not just to come out of Compton, not just out the west, but in Hip Hop as a whole – came in the form of Kendrick Lamar's good kid, M.A.A.D. City in 2012. Already achieving a lot of buzz with his dazzling underground album, Section.80, as well as earlier works like The Kendrick Lamar EP and Overly Dedicated, Kendrick signed a major label deal with Aftermath.
The beauty is that the album didn't have nor needed Dre influence. It stuck to the sound of TDE, with the exception of production by Just Blaze and Hit-Boy. The album shows a young man dealing with the conflicts of his environment while trying to come into his own. A classic coming of age story very similar to albums like Illmatic and Fashawn's Boy Meets World (DON'T SLEEP), Kendrick became the next big thing from Compton.
5. Dr. Dre - 2001 (1999)
Figuring we couldn't get enough of the game-changer that was The Chronic, Dr Dre took close to a decade to deliver his follow-up, 2001 (originally Chronic 2001). A more updated version of The Chronic sonic-wise, 2001 was an amazing example of Dre's knack to not only construct some of the most monumental production of our time but the ability to produce new stars as well.
On this album, we saw him reunite with Snoop Dogg, exhibit the out of this world talent of Eminem, and show us new talent such as Hittman. Who doesn't know cuts like "XXplosion", "The Next Episode" and "Still D-R-E"? Really, who doesn't?? This is greatness from the good doctor and showed that he was still one of the greatest to ever do it.
4. The Game - The Documentary (2005)
If we had to be honest, by 2005 the city of Compton had been in a lull quite a number of years in terms of anything fresh emerging. In comes a young G-Unit associate named The Game. Co-signed by both 50 Cent and Dr Dre, his future was bright. While nothing was really touching 50's classic debut, Get Rich Or Die Tryin' at this time, the anticipation of Game's Documentary was off the page, and many speculated that this would be that album to challenge it for best album of the year.
When the album dropped, we knew a star was officially born, as Documentary was just the new classic the west needed and Hip Hop as a whole needed too. A memorable debut, to say the least.
3. N.W.A. - Straight Outta Compton (1988)
The album that put Compton on the map. One of the biggest landmark albums of any genre in music history, gangsta rap had officially arrived at listeners doorsteps in the suburbs. Dr Dre, Eazy-E, Ice Cube, MC Ren, and DJ Yella (and original sixth member Arabian Knight) came together to make some noise and let the world know where they were from.
From nihilism (the title track) to freedom of expression ("Express Yourself") to corrupt police ("Fuck The Police"), N.W.A covered ground that hadn't been walked on before so boldly. One of the most influential albums to ever exist, Straight Outta Compton still stands the test of time.
2. Dr. Dre - The Chronic (1992)
All of the west coast owes its prominence, especially in the early to mid-nineties, to this album. No other album from the west had established this kind of new sound and new direction in Hip Hop. His first solo album away from N.W.A, Dr Dre changed the entire axis of the music world with The Chronic and set a new standard in gangsta rap.
Using soul samples from the likes of Funkadelic and others to help with his already impeccable production, The Chronic would become the album (that wasn't named Illmatic) to beat throughout the nineties. We saw new stars emerge such as Snoop Dogg, Tha Dogg Pound, Lady Of Rage, and RBX, and each represented incredibly.
The Chronic was a game changer that forever changed Hip Hop.
1. Kendrick Lamar - To Pimp A Butterfly (2015)
The new standard of excellence, creativity, and musicianship in Hip Hop. There hasn't been an album like this in well over a decade. Kendrick's second major label effort, To Pimp A Butterfly, not only surpassed his debut – which was a feat in itself considering how incredible that album was – but it became a cultural and musical experience the likes of which only got rivaled by timeless epics such as The Miseducation of Lauryn Hill, Marvin Gaye's Here My Dear, and The Low End Theory.
Conceptually, lyrically, musically, and technically, this album is light years beyond anything this generation is exposed to currently, and if there were any doubts as to Kendrick's aim for the crown in Hip Hop, this landmark piece of art shattered them all.
Honorable Mentions
DJ Quik – Rhythm-al-ism
2nd II None – The Shit
MC Eiht – Death Threatz
MC Ren – The Villain In Black
Kendrick Lamar – Section.80
The Game – Jesus Piece
Compton's Most Wanted – Straight Check'n 'Em
King Tee – Act A Fool
King Tee – Thy Kingdom Come
YG – My Krazy Life
YG – Still Brazy
Coolio – It Takes A Thief
Coolio – Gangsta's Paradise