This is the first in a series of dedications to various hoods and communities around the nation, in order to shine a light on the best efforts to come from these communities. The choice for this first piece was a no-brainer. Billed as the largest projects on planet Earth, the Queensbridge Housing Projects are among the roughest communities you'll ever find. One doesn't have to have stepped foot on the pavement of this community to have heard about the blood spilt in the streets over there. From all this, some of the most historic Hip Hop albums of all-time have been created.
We're all familiar with acts such as Nas, Mobb Deep, Nature, Tragedy Khadafi, Cormega and others that have emerged from the place they proudly refer to as "QB". These are the twenty best albums to come from QBC and its artists.
20. Nature - For All Seasons (2000)
One-time Nas protege Nature was very buzzworthy from his inclusion on The Firm album. Known for his laid-back and conversational flow, yet quite lyrical style, he dropped his debut in 2000. A Trackmasters-heavy album, Nature showed and proved with a fairly impressive album. Greatly underpromoted due to riffs with Nas and the Trackmasters themselves, this should've been a bigger album than it became.
19. Mobb Deep - The Infamous Mobb Deep (2014)
Twenty years after delivering the monster of all monsters with The Infamous, Hav & P dropped subsequently their version of a sequel with The Infamous Mobb Deep. Definitely their best effort together since '99's Murda Muzik, with Hav fully confident in his lyrical abilities and P basically back to the P we remember in his Infamous and Hell On Earth days, this was a strong return to the Mobb sound we remember and love.
18. Cormega - The Testament (2005)
If there was a next-one-to-blow-up from QB in the late nineties, it had to be Cormega. He was an original member of The Firm with Nas, AZ, and Foxy, but due to issues with executive producer Steve Stoute at the time Mega was replaced by Nature. By then he had recorded his Def Jam debut The Testament, but unfortunately Def  Jam shelved the effort, and it didn't see an original release until 2005.
The album was led by the title track and the incredibly ominous "Killaz Theme", but the rest of the album was on point as well. There's no question that had Def Jam decided to go through with releasing this effort at the time, Cormega would be bigger than he is already. After obtaining the masters to the album, he released it on his own label, and it definitely showed that this would've been one of the meanest debuts in Def Jam's history.
17. Prodigy - H.N.I.C. (2000)
After several Mobb albums, Bandana P decided to step out on his own and deliver his solo debut, H.N.I.C. – and met expectations. While we would've loved more Hav beats, collaborators such as Alchemist, Bink Dogg, Hangmen 3, and EZ Elpee gave P some fire to spit over, and spit fire he did. Ranging from typical hardcore to highly introspective on cuts like the somber "Veteran's Memorial" and his battles with sickle-cell "You Can Never Feel My Pain", this is a deeper side of P and an important release in his solo discography.
16. Nas - God's Son (2002)
Nasir Jones was on quite the roll after dropping his beyond incredible Stillmatic in 2001. He followed that monster up with God's Son. Recorded during and after the passing of mother, the album is reflective and poignant at times, especially the tear-inducing dedication to his mother "Dance". The album also contains other scorchers, such as "Made You Look", the crazy and innovative "Book Of Rhymes", and the uplifting "I Can". Seen as one of his best works, Nas had already been established as a legend at this point. This album just continued on with his legacy.
15. Cormega - Mega Philosophy (2014)
Wanting to go in a different direction with content and lyrics, Cormega collaborated with emcee/beatmaker extraordinaire Large Professor for Mega Philosophy. Unlike previous albums such as Testament, True Meaning, or Legal Hustle, this album has him more spitting jewels about life and relying more on his ability to be an emcee period, no gimmicks, no image. When it comes to unadulterated, pure Hip Hop, Cormega's heart beats fast for it – with cuts like "Rap Basquiat", "Valuable Lessons" and "Industry", it's clear that Mega put his gun down to pick up his pen and pad and fully embrace his talent, creating this formidable album.
14. Infamous Mobb- Special Edition
For a few years, we were wondering "who are these cats Mobb Deep is always rolling with?" We knew about Big Noyd, but what about the other ones? Well, the O.G.s of that entire click were known as the Infamous Mobb.
The crew originally consisted of Twin Gambino, his twin brother Scarface, R. Gotti, G.O.D. Pt. 3, Hav's brother Killa Black, and Ty Knitty. Scarface (not to be confused with Houston rap icon Scarface) died in a car accident, while Black committed suicide in prison. Gotti became the group's manager so the only three spitters were Gambino, G.O.D. Father, and Knitty. Their appearances on Hell On Earth, Noyd's Episodes Of A Hustla, and DJ Muggs' stellar Soul Assassins Chapter One compilation hyped them to release Special Edition.
Raw, occasionally brutal, and definitely uncompromising, the album showed the trio at their best over one of the single best-produced albums of 2002, with Alchemist and Havoc producing most of it. If there was a grittier look into the streets of the forty-first side of twelfth street during this time, please show me what it was.
13. Cormega - Born & Raised (2009)
Cormega dropped an excellent album in '09 called Born & Raised – and with it, we were starting to see more lyrical and conceptual versatility from him. On top of all that, the production on the album is arguably the best within his entire discography. Legends such as Pete Rock, Large Professor, and DJ Premier were contributors to this hellacious album, which definitely stands as one of his most acclaimed efforts to date, with virtually no miss on it.
12. Screwball - Y2K: The Album (2000)
In 2000, a group of emcees from the Bridge came out of nowhere and knocked us on our asses. The group was known as Screwball (rumored to be named after close friend of the group members), and they consisted of members Kyron, KL, Hostyle, and Bridge veteran Blaq Poet.
Hitting the underground with the vicious Premo-powered "F.A.Y.B.A.N. (Fuck All You Bitch Ass Niggaz)" and the catchy "H-O-S-T-Y-L-E", their debut album Y2K: The Album was picking up steam in anticipation. A venomous debut, this was heralded with impressive performances and a grittiness that was prototypical Queensbridge.
Highlights were a plenty on here, and they caught a bunch of controversy with the inflammatory cut "Who Shot Rudy", insinuating someone shooting NYC governor at the time Rudy Gulliani. Unfortunately, tragedy struck the group as member KL died of an apparent asthma attack, but the boys of the group can be assured that their debut was a sledgehammer to the gut of anything cheesy at the time.
11. Blaq Poet - The Blaqprint (2009)
Staying with the Screwball click, it was mentioned that the veteran of the group was Blaq Poet. Previously known for his own inclusion in the Bronx vs. QB rivalry in the early eighties, he released a somewhat overlooked cut called "Beat You Down".
Emerging over a decade later, Blaq Poet was signed to DJ Premier's Year Round Records and released his full-length official debut, Tha Blaqprint. Hard as nails, with Premo lacing the album with some of his best production ever (and that's saying something considering his already established greatness), Poet sticks to the script he knows, which is guns, drugs, and more guns and drugs. Not for the weak of heart, Poet's Blaqprint is a screwface's delight.
10. Nas - It Was Written (1996)
If there was ever such a thing as a cursed blessing, it was Illmatic.  Nas' landmark debut has been billed as the greatest and most influential Hip Hop album of all-time (only Public Enemy's It Takes A Nation Of Millions To Hold Us Back has ever gotten that same acclaim). But when you're Nas, how in hell do you follow-up perfection?
His attempt was It Was Written. At a time when sales meant the world to an artist's career, Illmatic's figures were very modest, but looking to greatly improve his fan base, he got up with Trackmasters and Dr. Dre for a far more polished and mainstream-accessible sound. The result was a very dope album, but many viewed it as a loss due to how far removed it was from his debut and how it was more in favor of the gimmicky mafioso-themed period that made albums like Reasonable Doubt and Only Built 4 Cuban Linx… such instant classics.
It Was Written was Nas' his highest selling album however, selling upwards of four million units. Regardless of how you looked at him because of this album, Nas officially became a star.
9. Cormega - The True Meaning (2002)
While we felt we were robbed of The Testament, because of its shelving by Def Jam, heads were able to receive Cormega's re-debut The Realness (which contained some cuts taken from Testament) – overall a hell of an album.
However, the true prize within his discography came with his follow-up, The True Meaning. Introspective, honest, and gangsta, Cormega delivered the album of his career, a project that can be considered one of the best projects released in 2002. A flawless effort, Cormega delivered some of his most passionate rhymes over some of the most delightful production one could ask for. Mega's clout was growing.
8. Nas - I Am...
So now here we are. The author of Hip Hop's greatest masterpiece was also the author of a dope yet at the same time disappointing follow-up for those expecting Illmatic 2. Putting his thinking hat back on, Nas took it back to the street (as if he truly ever left it), and brought some of the best of both in the form of I Am.
Originally slated to be a double album, it was massively bootlegged and had to be restructured. While we were denied the possibility that this could've easily had been the greatest Hip Hop double album to ever exist, we received I Am... instead, arguably Nas' most underrated project ever.
Leading off with the anthemic, and defiant "Hate Me Now", he also had the streets on lock with the Premo-crafted cuts of "Nas Is Like" and the incredible sequel to Illmatic's "NY State Of Mind". Basically, this whole album was a step up from It Was Written and is easily one of his best efforts to this very day.
7. Capone-N-Noreaga - The War Report (1997)
Bleak. Ominous. Madness. These are three very proper adjectives to describe the classic known as The War Report. The duo was Capone-N-Noreaga and they presented their debut with every intent upon becoming one of the most talked about duos in the game.
The QB alumnus of the duo was Capone, but ironically he was incarcerated for the majority of the album's recording. Therefore, Noreaga (N.O.R.E. now) and mentor Tragedy Khadafi picked the ball up and scored several slam dunks with it. Not a blemish on this album for the most part, this was seen as a close paralleled companion piece to Hell On Earth and The Infamous (see both later).
6. Mobb Deep - Murda Muzik (1999)
By the time '99 rolled around, Hav and P were one of Hip Hop's most in-demand duos. Delivering two chilling classics with The Infamous and Hell On Earth, the pressure was on for them to keep up the momentum, and they absolutely did. Although they wanted to widen their fan base, they didn't compromise their sound, they just made it a little more accessible while sticking to the tried-and-true Mobb formula.
The original pressing of the album contained cuts like the stunning "Nobody Likes Me", "Perfect Plot", and "Pile Raps", but due to excessive bootlegging, the album got redone, and those tracks and a couple others got removed. However, not all was lost, as they were replaced with cuts like the Scarface-inspired "It's Mine" and the sleeper hit "Can't Fuck With". This was also their first taste of (double) platinum success. The Mobb was officially on a bigger stage, and the shine that they had worked so hard to achieve was finally theirs.
5. Nas - Untitled (2008)
One of Nas' most heralded efforts is also among his most controversial. Originally titled the proverbial N-word, the album centered on Black empowerment as well as Black struggles, from cops to media coverage to our own stereotypes.
This was an effort that served as him not just being the poetical genius that he was, but also the cultural warrior that wanted to put a mirror up to the joys and pains of Blacks. From the innovative "Project Roach" to the blatantly disparaging "Friend Chicken" and the empowering "Y'all My Niggas", Nas delivered an album that doesn't quite get the talk of stellar status that it fully deserves.
4. Mobb Deep - Hell On Earth (1996)
Much like Nas with Illmatic, Mobb Deep had the arduous task of repeating the same acclaim of The Infamous with their follow-up album, Hell On Earth. The result was an album many consider to be as good and in some cases better.
Even darker and more apocalyptic than its predecessor, Hell On Earth was a macabre bloodbath that expanded the storytelling abilities and bleak warnings of Hav and P. They also went after enemies on this one with "In The Long Run" going after Keith Murray and with the venomous 2Pac-dis "Drop A Gem On 'Em". No matter your argument about which is better, one thing is agreed, Mobb showed that they were here to stay with this beyond stellar release.
3. Nas - Stillmatic (2001)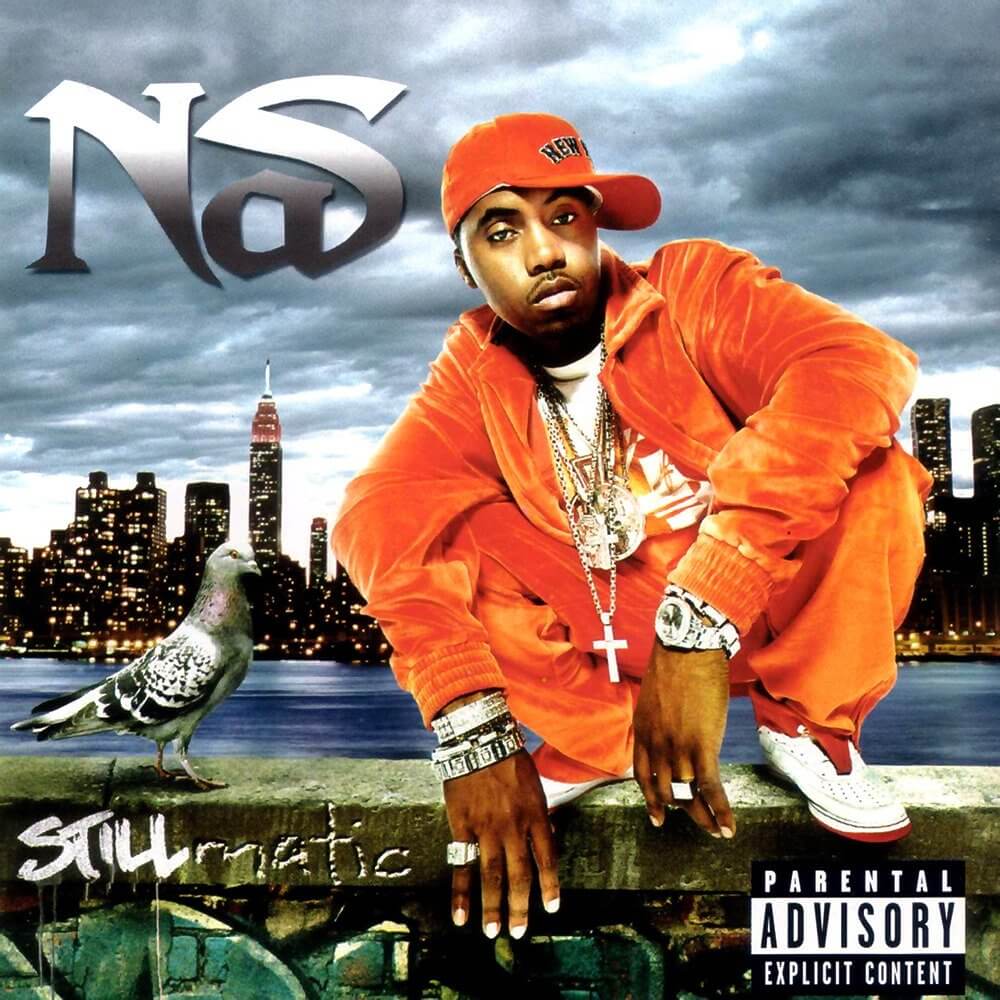 After getting disrespected by Jay-Z on the brutal diss track "Takeover" and people thinking he had been slipping with the release of the mediocre Nastradamus, Nas had something to prove.
Sounding hungrier than he had been since Illmatic, Mr. Jones came to take back his crown with Stillmatic. Led by the CRAZY response cut to "Takeover", "Ether", this was the album many had wanted from Nas as his sophomore album. Stillmatic took Illmatic and gave it freshness and more polish without abandoning at all what brought him to the dance.
Innovative cuts like the good mind-fuck cut "Rewind", the defiant and smooth "You're Da Man", and the name-calling "Destroy & Rebuild" showed that Nas was done playing games and done having his credibility questioned. He silenced everyone and showed Jay who was really boss. The most special album he had done since his debut, Nasty Nas was back indeed.
2. Mobb Deep - The Infamous (1995)
The true arrival of Havoc and Prodigy occurred with this classic album. Oozing of Queensbridge blood, Mobb Deep presented an aggressive, violent, and brooding album filled with what their world consisted of: guns, violence, drugs, and stick-ups.
Their prized cut "Shook Ones Pt. 2" is considered one of the greatest anthems of all-time and put Mobb Deep on the map, as well as its just as ominous follow-up "Survival Of The Fittest". This was the album that changed the landscape of criminal rap and it picked up where Illmatic left off a year before, only much more vicious and unforgiving.
Playing a major role in the east coast reclaiming its top spot in Hip Hop that the west coast had won in the early nineties, The Infamous is a staple in NYC Hip Hop, one that showed that Queensbridge kids don't play.
1. Nas - Illmatic (1994)
Come on y'all. It's Illmatic. ILLMATIC! The game changer of game changers. The best album ever released from QB, and the official full-length introduction into Nasir Jones. A documentary. A book covered by Michael Eric Dyson, and multiple artists citing this as the blueprint of greatness. What more can you say?
Honorable Mentions
Various Artists – Nas & Ill Will Present Queensbridge: The Album
Havoc & The Alchemist – The Silent Weapon
Prodigy & The Alchemist- Return Of The Mac
Nas – Life Is Good
Nas – Hip Hop Is Dead
Nas – Street Disciple
Nas – The Lost Tapes
Cormega – The Realness
Big Noyd – Only The Strong
Infamous Mobb – Blood Thicker Than Water
Blaq Poet – Rewind: Deja Screw
MC Shan – Down By Law
MC Shan – Born To Be Wild
Roxanne Shante – Bad Sister
Intelligent Hoodlum – Intelligent Hoodlum
Intelligent Hoodlum – Tragedy: Life Of A Hoodlum
Tragedy Khadafi – Against All Odds
Tragedy Khadafi – Still Reportin'
Capone-N-Noreaga – The Reunion
Littles – The Feeding
Lake featuring Cormega – My Brother's Keeper
Killah Sha – God Walk On Water
Havoc – 13
Craig G – Ramblings Of An Angry Old Man
Craig G – I Rap And Go Home
As you can see, Queensbridge is filled with a legacy of highly notable releases that in some cases changed the landscape of Hip Hop. With these releases and more, the bloody Bridge has established itself as the most famous housing projects in Hip Hop, and one can only imagine what other types of greatness are waiting to come out of this community.