(Republished from DefineARevolution.com, By @TrueGodImmortal)
Tracklist Nas – It Was Written
Album Intro
The Message
Street Dreams
I Gave You Power
Watch Dem N*****
Take It In Blood
Nas Is Coming
Affirmative Action
The Set Up
Black Girl Lost
Suspect
Shootouts
Live N**** Rap
If I Ruled The World
Silent Murder (Bonus Track)
July 2, 1996. A new Nas album hits the shelves. The album that I believe is the greatest Hip Hop album ever. It holds a very special place in my heart. Nas was riding the high of a gold selling debut classic with Illmatic, and he would be enjoying the success that came with it. One story about this album that always sticks with me is the report that Nas was struggling with money during 1995 and had to take out a loan to make purchases for the Source Awards (mostly clothes and jewelry from what I have heard). Nas had developed expensive taste and his spending habits became an issue. He would christen himself Nas Escobar and with it came a fascination with the mafioso lifestyle. This would manifest in Nas beginning to gravitate to a more mafioso-rap style along with a more commercial sound to achieve the success he desired (and presumably help get him out of whatever debt he had accumulated). Nas would undergo what was seemingly a style change and with it, came a different sound and more of a creative freedom.
Now, while Illmatic was true to form boom bap Hip Hop at its finest, this new album Nas was putting together had different elements in it. There were more samples and loops along with lush arrangements and concepts. Lyrically, Nas was still as focused as ever and he wasn't showing signs of missing a beat either. Enlisting the service of Steve Stoute as his manager and a new bevy of producers, Nas would create something that is recognized by many as his best album, and one of the best Hip Hop albums of the 90's (or all time even). This year, 20 years later, we look back at one of the seminal Hip Hop releases of 1996, and what I feel is Nas' best album. Ladies and gentlemen, this is It Was Written.
*Theme
Nas would go for a more commercial sound, as I mentioned earlier, but he definitely played into the mafia theme as well. The Nas Escobar moniker he adorned himself with definitely would set the tone and we would hear glimpses of that persona coming out on his guest appearances on "Verbal Intercourse" from the Only Built For Cuban Linx album by Raekwon, and even more so on AZ's "Mo Money, Mo Murder, Mo Homicide" off his classic Doe or Die Debut.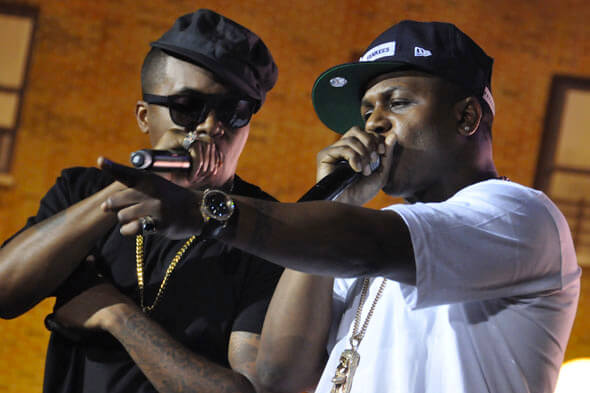 With the image in place and his affinity for mafioso-rap now taking shape, Nas would also focus his attention on a more glamorous lifestyle. The poverty inspired raps and lyricism of Illmatic were still there in small spurts, but they had mostly been replaced by a Nas who wanted the world and everything in it, while still trying to put a message in despite his need to shine. This would be showcased on the intro of this album, the beginning of this epic saga, where a slave rebellion is heard taking place. In an intricate way, it feels as if Nas is starting off the album breaking his own chains so to speak, freeing himself to go after what he wants, deserves, and desires.
Over the course of the album, we see a Nas that promotes guns, name brand clothing and alcohol, money spent in excess, while still lacing us with lyrical gems, his mafioso-rap persona, conceptual songs that pleased the listeners, some thought-provoking messages, and straight up classic verses overall. The album contradicts itself in some way throughout and that's the beauty of it. Nas is not perfect. He has materialistic dreams and wants, he has desires to be the king, he wants to shine, but he also wants to inspire his people, inspire the world, and help uplift us in some way as well. And that's his most relatable message in many ways, because who doesn't want the same thing as well? The theme here is multilayered and it truly works.
*Production
The production on this album was mostly handled by Trackmasters, and I've never been the biggest fan of the production team. However, here, they do a great job of matching Nas with enough fire throughout on the beats, crafting production gems like "Watch Dem N*****", "Affirmative Action", "Black Girl Lost", the sample-heavy hit single "If I Ruled The World", and the truly dope "Shootouts". Tone and Poke were relatively big at the time in Hip Hop and were creating hits, but to put them with an MC the caliber of Nas could have been a big mistake. Regardless, this paid off on that end, and Trackmasters do a great job here, but they aren't the only producers who show up here and make something special for Nasir.
L.E.S., a long time producer of Nas, crafts a great track in "Suspect" and assists by co-producing on "Black Girl Lost", one of my favorite beats and songs on the entire album. Dr. Dre brings us the only disappointing moment music wise on this album, with the boring yet somewhat G-Funk laced production on "Nas Is Coming", which is honestly one of my least favorite all time Nas songs. The song itself just doesn't fit to me on this particular album, and though Nas lyrically shines as always, the production just falters a bit. DJ Premier would certainly make his presence known on this album, with the knocking boom bap beat for "I Gave You Power", Nas' epic conceptual track. The bristling keys and sample of Ahmad Jamal's "Theme Bahamas" backed by the familiar Premo drums made this an amazing listen from start to finish.
However, the award for production MVPs on this album have to go to Havoc for his work on "The Set Up" and "Live N**** Rap" and the underrated talent of Live Squad, Lo Ground, and Top General Sounds for their flawless work on "Take It In Blood" and "Silent Murder". Each provides a certain element production wise, as Havoc brings a gritty and rugged feel with his production, and the Live Squad make sure to supply Nas with enough boom bap yet layered melody and bounce on their contributions to the album. Sure, Trackmasters are the dominant producers on this album, but these two steal the show as far as the beats go. Just take a listen to the opening melodies of both "The Set Up" and "Take It In Blood" respectively. Come on man!
*Features
Nas brings in Foxy Brown twice on this album, the first appearance she would have is on my favorite song "Watch Dem N*****", as she helps with adlibs and assists Nas in doing the hook. She's a nice addition to this song and her voice does help drive home the hook. She would appear again with one of her most infamous verses on "Affirmative Action", along with AZ and Cormega who appear as well, this being the first introduction of The Firm (before Mega was replaced by Nature). I must say I was a tad disappointed that there wasn't another AZ appearance on this album, but he still delivers on his verse here as usual. Dr. Dre assisted on "Nas Is Coming", helping to combine the East and West during the tumultuous East vs West feud. It was a very monumental collaboration essence then.
Some of the other features on this album are Havoc, as he assists on "The Set Up", giving the track a true Queens feel. Speaking of the Queens feel, Havoc returns for "Live N**** Rap" along with his Mobb Deep partner Prodigy for yet another anthem on this album. Two of Nas' most popular songs and hooks reside on this album and come from two different voices of R&B, as JoJo from Jodeci and Lauryn Hill respectively bring their flavor to "Black Girl Lost" and "If I Ruled The World".
*Lyrics
One of Nas' biggest strengths has been his lyricism. On this album, he truly drops some of the greatest lyrics we've ever heard in Hip Hop. From the start of the album, Nas takes no prisoners and brings it from the jump, with his declaration to be the king of this game on "The Message". It's a simple set of lines, but effective:
"Yo, let me let y'all n***** know one thing

There's one life, one love, so there can only be one King"
Powerful. Much like the lyrics on the final verse, where Nas comes to one of his most poignant realizations in his career:
"But uhh, a thug changes, and love changes

And best friends become strangers"
This is one of my all time favorite lines ever in Hip Hop and Nas was certainly in the zone when he scribed this classic display of skill. While "Street Dreams" is lyrically sound, it lacks a bit of depth lyrically, but one could not deny the level of genius on "I Gave You Power".
Becoming the personification of a gun, Nas weaves through the flawless production and creates a story designed to show you the struggle this gun is going through:
"Always I'm in some s***

My abdomen is the clip

The barrel is my d***

Uncircumcised, pull my skin back and c*** me

I bust off when they unlock me

Results of what happens to n***** shock me

I see n***** bleedin runnin from me in fear, stunningly tears

Fall down the eyes of these so-called tough guys, for years"
After painting the picture with this track, we find Nas at his lyrical peak in succession on the album. First, there's the legendary lyricism of "Watch Dem N*****", a song that Nas had to have known was going to be a classic. Sure, the smooth instrumental and the Foxy Brown assisted hook make it even more special, but nothing beats the first verse in full from Nas. It's on my list of top 15 verses of all time. What makes it so special? Just take a look at the full first verse in all of its glory:
"They never realized, how real Nas, is so decisive

It's just the likeness

Of Isrealites mist

That made me write this

A slight twist, of lime rhyme

Be chasing down your prime time

Food for thought or rather mind wine

The Don Juan, features the freak s***, my thesis

On how we creep quick

F****** your wife, that ain't no secret

It's mandatory

See that pussy, they hand it to me

I got no game, it's just some bitches understand my story

There ain't no drama that my n***** never handle for me

My gator brand is Mauri

Walking through rough land before me

Where the snakes

Put a smile on they face

Hoping and praying I'm stuck

Scoping they lay in the cut

Weighing my luck

Playa haters play this in cell blocks and rock stages

Winking at some females, cops with cocked gauges

Really, it's papers I'm addicted to

Wasn't for rap then I'll be stickin you

The mag inside the triple goose

Face down on the floors, the routine

Don't want hear nobody blow steam

Just cream or it's a smoke screen

Imagine that

That's why I hardly kick the braggin raps

I zone, to each his own, and this ghetto inhabitant"
I don't think you'll find a better opening verse than that in damn near all of Hip Hop. The entire song is full of lyrical gems from Nas, as he puts his best performance on the album here. Coasting on the production, Nas leaves a lasting impression on the listener with the level of ingenuity in these lyrics, but it doesn't stop there. Not at all actually.
The following song "Take It In Blood" is truthfully in the running as well to be one of his best lyrical performances, as he takes each verse on a different journey, but the first and third verses of the song are where he shines the brightest. The first verse is a classic for sure, as his internal rhyme schemes and wordplay are undefeated here:
"I never brag, how real I keep it

Cause it's the best secret

I rock a vest, prestigious

Cuban link flooded Jesus

In a Lex watching Kathie Lee and Regis

My actions are one with the seasons

A Tec squeezing

Executioner, winter time I rock a fur

Mega popular

Center of attraction

Climaxing

My bitches they be laughing

They high from sniffin coke off a twenty-cent Andrew Jackson

City lights spark a New York night, Rossi and Martini sippin, Sergio Tachinni flippin

Low price, I blow dice and throw em

Forty-five by my scrotum/ Manifest the "Do or Die" slogan

My n***** roll in ten M3's

Twenty Gods popping wheelies on Kawasaki's

Hip-Hop's got me on some ol'

Spraying shots like a drumroll

Blanking out and never miscount the shells my gun hold

I don't stunt, I regulate

Henny and Sprite, I separate

Watching crab n***** marinate

I'm all about Tecs

A good jux and sex

Israelite books, holding government names from Ness

MC's are crawling out, every hole in the slum

You be aight like blood money in a pimp's cum"
If that's not a shining example of lyrical talent, just take a look at the opening couplet from the third verse, where Nas elevated his skill and flow even more with this amazing display:
"Yo the time is wasting

I use the mind elevation

Dime sack lacing

Court pen pacing

Individual, lyrical math abrasion

Psychic evaluation

The foulest nation

We livin in, dangerous lives, mad leak and battered wives

A lifestyle where bad streets is patternized

Wise men build and destroy

While the real McCoy

Dope fiend, named Detroit is still dealing boy

Coke suppliers acting biased

Cause rumors say that n***** wear wires and we liars

But every night the gat's fired/ And every day a rat's hired

I still remain the mack flyest

In the phat Kani, it's

Just the killer in me

Slash drug dealer MC

Ex-slug filler

Semi mug peeler"
The lyricism displayed here is honestly some of the absolute best on the album and once again, some of Nas' best work ever. Though this album doesn't possess as much of the raw, straightforward lyricism of Illmatic, there's more style in his flow, and more creativity behind his words.
Throughout the album, Nas crafts tales of street life, excess, and wisdom, but his most underappreciated moment on this album comes on "Black Girl Lost". The 2nd verse is where he hits on his strongest point of the entire song:
"Like Isis

You got your heart broke and felt lifeless

Grow up girl, instead you want revenge, so now you act the nicest

To whoever getting down and trifless

To get his mind all you do is give him somethin priceless

Cause in time he'll realize the thighs is all he needs

More than weed

Then you hit him off with lies and greed

There you go again, starting wars

Making me more yours

Seem to get a kick out of keeping me on all fours

Face glistening, I'm addicted to you

Original, Wisdom Body got me picturing you

Igloos of ice tricking on you

You never listen to

This n**** spending Franklins

On tennis anklets

Must've had a bad deal in the past though

Can't even keep it real with a n**** with cash flow"
Nas glares into the soul of the misguided sista on this song and while some of his lyrics were seen as derogatory to the black woman, he was looking at a certain type of black woman, likely the ones he had encountered since his fame began, or perhaps those he had encountered before the fame. On an album full of gun talk, mafioso-rap, and conceptual tales, Nas stops for a moment to address the thing he loves and appreciate the most: the black woman. When he finishes the first verse with "there should be a throne for us, but for now, there's a whole different zone for us", you can tell Nas wants to get back to the common ground that he had with women prior or just find something that's substantial,  who doesn't just want him for the materialistic, but for something deeper. It's an amazing contradiction because a majority of the lyrics of excess champion these type of women essentially, only for Nas to gain a form of awareness and see that's not really what he wants. He also paints the struggle of the black woman in the office and how some women use sex to elevate their importance, when they possess much greater assets internally and mentally. "Black Girl Lost" is one of my favorite songs on this album and this is why.
Nas finishes the album off with the mega hit "If I Ruled The World", and his opening lines there are some of my favorite on the entire album as well. It's Nas in a state of daydreaming honestly, wishing for a better day and thinking about what he would do if he could control how the world moves. His first verse paints a perfect picture:
"Imagine smoking weed in the streets without cops harassing

Imagine going to court with no trial

Lifestyle cruising blue behind my waters

No welfare supporters

More conscious of the way we raise our daughters

Days are shorter

Nights are colder

Feeling like life is over

These snakes strike like a cobra

The world's hot, my son got knocked, evidently

It's elementary

They want us all gone eventually"
From there, Nas talks about opening every cell in Attica to send the prisoners to Africa, which is an interesting goal for a few reasons, talks a world with no condoms (I would assume and hope this meant a world with no STDs as well), making Coretta Scott King the mayor, and other illustrious goals before finishing the song with a third verse that really sums it all up, stating that despite the gangsta lifestyle and everything that comes with it, all he really wants is to live healthy, wealthy, and be free. Lofty goals? Yes and no, but it's a look into the mind of Nas to see how he just wants the best in general,  which is akin to his desire to make a more successful album and take a more commercial route on this album. Regardless, it worked.
*Legacy
The legacy of this album grew over the last 20 years. An album met with mixed reception and criticized by most for the excess and materialism, is now loved for all those same reasons, and then some. I never looked at this album as an album of excess and materialism, but rather an album of Nas flexing his creativity and making an album that would fit where he was at the time, and also help him see success.
The bits of this album that were seen as commercial, like a "Street Dreams", a "Black Girl Lost", or "If I Ruled The World", still showed Nas at his lyrical best, but backed by catchy instrumentals and hooks that still held weight. That's the beauty in this album. It's the perfect balance and blend of commercialism, excess, mafioso-rap, conscious rap, and aggression, all of which make up Nas. These are all the different facets of Nas and what he brings to the table as an MC and as a man. I think Illmatic is his most raw album, but It Was Written is his most risky album, with much more creativity and focus on expanding his talents.
Nas would also get his wish, as the album remains his highest-selling album ever, with 4 million copies sold domestically in the US. He managed to hit the no. 1 spot on the Billboard 200, and stay there for some weeks. Having the no. 1 album for weeks at a time is a great feat and being able to sell 4 million copies is a huge accomplishment, and Nas did it. He pulled it off. He also had a huge radio hit with "If I Ruled The World", which took over urban airwaves during 1996, and is still a popular song for bars and clubs to play on throwback nights. While Illmatic etched his name in Hip Hop history, It Was Written etched his name in music history period, providing him with one of the highest selling albums of 1996 and one of hid biggest hits on the radio. It Was Written is seen as a Hip Hop classic among many, and some great MCs, such as myself and Lupe Fiasco, consider it to be the best Hip Hop album of all time. Whether you think it's the best album of all time or not, the album is definitely a classic and represents the biggest moment in the career of Nas commercially. That will remain the legacy of It Was Written.

*Final Words
I still love to listen to It Was Written regularly. 20 years later, it seems to hold up well, and almost gets better with every listen. The lyrical depth of a "Watch Dem N*****" or "Take It In Blood" is unmatched, the precision of a "Silent Murder" or "Live N**** Rap" is top notch, and the commercial sensibility of a "Black Girl Lost" or "If I Ruled The World" backed with a deeper message is genius. The aggressive lyrics and tone of a "Suspect", "The Set Up", or "Shootouts" fit perfectly with the street mafioso-rap theme and really painted this image of Nas Escobar.
All in all, It Was Written is not only Nas' best album, but it's his most well-rounded album as well. 20 years later, Nas has grown considerably, put out more classics, and shown much more depth and imagery in his lyrics, but this remains the upper echelon standard in his catalog. Salute to Nas and to this album. It's powerful.
– True