(Republished from DefineARevolution.com, By @TrueGodImmortal)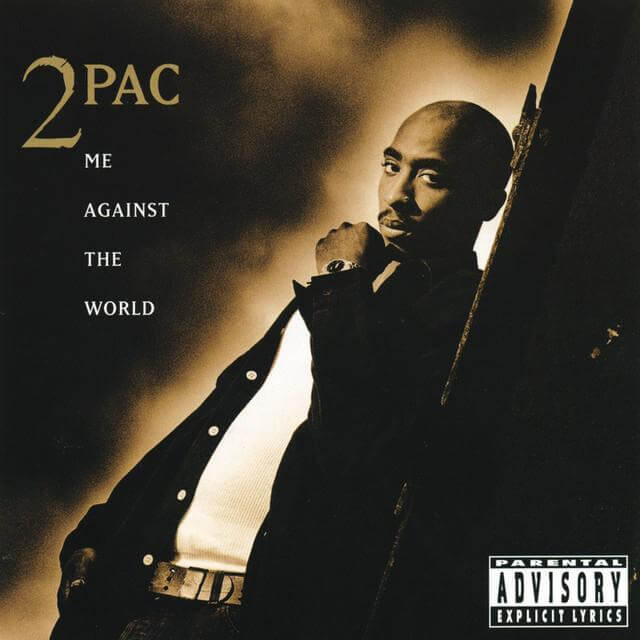 Tracklist 2Pac – Me Against The World
Intro
If I Die 2Nite
Me Against The World
So Many Tears
Temptations
Young N*****
Heavy In The Game
Lord Knows
Dear Mama
It Ain't Easy
Can U Get Away
Old School
F*** The World
Death Around The Corner
Outlaw
As most of you know, June 16th would have marked the 45th birthday of the Hip Hop legend Tupac Shakur. I'm sure there will be plenty of articles, discussion, and talk about Pac today and rightfully so. For me however, this is a bit more personal. There aren't many albums that I've personally related to and could honestly appreciate quite like this one. His magnum opus, his greatest moment musically, the project where the beats and lyrics had a perfect marriage? Me Against The World. While his previous work was also amazing, and I've gone on record before to say I think Pac during 1993-1994 is most underrated period musically, this is where Pac hits his stride. The paranoia he was feeling, the stress, the concept of mortality, and the height of his popularity all created a perfect storm for this album. I'd like to think the backstory of this album is what makes its so unique and along with the music, the narrative behind it fits perfectly.
1993. Let's start there. Pac is on top of the world. Poetic Justice is a cult classic and a successful film at the time, Strictly 4 My N.I.G.G.A.Z. is a platinum album, he has two mega hit singles and friendships in place with many big names in the business, including a certain upcoming MC from out of Brooklyn. Though he wasn't necessarily the biggest artist in the world, Pac was definitely enjoying the spoils of fame, but it began to catch up with him. After some altercations with the Hughes Brothers over the role in Menace II Society, an incident where he shot some off duty police officers, and some outlandish sexual assault allegations leveled against him and some of his cohorts, things began looking bleak for Pac. Shortly after the trial began for him on the sexual assault allegations, Pac began working on more music. No one could understand his mindset and what he was going through.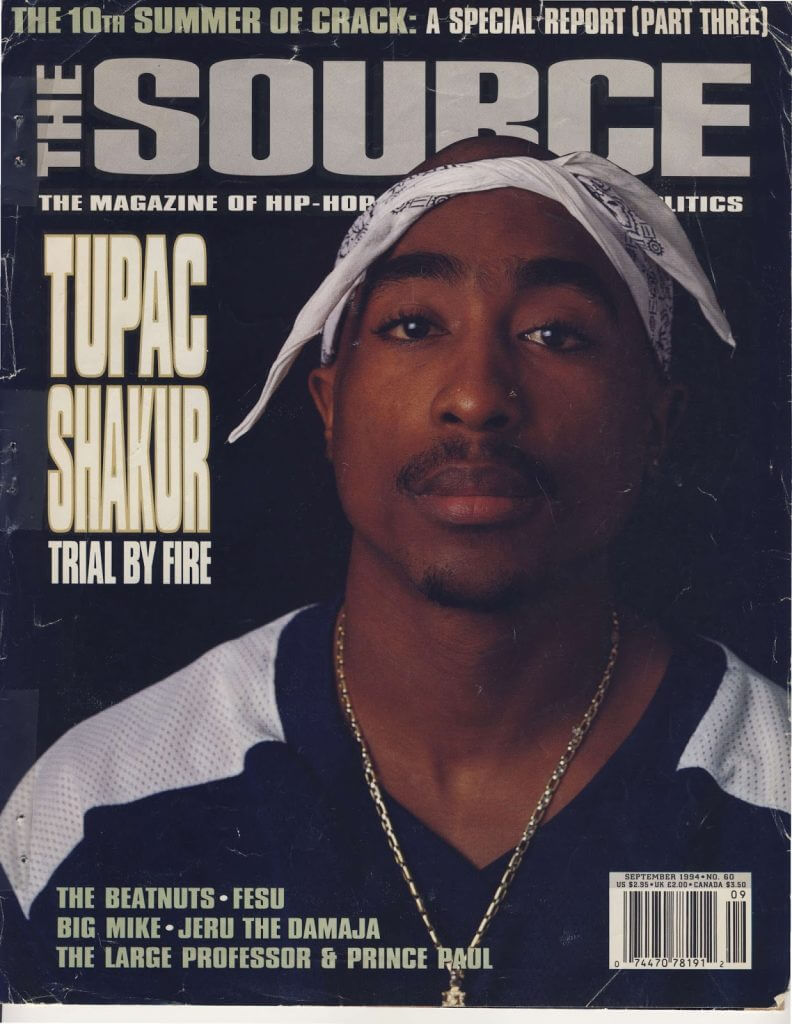 With the work on new music underway, Pac would finish crafting an album that he would consider his "gift to the culture" so to speak. Pac wanted to show the world that he truly loved this Hip Hop art form and this was his way of doing so. He would lyrically begin to write much more personal lyrics, putting soul on his wax. The result would end up as something special. However, as Me Against The World was in the finishing stages, the unthinkable would happen: Pac would be shot in late November 1994 in Quad Studios. This would come right around the time Pac was found guilty of these false sexual assault charges and he was sentenced to jail for 1.5 years to 4.5 years for this offense. Could it get any worse for Pac? Lied on, false charges, found guilty, and shot? Nothing seemed to be working in his favor personally, and as he went in to serve his time, he still had a gem of an album waiting for the world to hear.
Interscope Records would release the first single from the album while Pac was behind bars and oddly enough, the album that stands as the best work from Pac wasn't able to receive promotional support from him because of his jail time. It's ironic almost, but on March 14, 1995, while Pac sat in a federal prison, his album would finally be heard in its entirety. It would also become the first album to hit no. 1 on the Billboard charts while the artist was in jail. It was a huge moment in Pac's career and the biggest he achieved thus far, and he had to miss out on it. With over 3 million in sales, triple platinum certification, and a long lasting legacy as the best Pac album, we take a look back and remember this classic from one of the greatest MCs of all time.
The album starts off with the paranoid gem "If I Die 2Nite", which backed by a dope Betty Wright sample from Easy Mo Bee, allows for Pac to spit some of his best rhymes and lyricism. That's the main thing about this album in general: Pac was at his peak and prime as a lyricist. He kicks off the song with some tongue twisting lyricism that sets the tone for the rest of the album:
"They say pussy and paper is poetry, power and pistols

Plotting on murderin muthafuckas 'fore they get you

Picturing pitiful punk n***** coppin pleas

Puffin weed as I position myself to clock G's

My enemies scatter in suicidal situations

Never to witness the wicked s*** that they was facing

Pockets is packed with presidents, pursue your riches

Evading the playa hating tricks, while hittin switches"
The rest of the song is traditional paranoid Pac, which serves as a welcome of sorts to what is his most in depth album.
The title track follows and shines with a double sample of "Walk On By" and the nearly unrecognizable sample of Minnie Riperton's "Inside My Love", produced by Soulshock and Karlin. Once again, Pac displays his lyrical ability on this track, with the third verse being one of the ultimate Pac verses. When Pac stated he was showing his love for the art form on this project, he definitely meant it. Look at his lyrical prowess in the third verse:
"With all this extra stressing

The question I wonder is after death

After my last breath

When will I finally get to rest?

Through this supression

They punish the people that's asking questions

And those that possess- steal from the ones without possessions

The message I stress- to make it stop, study your lessons

Don't settle for less – even a genius asks questions

Be grateful for blessings

Don't ever change, keep your essence

The power is in the people and politics we address

Always do your best

Don't let the pressure make you panic

And when you get stranded

And things don't go the way you planned it"
The internal rhyme scheme, the wordplay, the rawness in the lyrics, if this isn't Pac's best moment as a rapper, then I don't know what is.
He follows up the title track with his most gripping and despondent song in "So Many Tears", which is one of my all time favorites. Pac talks honestly about his fate, as facing the jail time had him suicidal and seeing his own demise. Even at the young age of 23, Pac felt like his soul was tired and he had been through so much.
"Now I'm lost and I'm weary

So many tears, I'm suicidal, so don't stand near me

My every move is a calculated step

To bring me closer to embrace an early death

Now there's nothin left

There was no mercy on the streets

I couldn't rest, I'm barely standing, bout to go to pieces, screamin peace

And though my soul was deleted

I couldn't see it

I had my mind full of demons tryin to break free

They planted seeds and they hatched, sparking the flame

Inside my brain

Like a match, such a dirty game"
It's at times like these when we really get a chance to appreciate the artistry Pac brought to the game. In his lowest moments, he turned to the therapy of music and with his back against the wall, he came out swinging as only he could. There's no better example of the depth and sincerity of Pac's emotion in music than "So Many Tears".
He follows up this song, with one of his smoothest tracks in my opinion, on "Temptations". The Easy Mo Bee produced scorcher is showcasing Pac discussing the temptations of the beautiful women he encounters and what follows. Pac weaves through his verses on this song, putting his words together just right to capture the attention of the intended woman, and the results are perfect here. After this, we get one of my least favorite songs on this album in "Young N*****", but that's not to say the song isn't dope. It is. Without question. It's just that when you look at the rest of the dope music on here and the timeless songs, this is probably one of the "weaker songs".
However, Pac picks up the pace a little bit and takes it to the West Coast with the Richie Rich assisted "Heavy In The Game", which I feel is one of the most slept on tracks on the whole album. The beat is knocking, the melody is smooth, the hook is infectious and both MCs come with solid verses. Without a doubt, this is a banger and it keeps the pace of the album going before we reach one of the most straightforward songs on the album.
"Lord Knows" is the embodiment of the angst and the stress that a young black male experiences. As a child when I heard it, I felt the desperation in Pac's voice, the anger combined with a depressed sadness as he spoke about all of his issues and the things he's seen in life that would influence him to be how he is. The opening verse paints the picture:
"I smoke a blunt to take the pain out

And if I wasn't high, I'd probably try to blow my brains out

I'm hopeless, they shoulda killed me as a baby

And now they got me trapped in the storm, I'm going crazy

Forgive me, they wanna see me in my casket

And if I don't blast I'll be the victim of them bastards

I'm losing hope, they got me stressing, can the Lord forgive me

Got the spirit of a thug in me

Another sip of that drink, this Hennessy got me queasy

Don't wanna hurl, young n**** take it easy

Picture your dreams on a triple beam

And it seems

Don't underestimate the power of a fiend"
In the midst of this hopelessness that Pac was feeling, he would put forth some perspective on losing some of his friends and the battle that comes with that in later verses. This song gives you a window into the soul of Pac and picks up where "So Many Tears" left off essentially.
Next, we'd be treated to the anthem for all mothers, as Pac talked directly to Afeni on "Dear Mama". In many ways, his most iconic songs are the ones that promote forms of positivity and paint a picture of him as a loving son despite the Thug Life image he portrayed. "Dear Mama" isn't a squeaky clean ode to his mother, but it's an honest one, and he keeps it as real as he can. His mother at one point was a drug addict, and he even admits to it, but he let it be know that even during that tumultuous period, that she was still a black queen. It's a poetic ode to mothers all around the world, and while it sort of slows down the cohesion in the album, it's a welcome departure from the stress and anguish Pac brought to the album.
The anguish returns yet again on "It Ain't Easy", but this is more of a relaxed anguish and an accepting of his fate in some way. The hook is as simple as can be, and knowing his situation at the time drives home the stress hidden in his lyrics, as he looks at the possibility of going to prison. This is different from the vibe of a "So Many Tears" and "Lord Knows", as Pac seems like he's taking a drive through the neighborhood, reflecting, and realizing his truths so to speak.
Pac makes another joint for the ladies, but this one is a bit different. He talks to a woman who is in what is perceived as an abusive relationship on "Can U Get Away", which is backed by a Frankie Beverly and Maze sample.
After this track, Pac pays homage to the legends who came before him on "Old School". It's crazy to think that Pac in 1995 was making a track about the old school days of Hip Hop, and here we are in 2016 discussing his music in the same respect. The first verse sees Pac running through all his favorites growing up and what he loved the most:
"I remember Mr. Magic, FLASH, Grandmaster Caz

LL raising hell but, that didn't last

Eric B. & Rakim was, the s*** to me

I flip to see a Doug E. Fresh show, with Ricky D

and Red Alert was puttin in work, with Chuck Chill

Had my homies on the hill

Getting ill, when s*** was real

Went out to steal

Remember Raw, with Daddy Kane

when De La Soul was putting potholes in the game

I can't explain how it was/ Whodini had me puffing on that buddha gettin buzzed

Cause there I was

Them block parties in the projects, and on my block

You diggy don't stop, sippin on that Private Stock

Through my speaker, Queen Latifah, and MC Lyte

Listen to Treach, KRS to get me through the night

With T La Rock and Mantronix

To Stetsasonic

Remember "Push It" was the bomb s***"
After this reflective look back to appreciate the past, Pac lets his paranoia consume him and take over on "Death Around The Corner". It's one of his most eery tracks in his collection, as he speaks of always being ready and keeping his finger on the trigger at all times. Yet, the reality of his mortality began to set in for him and the notion that at any moment, he could be gone. It's the culmination if you will of the paranoia and stress that he felt throughout the album, and Pac accepts that if he's gotta go, well he's gotta go. From "If I Die 2Nite" to this track, Pac stared death and jail in the face, and told them both "you won't break me, and I'm not scared of either one of you". The album gets ready to close out, but Pac has one more lasting message to leave with the world.
"F*** The World" is as straight up as can be. After being labeled as a rapist falsely, held down by oppression, told that he wasn't s***, and battling with racism and the police, Pac had enough of it. He lifts a middle finger to all his detractors and in the spirit of the album title, takes on the entire world. He feels invincible through this track, and that's what you can honestly see building as the narrative to this album.
In essence, Pac spent the majority of this album finding himself, before finally coming to grips with his reality, his ability, and who he is. If it was really him against the world, Pac was going to give the world hell. That's the message to take away from this album IMO. Pac didn't pull any punches, he didn't stop what he was doing, he kept fighting and on the final track of the album "Outlaw", it's like he becomes invincible against the world. It's almost a continuation of "F*** The World" in that regard, and it works perfectly to close out the album.
That's the beauty of this album though. Pac was at his lowest point, back against the wall, unsure of who to trust, and things just kept piling up. In the midst of this tough time, Pac created something magical that still resonates with the world. Me Against The World is not only Pac's best album and a classic, in my opinion, it's one of the greatest Hip Hop albums ever.
– True