(Republished from DefineARevolution.com, By @CherchezLaPorsh)
Tracklist AZ – Doe Or Die
Intro
Uncut Raw
Gimme Yours
Ho Happy Jackie
Rather Unique
I Feel You
Sugar Hill
Mo Money, Mo Murder, Mo Homicide
Doe or Die
We Can't Win
Your World Don't Stop
Sugar Hill (Remix)
"And ever since I was a tar-face

Baby, watchin Scarface

I dreamed of guns and tons of coke on a car chase

A fat connect with a kingpin Colombian…"
Fantastic reference that epitomizes a "mafioso rap" style with almost flawless delivery. Today, we're talking the one rapper who has almost always lived in the shadow of Nas and has been his friend since the days of "Illmatic". Of course I'm referring to none other than AZ. He's easily one of the three most underrated and under appreciated MC's of all time (IMO) and an often forgotten gem of Hip Hop… but that's where DAR comes in. We have the chance to highlight and take an in depth look at AZ's debut album "Doe Or Die" and to give this album it's much needed recognition and appreciation.
After his appearance on "Life's A B****" and sometime before being inducted into Nas' run at a "Hip Hop Mafia" with The Firm, AZ recorded his first solo project and blessed the Hip Hop world with a certified masterpiece. His talent, intelligence, insight and wisdom is infused into every track. His lyrical brilliance, his flow and storytelling tactics are on point and the result is one that belongs in every music library.
Let's take a look at the album that truly categorized AZ amongst the most talented but underrated rappers of all time.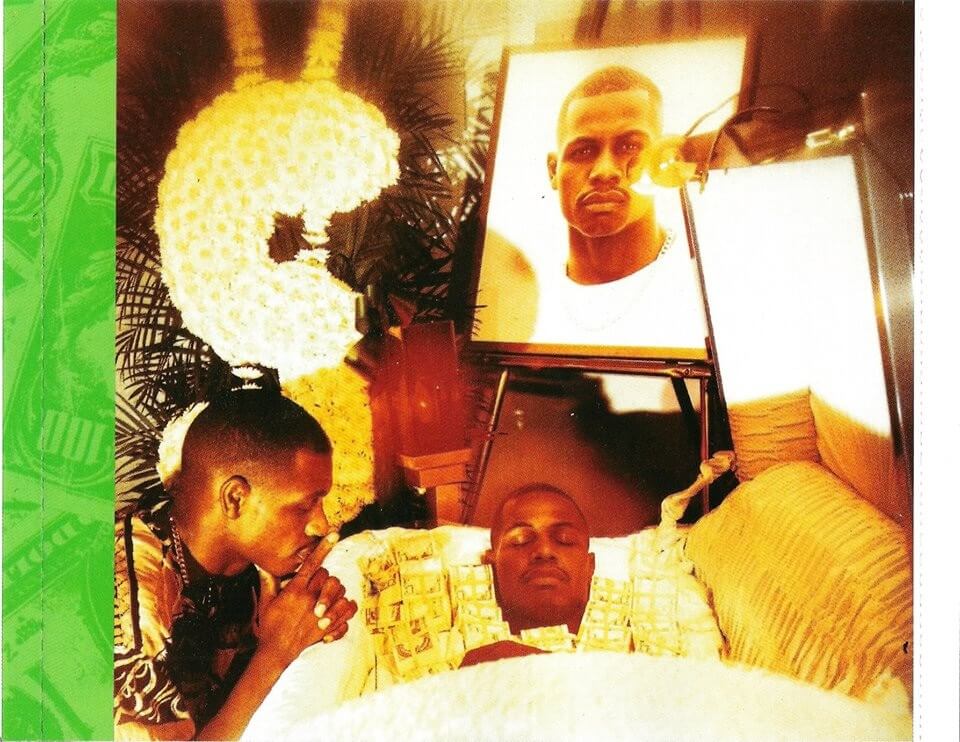 With a ton of people involved in producing this album, it's difficult to anticipate the cohesiveness, but I'm positive we'll be pleasantly surprised. He kicks off his album much like everyone else. The Intro track. I always pay attention to these for reasons which I've mentioned in previous album reviews, as it sets the tone and is indicative of what we can expect in upcoming tracks. From the jump, AZ starts name dropping "Sosa" from Scarface of course, given his entire persona of Mafioso life and rapping, it's merited. I appreciate the opening line of the verse: "The first bars I've ever spitted I scarred the game" which subtly references his feature spot on "Life's A B****" He definitely claims relevancy from the jump, but then his humility shows when he says "Catch me, f*** sales, long as the streets accept me". AZ said it and he stayed true to exactly that, as he delivers raw, uncensored, real NY style lyrics that the "streets" loved.
The first official track is "Uncut Raw", which is lyrically one of my favorite tracks. It's exactly on point with the title. Uncut and Raw. He starts again by loosely reminding us of Alejandro Sosa from Scarface when he says "pure straight out of Bolivia" (which I'm going to say was also inspired by U-God's verse on "Da Mystery of Chessboxin'") while incorporating the New York street, drug, sex and violence life which has always been so rampant. Two very different levels of gangster but the way AZ delivers it, the comparison is similar. The way he sets up the track was also something to be noted, as it's organized. Each verse deals with a different aspect and the last little verse concludes it perfectly. Here take a look:
Verse 1:

"Life is a struggle, that's why n***** I know stay on the juggle

Some hustle to double

Others hug you to mug you"

Verse 2:

"This is as, pure as opium

Purified for street players to open em

Space, like three Ls laced with coke in em"

Verse 3:

"So all my good fellas

Heroin, coke and weed sellers

What the f*** can cats tell us

If they ain't got bread to bail us?"
"It's all war

The streets are filled up with guns galore"
Easy to follow along and engaging to the listener, AZ paints a vivid picture with his incredible flow and delivery. On the production side, the first thing I notice is the crazy fast tempo. It's more than what I would expect given the calmer intro we would have just heard. Like I said, a ton of people having a hand in beat development will do that. Already, I can sense we'll get a whole lot of variation.
Track number 3 is "Gimme Yours", now this is dope in every way. We get Nas on the intro and chorus providing half singing and half rapping which we rarely hear and we get Pete Rock on production. The beat is phenomenal and makes the entire flow of the track on point. It's different than the previous song as the beat is much slower, the instrumentals soften the entire "feel" and it makes AZ lyrical delivery pop. The samples are from Minnie Riperton, I-Level and we definitely hear some Illmatic Nas as well, and to say this was perfect would be an understatement. Now as far as the lyrics go, it's typical to what you'd expect in content: money, cars, drugs and all that, but his use of alliteration is commendable. Check out the first verse:
"F*** keepin my distance

Cause being poor produced persistence

Plus plea's a hundred g's

I had me blockin out of jail centers"
That's just a snippet, but trust he's laced this throughout. Personally I find this approach in rap songs a genius idea because it gives the impression of wordplay where it may lack and magnifies it where it exists. AZ has perfected this here and I love that Nas takes a backseat on this track. He lets his apprentice shine and that is incredible. These three are absolutely brilliant and this song is incredible.
Next up, we get "Ho Happy Jackie" and here we have it, the token track on every gangster rap album. The song about a girl. This one has a spin, as AZ has made this sound like signature New York rap. We do have to credit Buckwild on production for the almost R&B type beat and of course a new producer means an entirely new sound, so there's no surprise there and it works very well. The track is great, but it's not my favorite and I'll tell you why… but the great part is this:
"Happy Jackie the jigga hoe

Her job is to jack n***** doe

I call Jackie the jack a n**** pro

And it's true, count all the fellas she flew through

She even juiced Jack the Jew

Jackie, I'm scared of you"
AZ does the poetic thing very well. He absolutely nails it and it's this that accentuates the storytelling aspect in this song. He knows how to play with the words and his artistry is evident (everywhere but specifically on this track), but the part I don't love is the conversation between the girls that's sort of superimposed on the lyrics. I don't know what it is, but they do "too much" and it almost doesn't fit with the entire feel of the track. I wish I could mute them and just have AZ rap with no interruptions but such is life and we go on…
Just about at the midway point already with "Rather Unique" and believe it or not, we get Pete Rock on production again. I love the beat, the samples, the instrumental, the scratching and the pronounced drum sound and everything else about it, but it's almost identical to the previous song. I'm going to attribute the similarity of the beat to wanting to create continuity. Content and lyrically, AZ drops his rhymes fast but consistent as well as polished and confident. His delivery has a "wow" factor. It's flawless and for someone so new to the game and on a debut, he nails it in every way. The storytelling, the wordplay and the use of several poetic devices integrated all at once, you'd think he's been at it for decades. This is the track that solidifies him as a true New York MC with pronounced Nas-like abilities. Truly phenomenal in every way.
At the midway point we have "I Feel For You" with Erica Scott on back up vocals. Yeah, that beautiful steady melodic tone you hear is actually a person. (Another wow factor) and this track once again is very typical to New York and lyrically very typical of a Mafioso style rapper, which is great. We are seeing some incredible consistency from AZ up to this point in the album, and on this track, his hunger and drive are heard the whole way through. There's no chorus and the verses are fleeting, and it all happens so fast. The way he rhymes is dizzying. The story is pure entertainment and very engaging from start to finish, as it feels like a chase and every component meshes well to bring that to life, only to have him tie the entire song together full circle. Here's  what I mean:
"Sketchy, witness the relentless

The manhunt is tension

The Tec left behind was printless

Narcs and Homicide

Feds and armored rides

Hell se-la-cia, I'm vest up, armed to die

Forever will, glock shots, shoots to kill

So what the deal? Violate, feel the steel"
And then…
"Life I live is deeper than the Mississippi Rivers

Me and my n***** only driving what a ride give us

Puffin lye, gettin high til we die

So f*** it, whatever n**** try, violate and fry"
Those were the first and last lines of the song and it's very well executed.
Next up, we have the most anticipated track on the album, "Sugar Hill" featuring Miss Jones. On production we have L.E.S, who we know very well from "Illmatic". As for lyrics, the first verse references a Stephen King novel, so I'm already impressed. It doesn't stop there, he references the Coxsackie facility, governor and lawyer George Pataki and a few others all while talking about being a dream chaser. Once again impressive, the way he begins the song, where he takes it and how he brings it back. I love what he did conceptually and it showed in the song's reception from his fan base. Here's what I mean:
"Formulating up plots

To escape from Salem's Lot

Cause its scorching hot

Making it hard trying to figure who's out to trap me

Pataki

Got all kinds of undercovers coming at me"
"Suburban places

Got me seeking for oasis

Cristal by the cases

Ladies of all races with dime faces

Sex on the white sand beaches of Saint Thomas

Though this ain't promised

I'm as determined as them old timers

I wanna villa in Costa Rica"
"Sugar Hill" has a whole entire dramatic (real life) story behind it so if DAR ever wants to cover a "what really happened during production/recording" article, I'll be sure to include this.
Then we have "Mo Money, Mo Murder, Mo Homicide", and once again we see Nas featured (which is never a bad thing). It kicks off with a quote from the movie "Mobsters" and how appropriate. This track is the musical and lyrical manifestation of what AZ was personifying himself in the Mafia life. I don't think I can do this track justice because it is laced with references, incredible bars and amazing verses overall. The dynamic between AZ and Nas is unmatched along with their similar flow and delivery. Everything from beats, to the back and forth between the two or them, its all flawless. I would have to quote the entire song (which I won't do) to convey how great it is so I definitely urge everyone to listen to it again.
Finally we get to the title track "Doe Or Die". On production we get N.O Joe, who worked very closely with Scarface and UGK and we hear similar beats on this one too (Think Scarface's The World Is Yours album). Bouncy, balanced, rounded out beats with a specific bounce that has a teeny tiny bit of a "pop-like" feel. I only appreciate this on this album because it's unique and forces AZ to adapt. Which he does. Oh… and the quote at the beginning of this article is from this track, as I LOVE the Scarface reference on so many levels. It's just brilliant in every way. Title tracks usually are great, but this is one of my favorites.
Almost at the end, we get "We Can't Win" and this isn't my favorite track on the album at all. I don't like much about it and I fully blame Amar Pep who produced this track and is featured on it. The piano instrumental is brutal, as its bass heavy and seems out of place. His verses are nothing spectacular and the chorus/hook kill me. As a listener, I'm not engaged at all, nor am I entertained. It's almost painful to listen to HOWEVER AZ's verses are the silver lining and the only thing I like, problem is you have to listen to a whole lot of nonsense to get there.
We are essentially at the end when we get "Your World Don't Stop" and this is a busy song. I don't know how to explain it, but it's fun. The looped beat we hear throughout is easy to listen to and the instrumental sample from Lou Donaldson's "You're Welcome, Stop On By" is great. The producers to thank for that are Spunk Biggs and Ski (Ski would go on to produce some songs on Reasonable Doubt the following year) and on the lyrics once again AZ kills it. He references the 5 Percent Nation ever so subtly when he says:
"I stay in tune with the sun, stars and moon

Cause behind bars you're doomed

If your mind can't consume

Plus spiritual pain

Can bring forth physical reign"
Although this was just a glimpse, the track is loaded with this type of insight and wisdom. His flow is incredible and super consistent. In fact, it's so laid back and chill that the crazy chorus is appreciated because it adds a very quick burst of energy. I love the contrast because it becomes complimentary. This track is dope, but it's the lyrics that I love most.
The very last track is the "Sugar Hill (remix)", which is very much in the same vein as the original, but just a bit different on the chorus side and some additional adlibs. Other than that, it's the same!
So there we have it, the 12 tracks that make up the debut of easily one of the most underrated rappers of all time. As I've mentioned I attribute that to him being so closely connected and so heavily associated with a powerhouse like Nas (IMO). Fans expected the student to mirror his teacher rather than separating the two and allowing one to create his own lane and be appreciated for it. His "mafioso meets the streets" approach was unique and something Hip Hop needed at the time. AZ came into the game lyrically solid, as his flow, delivery, poetic approaches and references as well as consistency were on par with legendary MC's. After just one prior feature appearance, he created a near perfect album with "Doe or Die", a true masterpiece that belongs in every music library!
–  Porsha