(Republished from DefineARevolution.com, By @CherchezLaPorsh)
Tracklist Mobb Deep – Hell On Earth
Animal Instinct
Drop A Gem On Em
Bloodsport
Extortion
More Trife Life
Man Down
Can't Get Enough Of It
Nighttime Vultures
G.O.D. Part III
Get Dealt With
Front Lines (Hell on Earth)
Give It Up Fast
Still Shinin
Apostle's Warning
Hip Hop has never had a shortage of talent, whether it be solo artists, groups or duos, and the fans have been lucky enough to get something different from each. Public Enemy mastered controversial topics, EPMD were pioneers in the use of sampling, Wu-Tang revolutionized gangster rap from the underground to a more mainstream level and so on.
So it should come as no surprise that in 1993, we would be introduced to Mobb Deep. At only 19 years old, Havoc and Prodigy set out to take over the New York scene and be recognized as one of the best, but it didn't work out that way. Their first studio album "Juvenile Hell" was a disappointment. They were young, it was self-produced and with lack of refined talent, it came up short, BUT it didn't stop them and that's the best part.
Two years later, Mobb Deep resurfaced with their second studio album "The Infamous" and THAT album cemented the duo as true Hip Hop geniuses. Now with the polished lyricism and incredible beat selection that epitomized their "New York" street style (and life), in addition to the stories they had accumulated, Havoc and Prodigy once again hit the studio.
Amidst the "Hip Hop Coastal" feud in 1996, these two gave us "Hell On Earth", which further solidified what rap fans knew. These two were unstoppable. 2016 marked the 20th anniversary of that album, so let's go through this 14 track, lyrically solid and very well self-produced album from start to finish.
This album might be one of the only ones that doesn't start off with a typical "intro", which is great. They start off with an almost cinematic beat, but it eases into what would be typical of Mobb Deep. One of the most common things that gets noticed is the very first words spoken, "y'know how we did on The Infamous album, right?
Aight, we gonna do it again son". Personally, I was skeptical because "The Infamous" is one of my favorite rap albums, but we're about to be shown that these two are more than able to deliver. They feature Ty Nitty and Twin Gambino (2/3rds of Infamous Mobb), which is great, but they get lost in the dynamic of Havoc and Prodigy. Overall this track serves as a dope one to start with, but nothing beats P's verse on this.
The second track "Drop A Gem On Em" was the promo single off the album (of course due to content) and given the year,  circumstance and content, it made sense. As I mentioned, it was at the height of the east-west coastal feud and this track is the diss track to Tupac. I love it and hate it and here's why. I love it because I think diss tracks are fantastic material, super creative and when great artists write and deliver them, they are lyrically solid which this is. I hate it because… well…. it's a Pac diss and when I hear this:
"Now you wanna got at my team

You must of been drunk when you wrote that sh**

Too bad you had to did it to your own self

My rebellion, I retaliate

I had the whole New York state

Aiming at your face at the gate

Bottom line off top soon as you came through

Shot through, don't even know the half of my crew"
My initial reaction is "what the heck was Prodigy thinking?", but I get it though, it's a clap back track and I do appreciate these two for standing up for themselves after "Hit Em Up" and being brash enough to release this just weeks before 'Pac's (alleged) death. As much as I love this album, this track is always a tough one for me, but they did "drop a gem" in true NY fashion.
I'll just quickly mention "Bloodsport", which is the track right after and much to the gangster rap style Mobb Deep is known for, this song epitomizes it. The beat has no real intricacies which is a great thing as it allows us to focus on the lyrics. This is where we hear the real life, raw stories we've waited for. They definitely deliver.
Next we get "Extortion" which is one of my favorites on the entire album. It features Method Man, who I think has a perfect tone of voice, delivery and flow to complement any rapper. From beats and overall production to the delivery, flow and lyrics of each of them, it's perfect. Let me just get to my favorite lyrics:
Havoc:
"Especially me, H-A-V-O-C

Don't want your chick, cuz she's burning third degree

Plus you snitchin, you ain't got no ties on me

I keep it strong

While you scream word is bond"
Prodigy:
"My crew, changing New York, who taking your spot

I put the green light on, your whole click, Island s***

Running through the hoe-house wilding, extorting"
Method Man:
"P.L.O. extortion, you forcin

The hand that rocks the cradle, caution before you enter

This Shaolin representer

Carry thirty-six deadly sh**, you f***ing with, top contenders

Official to the bone gristle"
There's a couple of things I love about these bars. It's when Havoc spells out his name, as it seems to be a trademark of his, Prodigy always establishing Mobb Deep as a powerhouse duo and Meth weaving The Clan in every verse he spits. These three are incredible and this collabo is amazing!! I also have to mention the song titles, up to this point we get such a coherent theme that plays up the street life theme they're going for.
I won't get into too much detail on the following 3 tracks but rest assured that "More Trife Life" "Man Down" and "Can't Get Enough Of It" are much in the same vein. The beats, as usual, are dark and very reminiscent of the streets. In fact, before I even heard the words on "More Trife Life", the beat reminded me of walking down a dark street on a rainy night and sure enough, the opening lyric is "A rainy day laid up thinking sitting, gettin bent…", another testament to their coherence. It's impressive and their consistency is great. On the production and beat side of things, all three of these tracks start off a little different which gives us variation, but the loops are similar. Again, I think this is a great thing. It reinforces the feel of the album and maintains the intended point which is dark, horror, street and gangster storytelling with instrumental accompaniment. Once again, they do a great job.
More than halfway through the album, Havoc and Prodigy partner with Raekwon on "Nighttime Vultures". Another dark and dreary title with some more Wu infused flavor. One thing to note almost immediately (apart from the beat) is the storytelling. Havoc and P tag-team the first verse and get right into it:
"Yo I rose early morning

Spread my wings yawnin

Vague memory of last night now it's all dawning

Look down and see dry blood all on my garment"
Their flow is incredible, this flows from start to finish and is very engaging. Like I said Rae and the Wu presence is a dope addition to this track, his flow is phenomenal, his lyrics are great… and everything about this just works so well.
Track 9 on this album on a conceptual basis is pure and utter genius to me. They incorporated the gunshots from "Scarface" and the title "G.O.D Pt. III" is in reference to the Godfather part 3 movie (and the chorus supports this…of course). If there is a way to drive the "gangster" point home even further, they've done it with this and at a perfect part of the album. Absolutely brilliant. I could do without the conversation at the beginning, but it is necessary for "groundwork" and coherence, so I definitely give it a pass. The chorus is fun, the beat is FANTASTIC and the entire song (much like their previous ones) flows perfectly overall. Both Havoc and Prodigy kill their verses and their dynamic is on point. Here's a snippet of what I mean (I hope you can pick up on the coherence and flow):
Prodigy:
"Professional, professor at this rap science

Up in the laboratory

Here's why your small rhyme bore me

Store bought rap ain't s***, my category

Is that of an insane who strike back"
Chorus:
"G.O.D., Father Pt. III

QBC, sip lime Bacardi

Heavy on the wrist, cube-link, my ice ring

Drama we bring, yeah yo that's a small thing"
Havoc:
"Yeah yo, lime Bacardi

Gettin bent, crash the party

Handle B-I, bringing it to anybody

Physical damage

Crowd control handle cannons

Hitting you ripped, leave your bloodstream contamin-ed"
Once again, the references, the use of the same words… really all the details serve to create a unified track from beginning to end. Both Havoc and Prodigy pay attention to details and it's very evident… especially here.
I'm going to skip over "Get Dealt With" and focus on "Hell On Earth (Front Lines)", which of course is destined to be great since most title tracks are. And I'm not wrong. Once again, these two kill it on production. I love the instrumental because ironically, it's the least "dark" sounding one on the entire album. It ALMOST sounds R&B-ish which is such a great juxtaposition to the lyrics. Those are dark… very dark and in line with the "hell" concept they're going for. Prodigy wastes no time spitting these lines:
"The saga begins, beget war

I draw first blood be the first to set it off

My cause

Tap all jaws

Lay down laws"
As much as I appreciate the way they use imagery throughout their verses what I applaud them on is the chorus with:
"Ayo it's hell on earth

Who's next or gonna be first

The projects is front lines

And the enemy is one time"
They go as far as saying "Hell On Earth" and immediately bring it to the "projects", which we know they mean in NY. It's so poetic and definitely displays their creative range.
As we approach the end, these two partner up with another New York favorite. Nas appears on "Give It Up Fast" (along with Big Noyd) and the four of them mesh very well together and deliver a great track. The only thing is, in 1996, Nas had "Illmatic" and "It Was Written" under his belt, so it comes as no surprise whatsoever that he carried this track. In fact, Nas' verse is the first and it sets the entire tone, tempo, and flow for everyone else. I still think it was a dope move to have an NY legend on this album so for me this is near perfection.
The second to last song is "Still Shinin" and another incredible one. This reminds me of Wu-style beats. The sample of "Hospital Prelude Of Love" by Willie Hutch was a brilliant touch and makes this a masterpiece. Everything about it plays into the somber, dreary, dark New York street life. Once again, another cinematic track and the delivery of the verses go hard. Prodigy sounds angry, violent and short-tempered, which I'm sure is the intended point and of course, he has his lyrics to highlight it further, with lines like:
"You shinin', you get your jewels taken with your Hil' sweater"
I have to point out a running theme throughout this album in the way Havoc delivers. He's incredible at transitioning verse to chorus and chorus to verse. He does this on most tracks, but I enjoy it the most on this one. He starts his verses off with the last line of whatever came before it. Mobb Deep is incredibly consistent, all their songs stay on the intended point and I give Havoc immense credit for that, he keeps listeners focused. Here's what I mean:
Chorus:
"Up the ladder of success with tecs

We build and destroy

Still shinin', still climbin"
Havoc:
"Still shinin', still climbin, check this out Son

Nine six to the motherf***in year two G

The Mobb got it locked with the Master keys"
The last track is "Apostle's Warning" and I won't get into the details of this one, but of course with the consistency, production, delivery, flow and everything else these two have displayed in the last 13 tracks, rest assured it's in the same vein only a little more war-like. I have to give them a ton of credit for track titles because it too maintains the cohesiveness. This entire album is amazing from beginning to end. We knew this though because it's an (unofficial) continuation of "The Infamous" album. They told us this in the opening line of this album… "know how we did on The Infamous album, right?
Aight, we gonna do it again son" and they definitely did.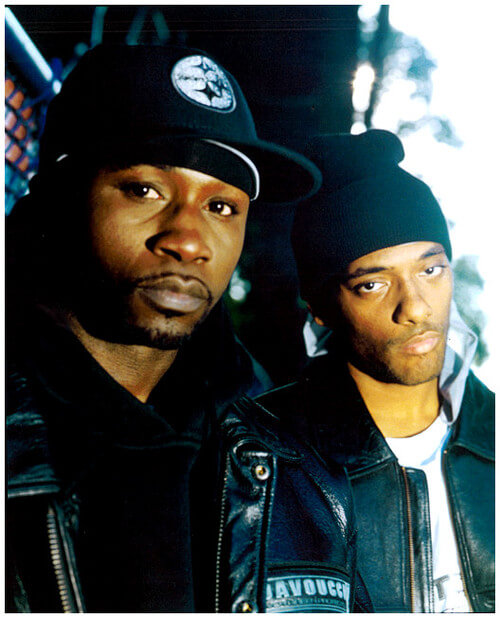 Who would have thought that a couple of high school friends from Queens, NY would go on to write, rap and produce one of the best albums in the entirety of Hip Hop especially after a devastating debut release. "Hell On Earth" was like an "encore presentation" for rap fans who would've never been satisfied with just one (successful) album. Havoc and Prodigy are the embodiment of the golden era, they were involved in the biggest beef in the history of the genre, and they incorporated the ever popularized gangster grime of New York with their personal experiences and stories. They infused the genre with the best part of themselves and cemented their legacy of being one of the greatest rap duos.
–  Porsha