This one is a little personal to me because I'm a North Carolinian, born and raised. North Carolina, traditionally, has been known within the R&B, Gospel, Jazz and Rock music areas, with acts such as Jodeci, Anthony Hamilton, Calvin Richardson, Daughtry, John Coletrane, Nina Simone, and C.O.C. However, over the span of nearly twenty years, Hip Hop has also become a viable force for the Tarheel state. Artists such as Petey Pablo, J. Cole, and Rapsody have put the state on the map within the Hip Hop world, and more acts continue to emerge from there, such as Charlotte's Mr. 704, Burlington's OC From NC and Fayetteville's Rain – acts to further elevate the status of NC Hip Hop. Let's get to the best effort from the land of the Tarheels, shall we?
15. The Away Team - Scars & Stripes (2011)
Durham's emcee/producer duo Sean Boog and Khrysis first made waves with their promising debut National Anthem. After a couple more projects, they dropped Scars & Stripes, which is their most focused effort to date. Excellent and consistent production from Khrysis blended wonderfully with very skilled lyricism from Sean Boog makes for a very listenable experience and one that definitely made their fan base grow.
14. Little Brother - Getback (2007)
Many wondered how Little Brother would function as a duo, when third member and producer extraordinaire 9th Wonder left the group. Rapper Big Pooh and Phonte answered with Getback – which was quite dope indeed. The chemistry was still in tact and bangers like "Good Clothes" and "Two Step Blues" made sure this was a knocker practically from start to finish. While 9th Wonder did in fact contribute a track (the surprising collab between them and Lil' Wayne "Breakin' My Heart"), the majority of the album was handled by the likes of !llmind, Hi-Tek, Nottz, and DeNaun Porter. While not quite the stellar excellence of their prior efforts, this one was nonetheless an excellent album for the LB team.
13. J. Cole - Born Sinner (2013)
After the runaway success of Jermaine Cole's debut Cole World, he delivered his sophomore effort Born Sinner, which was every bit as flavorful as his debut. Standouts such as "Crooked Smile" and the incredible duet with Kendrick Lamar "Forbidden Fruit" pushed this album to another gold plaque and continued to show why Cole was one of the most promising new stars in Hip Hop, quickly becoming Jay-Z's golden boy for Roc Nation.
12. Rapsody - The Idea Of Beautiful (2012)
After acclaimed releases of mixtapes and EPs such as Thank H.E.R. Later, Return of the B-Girl, and The Black Mamba, it was time for Jamla Records' femme fatale to deliver her first full-length album, The Idea Of Beautiful. A very personal and poignant release, Rapsody met every expectation with this album and completely engaged the listener with her stories of love, loss, heartbreak, and strength. This full-length became the stamp needed to show the world that Hip Hop's new b-girl had emerged.
11. 9th Wonder - The Dream Merchant 2 (2007)
Producer, ivy league school professor, philanthropist, occasional emcee. Patrick "9th Wonder" Douthit is one of Hip Hop's most important figures. He dropped The Dream Merchant 2 in 2007, to critical acclaim. Guests such as Royce Da 5'9″, Camp Lo, Skyzoo, Sean Price, Mos Def, and Memphis Bleek all contributed to this knocking compilation, all centered around the production marvels of 9th. This was one of the strongest albums of the mid-00's.
10. J. Cole - Cole World: The Sideline Story (2011)
Fayetteville's J. Cole had been making noise with mixtapes such as The Warm Up and especially the acclaimed Friday Night Lights. It was then when he caught the attention of Jay-Z for his Roc Nation label, and after guesting on projects from the likes of Reflection Eternal and Miguel, it was time for him to drop his much-anticipated debut, Cole World: The Sideline Story.
The album officially put Cole on the map as someone to pay a lot of attention to, with radio cuts like "Nobody's Perfect" and "Work Out" blending excellently with personal cuts like "Breakdown" and "Lost Ones". This was a formidable debut which officially made J. Cole NC's next breakout star.
9. 9th Wonder - The Wonder Years (2011)
Perhaps 9th Wonder's best album that wasn't a collaboration (his albums with the likes of Buckshot, Murs, Jean Grae, and David Banner are simply amazing, BTW) was The Wonder Years. Much like his Dream Merchant series, he invites special guests to rhyme over his ever excellent soulful production. Artists such as Skyzoo, Saigon, Marsha Ambrosius, Erykah Badu, Kendrick Lamar, Talib Kweli, and Masta Killa all contribute to this fantastic album.
8. Rapsody - She Got Game (2013)
Snow Hill's Rapsody is delivering more and more highly acclaimed music with each passing year. In 2013 she dropped the mixtape She Got Game. Blistering the mic with profound lyricism eerily reminiscent of MC Lyte, Rapsody is very quickly becoming one of the most regarded voices in Hip Hop, and backed with 9th's production team of The Soul Council, this mixtape was nothing less than flames from the word 'go'.
7. J. Cole - 4 Your Eyez Only (2016)
One of the most noteworthy albums of 2016 was this surprise album from J. Cole. Before the album was released Cole delivered two promo videos, "Everybody Gotta Die" and "Be Like This", to high acclaim as well as controversy – due to apparent jabs at today's mumble rap generation and subtle shots at fellow emcees Kanye West and Wale. Once the album was released it was clear a growth had occurred, both musically and conceptually. While his prior incredible effort, 2014 Forest Hills Drive, was already personal and open, this was even more so – focusing on subjects such as being a husband, fatherhood, personal growth, prejudice, and loyalty. 4 Your Eyez Only became his definitive coming-of-age album and shows that Cole is one of the most important emcees of this current generation.
6. Phonte - Charity Starts At Home (2011)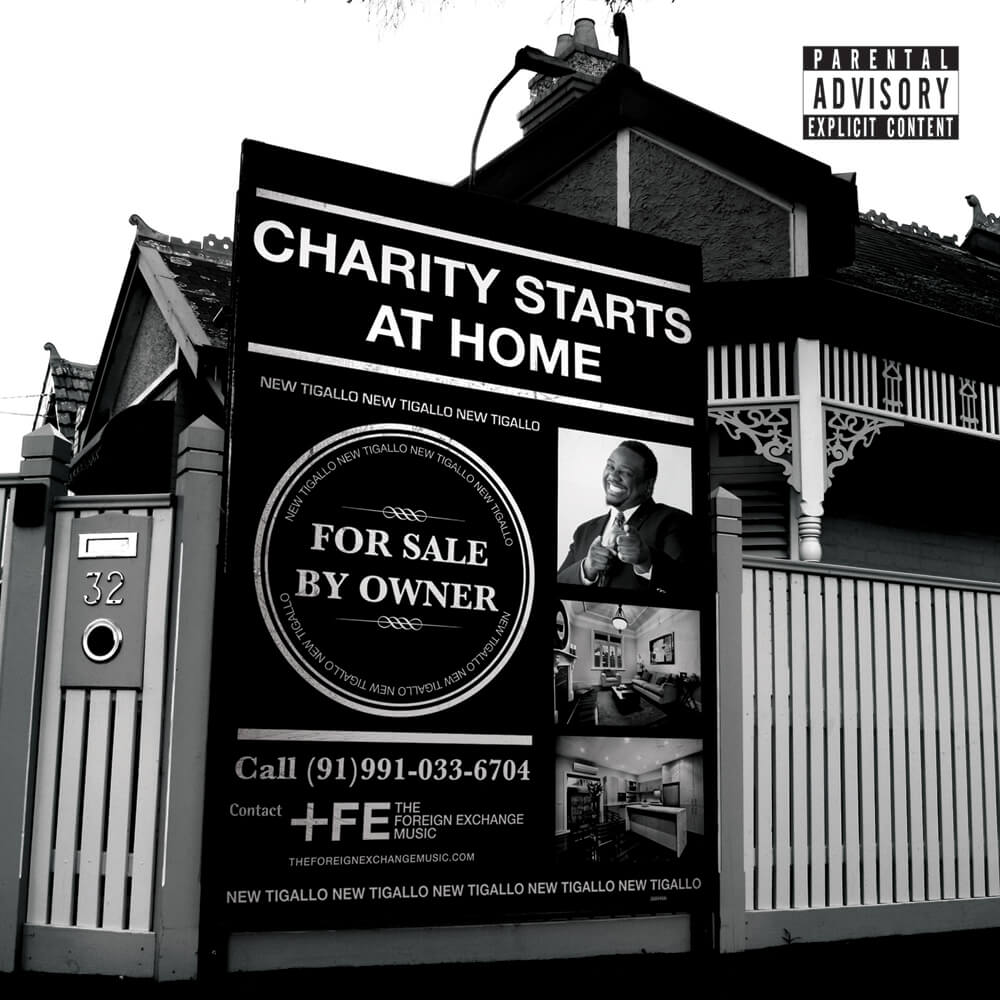 Former Little Brother lyricist/singer Phonte Coleman took a break from his work with Nicolay as Foreign Exchange to drop his long-awaited solo album Charity Starts At Home. This highly talented artist delivered all the way, with poignancy, charm, and superior lyrical ability the entire ride through. While we all salivated over the reunion of Phonte and 9th Wonder on tracks such as "The Good Fight" and the masterful team-up with Evidence and Big K.R.I.T. on "Life Of Kings", the whole album was a highly enjoyable and attentive effort. This Greensboro native is one big project away from becoming a worldwide name.
5. Foreign Exchange - Connected (2004)
Phonte Coleman collaborated with Netherlands producer Nicolay as The Foreign Exchange. Their debut, Connected, is a sultry, laid-back, highly melodic album that is as breezy as it is breakthrough. The album was an instant classic and became one of the most definitive Hip Hop albums of the early millennium, with not one single flaw to dissect and scrutinize – the only thing we could have wished is that it was longer. This debut was the start of several highly acclaimed offerings to come from the duo.
4. Little Brother - The Minstrel Show (2005)
After the incredible buzz coming this trio's debut album The Listening, they got signed to Atlantic Records and they dropped their major label debut The Minstrel Show – a conceptual album based upon a fictional Black TV channel that satirized stereotypes of the Black community and Black music during the minstrel show period of the early to mid 1900s. The album is simply stunning in its technical approach and 9th's production is stellar throughout. Due to radio stations lack of interest and BET's blatant bias against them for not being relevant enough for younger audiences, the album barely took off – but those who peeped the album immediately knew the album was exceptional and a true Hip Hop treasure.
3. Rapsody - Beauty & The Beast (2014)
There is no stopping Rapsody. A year after releasing her highly touted She Got Game mixtape, she dropped her follow-up – the Beauty & The Beast mixtape. From beginning to end we hear her fantastic lyricism and concepts over exceptional production from 9th and The Soul Council. Tracks like the searing "Hard To Choose", "The Man" and the lyrical knockout "Godzilla" exhibit Rapsody's strengths and her ability to dominate the way over-saturated male Hip Hop game. Once Dr. Dre, Nas, and Jay-Z all co-sign you as an emcee, you're basically the shit. Just saying.
2. J. Cole - 2014 Forest Hills Drive (2014)
With two consecutive gold albums under his belt, J. Cole virtually dropped out of sight. We hadn't heard anything from him in two years and suddenly, out of the blue, he dropped 2014 Forest Hills Drive late in 2014. Aside from the fact that this album stayed at number one on the Billboard charts for weeks, plus was the first Hip Hop album to go platinum with no guest features (ultimately selling triple platinum units, which is a feat in itself in this day and age), the album itself is his best body of work to date. Abandoning the flash and fame, he went back to being true to himself and addressing issues close and personal to him, with the music to reflect this. Seen as his official breakout album, Cole became one of the most seminal voices of his generation and definitely, along with the likes of Kendrick Lamar and Big K.R.I.T., one of the most brilliant emcees.
1. Little Brother - The Listening (2003)
With A Tribe Called Quest disbanding, Slum Village having members die and/or get added, and De La Soul dropping albums at a non-regular rate, many felt the age of intelligent, soulful, native tongue-like Hip Hop was over. In came three young men from Durham known as Little Brother to give us something to brag about again. Producer 9th Wonder and emcees Rapper Big Pooh and Phonte delivered The Listening, which was an instant throwback to the days of Slum Village and Tribe with groundbreaking soulful production and good ol' feel good lyrics.
The album went from being an underground classic to an industry-wide classic, as it continued to age gracefully, making the listener throw away raps about guns, drugs, crass sexual themes, and misogyny. The Listening is what Hip Hop should be: great beats, great rhymes – providing the ability to feel good and just nod your head to the music.
Honorable Mentions
Petey Pablo – Diary Of A Sinner: 2nd Entry
Rapsody – Thank H.E.R. Later
Rapsody – Return of the B-Girl
Rapsody – The Black Mamba
Rapsody – Crown
9th Wonder – The Dream Merchant Vol. 1
Little Brother – The Chitlin Circuit
Little Brother – The Chitlin Circuit 1.5
Little Brother – Leftback
Big Remo – Entrapment
OC From NC – Second Renaissance
Supasittion – 7 Years Of Bad Luck
Sean Boog – Light Beers Ahead Of You
Cesar Comanche – Wooden Nickles
Cesar Comanche – Paper Gods
Chaundon – Carnage
The Away Team – National Anthem
The Away Team – Training Day
The Away Team – The Warmup
Hall Of Justus – Soldiers OF Fortune
L.E.G.A.C.Y. – Project Mayhem
Median – Median's Relief
J. Cole – Friday Night Lights
J. Cole – The Warm Up
As you can see, North Carolina can hold its own against bigger cities and states, and the home of the Tarheels, Blue Devils, Panthers, Demon Deacons, Rams, Aggies, Hornets, and Hurricanes (among others) is a flourishing state with a bevy of talented up-and-comers waiting and working on the chance to become official worldwide household names like the artists on this list.