This city we're highlighting with this piece is the birthplace of Hip Hop. Thanks to the original godfather of the culture, Kool Herc, Hip Hop was born in the Bronx in 1973. Since then, many culture-shifting artists have emerged from this historical city in music. Everything we hold dear about the fundamentals of Hip Hop started in the Bronx, let's get into the best albums to ever come from the birthplace of Hip Hop.
20. Terror Squad - Terror Squad: The Album (1999)
Fat Joe and his collective Terror Squad had been bubbling since appearing on Joe's second album, Jealous One's Envy. Plus with the breakout emergence of their lyrical, and literal, heavyweight Big Pun, the boys of Cuban Link, Triple Seis, Prospect, and Armageddon were ready to deliver their debut self-titled album.
The result was an excellent debut filled with gutter rhymes and overall crazy production from the likes of The Beatnuts, Buckwild, The Alchemist, and once hot production team Infinite Archetechz.
19. Lord Finesse - Return Of The Funky Man
Famed D.I.T.C. member Lord Finesse had presented a profound debut with former partner DJ Mike Smooth, Funky Technician, in '90. He delivered a follow-up two years later with Return of the Funky Man – which would be almost just as acclaimed.
We really started to see the production talents of Finesse on this release, and he would later end up becoming one of the most legendary producers in the game. With assistance from fellow D.I.T.C. producers Diamond D and Showbiz, this album was a production favorite more than anything, but don't ever sleep on Finesse's mic game either.
18. Fat Joe - Jealous One's Envy (1995)
Wanting to capitalize on the buzz from his decent debut album Represent, Fat Joe (formerly Fat Joe Da Gangsta) presented his sophomore effort Jealous One's Envy, which became a surprising hit. More focused than his debut, Joe aimed to reach a slightly broader audience while still keeping it gutter.
With cuts like the menacing-sounding collab with Raekwon "Respect Mine", the debut of Pun on "Watch Out", and the stinging cut with KRS-One "Bronx Tale", this album started some very positive momentum for Joe.
17. Show & AG - Goodfellas (1995)
After dropping the exceptional Runaway Slave album, Bronx natives and D.I.T.C. members Show & AG delivered their sophomore effort Goodfellas – and truthfully it wasn't too far removed from their epic debut. Although harder in production and lyrical content, this album had the same spirit of dope rhymes over dope beats, plain and simple.
Most known for the cut "Next Level" (both the original and especially the DJ Premier-crafted remix which has been touted as one of the most celebrated beats in all of Hip Hop as it was highly featured in the movie 8 Mile), this album really is an underrated prize.
16. Boogie Down Productions - Sex & Violence (1992)
This is the first of KRS and BDP on this list, but don't get it twisted – this album is far from a dud within his collection. Sex & Violence turned out to be the final album recorded under the Boogie Down Productions name. It also became to be among the most controversial KRS-One efforts due to the backstory, filled with beefs with the likes of P.M. Dawn, X-Clan and others. With Sex & Violence KRS made sure the BDP name was still relevant and as impactful as ever.
15. Fat Joe - Don Cartagena (1998)
In the beginning of the self-titled cut for his third effort, Don Cartagena, Joe states: "Nobody said it would be easy", but it was worth it.  This album became his best critically received album, an album that brought him his first platinum plaque.
Way more accessible to radio and mainstream airplay than his previous two efforts, Represent and Jealous One's Envy, this album serves as his most cohesive to this very day. After the monster acclaim his protege Big Pun received, Fat Joe attempted to score just as big and he overall succeeded as this album was a banger throughout.
14. Lord Finesse & DJ Mike Smooth - Funky Technician (1990)
In '90, Bronx emcee Lord Finesse (along with DJ Mike Smooth) dropped his debut album Funky Technician. Produced primarily by DJ Premier, Diamond D, and Showbiz, this album was sorely slept-on when it came out, as albums such as Business As Usual, Peoples Instinctive Travels In The Paths Of Rhythm, One For All, and Fear Of A Black Planet were completely obliterating everything in the game at the time. Regardless, over two decades later, this album has slowly but surely become a backpacker's delight and a classic piece of Hip Hop.
13. Diamond D - Stunts, Blunts & Hip Hop (1992)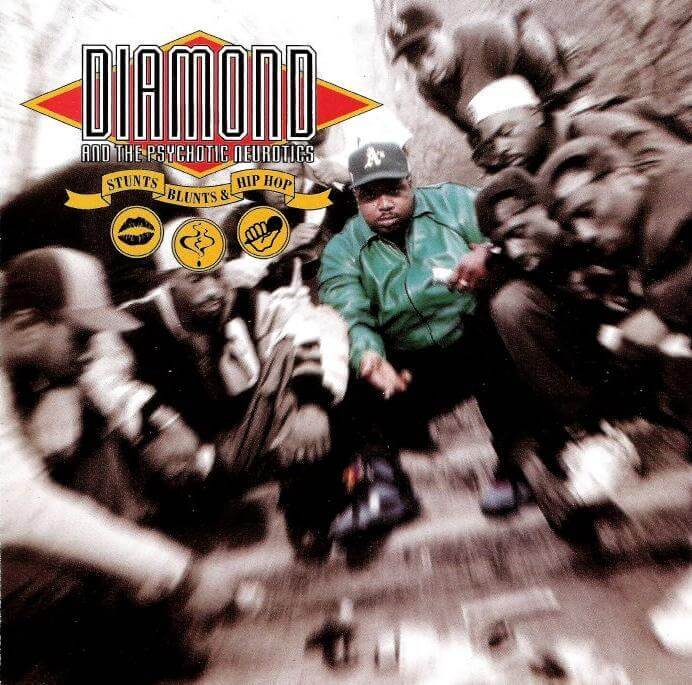 Besides Lord Finesse, another important fixture of the D.I.T.C. crew was producer/emcee Diamond D. Released in '92, Diamond D's debut album as an artist had some of the same problems the aforementioned Funky Technician album had with so many other groundbreaking albums dropping that year – but trust and believe, Diamond D's amazing debut, Stunts, Blunts, and Hip Hop is a surefire Hip Hop classic. With laid-back and jazzy instrumentals mixed with some boom bap, this remains a very pleasant listen and stands as Diamond D's most celebrated piece of work.
12. Boogie Down Productions - Edutainment (1990)
Another noteworthy BDP album was album number four: Edutainment. Filled with most of the same social commentary and afro-politcal insight as we had come to expect, this album was deep with meaning and lessons that could easily rival their highly acclaimed second album, By All Means Necessary. The album furthered the legacy of BDP and continued to show KRS as indeed "The Teacher" – evidenced by cuts like "Love's Gonna Get Cha" and "The Racist". Class was in session.
11. Kool Keith as Dr. Octagon - Dr. Octagonecologyst (1996)
Talk about a landmark release. We often mention stunning underground classics such as Madvillainy, Funcrusher Plus, Fantastic Damage, The Cold Vein, and Deltron 3000. Another album that should be on that list, is Dr. Octagonecologyst by Dr. Octagon (one of Kool Keith's many different incarnations). The tales of a sordid and perverse extraterrestrial surgeon would become one of the most legendary albums to ever emerge from the subterrain. It's weird yet fascinating, bugged-out yet brilliant – arguably the best character Kool Keith ever invented. It has stood the test of time and remains the best album Kool Keith has done as a solo act.
10. Big Pun - Capital Punishment (1998)
All it took were guests spots on Fat Joe's Jealous One's Envy, The Beatnuts' Stone Crazy album, and his own cut on the stellar Soul In The Hole soundtrack for the anticipation to grow for Terror Squad's microphone mauler, Big Pun. From the time you pushed the play button, and the track "Beware" hit, you knew you were in for something special. Capital Punishment ended up being one of the strongest debut albums of the late nineties, perhaps ever. This was a near perfect album that catered to everyone: the gangstas, the hustlas, the playas, and the backpackers. Capital Punishment also marked the first time a Latin emcee went platinum. A legend had been made.
9. KRS-One - KRS-One (1995)
After releasing his official debut juggernaut, Return of the Boom Bap, the pressure was on for KRS One to continue that momentum. He absolutely succeeded with his self-titled sophomore solo album. Bangers all over the place, just like on Boom Bap – this album was a knockout with cuts like "Rappers R. N. Danja" and "MCs Act Like They Don't Know." Where as Boom Bap had a ton of ol' school, BDP influence, this follow-up had some of that plus some of the sounds that were going on at that time with gritty sounds provided by Premier, Diamond, and Showbiz. A definite top notch effort by "The Blastmaster".
8. Nice & Smooth - Ain't A Damn Thing Changed (1991)
Uptown emcees Greg Nice and Smooth B together were Nice & Smooth, and were a dope up-and-coming duo who were first featured on Big Daddy Kane's It's A Big Daddy Thang. While they had an okay self-titled debut album, it was their second effort, Ain't A Damn Thing Changed, that propelled them into the official Hip Hop spotlight – especially thanks to cuts like "Hip Hop Junkies" and the classic "Sometimes I Rhyme Slow".
7. Boogie Down Productions - Ghetto Music: The Blueprint Of Hip Hop (1989)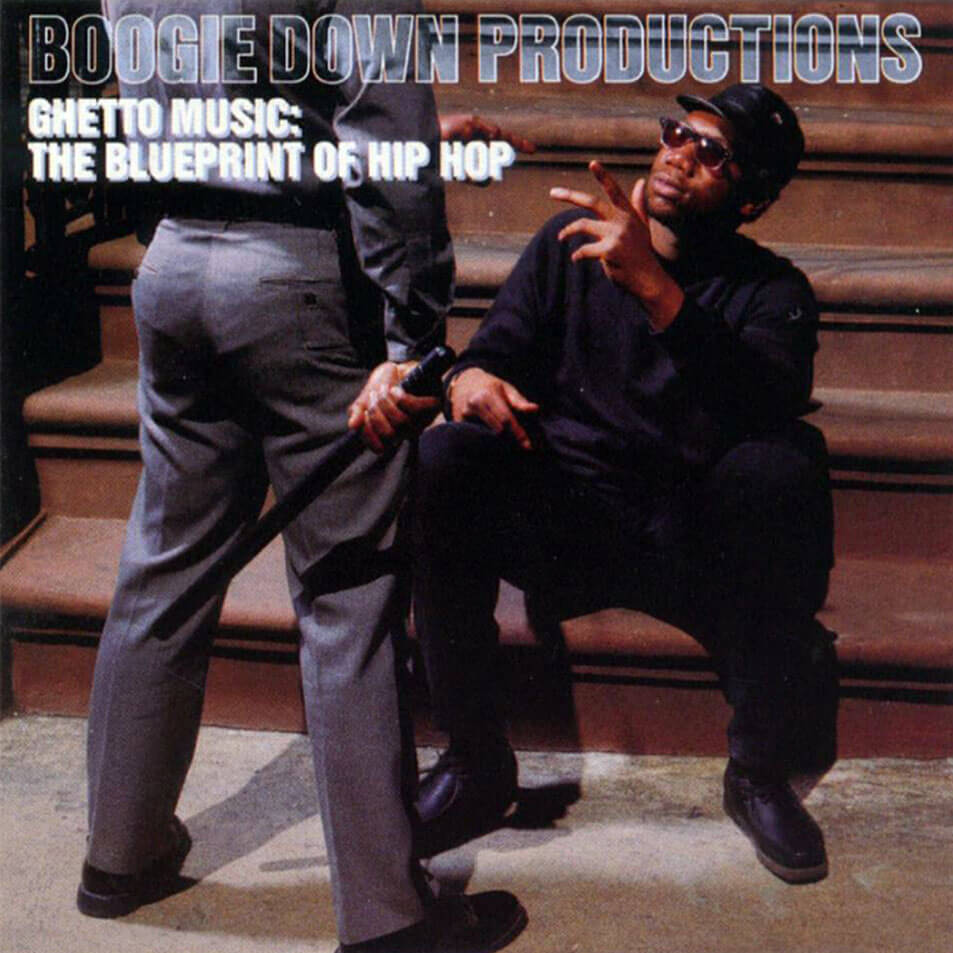 With his third album with BDP, Ghetto Music: The Blueprint of Hip Hop, KRS remained the same hardcore activist and socio-political emcee that served as one of the major voices of the ghetto, much in the same way as Public Enemy's Chuck D. This album was heavy and thick with afro-centricity, as their prior album By All Means Necessary was – and with cuts like "Why Is That", "Jack Of Spades", "Bo! Bo! Bo!" and "Who Protects Us From You" , this album still serves as a standard bearer in the career of KRS.
6. Showbiz & AG - Runaway Slave (1992)
For years, KRS-One considered this album his favorite Hip Hop album ever. Two D.I.T.C. repping Bronx natives known as Showbiz (producer/occasional emcee) and AG (emcee) were first heard spitting on Finesse's aforementioned Funky Technician album. From there, they put out their Soul Clap EP and after that their debut full-length album, Runaway Slave, was released. This album is just pure unadulterated Hip Hop at its fundamental finest. There is no blemish on this highly effective and cohesive album. Show would later produce some major Hip Hop cuts for other members of D.I.T.C. and for artists like KRS-One (most notably his powerful anthem "Sound Of Da Police"), whereas AG would be considered one of the most underrated emcees around. This was the epic start of both of their careers.
5. KRS-One - Return Of The Boom Bap (1993)
After the final BDP album, Sex & Violence, it was time for KRS to start releasing albums under his own name and his debut solo effort was one of legend. Return of the Boom Bap turned out to be the ultimate purist Hip Hop album. Thunderous production provided by Premo, Showbiz, as well as himself, KRS brought the hardcore that established him among Hip Hop's elite.
Less about the social-political aspect, Return of the Boom Bap was just a raw Hip Hop album with KRS spitting with some of the fiercest delivery we had heard from him in a few years. Of course, we would be remiss without mentioning the ageless "Sound Of Da Police", the just as powerful "Black Cop", and the just plain crazy "Mad Crew". This album remains KRS' magnum opus without the BDP name, and is considered one of the blueprints of fundamental, tried and true, Hip Hop.
4. Ultramagnetic MCs - Critical Beatdown (1988)
Some albums are just so ahead of their time, it took years for people to catch up. We have seen that with albums like De La Soul Is Dead, Madvillainy, and Aquemini. Before any of these, there was Ultramagnetic MCs' Critical Beatdown. Released during the burgeoning "golden era" of Hip Hop, this album incorporated a more advanced, new school mind state and did things with sampling that had never quite been done before.
Ced Gee, Kool Keith, Moe Love, and TR Love delivered a genius recording, an album that was at its innovative best and one that forced talk of creativity in Hip Hop, thus paving the way for groups like De La Soul and EPMD. Nothing short of a masterwork that deserves a more iconic status than it is given.
3. Boogie Down Productions - By All Means Necessary (1988)
After establishing themselves with the seminal Criminal Minded, KRS decided to move in a different direction after the tragic murder of partner Scott La Rock some months prior to the release of BDP's second album, By All Means Necessary.
This album was decidedly more about social commentary, anti-establishment, and unnecessary violence within Hip Hop. KRS was clearly impacted by the death of his close friend and BDP co-creator, but as a result By All Means Necessary to this day stands as one of the greatest achievements of Hip Hop during the "golden era".
2. Slick Rick - The Great Adventures Of Slick Rick (1988)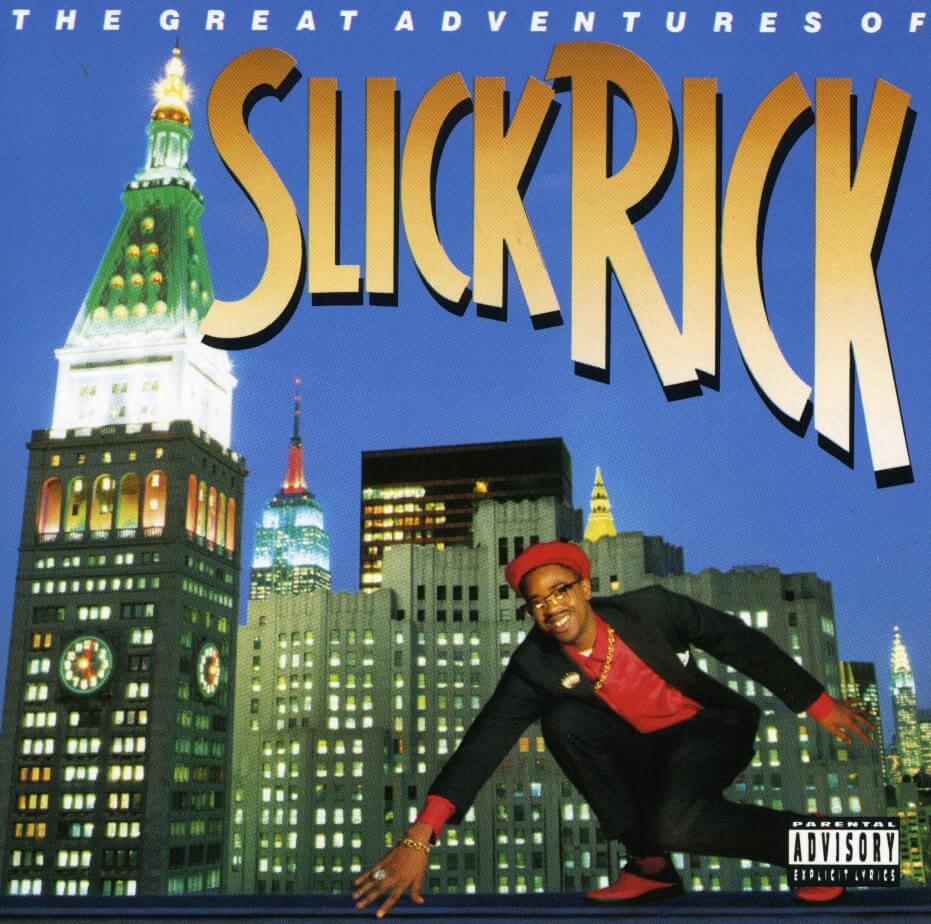 What can be said about this treasure that hasn't been said a thousand times already? Slick Rick dropped an all-time standout with The Great Adventures of Slick Rick. A highly influential album, the British-born emcee presented a collection of songs highlighting his ability to tell stories and having a style about him that couldn't be easily duplicated by anyone.
We all know the classic "Children's Story", as well as "Hey Young World" and "Teenage Love", but others like the crass "Treat Em Like a Prostitute" and "Lick The Balls" were just as timeless. This masterpiece was an album that defined the eighties, much like Paid In Full, It Takes A Nation Of Millions…, and Run-DMC's debut self-titled album did.
1. Boogie Down Productions - Criminal Minded (1987)
Who would've ever considered "The Blastmaster" or "The Teacher" as a violent lyricist? Well in '87, he was, along with partner Scott La Rock as Boogie Down Productions. Verbally crushing MC Shan and The Juice Crew with the anthems "South Bronx" and "The Bridge Is Over", they released their quite brutal debut album, Criminal Minded. 
Complete with hardcore, street-themed rhymes and knocking production, this album has stood the test of time – thirty years after its release it stands as the most heralded BDP/KRS album ever. Criminal Minded was a raw, gripping look at drugs, violence and prostitution, way before N.W.A. and Ice-T expanded the genre more commercially. An all-time classic.
Honorable Mentions
Fat Joe Da Gangsta – Represent
Fat Joe – J.O.S.E.
Cuban Link – 24K
Big Pun – Yeeeah Baby!
Lord Tariq & Peter Gunz – Make It Reign
Slick Rick – The Ruler's Back
Slick Rick – The Art Of Storytelling
Tim Dog – Penicillin On Wax
Diamond – Hatred, Passions, & Infidelity
Remy Ma – There's Something About Remy
Terror Squad – True Story
KRS-One – Sneak Attack
KRS-One – I Got Next
KRS-One – Maximum Strength
KRS-One – Kristyles
Nice & Smooth – Nice & Smooth
Nice & Smooth – Jewel Of The Nile
Just-Ice – Back To the Old School
D-Nice – Call Me D-Nice
Ultramagnetic MCs – The Four Horsemen
Kool Keith – Sex Style
Dr Dooom – First Come First Served