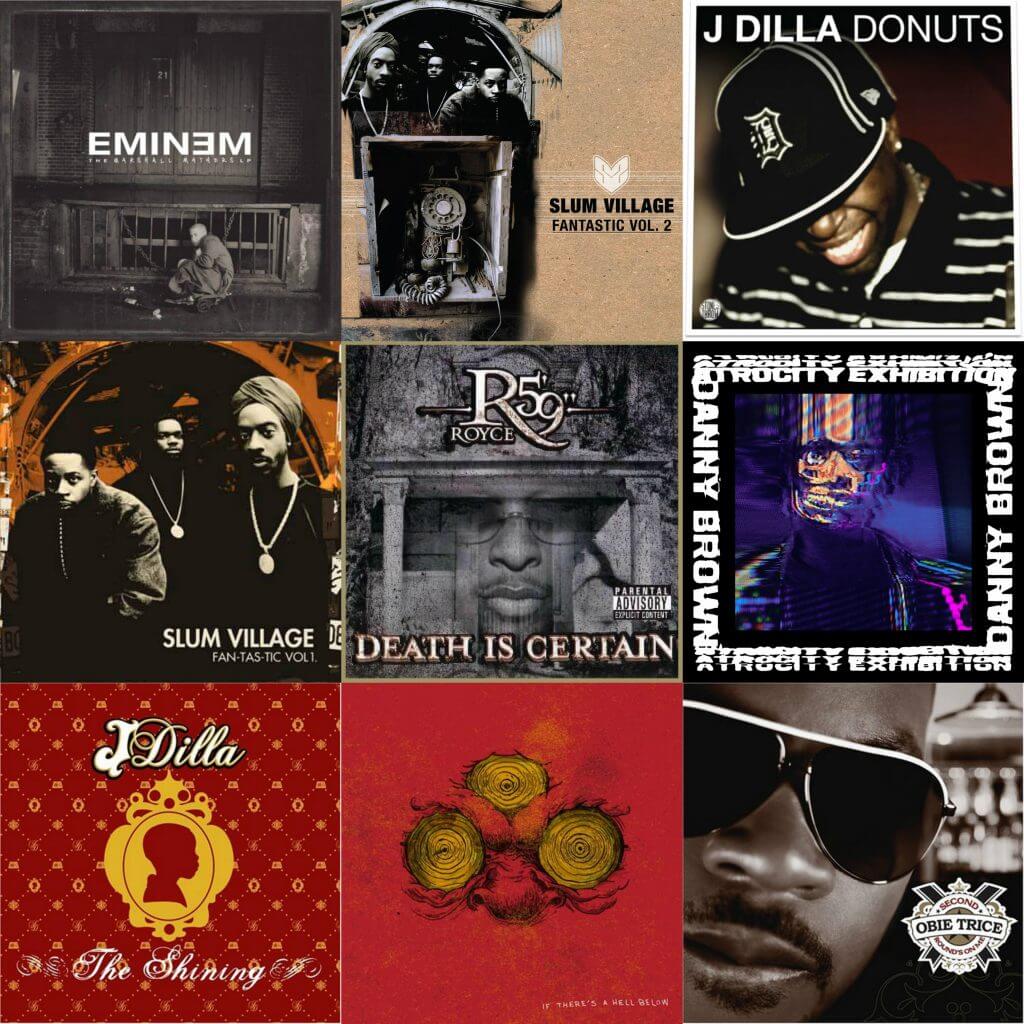 We've lately covered major cities or sections within cities that have made significant and in some cases landmark and breakout impacts within the Hip Hop game. From Compton to Queensbridge, many historic efforts have emerged from areas like these that have forever shaped Hip Hop as we know it today.
This time, we'll highlight the might D, as in Detroit. Known around the world for years as the "motor city", as it was the place where car companies such as Ford flourished with making cars, it also became known for its rich, groundbreaking music. The city that housed Motown, with acts like Smoky Robinson, The Temptations, The Supremes, and Eddie Ruffin that became icons in Detroit, as well as other historic musical figures such as Aretha Franklin.
In the mid-nineties, Detroit Hip Hop started to make its name known with acts like Slum Village and nearby Flint, Michigan acts The Dayton Family and the late MC Breed, who became widely known for his cut with 2Pac, "Gotta Get Mine". From there, Slum Village came into the mix and we got introduced to what became known as the "Dilla" sound with beatmaker extraordinaire James "J Dilla" Yancey.
It was in '99 (after his low-key debut in '96) when we were introduced to a bleached-blonde, blue-eyed Caucasian emcee who was lyrically insane and had a captivating persona about him named Marshall Mathers, or Eminem – an emcee who turned the world completely around. Detroit had officially arrived on the Hip Hop map.
Since then, acts such as Royce Da 5'9″, Big Sean, Black Milk, Trick-Trick, Danny Brown, and D-12 have exploded onto the scene and made their presences felt while repping the legacy of the D. With that said, let's get into the best Hip Hop albums to come from this historic musical city.
20. D-12 - D-12 World (2004)
After dropping their decent and shock value worthy debut Devil'z Night in '01, Eminem and his crew D-12 returned three years later with D12 World, which was a little more focused and relied a little less on shock value. That's not to say it wasn't there, but the focus was more so on being a cohesive unit and not so much on being comical, especially evidenced on cuts like "How Come" and the sombre dedication to Bugz, "Good Die Young" – made extra tragic knowing D12 member Proof was murdered two years later. A more serious D12 effort that caused listeners to start taking them more seriously.
19. Black Milk - No Poison, No Paradise (2013)
Since the heartbreaking passing of Dilla, the one who ever came closest to furthering the trail Mr Yancey established has been Black Milk. A very decent rhyme sayer in his own right, but most renown for his incredible production skills.
Every album he had done has been critically acclaimed and has made him more and more of a known fixture. With his fifth album No Poison, No Paradise he went the conceptual route the story of Sonny and how he faces everyday life growing up as an adolescent, in spite of the challenges and obstacles that stand to get in his way of succeeding. Top notch production and a cohesive, put-together story – this album saw Black Milk continuing to come of age. One of his strongest projects.
18. Big Sean - Dark Sky Paradise (2015)
GOOD Music's own Big Sean had to get out of his own way to see the fruits of his labor. Although always a promising act, on his first albums Finally Famous and Hall Of Fame lyrically he wasn't as good as many felt he could be.
That changed with his third album Dark Sky Paradise, where we would see more focus and a better pen game than before. He expanded his sound and started hitting on personal areas such as the saddening passing of a loved one on "One Man Could Change The World". This was the Big Sean we had been waiting on, with this album we finally started to see him break out of his shell.
17. J Dilla - Welcome 2 Detroit (2001)
The first inclination of how fantastic J Dilla could be on his own without his Slum Village brethren was on his '01 solo debut, Welcome 2 Detroit.
Under his (then) name of Jay Dee, this album was a great highlight of the different types of sounds Dilla could construct and how good he could sound over them. Covering everything from standard boom bap to Brazilian music and African rhythms, Dilla presented a promising and ambitious album that would only serve as an inkling to the greatness we would progressively see.
16. Obie Trice - Cheers (2003)
From seemingly out of nowhere came a rhyme animal known as Obie Trice. It was easy to see why he had been signed to Shady/Aftermath. After spitting on an interlude on D12's Devil'z Night album, the buzz grew quite high. He first dropped the classic cut "Got Some Teeth", and soon enough the album Cheers was here. With knocking production from Dr Dre, Eminem, and Timbaland, this double platinum units selling album made Obie a star.
15. Black Milk - Popular Demand (2007)
A heavy and deep void was evident when J Dilla passed. After his death, people had been looking to see who his next in line would be. Enter Curtis Cross, otherwise known as Black Milk. The drummer-turned-producer/emcee first showed his talents on his debut, Sound Of The City Vol. 1, but it was because of his second album, Popular Demand, that people really started to take notice. Garnering support from Detroit artists such as Phat Kat, Slum Village, and Guilty Simpson on the album, this one thumps from top to bottom. Popular Demand became the start of a critically successful career for Mr Milk.
14. Eminem - The Eminem Show (2002)
How in God's name could Eminem follow up his unbelievable Marshall Mathers LP? One of the most critically acclaimed and commercially successful Hip Hop albums of all-time?
His answer came in the form of his third effort, The Eminem Show. While not quite as nihilistic or even quite as misogynistic as his prior effort, he still presented his brutal honesty and got even more personal than before. Some view this as his best work, and cuts like "White America", "Cleaning Out My Closet", and "Square Dance" are clearly some of Em's finest cuts ever.
Selling eight million units, it was one of the best and highest selling albums of the decade and was an excellent follow-up to MMLP.
13. Elzhi - The Preface (2008)
Elzhi is one of the D's most fantastic emcees, one that doesn't get nearly as much credit as he deserves. Previously known for his work as part of Slum Village after Dilla left the group, he had also been known for mixtapes that had caught some buzz.
However, it was with The Preface when people really could see just how lyrically gifted this cat was. Backed by some of the most incredible Black Milk production heard to this very day, standouts are all over the place, literally one after another. Elzhi was officially on the radar, and even though he has delivered other dope efforts with Elmatic and most recently with Lead Poison, The Preface serves as his absolute best gem.
12. Royce Da 5'9" - Tabernacle: Trust The Shooter EP (2016)
Perhaps there's no more complete of an emcee to come out of the D than Royce Da 5'9″. Technically sharp and systematically a beast, the man known as Ryan Montgomery is among the most respected and feared lyricists to exist in all of  Hip Hop. In 2016, he
In 2016 he delivered his sixth album Layers to pretty decent acclaim. Before he officially dropped it, he delivered a thunderous EP entitled Tabernacle: Trust The Shooter in preparation. In many aspects, this EP easily outshined Layers.
Although it did contain a few of Layers prime cuts such as the impactful "Tabernacle" and "Wait", it were others such as the blazing "Black History" as well as the blistering "Dead President Heads" and the slick "Which Is Cool" that made this project one of the ones to be rotated over and over within his discography.
11. Eminem - The Slim Shady LP (1999)
In '98, we heard there was a Caucasian emcee that Dr Dre had gotten his hands on that was a complete rhyme terrorist. Previously seen nationwide in the Unsigned Hype section of The Source, there was some small buzz about this up-and-coming emcee, but then we heard "Just Don't Give A Fuck". It was a wrap from there.
A few months later in '99, he dropped The Slim Shady LP, which was considered among the most controversial albums in recent memory due to charges of homophobia, misogyny, and encouragement of drug use. In any case, this album ultimately sold upwards of six million units and officially made Eminem a global phenomenon.
10. Slum Village - Yes! (2015)
This is the Slum Village album we all had been waiting for years for. Not since Fantastic Vol. 2 has there been a Slum Village this cohesive, smooth flowing, and yes Dilla influenced.
In fact, Dilla's posthumous hands were all over this album, and it was phenomenal. It would've been damn near perfect if Dilla and Baatin were still alive to assist T3 on this album instead of Dilla's little brother Illa J – in all due respect of course because he does an admirable job holding it down with T3. In any case, this album satisfied every true SV fan to the utmost and would have made Dilla proud.
9. Obie Trice - Second Round's On Me (2006)
This former Shady artist had earned a well-deserved name in the mainstream with his double platinum debut Cheers. He had shown that he deserved to be in the house that Em and Dre built.
The pressure was on to deliver the goods yet another time, and in '06, he dropped Second Round's On Me, to even more acclaim. While Dre, Em, and Timbaland basically dominated his debut, this album was more about him and it hit hard.
The album was done by Em and then-hot producer J.R. Rotem supplying him some very impressive production to spit over. Obie wasn't playing any games with cuts like "Cry Now" and the Emile-crafted scorcher "Wanna Know". Although the album didn't hit platinum, it did mark a gold album for him and it proved he had the skills to hang and bang in the Shady empire.
8. Black Milk - If There's A Hell Below (2014)
If there's one thing Black Milk has done over the years it's showing growth, both lyrically and musically. Each album shows more and more upward momentum since his already impressive Popular Demand.
His albums Tronic, Album Of The Year and No Poison, No Paradise were all damn impressive outings that showed that he truly was Dilla's heir apparent.
However, he hit his apex with If There's A Hell Below. Darker in texture and production, this album continues where he left off with No Poison, No Paradise and turns it a little more bleak in nature. This album flows along almost perfectly due to the interludes and its consistency in impeccable.
If There's A Hell Below showed just how incredible Milk continues to be and let's really hope he didn't hang up the mic for good.
7. J Dilla - The Shining (2006)
We've been blessed with quite a number of posthumous Dilla projects since his passing. Arguably the most heralded studio album he has delivered is The Shining. This was a virtual all-star assemblage of talent who have all collaborated with Dilla in some sort of fashion during his highly influential career.
Names such as Black Thought, Guilty Simpson, Common, Busta Rhymes, and Pharoahe Monch deliver their own brand of goods over some of the most delectable production one could ask for from Dilla. We even got a solo cut from him with the breezy "Won't Do". With only eleven tracks, there was no room for extra fat, and there wasn't any.
This was an amazing example of how Dilla was truly among the best to ever do it behind the boards – and he had help from some highly talented friends to further push that sentiment.
6. Danny Brown - Atrocity Exhibition (2016)
The one word that comes to mind when mentioning Danny Brown is… well… quirky. His eccentric sense of being a Hip Hop rock star has garnered him a cult-like following over the years.
Starting with his very impressive debut XXX, Mr Brown has been a notable fixture in the underground and has progressively been building a steady fan base.
It was 2016 when he dropped arguably the album of his career with Atrocity Exhibition. Although this album shows and highlights his obsession with drugs and his downward spiral into the abyss, he brilliantly does so with a sense of a method to his madness. Eccentric mixed with ambitious, Brown has reached a new level of acclaim and because of this unforgettable album his star power is growing more and more.
5. Royce Da 5'9" - Death Is Certain (2004)
Royce Da 5'9″ is among the true lyrical heavyweights of the game. This was apparent ever since the late nineties with Eminem as Bad Meets Evil. As Em blew up in historic fashion, Royce started to get his own name out there as well, when he dropped his long overdue debut Rock City to acclaim and notability.
There were lots of hits on the album and it showed Royce had the potential to be a star. Dealing with drugs, alcohol, and depression (not to mention beefs with D12 and eventually his own homie Em), led him to drop his sophomore effort, Death Is Certain. A noticeably bleaker and angrier project than Rock City, Royce gets a lot off his chest about revenge, depression, and just pours his troubled mind and soul out on wax.
Although very dark, it serves as his magnum opus in terms of consistency and continuity. This was our true first look into the mind of Ryan Montgomery, and it was beyond fantastic.
4. Slum Village - Fantastic Vol. 1 (1997)
Our first taste of SV was with Fantastic Vol. 1, a collection of demos, unmastered tracks, freestyles, and a few finished cuts. This was SV in raw form, a first glimpse of the chemistry between T3, Dilla (then Jay Dee), and Baatin.
Thanks to Dilla musically this was rich with instrumentation, and it was evident why they were seen as the next Tribe Called Quest to a degree. One of the most highly sought after albums in all of Detroit during the mid to late nineties, most of the cuts would get reworked and mastered to appear on Fantastic Vol. 2, but this was where it all started, and to be honest, it still sounds every bit as fresh.
3. J Dilla - Donuts (2006)
When Dilla died, it was said that he left behind a ton of instrumentals and unreleased recordings, as he was working nonstop until he died – even in his hospital bed and at home trying to recover. He was a producer's producer. An undeterred workaholic.
Donuts was the last true album he made while he was alive, as he succumbed to his sickness three days after its completion. Considered one of the most influential instrumental albums of all-time, Donuts was the best example of Dilla's impeccable talent on the boards.
While he was already one of the most touted producers in Hip Hop, this album made him one of the very best ever, elevating him to legendary status. Since this album, there have been other albums amazingly showing his truly God-given musical talents such as Jay Stay Paid, Dillatroit, and Rebirth Of Detroit, but Donuts laid the foundation for the rest of his legacy.
2. Slum Village - Fantastic Vol. 2 (2000)
This was seen as the "official" debut of Slum Village, as their Vol. 1 was their rough cut or rough draft. If that was the case, Vol. 2 was the final product, as it took the exemplary cuts from Vol. 1 and got them fine tuned, mastered, and mixed properly. Therefore, this became a classic from Detroit.
Fantastic Vol. 2 was a breath of fresh air as this came out during the height of the "shiny suit" era, as well as the decline phase of the mafioso era in Hip Hop. Fantastic Vol. 2 offered a taste of what neo-soul in Hip Hop sounded like, even if it was mostly an underground treasure.
Dilla and the boys delivered fresh and authentic Hip Hop for the masses – Fantastic Vol. 2 turned out to be highly influential in the sub-terrain. It became one of the most sought after albums to ever emerge from Detroit, and SV's most prized effort is something we can still learn from today.
Fantastic Vol. 2 has grown into one of Hip Hop's truest classics and should be remembered as an album that helped to change the sound of Hip Hop during its time.
1. Eminem - The Marshall Mathers LP (2000)
We had already been rocked by the talents and vision of Dr Dre's newest protege Eminem. His debut, The Slim Shady LP, sold upwards of six million units and earned him several different awards. His toilet humor and his uncanny ability to be the asshole class clown of Hip Hop won over a ton of people, while nobody could ignore the fact that this dude could rip a mic in two lyrically.
He pushed his level of shock value to new heights and got a lot more personal on his sophomore effort, The Marshall Mathers LP. He increased everything except his sense of actually giving a damn what any of his critics thought of him. His utterly violent fantasies on the psychotic cut "Kim", the self-affirming "The Way I Am", and especially the ingenious ode to fan stalking "Stan" made this album a masterwork that is a combination of misery and sobering realities.
Say what you will about how sexist, misogynistic, drug celebrating, homophobic and violent this album is – whatever your opinion, no doubt this album rattled your insides and got a rouse out of you, whether you wanted it to happen or not.
Did I mention the album sold upwards of thirty million units worldwide, with twelve million sold domestically, thus making it one of the biggest selling Hip Hop albums of all-time? Call him King Mathers!
Honorable Mentions
Black Milk – Tronic
Black Milk – Album Of The Year
Slum Village – Detroit Deli
Slum Village – Villa Manifesto
Elzhi – Lead Poison
Elzhi – Elmatic
Guilty Simpson – Ode To The Ghetto
Apollo Brown – Grandeur
Guilty Simpson & Madlib – OJ Simpson
J Dilla – Ruff Draft
J Dilla – Dillatronic
J Dilla – Jay Stay Paid
Eminem – Recovery
Eminem – The Marshall Mathers LP 2
D12 – Devil'z Night
Proof – Searching For Jerry Garcia
Danny Brown – XXX
Danny Brown & Black Milk – Black & Brown EP
Danny Brown – Old
Phat Kat – Carte Blanche
Royce Da 5'9″ – Rock City
Royce Da 5'9″ – Success Is Certain
Royce Da 5'9″ – Street Hop
Royce Da 5'9″ – Layers
Bad Meets Evil – Hell: The Sequel
Esham – Boomin' Words From Hell
Esham – KKKill The Fetus
Esham – Closed Casket
Esham – Repentance
Esham – Sacrificial Lambz
Kid Rock – Grits Sandwiches For Breakfast
Awesome Dre & The Hardcore Committee – You Can't Hold Me Back
It's clear Detroit has a rich history of music, and one can now add Hip Hop to its historic musical legacy. In the midst of poverty, unemployment, and the water crisis in nearby Flint, the D can still stand on the fact that they're one of the most in control cities in all of Hip Hop, and that alone is worth something to brag about.