In a series of recent articles we've been highlighting some of the very best albums to emerge from major cities such as Compton and Detroit, as well as the largest projects on Earth – Queensbridge in Queens, NY. With this list, we will take it down south.
While Atlanta may be the most noteworthy Hip Hop city in the south and perhaps in the entire game, they're not the only city that can hold it down – in fact, before Atlanta the big Hip Hop city in the south was Houston. Acts like The Geto Boys and UGK really helped Houston become a very real threat to major Hip Hop hubs like The Bronx, Brooklyn, Queens, L.A. and Compton during the very early nineties. Sure, Miami was holding it down due to Luther Campbell and Memphis was getting a buzz due to Three 6 Mafia and Eightball & MJG, but artists like the aforementioned as well as acts like Crime Boss, South Circle, Choice (think of her as Lil' Lim, Foxy, and Nicky before Lil' Kim, Foxy, and Nicky), and the 5th Ward Boyz were repping H-Town quite heavily.
Let's get into the dopest efforts to emerge from this huge city.
20. Chamillionaire - Ultimate Victory (2007)
Who was a bigger underdog from H-town who got a major deal than Chamillionaire? Originally down with Swishahouse and Michael "5000" Watts, he and fellow Houstonite Paul Wall were the CCC (Color Changing Click). Their album Get Ya Mind Correct was a southern underground gem, and officially established them as notables in the game.
CCC soon broke up after which Chamillionaire delivered his debut, The Sound Of Revenge. Although a decent debut that garnered him a platinum plaque and Grammy nomination for his collaboration with the legendary Krayzie Bone in "Ridin'", it was Ultimate Victory that was more critically favorable.
Harder production and a more cohesive project overall, Chamillionaire varied his topics from societal issues to dropping jewels for the kids. What was also a very apparent change was that he limited his use of profanity and cussing, which was practically unheard of. While not as commercially successful as his prior album, he still achieved a "victory" in his own right with this dope album.
19. Trae - Restless (2006)
Longtime Houston vet Trae (now known as Trae Tha Truth) delivered what many felt was the album of his career with Restless. Unapologetically gangsta, the album is filled with street odes to drugs and hustling, and is as vivid as any album you would encounter during this time period. Grittiness at its finest, this album made Trae more of a star than before and it officially put him Hip Hop's mainstream eyes.
18. Lecrae - Church Clothes (2012)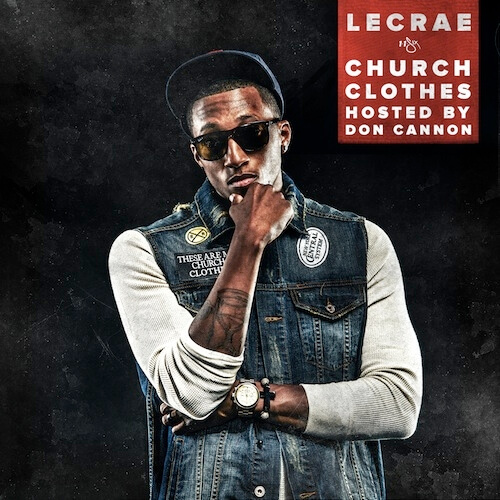 Lecrae completely changed the game for the Christian emcees out there. Never before had a Gospel emcee been put in such a high regard within the secular Hip Hop community.
Without going overtly preachy, Lecrae succeeded in bringing a sense of Christian morality to the secular game even better than he had done previously with his Church Clothes mixtape, which was easily among the most mentioned Hip Hop projects all year – regardless of genre or style.
17. Z-Ro - Let The Truth Be Told (2005)
By 2005, Z-Ro had succeeded in obtaining a fairly decent fan base in the underground south. His true stories of drugs and hustling had more than resonated with fans and established him as a certified made man in H-town. With Let The Truth Be Told (which by the way made album number nine) he stuck to his tried and true formula, which was "If it ain't broke, don't fix it".
Bluesy yet hard-hitting production and appearances by the likes of Ashanti, Devin The Dude, and Paul Wall made for an intriguing listen. Z-Ro dropped another collection of hits catered for the heart of a hustler with Let The Truth Be Told.
16. Slim Thug - Already Platinum (2005)
Within Houston's underground scene, Stavye "Slim Thug" Thomas has long been a known fixture. Known for numerous mixtapes and his own group, Boss Hogg Outlawz, Thugga was already gaining fans via his buzz in the streets.
By 2004, he had obtained a deal with Pharrell Williams' Star Trak label and after numerous delays due to excessive bootlegging, he dropped his major label debut, Already Platinum. Filled with very juicy and delectable production from The Neptunes, Jazze Pha, and Mr. Lee, the album certainly banged almost from top to bottom.
15. Paul Wall - The People's Champ (2005)
Another graduate of the Swishahouse makes his way onto the list with longtime affiliate Paul Wall. His former tag team partner, Chamillionaire, was already successful with his own major label projects Sound Of Revenge and the aforementioned Ultimate Victory.
With The People's Champ it was time for Paul Wall to get his shine, and thanks to the hit by Mike Jones "Still Tippin'" alongside fellow Swishahouse vet Slim Thug, Paul was finally getting his exposure on a national level. When The People's Champ hit, we knew Mr. Wall had a sure shot future being commercially successful in the game, as this had a vintage Houston sound about it that would make 5000 Watts and even the late great DJ Screw very pleased.
This sophomore album firmly placed him among the new, fresh voices for mainstream Houston Hip Hop.
14. Devin - The Dude (1998)
Former Odd Squad member Devin The Dude was a known fixture due to his affiliation with his former Odd Squad mates and for being a part of Scarface's collective, Facemob. His oft-times blunted humor and lazy drawl made him an instant favorite, and his debut album The Dude was perfect evidence of the talent he possesses to this day.
A beloved album primarily within the underground, Devin doesn't take himself too seriously, with cuts like "Ligole Bips" and the cult classic "Boo Boo'n" pushing this album into becoming a treasure for H-town. One of the most consistent and prolific artists to come from Houston, this was the start of quite a career.
13. Lecrae - Rehab (2010)
Christian/Gospel Rap had always been scrutinized and stigmatized. Artists like Gospel Gangstas came off as gimmicky, while others like Grits and Boogiemonsters invaded shows like Rap City with spiritual gems while not sounding overtly churchy or preachy. Hoping to totally eliminate any type of stigmas or pre-attached judgments was Lecrae, and although he was pretty known within the Gospel Hip Hop community, mainstream secular Hip Hop pretty much slept on him.
With his album Rehab the secular Hip Hop world started to take notice, due to not just dope production, but also to the true heartfelt honesty of his lyrics and his message. His ability to relate to the everyman and the struggling Christian was admirable and showed vulnerability and transparency. It was because of this album Lecrae finally got on mainstream Hip Hop's radar.
12. Scarface - Deeply Rooted (2015)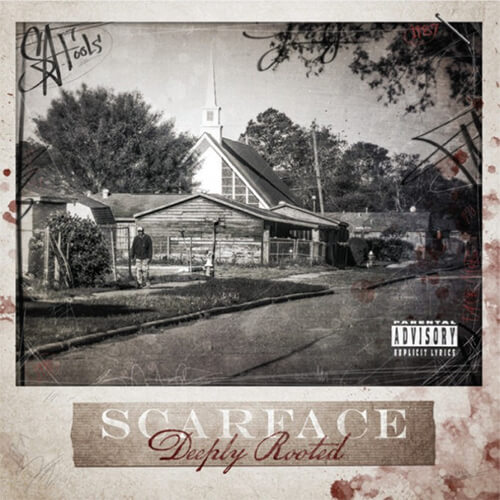 After a long, seven-year absence since Emeritus, the legendary Brad Jordan returned with Deeply Rooted in 2015 – and in many instances sounded better than he had in years. Not since The Fix had we heard him sound this focused and this fresh on the mic while tackling subjects such as spirituality, the streets, hustling, and redemption.
This was a true return to form, with cuts like "Mental Exorcism", "All Bad", and "Steer" being all vintage Scarface. A definite Face classic and if this was his final album, he deserves to take a bow with this memorable effort.
11. Devin The Dude - Just Tryin' Ta Live (2002)
After the release of the aforementioned The Dude, Devin (now officially going by Devin The Dude) was out to conquer the world, one project at a time, and the closest he came was his dynamite sophomore effort Just Tryin' Ta Live.
Obtaining help from legendary producers Dr. Dre, as well as DJ Premier, he brought both the west and east coasts to H-Town while keeping that bluesy, southern feel. Still a blunted out weirdo with his own bit of crass, misogynistic toilet humor, Devin was riding a wave that was quickly making him among the most checked for talents to emerge from the entire south.
10. Bun B - Trill (2005)
With partner in rhyme Pimp C incarcerated during this time, it was up to Bernard "Bun B" Freeman to hold down UGK, and with his debut solo album Trill he absolutely did just that. With assistance from guests like Jeezy, Paul Wall, Scarface, the Screwed Up Click, and even Jay-Z, the album was loaded with that UGK signature hustling aura. It's widely regarded as one of the most impressive solo debuts from anyone out the south over the past decade.
9. Scarface - The Untouchable (1997)
It was no easy task to follow the masterwork known as The Diary, but Scarface definitely attempted for lightning to strike twice with The Untouchable – and it came close to the same acclaim. Occasionally hard-hitting but just as much redemptive, on this album Face followed his formula of honest Hip Hop with very vivid storytelling.
Chilling cuts like "Faith" and "Ya Money Or Ya Life" are classic Face, but he cracked the biggest moment of his career with the 2Pac-assisted "Smile",  which helped the album going platinum. Scarface had already proven he was a future legend with The Diary, and The Untouchable got him a step closer to that distinction.
8. Geto Boys - Grip It! On That Other Level (1989)
Who knew that in the era of N.W.A that there would be another crew that easily was as shocking, if not more so?  Enter The Geto Boys. DJ Reddy Red, Bushwick Bill, Scarface, and Willie D first presented themselves with their slept-on debut Making Trouble, but it was their sophomore album that came out that next year that made much bigger noise.
Grip It! On That Other Level was draped in mayhem, drugs, and enough shocking lyrics to have the government almost shut down the album and the Geto Boys themselves. Considered their breakout effort, this was just the start of one of Hip Hop's most controversial, yet highly revered groups.
7. Scarface - The Fix (2002)
After delivering some of the most compelling Hip Hop albums to ever exist, Mr. Jordan wanted to keep his momentum going with his Def Jam debut, The Fix. If The Diary was the beginning of his transition from hardcore, unapologetic psychopath to introspective complexity, The Fix was the final product of it.
Never abandoning his streets, he blends his tried and true gangsta persona with someone trying to find more of a peace with God and wanting a better life for himself, and the duality of the two. The Fix is nothing short of a classic, a project that still has many debating whether or not this was his best work ever.
6. UGK - Underground Kingz (2007)
After a prison stint that kept Pimp C behind bars for a while, the Pimp and Bun reunited for would end up being their final effort together, Underground Kingz. Their finest overall effort since their absolutely stellar album, Ridin' Dirty, this sounded like a return to the old and true UGK.
It was almost like they picked up where they left off at and then added new elements that still maintained the UGK sound and style. A momentous double album, Underground Kingz presented their biggest hit, the Outkast-assisted "Int'l Players Anthem", and another gold plaque for the legends themselves.
5. Bun B - Trill O.G. (2010)
After the unexpected and tragic passing of his longtime partner and rhyme brother Pimp C, Bun B was left to hold it down the UGK name on his own.
While his debut album, the aforementioned Trill, showed that he could in fact hold it down himself, and the follow-up II Trill was every bit as hard, it was the third installment in the Trill series, Trill O.G. where he truly cemented his identity as one of the best to do it from the south.
This project had him mixing up different styles over different sounds but still showed his lyrical firepower. He showed that he can burn with the best of them over a fire DJ Premier (another H-Town native) track "Let 'Em Know", while going ten toes in with megastar Drake on the cuts "Put It Down" and "It's Been A Pleasure", over tracks that sound like vintage UGK.
This was without question his most lyrical and most cohesive album and we have all the faith that it made the Pimp proud.
4. Geto Boys - We Can't Be Stopped (1991)
After causing trouble with their previously mentioned Grip It! On That Other Level, the Geto Boys were starting to be on a roll and they hit national paydirt with the timeless piece "My Mind's Playin' Tricks On Me". Before we knew it, Bushwick Bill, Scarface, and Willie D were the talk of the Hip Hop world.
With their third full-length album, We Can't Be Stopped, they gave us more of the same disturbing yet vivid tales of revenge, nihilism, paranoia and dark fantasies, while also addressing detractors that always had something to say about them. Already widely known for being controversial, this album didn't do anything but piss the uppity Black people and ultra conservatives off even more – and it served as their commercially most successful album. Let's not forget to mention the graphic and memorable album cover. It didn't get more real than that.
3. Scarface - Mr. Scarface Is Back (1991)
Widely regarded as one of the hardest records ever recorded, Scarface's solo debut Mr. Scarface Is Back is a brutal, graphic, and at times deeply disturbing album, covering nihilism, drugs, suicide, depression, and mayhem. Although it may have offended and shocked you at various points, you probably were also deeply intrigued based on cuts such as "A Minute To pray, A Second To Die", "Murder By Reason Of Insanity", and "Diary Of A Madman".
Mr. Scarface Is Back is a look inside the mind of a psychotic human being with tons of issues, and it was among the most fascinating albums to come out during the early nineties. A legend was born.
2. UGK - Ridin' Dirty (1996)
One of the most impeccable breakout albums the south has ever been blessed to hear was the third album from UGK: Ridin' Dirty. This was the perfect UGK album, as it contained soul, blues, and street thumping production, showing us Pimp and Bun coming into their own.
Ridin' Dirty is a masterpiece from top to bottom and it went nearly platinum with no mainstream radio airplay. This album was the perfect soundtrack for your Cadillac on a Saturday evening on the late night cruising the ave and it helped the change the landscape of Hip Hop not just for Houston, but for the South as a whole.
1. Scarface - The Diary (1994)
There was never an album from Houston and the south as a whole that made as much of an impact as Scarface's breathtaking third solo album: The Diary.
A true game-changer, this was a macabre masterpiece. Dark and filled with vicious threats, Face also reflected on human mortality on the epic "I Never Seen A Man Cry" – a track that became the turning point of his career.  Scarface has come close on a few different occasions to repeat the acclaim of this album, but there will never be another Diary . This was THAT album from him.
Honorable Mentions
Scarface – The World Is Yours
Scarface – Last Of A Dying Breed
Scarface – Made
Odd Squad – Fadanuf Fa Erybody
K-Rino – Stories From The Black Book
K-Rino – Danger Zone
K-Rino – Annihilation Of The Evil Machine
K-Rino – Deeper Elevation
K-Rino – 80 Minute Eternity
K-Rino – Solitary Confinement
Z-Ro – The Life Of Joseph W. McVey
Devin The Dude – Waitin' To Inhale
5th Ward Boyz – Rated G
5th Ward Boyz – Ghetto Dope
Mr. Mike – Rhapsody
Slim Thug – Boss Of All Bosses
Z-Ro – Heroin
UGK – Super Tight
UGK – Too Hard To Swallow
Geto Boys – Til Death Do Us Part
Geto Boys – The Resurrection
Willie D – Controversy
Willie D – I'm Goin' Out Lika Soldier
Willie D – Play Witcha Mama
Willie D –  Loved by Few, Hated by Many
Bushwick Bill – Phantom Of The Rapra
Ganksta NIP – The South Park Psycho
Chamillionaire – The Sound Of Revenge
Convicts – Convicts
Blac Monks – Secrets Of The Hidden Temple
Facemob – The Other Side Of The Law
Pimp C – Pimpalation
Pimp C – The Naked Soul Of Sweet Jones
Pimp C – Long Live The Pimp
Bun B – II Trill
Lil' Keke – Loved By Few, Hated By Many
Lil' Keke – Don't Mess With Texas
As you can see, Houston gave us some of the most respected Hip Hop there is, regardless of region or section. The city's contribution proves that without Houston, the southern renaissance wouldn't have even begun. Most well known and respected southern artists such as T.I., Ludacris, Jeezy and Rick Ross were all influenced by Scarface, Geto Boys, or UGK, who are all from Houston (technically UGK are from Port Arthur, which is about ninety miles from Houston).
Also, regrettably, I accidentally omitted Odd Squad from the top list but I did include them in Honorable Mentions, as their album was among the most slept-on Houston albums ever.
Respect to the legacy of H-Town and its widely regarded influence, especially towards the success of southern Hip Hop.