Dr. Dre is one of the greatest producers of all time – an indisputable fact. Where his electro-hop beginnings with World Class Wreckin' Cru in the mid-1980s didn't shake the music world yet, his work on the boards would change Hip Hop – and with it popular culture – soon enough. In 1986 Dr. Dre met with a local rapper named known as Ice Cube in order to have Ice Cube record some songs for Ruthless Records, a fledgling Hip hop record label run by Eazy-E. The rest is history – N.W.A was formed, the gangsta rap genre took off, and Hip Hop would never be the same (for better or for worse…). What made N.W.A stand out – aside from the controversial lyrical content – was Dr. Dre's immaculate and innovating soundscapes, which he would soon be providing for other artists as well. Eminem, 50 Cent, The Game, Kendrick Lamar – who knows how their careers would have turned out without having Dr. Dre in their corner early on.
For this list, we've selected 9 projects exclusively produced by Dr. Dre. Maybe surprisingly there are not that many albums he produced entirely by himself. Executive produced yes, but that's something else – so we didn't include albums like Eminem's Marschall Mathers LP (just 6 out of 15 songs produced by Dr. Dre), 50 Cent's Get Rich Or Dy Tryin' (4 out of 20 songs), The Game's The Documentary (7 out of 17 songs) and Kendrick Lamar's Good Kid, M.A.A.D. City (0 out of 12 songs). Of course, as executive producer, Dr. Dre's hands and his mark of quality are all over these albums – and a lot of others as well – but here we'll get into albums exclusively produced by the good doctor himself.
9. N.W.A & The Posse - N.W.A & The Posse (1987)
Now, of course, this isn't the best ever album – in fact, it's kind of rough around the edges, to say the least. But this is an important album nevertheless.
N.W.A and the Posse, which featured songs by N.W.A and some other acts Dr. Dre did production work for, is just what the name suggests: a compilation of early N.W.A songs and those of a bunch of associative acts, all produced by Dr. Dre. The album contains some throw-away songs, but also some historical gems, like the first versions of "Boyz n The Hood" and "Dopeman" – the former very much a trial run of the superior second version which would appear on Eazy E's debut album Eazy Duz It, the latter the better version of the "Dopeman" track, of which a remix would appear on N.W.A' debut Straight Outta Compton.
Also noteworthy is the appearance of The D.O.C. (who is not on the group photo on the cover) on the Fila Fresh Crew songs, some of the best tracks on the album besides the N.W.A classics. Raw and unpolished – but the significance of this release cannot be overstated, as it would turn out to be the foundation upon which a series of future classics were going to be built.
8. N.W.A - Efil4ziggan (1991)
After the incredible success and impact of N.W.A.'s game-changing debut album Straight Outta Compton – and after the departure of the creative intelligence of Ice Cube – N.W.A. came back with Efil4ziggan / N***** 4 Life. (following appetizer EP 100 Miles And Running).
N***** 4 Life is hard to review. Sonically, Dr. Dre reaches near perfection on the production side of things. If only for the beats, this album would an all-time Hip Hop classic. Lyrically the album is a step back when compared to N.W.A.'s epic debut, however – Ice Cube's absence is clearly noticeable. Gone is the authenticity and raw intelligence of Straight Outta Compton, what's left are dumbed down and sometimes a bit silly lyrics – serving more to shock and cause controversy than anything else. The album is also let down by two rather annoying Eazy E tracks ("Automobile" and "I'd Rather F*** You" and some dumb skits ("To Kill A Hooker" – really?).
But even taking into account these negatives, the album remains a highly entertaining listen, mainly because of Dr. Dre's stellar production.
7. Eazy E - Eazy Duz It (1988)
Eazy E's debut album really is a veiled N.W.A. album. The lyrics are written by Ice Cube, The D.O.C. and especially MC Ren, who also makes a few appearances. The production is handled by Dr. Dre & DJ Yella– this clearly is a group effort. A little less consistent (with some filler tracks at the end of the album) than N.W.A.'s Straight Outta Compton – released in the same year – this album still is a bonafide Hip Hop classic.
6. Dr. Dre - 2001 (1999)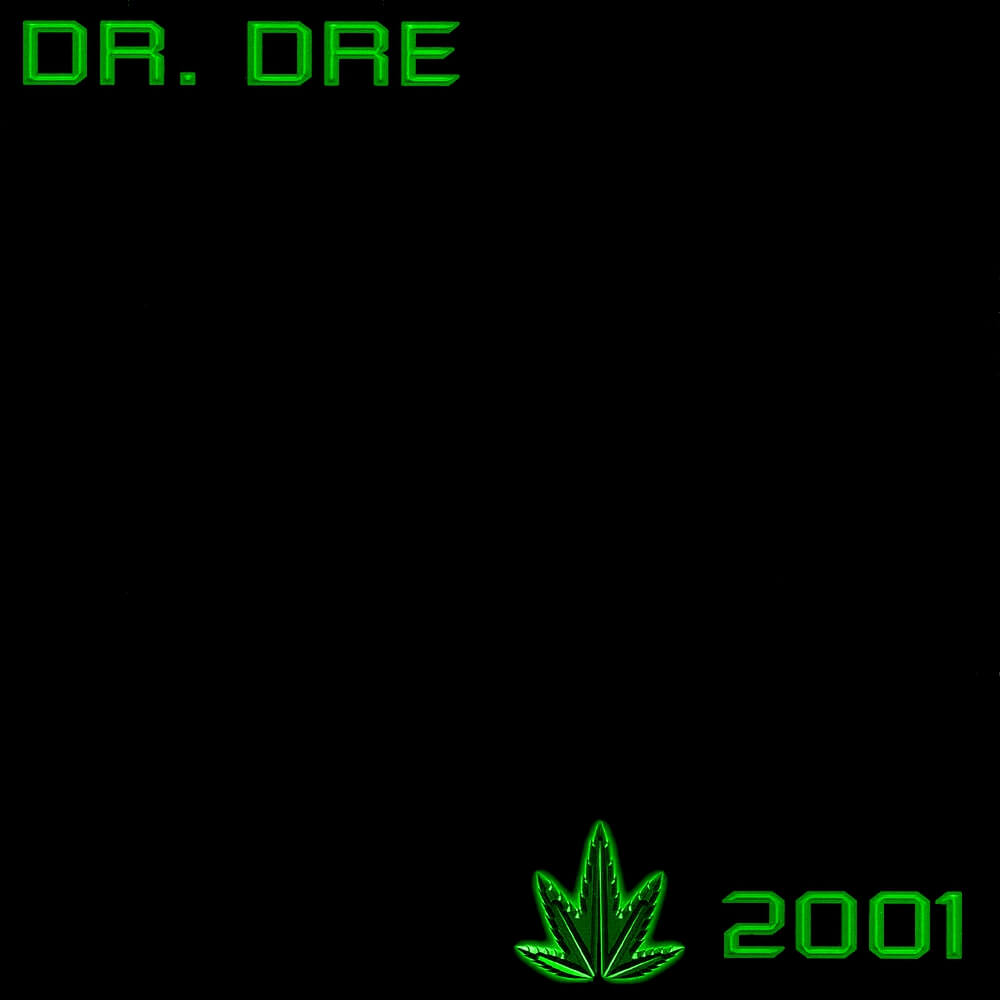 The excellent follow-up to Dr. Dre's epic classic The Chronic. Not quite as revolutionary as The Chronic was – but a definitive reaffirmation that Dre still was the West's top-producer, even after a seven-year hiatus between albums.
Whereas The Chronic changed the face of (West Coast) Hip Hop, with 2001 Dr. Dre just holds it down. Confident, superior production – the only criticism could be that the album contains a few misses ("Let's Get High" most notably) and that it could have done without the pointless skits. Other than that: 2001 simply is another Dr. Dre masterpiece.
5. Above The Law - Livin' Like Hustlers (1990)
One of the earliest N.W.A. / Dr. Dre 'sponsored' acts, Above The Law dropped this classic album in 1990. Slammin' west coast gangsta funk beats, produced by Dr. Dre, along with Laylaw and ATL themselves. One of those rare albums where you don't have to skip a track – this is an underrated monument of an album.
4. The D.O.C. - No One Can Do It Better (1989)
On the heels of the explosive success of N.W.A's Straight Outta Compton, Dr. Dre turns out another flawlessly produced album. The D.O.C. was a talented emcee who complements Dre's beats perfectly. The D.O.C. doesn't need gangster posturing to show and prove he is the man – he has the skills and confidence to carry this album – the combined strength of The D.O.C.'s lyrics and personality, and Dr. Dre's work on the boards make No One Can Do It Better an all-time Hip Hop classic and one of the very best albums of 1989.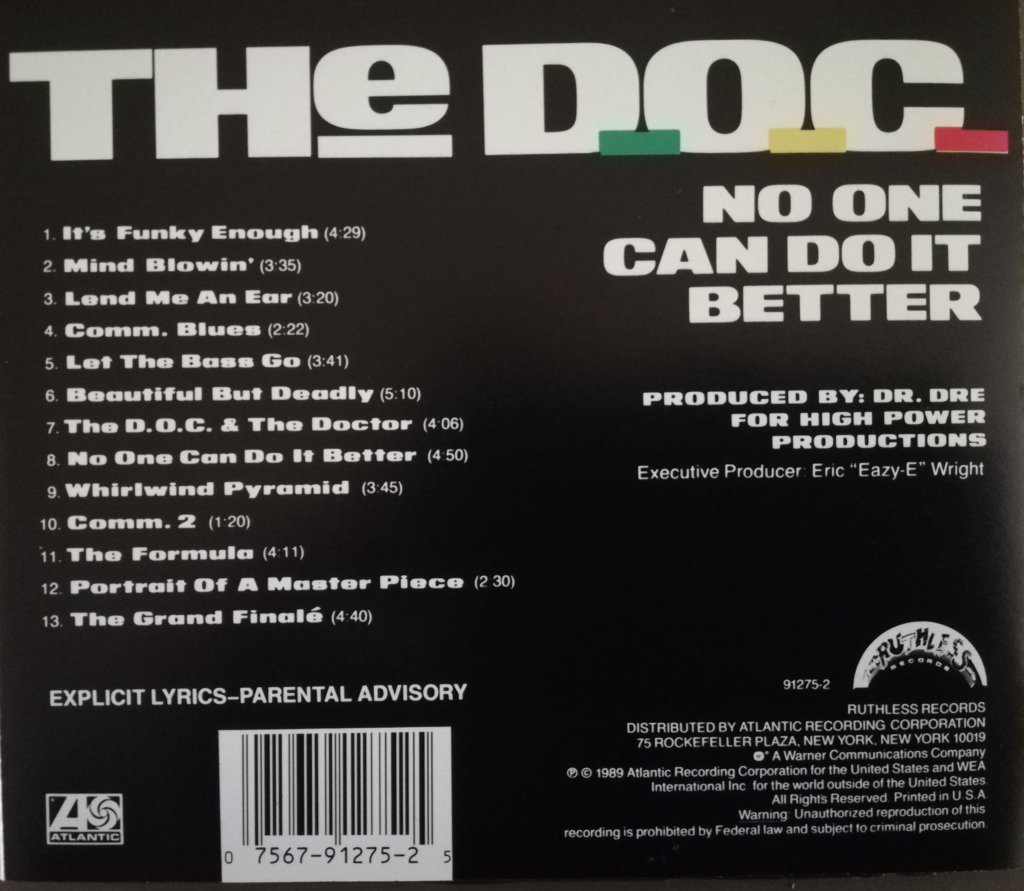 3. N.W.A - Straight Outta Compton (1988)
This album was a game-changer; for better or for worse. One of the first real gangsta rap albums, and the most successful, going multi-platinum without any radio play. It influenced and changed the direction of Hip Hop, producing countless clones for decades to come. The difference between all the clones and this album is the originality and authenticity of Straight Outta Compton; combined with the revolutionary & flawless production of Dr. Dre and the raw energy & at the time shocking lyrical imagery of Ice Cube, MC Ren & Eazy E.
2. Snoop Doggy Dogg - Doggystyle (1993)
In the pre-internet and Social Media days, when music promotion was a whole different ballgame, there have been few albums that were as hyped and anticipated as Snoop Doggy Dogg's solo debut. Having made an incredible impression with his unique style on Dr. Dre's "Deep Cover" single and later as the top emcee on Dre's monumental The Chronic, Snoop was hailed as Hip Hop's next superstar.
With mentor Dr. Dre on the boards, Doggystyle managed to meet the crazy high expectations – no mean feat. An all-around Hip Hop classic, on the West Coast equal in 'classic-ness' with N.W.A.'s Straight Outta Compton and Dre's The Chronic, Doggystyle is and always will be Snoop Dogg's magnum opus, as well as one of Dr. Dre's production masterpieces.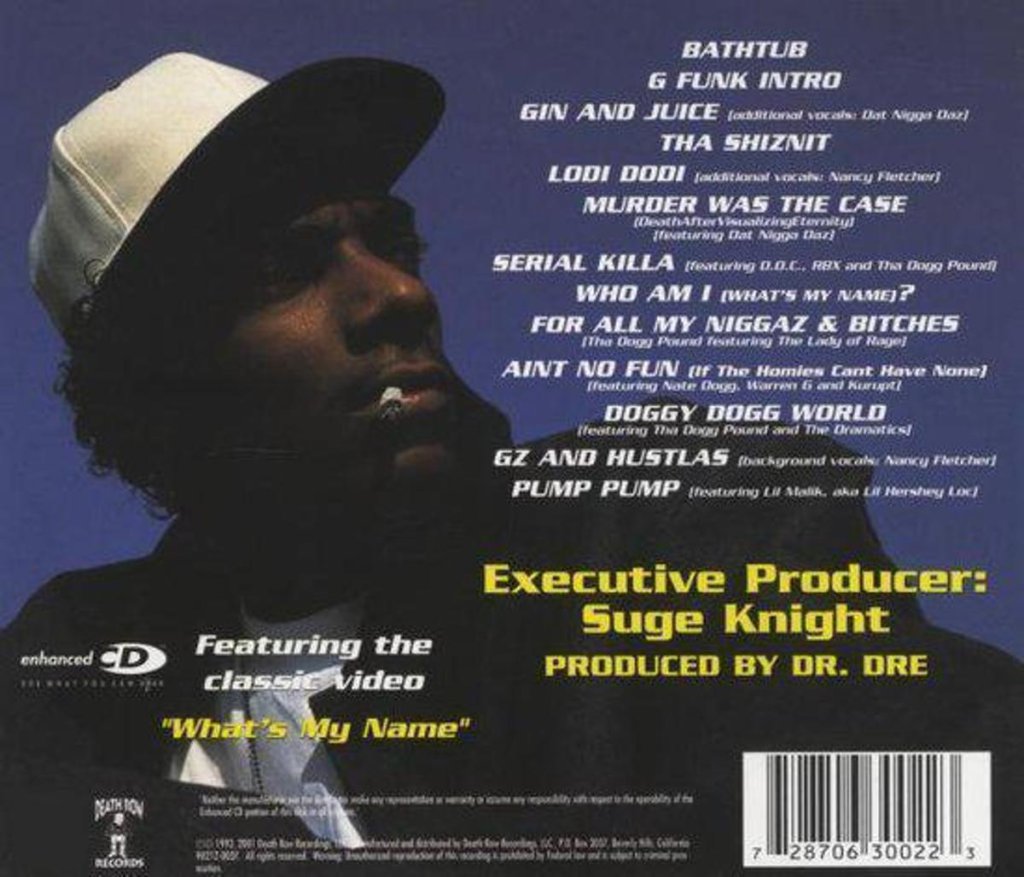 1. Dr. Dre - The Chronic (1992)
Was there ever a more influential album in Hip Hop? Dr. Dre's production on this album is just INCREDIBLE. Often imitated, never duplicated. It also showed us the full potential of Hip Hop's next superstar – a young Snoop Dogg. Along with lyrics from a host of other talented rappers and Dr. Dre himself, The Chronic is filled with the 'standard' gangsta themes (violence, sex, drugs, parties) – difference from most of the others is that on this album it sounds GOOD.
An all-time fan favorite to this day, The Chronic will forever be remembered as one of Hip Hop's most influential and important albums of all time.