Introduction By @TrueGodImmortal – From the early days of the World Class Wrecking Cru and N.W.A., Dr. Dre had what most would call the "it" factor. As a DJ, a producer, and to an extent, an artist, his humble beginnings led to him becoming a household name in a group setting. After his N.W.A. departure, Dre set out to become a star in his own right, joining with Suge Knight to help start Death Row Records. The premise behind Death Row seemed to be built on finding new talent with Dre as the producer, but the first step to building that empire would be using Dre as the face of the movement.
In 1992, Dr. Dre would release his first "solo" album and Hip Hop would honestly never be the same again. I use the term "solo" for obvious reasons, as Dre wasn't a writer of his own rhymes, but he could recite and read your lines and let you know what sounds good and what doesn't. As he went to work on his "solo" album, he would enlist the help of the growing Death Row family, which included names like RBX, The Lady Of Rage, Tha Dogg Pound, and of course, Snoop Dogg. Their work together would result in something epic being released to the public and changing the fortunes of Death Row.
When The Chronic released in 1992, Dr. Dre was still known as just the producer who could rap a verse or two, but his debut album would begin to change all that. The Chronic took Dr. Dre from a former member of the notorious N.W.A. to being a superstar in his own right, with a big time company backing him and being placed upon his shoulders. That's where the Dr. Dre story officially starts. 1992. Today, we are here to look back at Dre and his legendary career, his advancement in music, his discovery of legendary talent, and of course his business acumen in more recent years. There are many reasons why Dre should be appreciated as a legend in the game and though I'm sure most people know these reasons, it's only right we remind you of them. Let's take a look at the legacy and legend that is Dr. Dre.
@CherchezLaPorsh – Hip Hop has always had an abundance of producers, many of which were part of groups and duos. There are others who came into the industry as only a producer solo, and some who would eventually grace the mic and would be recognized as MC's. There are also others, well maybe just a handful who would push their skills a little further and go on to add CEO, entrepreneur, and humanitarian to their accomplishments. Dr. Dre was one of those producers.
It started way back in the mid 80's when Dre (who was known as "Dr. J" at the time) began as a club DJ but would quickly link up with a rapper who we now know as DJ Yella from NWA. It was during his club years that Dre and Yella would record demos, perform mixes for radio stations, and try to make a name for himself. Somewhere along the way after meeting Yella, Dre also met a rapper we would know as Ice Cube. It would only take 2 years for NWA to form under Ruthless Records after that. We all know what happened with NWA in 1989, as Ice Cube left the group and shortly after, Dr. Dre did too. He would go on to join (and help start) Death Row Records as a recording artist and release his debut and (mostly) self-produced album The Chronic.
This album set Dr. Dre apart from others. This debut album was not only his most important album but it was groundbreaking for many reasons. Dre pioneered G-Funk, as he made an album that dealt with controversial topics and made sure to push the envelope, taking what NWA did but smoothing it out while keeping the gangster sub-genre intact. (Death Row was lucky to have this under its belt). Of course, Dre didn't stop there. He would go on to produce tremendous albums and solidify himself as a powerhouse. At this point, he had mastered being a producer and an MC while being recognized as a pioneer in both aspects. The best was yet to come, and as much as I appreciate Dr. Dre for his contributions to music, it's his business ventures and his humanitarian work that piqued my interest.
1996 is when that all started. Dr. Dre would create Aftermath Entertainment and go on to sign amazing rappers and artists (think Eminem, Kendrick Lamar, and Anderson Paak presently) to the label. It seemed that Dre had his hands in other releases as well like Raekwon's sequel "OB4CL II", Busta Rhymes' "The Big Bang" (while Busta was on Aftermath) and an unreleased Rakim album. Aftermath was on fire with 18 of its 22 albums going certified platinum making Dre a very successful man. This would only motivate more business moves and we would see less of Dre in the music scene and more within business. In 2008, Dre would release a headphone brand called "Beats by Dre", which took audio to an entirely different level. The attention to detail is what made this so well received. There was a style for every audio need, from the casual music listener to a professional DJ.
The success of "Beats" caught the attention of Hewlett Packard just one year later and through collaborative efforts, Beats were offered as a bundle package. No one would have known at the time, but just a few years later this caught the attention of Apple and they bought "Beats by Dre" for a reported $3 Billion which in turn made Dr. Dre the richest man in Hip Hop (yes, he beat Diddy too).  Just before he sold his headphones over to Apple, Dre would make a very generous contribution of $70 million to the University of Southern California, which focuses on nurturing the creativity and drive of students within business, music, and technology to ensure that those who are motivated to pursue their passions had a funded program to support their efforts.
There isn't enough time or space to talk about the contributions Dre has made to Hip Hop, to business, to education and even to weird a** festivals (rumors say Dre funded Burning Man back in 1995). In his 31 years in the industry, he has not only catapulted many rap careers, including his own, but he's had an impact in so many areas and has cemented himself as a legend in every regard.
@JADBeats – I'll never forget hearing The Chronic. It seemed like "Bitches Aint S***" was blasting in cars all through the hood. This sound was new and was headnod music at its core. We all know Dre for being the instrument behind NWA, who were groundbreaking and of course scared white america, but he really gained popularity after bringing us Snoop Dogg, who dropped his debut Doggystyle which became the staple sound and cemented the G Funk wave. 2Pac would also see the effect of working with Dre after hooking up on "California Love" as their song was like Pac's comeback track and it was monstrous. Even today, you'll be hard-pressed to find someone who doesn't know those lyrics to "California Love". It's one of those Death Row and Dr. Dre classics.
During the East and West Coast issue, Nas and Dre were the first big name artists to connect musically with "Nas Is Coming" on It Was Written. This would ultimately bring us The Firm album, which was interesting as a concept at the time. Nas, AZ, Foxy Brown, Cormega, and Nature were rapping with Dre behind the boards as producer and as an executive producer. Eminem, who was lyrical, introspective, white and controversial took the world by storm with The Slim Shady LP shortly after signing with Aftermath, Dre's label. This would set things in motion for the next chapter of his career honestly.
He hooked back up with Snoop and dropped "Still D.R.E" and other singles that ran from winter to summer like "Forgot About Dre" and "The Next Episode". These all were just a couple of the great tracks on the classic 2001. Dre continued to add to his greatness by backing 50 Cent who was hated and loved causing a ripple in the rap game calling out pretty much everyone. With Dre's direction, 50 created a classic on Get Rich or Die Trying. Next up was The Game, who would breathe life back into West Coast Hip Hop in 2005 with his debut The Documentary. Then, of course, there was Kendrick who basically did the same in 2012 on Good Kid,  MAAD City for the new West generation. Dre had his finger on the pulse of the next wave of West Coast music every time it seemed.
One thing I'm still salty about was how for so many years through the 2000s, Dre's rumored last album Detox never hit shelves. We got a single and a few reference tracks leaked like that one Nas, Eminem, and T.I track that leaked out. That song was fire, and I could just imagine how much better it would be if it was mastered. At least we did get the Compton soundtrack to accompany the film and that had some good songs on it, but it still wasn't the same. I have to wonder if Dre has any plans to make another album with how active he's been lately. The Defiant Ones shows him at work in the studio and if he decides to do a new Detox, I think we would all welcome it.
A lot of people have Dre in their top 5 all time, for me I'd put him in my top 10, just based on personal preference. Although I could see why there are people who say he's the greatest producer of all time because of his accolades. Dre has been a game changer in Hip Hop for over 30 years in each era, which speaks to true longevity. His production has lasted every trend and he's never followed what the popular sound was in the game, at times he created the popular sound for others to follow. No matter what region, coast, or artist he's working with, it's guaranteed to be major because Dre is a true musical genius.
Outro By @TrueGodImmortal – For me, while The Chronic was the biggest piece of history for Dre in his career, my favorite moments come from what he accomplished at Death Row outside of his own album and his return on "2001". After The Chronic, Dre had a pivotal role in the production on albums like Dogg Food and Doggystyle, as well as contributions to the soundtracks that were a part of the Death Row movement and vital. He would be very important in the development of the label from a commercial standpoint and you could see he worked closely with all the artists to help them improve their craft. This was a far cry from his days next to DJ Yella as they worked tirelessly for success in the mid-80s. Dre had become a household name, a product of success, and for some reason, he wasn't really happy.
Fed up with the dealings of Death Row, Dre decided to walk away from the biggest label on the planet at the time and start his own thing, Aftermath Entertainment. This was the biggest move of his career for a few reasons. It was risky to leave a powerhouse label to start your own. However, Dre wasn't scared to step out and have his own, and that takes guts. After a little bit of struggle and some small failures with The Firm album, his Aftermath compilation, and other artists that never released a project, Dre found a goldmine for Aftermath when he found the young white rapper Eminem and signed him to a deal. This would change his fortunes completely and make Aftermath extremely successful as a result.
In addition to the arrival of Eminem, Dre would release the 2001 album and that would take his stature even higher, which seemed impossible in a way. He was the best producer in the game to many, and he had an eye for talent. After discovering Eminem, developing Snoop Dogg, and building up Aftermath, Dre would sign 50 Cent (along with Eminem), Busta Rhymes (a proven legend), The Game, Rakim, Eve, and a few others as the Shady/Aftermath era would reign supreme. In 2015, Dre would release his third project, the soundtrack to Straight Outta Compton the movie, and remind us that he's still one of the best at creating music.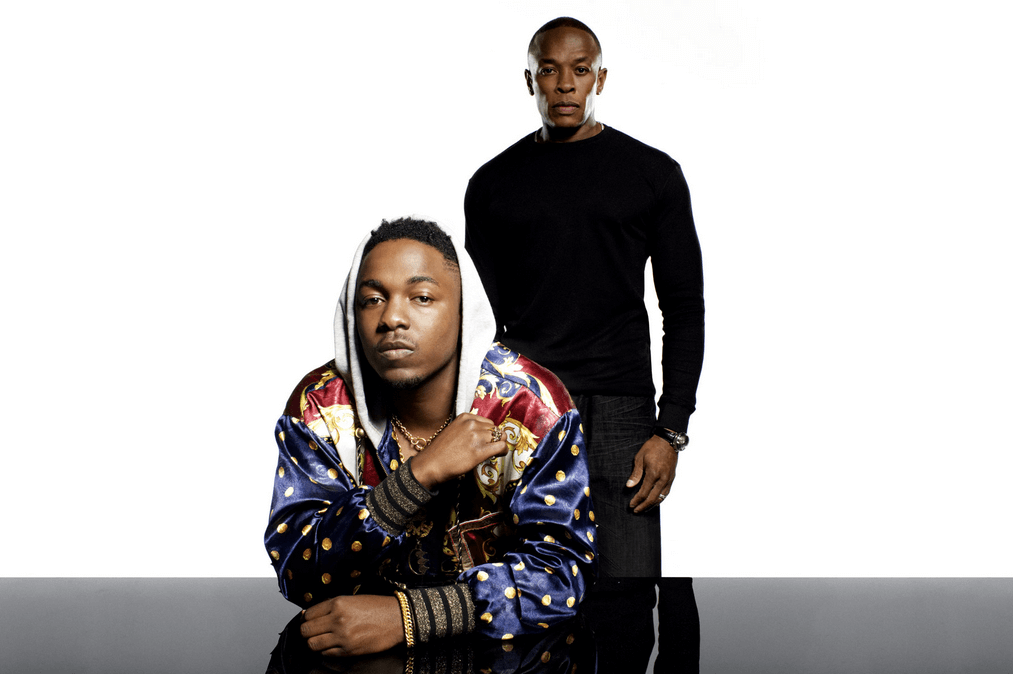 However, in this era, his greatest achievement in music? Being a mentor to the current top MC, Kendrick Lamar. Dre has always been able to see talent and notice the best of them, and his assistance with Kendrick and his situation makes that clear. If there is a legacy for Dr. Dre in music aside from his legendary production prowess, it is that he knows how to spot talent without question. With his recent The Defiant Ones documentary, Dre documented his rise to the top, his success, and his work ethic. Everything that makes Dre one of the greatest legends ever is summed up in that documentary from his business acumen to his production to his focus on albums to his knack for finding talent. Dr. Dre will go down as one of the greatest to ever do it, and his legacy is already solidified as such. Imagine what he has planned next for the game. – DAR