Introduction By @TrueGodImmortal – There are groups in Hip Hop that tend to make their mark in such a way that their legacy lives on long after their relevancy dwindles. For some groups, relevancy never escapes them. If there's a group that has never really lost their relevance in music, it would be the Wu-Tang Clan. They are still prevalent and important to the culture even in this era, and their collective and solo impact on the culture is something that no one can deny. Today, we wanted to show love and respect to the legends that are the Wu-Tang Clan. Let's get into it.
@CherchezLaPorsh – Hip Hop/rap was the very first genre of music that I heard since I discovered music way back in the early 80's. It's safe to say that Hip Hop was part of my formative years and so on, and while I liked it from the jump, my LOVE for the genre was confirmed and solidified in 1992. That was the year the Wu-Tang Clan released their first single "Protect Ya Neck" and the minute I finished listening to it, everything seemed to change. I understood things a little differently from that moment on. I realized that rap was the greatest form of expression and art and that Hip Hop was truly a culture. The Wu is/was to thank for this realization. It didn't take me long, to also realize that The Wu would change rap in a way no one had before. The members, their impact, their style, the beats, the lyrics, and the empire they created in such a short time would leave an unmatched imprint on the genre and fans alike.
I often talk about the impact Wu-Tang had being unmatched and different from other groups like NWA or Public Enemy (I love and appreciate both these groups as well). Here's why I say this: The Wu came in, 9 (10) members deep and each one complemented each other in a way that made them seamless. Hand picked by The RZA and being cleverly put on tracks made their dynamic incredible. They brought with them unique flows, varying intonations which matched the simplistic grimy beats hand crafted by the RZA himself. The Wu created dark grit that mirrored New York. They painted an image so vivid with perfect use of instruments, listeners experienced New York without ever being there.
It was 1993 when they debuted with 36 Chambers, with the heavy incorporation of martial arts discipline and teachings that were (primarily) reflective self-awareness and mental control. If that wasn't an accomplishment on its own, the lyricism was both insightful and frivolous, but always remained engaging for listeners with a tremendous amount of variation. Add the beat production and the cohesion to that, and you've got the blueprint for hardcore New York grit in rap form and would be a direct influence on upcoming artists like BIG, Jay, Nas and Mobb Deep (RIP Prodigy) and so many others.
No matter how many years pass, 36 Chambers still sounds fresh and current and that makes it a timeless classic. If that wasn't enough, after the success and incredibly well-received debut of the collective group, The RZA had (most) of the members release consecutive solo albums. This assured fans that not only was The Wu-Tang Clan talented as a collective, but the solo work was just as good.
The members are one of my favorite aspects of the Wu. Ten members (Capp included) brought with them a specific talent. The RZA brought his brilliance, innovation and big picture thinking. The GZA brought his genius lyrics and concepts. Method Man came with his incredible flow and delivery. Raekwon showcased his cinematography and powerful storytelling. ODB shined with his crazy antics. Ghostface's lighthearted yet soulful themes made him a favorite. Inspectah Deck helped to bring a great balance on any track while U-God's deep voice and perfect intonations were important and Cappadonna and Masta Killa were the best complementary features to any of their fellow Clan members.
It can't be easy to round up and manage a group this big and while personal issues and run-ins with the law created hiccups along the way, but the Wu released project after project and made sure they were up to the standard they had created for themselves. Wu-Tang is the only group that is just as good apart as they are together and as much as I love each member, Raekwon is, IMO, the strongest solo artist. His debut Only Built 4 Cuban Linx was instantly a favorite and largely considered one of the greatest rap albums. It's cinematic and has such solid storytelling and was one of the first albums to popularize mafioso themes as well as it brought with it so much range and variation that is also considered an "all season" album. Over the years, the solo projects kept coming and each time, Raekwon proved that he was/is the best.
The Clan's "visibility" wasn't limited to ten members and a catalog of music. The Wu also had their hands in apparel and video games and would go on to do film and book deals. Back in 1992, the RZA had a vision, to pioneer a new style of gangster rap and do it systematically. He did exactly that! He gave the members a platform to express their talents with no limits and unfiltered rawness. They did this so well that 25 years later, fans and critics consider their work to be classic and just as influential as the day it was released.
@JADBeats – As we all know, there are 9 members of The Wu-Tang being RZA, GZA, Ol' Dirty Bastard, Inspectah Deck, Raekwon the Chef, U-God, Ghostface Killah, Method Man, and Masta Killa with Cappadonna being the honorary 10th member. These guys as a collective brought a whole new element to Hip Hop with each member possessing a different flow and style, as well as a different level of knowledge and wisdom. I remember getting in the backseat and my uncle putting the Enter The Wu/36 Chambers tape in and what I was hearing sent so many sparks through my mind. I was an instant fan like I'm sure everyone else was. They came at a time where I needed to hear their message to act as a guide in the space I was in at that young age. Soon after we'd begin to get a glimpse into their solo projects, which kept getting better and better. What we know now as classics were releasing back to back. Albums such as Tical, Return to the 36 Chambers, Only Built 4 Cuban Linx, Liquid Swords and Ironman came one after another.
They now had a movement going and had become a phenomenon in music. Their sophomore album Wu Tang Forever released in 1997 becoming 1 of my top 10 albums ever. The whole thing blew my mind but my favorite joints were "A Better Tomorrow", "For Heavens Sake", and "The City". They started venturing out into other businesses becoming the first to mass produce a national clothing line with Wu Wear. They recently revamped the Wu Wear brand with new designs and pieces and it has sort of become a hipster must have. They were the first to have a game made in their likeness with "Shaolin Style", a kung fu fighting adventure.
When it comes to my favorite members, that would consist of Raekwon who was known for giving you street mafioso underworld crime tales. Of course, Ghostface, who we know for giving you extravagant and colorful urgent storytelling with his unique voice so that it's nearly impossible to bite his style. Then there is Method Man, who gives you straight grittiness mixed with witty lines. He's the member who ventured into acting and has had countless roles and crossover success. For over 20 years, these 3 are still the most active members of the group. Let's give props to the other members as well like GZA, who's lyrical with wordplay and is noted to have the 2nd largest vocabulary in rap. Cappadonna, who has an oddly unique way of putting words together and is known for his high fashion. Then there is Deck, who is also a dope lyricist in the group that seems to balance everyone else out.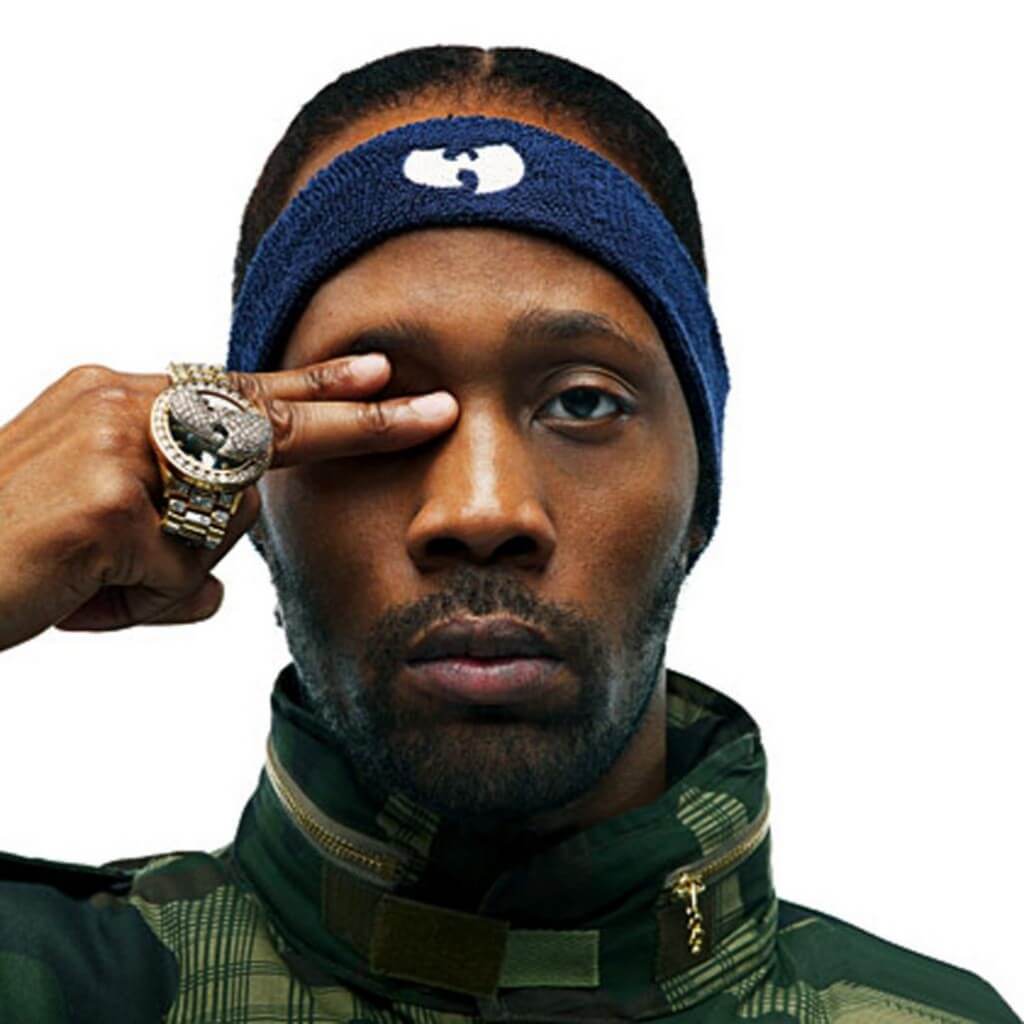 RZA has always had the most offbeat style I've ever heard along with his brother 9th Prince. RZA's been active more so now in writing books, scoring films as well as a little acting, but he'll always be known as the greatest Hip Hop producer of all time to me. The man is brilliant in many ways and what he was able to do with Wu was amazing. They're responsible for starting the wave of east coast rappers flooding the game and taking the West Coast's throne. The group alone has 7 albums but under the Wu umbrella there are over 100 albums. Here's some affiliated groups spawned by the Wu, which showcases their power.
Sunz of Man, a group of diverse MC's including Prodigal Sunn, 60 Second Assassin, Shabazz the Disciple, Killah Priest, and Hell Razah who has a style I dig the most. Their 1st album was The Last Shall Be 1st and my favorite joints were "Flaming Swords" and "Illusions". Killarmy, another group of diverse MC's including Killa Sin, Beretta 9, Islord, 9th Prince, P.R. Terrorist (Dom Pachino), ShoGun Assassin, and producer 4th Disciple. Their debut album was Silent Weapons For Quiet Wars and my favorites were "Fair, Love, and War" and "Wu Renegades". You could mention KillaBees, Tekitha, Gravediggaz, Wu-Syndicate, Shyheim, Remedy, Deadly Venom and more, but the fact is, there aren't many groups as influential on the Hip Hop culture like the Wu.
Outro By @TrueGodImmortal – For me, my appreciation for the Wu is endless for various reasons. RZA influenced my ear for production immensely. Method Man influenced my flow. Raekwon influenced my ability for storytelling and Ghost influenced my creativity. Combined as a collective, their solidarity and their power together showed me exactly what a crew was supposed to be. From their albums to their clothing line to their innovation, Wu represents everything I wanted to embody in DAR. The discipline. The lyrical ability. The family element. Not to mention, they created a long list of classic albums in succession, group and solo wise, and always managed to work together even when things weren't always the best amongst the entire crew. The Wu is essentially the most important group since the 90s to come along in Hip Hop and they exceed the music, they are the culture. Wu-Tang is a global phenomenon, and legendary. There's no way anyone can deny that. – DAR