"I used to be scared of the d*** / Now I throw lips to the s***, handle it like a real b****"
Lil' Kim was 22-years-old on November 12, 1996, when she uttered those lines, the first lyrics on her debut album, Hard Core. Just one week later, 18-year-old Foxy Brown released her own debut, Ill Na Na, and together the two Brooklyn College Academy alumni set the course for female emcees for the next two decades, changing the way women in Hip Hop present themselves to the world — and how they are received by it.
From the cover photos to the lyrics to the album titles, almost nothing was left to the imagination, and with their lethal combination of sexy and street, they easily appealed to fans from both genders.
While Kim and Foxy may not have been the first female Hip Hop artists to use their looks as their strongest weapon, they were certainly the most visible and, at least up until that point, the most successful.
As in all of history, the important roles women played, particularly behind the scenes, is a woefully underreported part of the history of Hip Hop:
"We have to remember that this whole genre of recorded music started because of a woman. Hip Hop on record started because of Sylvia Robinson. A big part of the success of Jive Records was Ann Carli. She was one of the first champions for Will Smith when he was the Fresh Prince. She co-produced the 'Stop the Violence' record. Monica Lynch ran Tommy Boy. Julie Greenwald emerged from the Def Jam family. In Europe, Sophie Bramly created Yo!, the show that inspired Yo! MTV Raps. Faith Newman signed Nas and Jamiroquai. Wendy Day had her hand in almost every super-empowered artist and entrepreneur deal of the 1990s. Women behind the desk played a very important role."
But they weren't just behind the scenes. There have always been strong women front and center, standing alongside the men and more than holding their own, each in their own distinct ways. MC Lyte was rugged and fearless, one of the best MC's in the world, male or female. Queen Latifah donned Afrocentric attire and wasn't afraid to address important issues like domestic violence while empowering women. Roxanne Shanté was part of the Juice Crew, arguably the most talented and most important clique in rap during the '80s. Monie Love was Latifah's protégé and a member of the Native Tongues. Yo-Yo rode shotgun as the Bonnie to Ice Cube's Clyde.
Even "Push It," Salt-N-Pepa's top 20 Billboard hit, is not as suggestive as the title would have you believe. In fact, the lyrics are fairly benign. Moreover, "Push It" was actually first released as the b-side of "Tramp," in which they inverted Hip Hop norms, calling out men for their misogynistic ways, and addressing sexual harassment.
Still, by 1996, little had changed. Despite Grammy-winning anthems from Latifah ("U.N.I.T.Y.") and Salt-N-Pepa ("None of Your Business"), Hip Hop was misogynistic as ever. There were still females getting busy on the mic, of course. Lyte scored the biggest hit of her career ("Keep On Keepin' On") and Bahamadia dropped her acclaimed debut, Kollage, that year. Lauryn Hill was ubiquitous through much of '96, first as a member of The Fugees, whose sophomore album, The Score, sold more than six million copies, and then as the featured singer on Nas's massive hit, "If I Ruled the World (Imagine That)."
But Lil' Kim and Foxy Brown approached it differently, choosing to follow the adage that sex sells.
It did.
Almost immediately after their albums hit shelves, an intense debate arouse over whether they were empowered or being exploited. MTV News ran piece titled, "Are Foxy Brown and Lil' Kim Taking It Too Far?" and they graced the cover of The Source together in February, 1997, along with the headline, "Sex & Hip Hop: Harlots or Heroines?"
After years of male rappers flaunting their jewelry (since you are here checking out Cuban jewelry, you can also take a look at some Cuban chains here) and objectifying women as bitches and hos, these two claimed they were simply turning the tables, taking back the power, making the men disposable while bragging about their own cars and clothes.
Hard Core, especially, turned Hip Hop's status quo upside down:
"Perhaps the album's greatest accomplishment, however, was in helping to mock, unsettle, and take advantage of the overly male-dominated sphere of Hip Hop…[Lil' Kim] pushed back against the narrative of women as mindless objects and used sex, the easiest thing in the world to sell, as a cover for her excellent skills on the mic."
In many ways, it seemed that these women were taking on the roles and attitudes of men.
"I'm from where n — s pull your card/And argue all day about who's the best MC, Biggie, Jay-Z, or Nas?"
Both Lil' Kim and Foxy Brown had come to prominence as featured guests on songs by the best male artists in New York at the time.
As a member of B.I.G.'s crew, Junior M.A.F.I.A., Kim appeared alongside Biggie on "Player's Anthem" and "Get Money," two singles that went gold and platinum, respectively.
After first appearing as the only female on LL Cool J's posse cut remix, "I Shot Ya," Foxy was featured on Jay-Z's first hit single, "Ain't No N — a," and introduced as a member of Nas's supergroup The Firm on "Affirmative Action" off his double-platinum sophomore album, It Was Written.
While B.I.G., Jay, and Nas were competing for New York rap supremacy and subliminally mentioning each other in their own songs, they also used the platforms of their female lieutenants to wave their flags.
Nearly all of Kim's rhymes on Hard Core were penned by B.I.G. — his name is listed as a writer on all but one song — and Brown received assistance from both Nas and Jay-Z on her debut. From the February 26, 1997 edition of The Washington Post:
"Lil' Kim readily admits in her bio that she owes '85 percent' of her career to Biggie Smalls. And while it is suspected that Nas has written many of Foxy Brown's best lines, it is beyond doubt that she emulates his style of delivery…Guest rapper Jay-Z wrote more of her debut than she did, including the title track."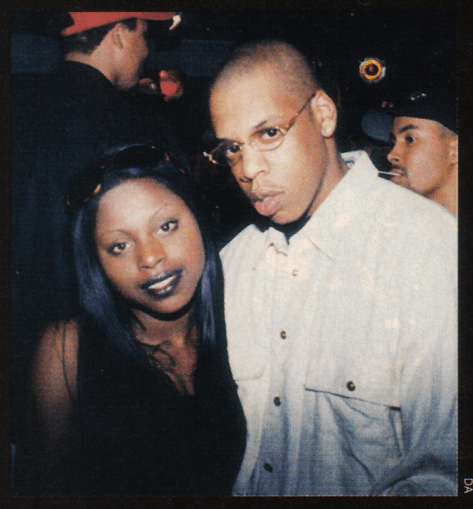 The sounds of those greats can clearly be heard throughout both albums. In many ways, they are mirror images of the classics by the men during that same time. Hard Core plays like a more upbeat version of Ready to Die while Ill Na Na sounds like a combination of It Was Written and Reasonable Doubt, with its materialistic lyrics and bubbly Trackmasters beats.
Having three of the greatest rappers in history write your rhymes and dictate your cadence would help any Hip Hop artist, regardless of gender, race, age, whatever.
Still, ghostwriting and co-signs are never guarantees for a hit single, let alone a trailblazing career. Many successful rap crews have tried and failed to launch their female members to fame and fortune. Moreover, crediting Jay, B.I.G., and Nas for all of the success that Kim and Foxy enjoyed would be shortsighted and lazy. If that were true, then Amil and Charli Baltimore would have been superstars and The Firm would not have flopped. (Let's not forget that Nas eventually went so far as to cut out the woman entirely and record as a female alter ego named Scarlett on two songs off Street's Disciple.)
Kim and Foxy were far more than just attractive women that served as vessels for the male artists that guided them.
"I gave birth to your style, watch how you speak to your mammy"
Today, the most obvious — as well as the greatest and most successful — descendant of Kim and Fox is Nicki Minaj.
Minaj, who is friendly with Foxy Brown, has been criticized for copying Lil' Kim's style, most notably early in her career when she wore a variety of brightly colored wigs, many of which looked similar to ones Kim had worn in the past, and released a mixtape with a cover that was clearly a reimagining of one of Hard Core's promotional posters.
The line between homage and biting has long been a point of contention in Hip Hop and many felt that Nicki had crossed that line, using Kim's style to appeal to a new generation of fans that were in diapers when the Queen Bee was at her peak.
Evidently, Kim felt the same way, disparaging Minaj in interviews and songs (including one called "Identity Theft") and the two have since sniped at each other for several years.
While the influence is obvious, Nicki is far more than just a repackaged Lil' Kim. She has reached levels few other female rap artists have ever achieved, and has done so consistently for several years. She is one of the biggest stars in the country, has been nominated for ten Grammys, and is often occupying several spots on the charts at once. She has two number one albums and eleven platinum singles to her credit and has repeatedly showcased her skills while alongside the biggest male Hip Hop artists in the game. Spin called Minaj's verse on "Monster," a song that also included heavyweights Kanye West, Jay-Z, and Rick Ross, the "single best verse of the 2010s," reminiscent of Foxy stealing the show on the "I Shot Ya" remix.
In 2014, XXL named the twenty best female rappers of all time and proclaimed, "Nicki is arguably the best rapper — female or otherwise — in the game."
Two other names appearing on the list were, of course, Lil' Kim and Foxy Brown.
"Who's got the illest pussy on the planet?/Sugar walls comin' down, n — s can't stand it/the Ill Na Na"
Early on, it seemed that they would blaze the trail together. They appeared along with Da Brat on the remix to Total's single "No One Else" and Foxy proclaims, "Waitin' for Kim album to drop, knowing it's tight," on Ill Na Na's title track. Considering their similar backgrounds and styles, their skills, their friendship, and the publicity they and their songs generated, a collaborative album seemed inevitable. And one was actually in the works:
"After Kim's and Foxy's first albums, [then Def Jam CEO] Lyor Cohen put up a million dollars to do a Thelma and Louise album…They were both getting $500,000 each just to show up at Hit Factory. Everyone was in the studio — Jay-Z, Pooh, Big, Un. They never showed up, and the project never happened."
There has been no shortage of rumors as to why their relationship deteriorated. Some attribute it to their respective inner circles driving a wedge between them; some believe it stems from their debuts being released just a week apart, in which they wore the same outfit on the inside sleeve:
Whatever the reason(s), the friendship fell apart.
In January 1999, Brown's follow-up, Chyna Doll, debuted atop the Billboard charts. On the song "My Life," she even addressed Kim directly: "You was my sister, we used to dream together/How we could make it real big, do our thing together/Huh, Thelma and Louise together, remember them days?/Them n — s we played? Now we don't even speak/Went our separate ways, separate lives/Lost friendship for pride, playin' the game."
Over the next few years, the war of words continued to escalate in both interviews and songs to the point that their entourages exchanged gunfire outside Hot 97 in 2001. Since then, there has been talk of a reconciliation, most notably Fabolous's attempt to bring the two on stage at 2013's Summer Jam, but nothing has ever materialized.
Unfortunately, for much of the last decade, the two have drawn more attention for their behavior outside of the studio than for their musical output, including numerous run-ins with the law and gossip about changes in their appearances.
Regardless of what happens in the future, Kim and Foxy's impact on the culture cannot be denied. They flipped the script on gender identities in Hip Hop, using their sexuality to be in control instead of simply being objectified, proving that female emcees could rock a microphone without having to wear braids and baggy pants. And their influence is still being felt to this day, inspiring the beloved character of Cookie on the hit show Empire.
It's been twenty years since Lil' Kim and Foxy Brown shook Hip Hop to its core, but the tremors can still be felt.
Originally published on ChristopherPierznik.com.
Christopher Pierznik is the author of seven books, all of which can be purchased in Paperback, Kindle. He has written for a variety of other sites and works in finance. You can like his Facebook page here and follow him on Twitter here.