Top 15 Native Tongues Albums: The Native Tongues is a collective of Hip Hop artists known for their positive-minded, good-natured Afrocentric lyrics, and for pioneering the use of eclectic sampling and later jazz-influenced beats. Its principal members are the Jungle Brothers, De La Soul, and A Tribe Called Quest. The collective was also closely tied to the Universal Zulu Nation.
The New York City-based Native Tongues crew was a collective of like-minded Hip Hop artists who would help bring abstract and open-minded lyricism that addressed a range of topics – from spirituality and modern living to race, sex, and just having fun – to the mainstream. Together with the use of eclectic samples that would take on an increasingly jazzy sound, they would be pioneers of so-called conscious Hip Hop, alternative Hip Hop, and jazz rap.
De La Soul's Dave recalled: "The Native Tongues came about where, basically, we had a show together in Boston. [De La Soul], Jungle [Brothers] and we linked from there. We had a natural love for the art and a natural love for each other on how we put stuff together. So we invited [the Jungle Brothers] to a session, and when they hooked up with us, we happened to be doing "Buddy". It wasn't business; it wasn't for a check. It was just trading ideas and just seeing what you're doing. Bottom line, it was just having fun."
According to ATCQ's Q-Tip: "I remember Afrika [Baby Bam] called me that night, like, two in the morning. "Yo these kids, De La Soul, you gotta meet 'em! I swear we're just alike!" I went there, met them, and it was just f**kin' love at first sight. It was disgusting. In Hip Hop, it praises individualism. I think that's the main achievement of the Native Tongues. It just showed people could come together."
Fostered by Kool DJ Red Alert, the success of the Jungle Brothers would pave the way for De La Soul and A Tribe Called Quest; together, in 1988, these three groups would form the core of the crew and continue the spirit of Afrika Bambaataa and the Zulu Nation. By 1989 they had been joined by Queen Latifah and the UK's Monie Love, and soon by the Black Sheep & Chi-Ali. Collectively, the members of the Native Tongues had a huge effect on the style and trends of Hip Hop during its most important period, the Golden Age of the late 1980s–early 1990s.
There are several collectives today—with overlapping membership—that can be seen as the spiritual heirs to the Native Tongues crew: the Spitkicker crew (founded by De La Soul's Trugoy and Posdnuos in 2000), the Okayplayers, and the Soulquarians. There have also been a lot of acts – such as Leaders Of The New School, The Beatnuts, Fu-Schnickens, Brand Nubian, Mos Def, Talib Kweli, Common, and The Pharcyde – who have been considered (peripheral) members of the collective – but for this list, we'll be focusing on The Native Tongues' core members. With that said – let's get into it!
15. Queen Latifah - All Hail The Queen (1989)
Queen Latifah's debut album was critically acclaimed and commercially successful upon its release and is now widely regarded as a classic. Some filler tracks and a prominent crossover feel, with influences from house, techno, and reggae, prevent it from ranking higher on this list.
Despite this, the album features several standout tracks, such as the feminist anthem "Ladies First" (featuring Monie Love), "Mama Gave Birth To The Soul Children" (featuring De La Soul), "Evil That Men Do", and "Wrath of my Madness", which showcase Queen Latifah's impressive abilities and star power. Overall, the album marks an impressive start to Queen Latifah's remarkable career in the music industry.
14. A Tribe Called Quest - We Got It From Here… Thank You 4 Your Service (2016)
Following an electric performance on The Tonight Show Starring Jimmy Fallon on November 13, 2015, the members of A Tribe Called Quest were inspired to record a new album. The project was shrouded in secrecy, with the album being their first release since 1998's The Love Movement. Despite the untimely passing of Phife Dawg, the group was able to flawlessly integrate his recorded bars into the final product.
We Got It From Here… Thank You 4 Your Service features all four of the group's members, including a surprise return from Jarobi White, who even contributes some bars. The album also boasts an impressive array of guests, including André 3000, Kendrick Lamar, Elton John, Jack White, Anderson .Paak, Talib Kweli, and Tribe's longtime collaborators Consequence and Busta Rhymes. The result is a phenomenal album that perfectly captures the classic Tribe vibe while firmly placing it in the modern era.
The album's tracks are a testament to the group's musical prowess and social commentary, with standout tracks such as "We The People," "Dis Generation," and "Black Spasmodic" tackling themes of racism, inequality, and police brutality. We Got It From Here… Thank You 4 Your Service is a worthy addition to A Tribe Called Quest's monumental catalog, showcasing their creative power and cementing their status as Hip Hop legends. It is no surprise that the album was one of the highlights of 2016 and continues to be celebrated by fans and critics alike.
13. Queen Latifah - Black Reign (1993)
Queen Latifah's third album, Black Reign, stands out as her best record, despite the importance of her debut album in paving the way for female emcees. On Black Reign, Latifah's charisma and powerful personality are on full display, and she showcases real and heartfelt emotions in some of the songs, partly influenced by personal tragedy prior to recording.
While Black Reign is most well-known for its Grammy-winning anti-misogynistic song "U.N.I.T.Y.," it is a solid album with much more to offer. Tracks like "I Can't Understand," "Just Another Day," "Superstar," "Black Hand Side," the dope posse cut "Rough…," and the emotional tribute to her brother "Winki's Theme" showcase Latifah's versatility and range as an artist.
12. De La Soul - The Grind Date (2004)
De La Soul is widely recognized and celebrated for their first four classic albums. It is strange though that their seventh album, The Grind Date, released in 2004, is often overlooked when discussing their best work. Nonetheless, this album deserves to be considered an excellent work in their discography. The Grind Date stands out for its tighter and leaner approach, free of skits that can detract from the listening experience.
Moreover, the album boasts exceptional production from notable producers such as Madlib, J Dilla, and 9th Wonder, and features guest appearances from some of the biggest names in Hip Hop, including MF DOOM (who delivers an epic verse on "Rock Co.Kane Flow"), Common, and Ghostface Killah. The combination of impressive production and notable collaborations makes The Grind Date an outstanding album that is easily one of the best releases of 2004.
11. Jungle Brothers - Straight Out The Jungle (1988)
The Jungle Brothers' debut album, Straight Out The Jungle, marked the first release by a group affiliated with The Native Tongues collective and was a major influence on the collective's subsequent albums. The album features standout tracks such as "Straight Out The Jungle," "On The Run," "Because I Got it Like That," and "What's Going On," which have become fan favorites, but the album as a whole is exceptional. The production is excellent, and the rhymes are engaging, making Straight Out The Jungle a Hip Hop classic that deserves to be celebrated for its innovation, influence, and timeless appeal.
10. Q-Tip - The Renaissance (2008)
Q-Tip's 2008 album, The Renaissance, was a highly anticipated release after a nine-year gap since his debut solo album, Amplified, which was met with mixed reviews. Amplified was not a bad album at all, but in all honesty somewhat too lightweight and lacking in substance for an artist of Q-Tip's caliber. As a result, there was a lot of pressure on The Renaissance to prove that Q-Tip still had the skills to deliver a classic Hip Hop album.
Fortunately, The Renaissance did not disappoint. The album is a consistent and cohesive effort with 13 tracks that are all strong and without any filler material. While "Gettin Up," "We Fight/We Love," "Official," and "Believe" are highlights, the album has no weak tracks.
Q-Tip successfully blends the classic A Tribe Called Quest vibe with his own unique style on The Renaissance. His charismatic and laid-back flow is still in full effect, and the production on the album is top-notch. This album solidified Q-Tip's position as a respected and influential figure in the genre.
9. De La Soul - Buhloone Mindstate (1993)
De La Soul's third masterpiece, Buhloone Mind State, is often overlooked and underappreciated in comparison to the other albums in their first four album run. While it may lack the same commercial appeal as their previous releases, it is artistically just as strong, showcasing the group's signature cohesiveness and consistency, as well as the production genius of Prince Paul.
Tracks like "Area", "I Am I Be", "Eyepatch", "Breakadawn", and "Ego Trippin' Pt 2" are just a few examples of the many standout songs on the album. Buhloone Mind State incorporates strong jazz influences, thanks in part to contributions from legendary musicians like Maceo Parker, Fred Wesley, and Pee Wee Ellis, as well as samples from Eddie Harris, Lou Donaldson, Duke Pearson, and Milt Jackson.
De La Soul's first four albums are all classics, and Buhloone Mind State is an integral part of that run.
8. Black Sheep - A Wolf In Sheep's Clothing (1991)
A Wolf in Sheep's Clothing by Black Sheep is an incredibly fun and entertaining album that deserves more recognition among classic Hip Hop albums. Clocking in at over 70 minutes, it doesn't feel a minute too long, as it's packed with clever, humorous, and dope tracks. Mr. Lawnge's production is top-notch, creating a perfect backdrop for Dres' unique voice and flow.
While the anthemic "The Choice Is Yours" is probably the most well-known track from the album, A Wolf in Sheep's Clothing has plenty of other standout songs. "Flavor Of The Month" is smooth and catchy, "Pass The 40" features a banging posse cut, and "Butt In The Meantime" is excellent. "Similak Child" and "Strobelite Honey" are also among the album's best tracks.
The confrontational album opener "U Mean I'm Not" is a great way to start the album, as Dres effectively mocks gangsta posers. Throughout the album, Black Sheep's attitude is refreshing, and the great vibe is maintained from start to finish. All in all, A Wolf in Sheep's Clothing is a hugely underrated gem of an album that should be mentioned more often when discussing classic Hip Hop.
7. A Tribe Called Quest - People's Instinctive Travels And The Paths Of Rhythm (1990)
The third installment of the Native Tongues triple classic album introduction to the world (preceded by the Jungle Brothers' Straight Out The Jungle and De La Soul's 3 Feet High And Rising) was A Tribe Called Quest's People's Instinctive Travels On The Paths Of Rhythm. The album is a musical masterpiece that blends hard beats and jazzy samples, creating an innovative sound that is complemented by the fun, clever, and positive lyrics delivered mainly by Q-Tip. Although Phife was still finding his voice on this album, his lyrical skills would improve significantly on Tribe's follow-up The Low End Theory.
"I Left My Wallet In El Segundo", "Can I Kick It", the cheeky ode to female beauty "Bonita Applebum", "Push It Along", "Luck Of Lucien" – the album is filled with timeless ATCQ joints. People's… is a timeless classic that introduced the world to one of the greatest Hip Hop groups of all time.
6. De La Soul - Stakes Is High (1996)
Upon its release, De La Soul's fourth album, Stakes Is High, stood out as their most mature and confident effort to date. As with all of their first four albums, it's a classic in its own right. The album boasts 17 outstanding tracks, including "Big Brother Beat" featuring Mos Def, "The Bizness" featuring Common, "Supa Emcees", and the prophetic and important title track "Stakes Is High". Despite almost a decade in the game, De La Soul remained fresh and far from going stale.
5. Jungle Brothers - Done by the Forces Of Nature (1989)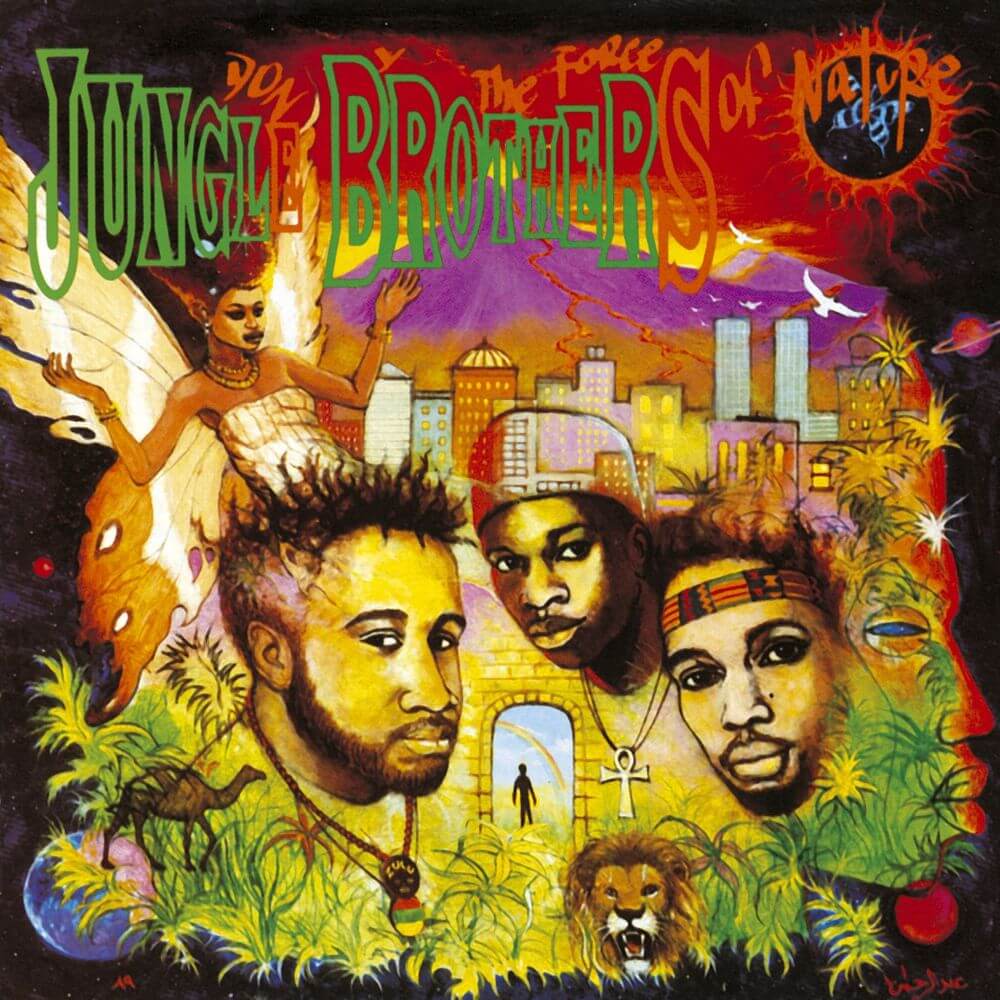 The Jungle Brothers, while not achieving the same level of recognition and commercial success as their fellow Native Tongues members De La Soul and A Tribe Called Quest, have two classic albums under their belt. Their 1988 debut, Straight Out Of The Jungle, is a raw gem, and this follow-up album is equally impressive – the most generally underappreciated album on this list.
Highlights include the laidback "Sunshine," the classic Native Tongue posse cut "Doin' Our Own Dang," the club tracks "What U Waitin' 4" and "U Make Me Sweat," the empowering "Acknowledge Your Own History," the beautiful dedication "Black Woman," and tracks like "Feelin' Alright," "Done by the Forces of Nature," and "Beeds On A String."
Conscious, positive, and funky, Done By the Forces Of Nature deserves to be mentioned alongside De La's 3 Feet High And Rising and Tribe's People's Instinctive Travels... as an early Native Tongue classic, and is a must-have for any Hip Hop fan.
4. De La Soul - De La Soul Is Dead (1991)
De La Soul's second album, De La Soul Is Dead, may be lengthy, but it's chock-full of musical and lyrical genius. The album boasts standout tracks such as "A Roller Skating Jam Named 'Saturdays'," "Bitties In The BK Lounge," "Afro Connections At A Hi 5," "Keepin' The Faith," "My Brother's A Basehead," "Ring Ring Ring," and the monumental "Millie Pulled A Pistol On Santa."
Different from their equally brilliant debut 3 Feet High & Rising, De La Soul Is Dead exhibits a marked change in style and feel, showcasing a darker and more contemplative side of De La Soul. The happy-go-lucky positivity of their debut is gone, replaced by De La's disillusioned vision of the state of Hip Hop. It's a vision that has proven to be highly prophetic. This album was so far ahead of its time that Hip Hop has yet to catch up.
3. A Tribe Called Quest - Midnight Marauders (1993)
It's almost impossible to decide between three spots on this list, as this album is as exceptional as the upcoming two. Following up on their flawless masterpiece, The Low End Theory, Tribe faced a daunting task, but they delivered an album that is just as remarkable as its predecessor – there can be no greater compliment.
Midnight Marauders sounds as fresh as it did when it was first released – a true sign of a classic. While the three singles, "Award Tour," "Electric Relaxation," and "Oh My God," may be the most recognizable tracks on the album, the remaining tracks are just as impressive – there's not a single weak one. It's an incredible accomplishment, especially considering they did the same thing on their preceding album, resulting in two perfect albums in a row.
In the words of Ali Shaheed Muhammad of Tribe: "We decided to call the album Midnight Marauders because A Tribe Called Quest are like sound thieves looting your ears." That sounds about right.
2. De La Soul - 3 Feet High & Rising (1989)
The collaboration between De La Soul and producer Prince Paul is a testament to the group's experimentation, innovation, and immense influence on the genre.
3 Feet High And Rising introduced the skit to Hip Hop albums, and although skits often irritate rather than add value, on this album they work. De La Soul invented the rap skit and they remain one of the very few acts who know how to use it. They used skits to give a thematic and coherent feel to the album, creating a consistent and all-around awesome experience.
3 Feet High And Rising was a reaction to the cliches already emerging in Hip Hop, even in its early years, and represented a new direction for the genre. With clever wordplay, deft rhymes, playful production, positivity, and fun, 3 Feet High And Rising paved the way for acts like A Tribe Called Quest, The Pharcyde, Freestyle Fellowship, Digable Planets, and many others.
1. A Tribe Called Quest - The Low End Theory (1991)
The Low End Theory is a flawless masterpiece that showcases creativity, innovation, artistry, fun, and raw talent at its best. A Tribe Called Quest continued to build on the quality work of their debut and perfected the fusion of jazzy influences and bass-heavy Hip Hop beats. The album is so cohesive and consistent that it almost feels like one long song – and that's definitely a good thing in this case.
Phife, who only played a minor role on the first album, showcases his improved skills as an emcee and establishes a perfect interplay with Q-Tip, who is exceptional as always. From the mesmerizing opening track "Excursions" to the posse cut "Scenario" that serves as the perfect album closer, every single track on this album is nothing short of perfect.
Honorable Mentions
Monie Love – Down to Earth (1990)
Queen Latifah – Nature Of A Sista (1991)
Chi-Ali – The Fabulous Chi-Ali (1992)
Black Sheep – Non-Fiction (1994)
A Tribe Called Quest – Beats Rhymes & Life (1996)
A Tribe Called Quest – The Love Movement (1998)
Queen Latifah – Order In The Court (1998)
Q-Tip – Amplified (1999)
Phife Dawg – Ventilation: Da LP (2000)
De La Soul – Art Official Intelligence: Mosaic Thump (2000)
De La Soul – AOI: Bionix (2001)
Q-Tip – Kamaal The Abstract (2009)
De La Soul – and the Anonymous Nobody… (2016)