[Tyler Gregory Okonma (born March 6, 1991), better known as Tyler, the Creator, is a Californian rapper, musician, singer, songwriter, record producer, actor, visual artist, designer, and comedian. He rose to prominence in the early 2010s as the co-founder and de facto leader of alternative Hip Hop collective Odd Future and has performed on and produced songs for nearly every Odd Future release.
Following a large contribution to Odd Future's early work, Tyler released his debut solo mixtape Bastard in 2009. After releasing his debut studio album Goblin via XL Recordings in April 2011, he signed a joint deal with RED Distribution and Sony Music Entertainment for himself and his label Odd Future Records. With his gritty, horrorcore-influenced earlier releases, Tyler was often criticized for his use of homophobic and misogynistic slurs in his lyrics. He released the albums Wolf in 2013 and Cherry Bomb in 2015, the latter of which was considered to be a contrast from his previous releases as he experimented with a more melody-focused and jazz-fused sound. His fourth album, Flower Boy (2017) was met with widespread acclaim. His fifth album, Igor (2019), was also acclaimed by critics, it became Tyler's first number-one album on the Billboard 200, and won Best Rap Album at the 2020 Grammy Awards. His sixth studio album, Call Me If You Get Lost (2021), was released on June 25, 2021, to widespread critical acclaim.]
For this list, we have ranked Tyler's six studio albums, plus his debut mixtape – because Tyler himself considers it an album too. You will probably think one album is ranked too low, but hey – this is OUR list and this is what WE think. Let's get into it!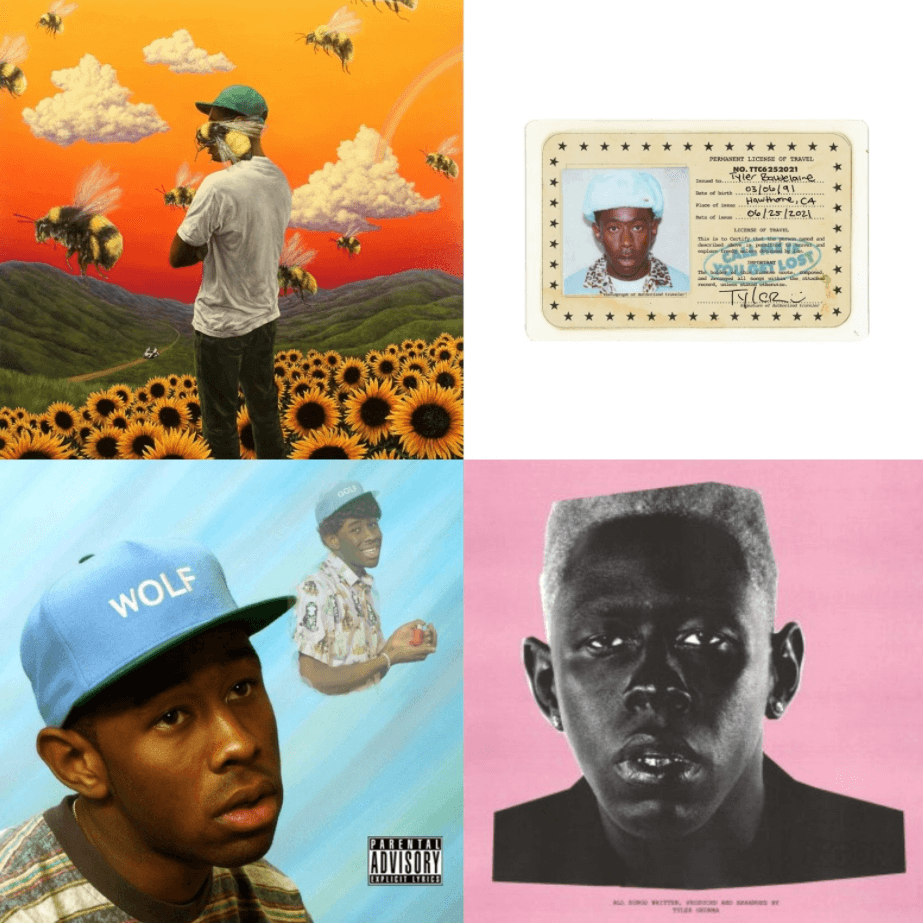 7. Cherry Bomb (2015)
Following the successful Wolf (2013), Cherry Bomb turned out the be a disappointment. Cherry Bomb is more upbeat and more experimental than Tyler's previous releases, but it is not better for it. This album's biggest flaw is its subpar mixing – half of these tracks being over-produced to the point that Tyler's vocals get buried under the distorted instrumentals, some of the songs on Cherry Bomb are damn near unlistenable because of it ("CHERRY BOMB" most notably). The album opener "DEATHCAMP" is the best track of the record, with fun Tyler bars and a dope instrumental where the noisy musical backdrop actually works – but it all goes downhill quickly from that one, a couple of other strong songs in the second half of the tracklist (like F*CKING YOUNG/PERFECT") notwithstanding. Messy production and unfocused, inconsistent vocals make for the worst album in Tyler's catalog – not terrible, but not very good either. 5.5/10
6. Bastard (2011)
Due to its free online release and lack of retail availability, Bastard is commonly considered a mixtape, although Tyler himself refers to the project as his debut album. Bastard is coarse and offensive, an unpolished and unfiltered document from a conflicted teenager – filled with a mix of teen-angst and provocation. Tyler was in his late teens when he wrote and produced Bastard, a dark and brooding product that (as he talks to a fictional therapist named Dr. TC) touches upon Tyler's hatred towards his father and groups of other people, and about topics such as anger, violence, sexual frustration, rape, depression, and suicidal thoughts –  often in uncomfortably graphic detail and over the top vulgar lyrical imagery. That said, with "Bastard", "Odd Toddlers",  "French!",  "Slow It Down",  "VCR/Wheels", "AssMilk", and especially "Seven" there are plenty of strong early Tyler joints on Bastard. The shock value of violence, misogyny, and homophobia kind of wears off across the album, but overall this is a better project than is often said. This tape was a solid start to Tyler's career, a fitting story to start the Bastard–Goblin–Wolf trilogy. 6.5/10
5. Goblin (2011)
Like Bastard, Goblin is over-hated. In many ways, Goblin is a lot like Bastard. Goblin's lyricism continues on the same subjects from Bastard. The therapy theme is continued, the album is almost entirely produced by Tyler himself, and there's lots of juvenile vulgarity providing the same kind of shock value Bastard was built on. Sure, Goblin is homophobic, sexist, and misogynistic. And it's a legitimate question to ask why anyone would want to listen to an unlikable narcissistic teenager with a huge craving for attention whine about his sexual insecurities and his daddy issues, but there's a fascinating aspect to Tyler's juvenile bile. It is not always clear what is meant to be serious and what is meant to be parodical – which makes it easier to dismiss some of Tyler's more unsettling content.
Whatever it says about our own mental states, we like Goblin. The dank-basement production, while kind of flat, complements the dark content perfectly. There are a couple of throwaway songs (the awful "Bitch Suck Dick" the worst of them, even if it was meant to be some kind of parody), but "Goblin", "Yonkers", "Radicals", "Transylvania", "Nightmare", "Tron Cat", "Sandwitches", and "Analog" are all great Tyler tracks – there's more good than bad on Goblin. Is Goblin overlong, sonically static, repetitive, juvenile, and offensive? Yes, it is. But it's also intriguing and entertaining. A hate it or love it kind of project if there ever was one – we happen to dig it. 7/10
4. IGOR (2019)
A lot of hype surrounded this release but for us it's overrated: we think IGOR is underwhelming, messy, and ultimately disappointing. Tyler likes to sing apparently, but the thing is Tyler can't sing. For lots of Tyler fans and stans that is no problem evidently, for us, it is – we like to listen to singing by people who can actually sing. Tyler is being applauded for being innovative and edgy on IGOR, but being innovative and edgy does not automatically mean that an album is very good. The story Tyler is telling on IGOR apparently is another one of the album's strong suits, but if the listening experience is unpleasing it's difficult to get into the concept.
Now don't get us wrong, We don't think IGOR is bad either. Tyler's production on the album is excellent in places – especially the opening track "IGOR'S THEME" is dope as hell (no coincidence this is a mostly instrumental track), and there are more fine moments besides ("WHAT'S GOOD" being a particular stand-out). Whatever you feel about this album, there's no denying it was one of the most talked-about releases of 2019, an album that defies genre conventions that sees an artist creatively do exactly what he wants to do in pursuit of mastery of his craft – and for that Tyler deserves props at least. 7/10
3. Wolf (2013)
Tyler's two prior projects, Bastard and Goblin, contained lyrics and themes commonly used in the horrorcore subgenre, which Tyler claimed to not be part of. In November 2011, in an interview with Spin, Tyler expressed wanting to shift away from the themes of his previous work, stating:
"Talking about rape and cutting bodies up, it just doesn't interest me anymore… what interests me is making weird hippie music for people to get high to. With Wolf, I'll brag a little more, talk about money and buying shi*t. But not like any other rapper, I'll be a smart-ass about it. People who wanted the first album again, I can't do that. I was 18, broke as f**k. On my third album, I have money and I'm hanging out with my idols. I can't rap about the same sh*t."
Wolf is a concept album that features a continuous story of characters Wolf, Sam, and Salem. Therapist character Dr. TC makes his last appearance on a Tyler album on the final track "Lone". The story presented in Wolf has been said to link to Tyler's two previous projects, with debates occurring on whether Wolf comes chronologically before or after Goblin.
For us, Wolf is the most underrated album in Tyler's catalog. At over 70 minutes, Wolf is a LONG album, but there are few wasted moments. Sure, like on all Tyler releases there are a few headscratchers (like "Jamba", "Trashwang", and "Tamale"), but there are more top-tier Tyler tracks, such as "Cowboy", "Answer" and "Campfire". Wolf is colorful and creative and an improvement on its enjoyable but sonically static predecessors. 7.5/10
2. CALL ME IF YOU GET LOST (2021)
CALL ME IF YOU GET LOST is Tyler's sixth studio album (seventh if you count Bastard as an album and not as a mixtape). This album is on par with Flower Boy, and it is better than the edgy-for-edginess-sake IGOR is. CALL ME IF YOU GET LOST feels like Tyler put all of his previous albums in a blender, and kept the best aspects to fuse them into this project. He took some of the abrasive Hip Hop sounds from his older albums like Goblin and Wolf and combined them with the neo-soul synth-funk sounds of Flower Boy and IGOR to great effect.
This definitely isn't the most conceptual or innovative album Tyler has ever released, but that doesn't matter. The production on this album is immaculate, impressively done by Tyler alone (except for "JUGGERNAUT", which was co-produced with Pharrell). Sure, overall production on CALL ME IF YOU GET LOST is less 'grandiose' and more understated than it was on his last few projects, but the album is better for it. There's lots of variety, we get a couple of Hip Hop bangers alternated with smooth neo-soul/R&B flavored songs – which could have resulted in a messy presentation, but Tyler makes it work here.
Also, Tyler is rapping again (his so-so singing is something that brought down IGOR), which is a plus of course. Tyler is still maturing in his songwriting, and even if this album lacks a cohesive narrative structure, Tyler's observations, introspective thoughts, and storytelling (especially on the epic "WILSHIRE") are some of the best he ever penned – as evidenced by cuts like "CORSO", "WUSYANAME", "HOT WIND BLOWS", "RUNITUP", "MANIFESTO", "MASSA", and the aforementioned "JUGGERNAUT" and "WILSHIRE", which all are top-tier Tyler tracks. And then there are the features, that more often than not, reinforce the tracks rather than take away from them – even the likes of Lil Uzi Vert, Lil Wayne, Ty Dolla $ign, 42 Dugg, and YoungBoy NBA manage not to irritate but to actually add value.
Not everything's perfect though. At times the album meanders when R&B vibes take to the forefront, and it could have done without some of the skits. And who then there's DJ Drama, who made a career of ruining mixtapes with his 'energetic' ad-libbing. Unfortunately, he is doing his annoying screaming/talking routines on this record a couple of times too often too – almost every track here with DJ Drama presence would have been significantly better without him. You can use his antics on an intro or an outro, but that should be it. These are minor complaints though – overall CALL ME IF YOU GET LOST is a great album, one that can rival Flower Boy for the title of Tyler's best album yet. 8/10
1. Flower Boy (2017)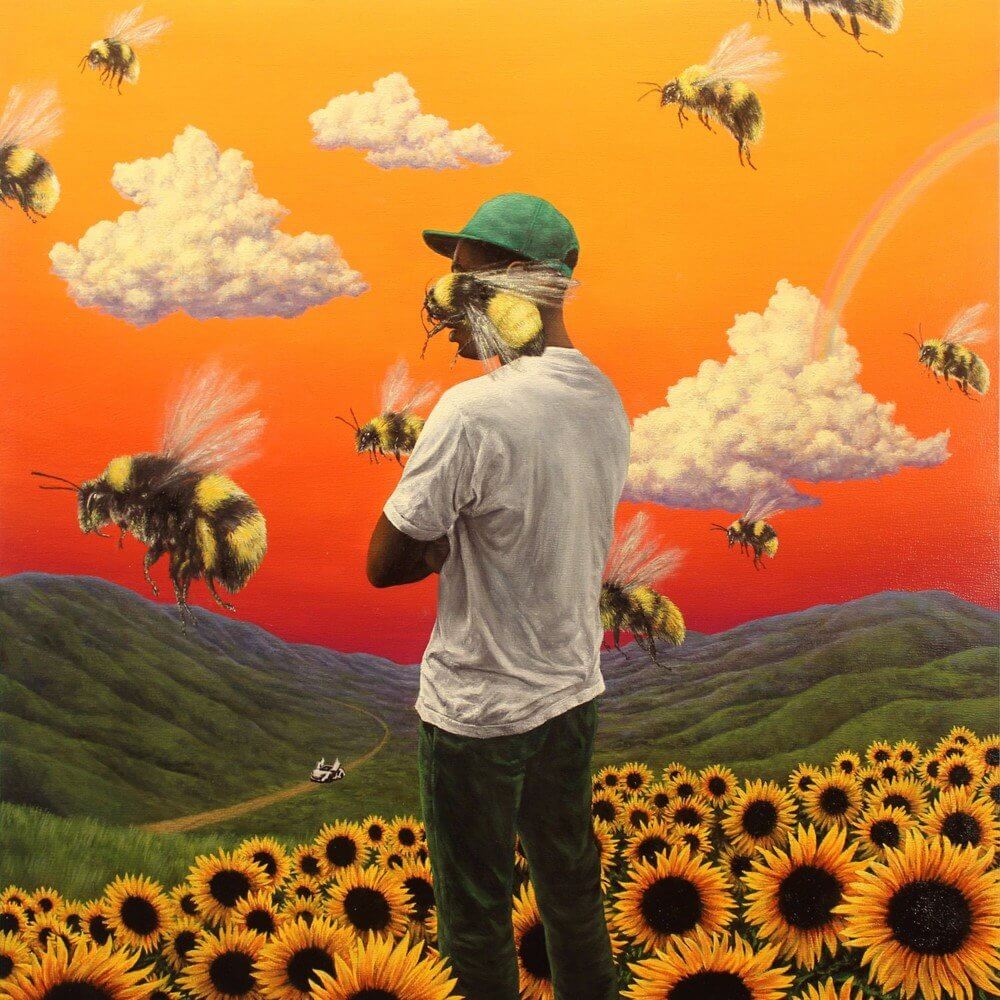 Flower Boy is Tyler's most complete, most cohesive, and most consistent album. In typical later-Tyler fashion, Flower Boy is an amalgamation of musical styles – for the most part successfully executed this time, with a minimum of messiness and not a lot of over/underproduction that so marred Flower Boy's predecessor Cherry Bomb. Lyrically, Flower Boy is also different from some of Tyler's other works, more introspective and personal this time around. Tyler's opening up on Flower Boy is a culmination of what he was building up to with his previous works. Flower Boy is Tyler's best album. 8.5/10