What's good kind people!  This is BK, you're friendly neighborhood Hip Hop blogger saying thanks for riding with me once again. This post deals with the one year anniversary of the greatest and most defining Hip Hop album of our present time, Kendrick Lamar's To Pimp A Butterfly.
There have been statements made such as "This may be the Illmatic of our generation" and it was met with tons of backlash.  To a degree, there's a good reason for the backlash in retrospect. Nas' timeless debut represented an era that was in transition in New York and the nation as a whole. Even though there are comparisons between the two (like it or not), these are still two different albums as well. Nas' debut represented a coming of age for a young man trying to escape the bloody streets of Queensbridge, NYC and seeing Hip Hop as his guiding light in such a Langston Hughes manner mixed with Dunn language.
Kendrick's impeccable sophomore major label album (fourth overall) showed a young man exposing the strengths and weaknesses of the Black culture in such powerful, bold, honest, and introspective fashion and it also showed him trying to find the peace between the celebrated life of a young kid making it out the ghetto, living his dreams and coming face to face with his inner devils that threaten to swallow him up due to excess and the struggle of self-identity. How has Hip Hop maintained since we observed this changing of the guard?  Well, let's break it down.
When it was released on March 15, 2015, early rumblings were that this was a game changer. We knew his first single "I" was an ode to self-acceptance in the face of obstacles, labels, and hatred with a clever re-interpolation of The Isley Brothers "Lady". What made this track so aesthetically incredible is the third verse. While he encourages and offers light to the clouds in the first two verses, the third verse completely turns a one hundred eighty degrees and has him in a mental breakdown, struggling to avoid the temptation of suicide due to the "war" he was having in his head. This truthfully became the premise of the whole album: the struggle of happiness, fame, and making it mixed with lack of identity, mental unrest, and the lack of personal strength to change himself and the world around him.
Next, we were Blessed with "The Blacker The Berry" and explosive pro-Black ode, once again fully accepting his Blackness, only to scathe his community with just one line: "So why did I weep when Trayvon Martin was in the street, when gang banging made me kill a n**** blacker than me, hypocrite!" Incredible. Once again, he put a mirror up to the world and the community at large, but then suddenly has a moment of clarity and rotates the mirror back towards him and the dirt, filth, and darkness shows up.  Let us not forget the funk-laced "King Kunta" that addressed ghost writing in Hip Hop in such a classy, yet ballsy, manner.
When the album dropped, which was a week ahead of schedule mind you, immediately people began polarizing it.  Not so much in terms of saying it was terrible or a bad album, but many were expecting a sequel of his simply amazing debut, good kid, M.A.A.D. City, but instead they got stripped down production complete with live instrumentation and elements of soul and funk.
By the time, the listener was finished at the end of the breathtaking "Mortal Man", you either applauded his efforts by being a forward thinker, yet disappointed with beat choices and became salty by the lack of 808s his prior album supplied, or you knew this was an album for generations to come in the same light as Illmatic, It Takes A Nation Of Millions To Hold Us Back, and Aquemini. The concept alone was unlike anything heard in music in quite a long time. The album was deeper than rap and Hip Hop. This was every man poetry put to some of the lush instrumentation you'll ever hear. This was especially prevalent for one particular track. We knew the Pharrell-assisted and produced "Alright" was the only turn-up cut on the album, but we also knew it was special. We had no idea how much this cut would be a cut that got the Black community over in these days of police killings and racial injustices to where this was almost like our new version of Public Enemy's "Fight The Power". It became the theme cry for the #BlackLivesMatter movement, to even recently when the citizens of Chicago chanted it and caused Republican front-runner Donald Trump to cancel his speech there.
There were other cuts like "Mama", the Grammy Award winning "These Walls", and the brilliant, yet disturbing, ode to depression and self-destruction "U" that showed the range and depth of an artist willing to expose his mind and soul for the sake of artistry and making a social and musical change. For me personally, it was the haunting "How Much A Dollar Cost" that made the most impact. There are certain songs in your life that you remember where you were the first time you heard, because you knew this was a cut that would help shape your Hip Hop life. Mobb Deep's seminal classic "Shook Ones Pt. 2", Nas' "It Ain't Hard To Tell", and Outkast's "13th Floor/Growing Old" were a few of those for me, and Kendrick's "How Much…" is another one. This story of Kendrick playing a star that went to Africa and had a run-in with a panhandler that only wanted a dollar was reflective of a big part of our society. Once Kendrick realizes the importance of the dollar entailed, it was too late, and this marked the beginning of his turn around conceptually on the album. This was one of the most powerful, tear-inducing moments on the album and one, quite frankly, that ranks among the most touching stories ever heard on wax.
When the word got out that Kendrick was nominated for a historic eleven Grammys, us in the Hip Hop community were elated at this feat. However, we also remembered the travesty that was from the Grammy Awards, in which Kendrick's debut album was slighted for Best Rap Album by Macklemore & Ryan Lewis for their debut, The Heist, a situation that even Macklemore himself was in awe of and didn't necessarily agree with the Grammy committee's decision to award him that distinction. He was nominated for seven awards, including Best New Artist, Best Rap Album, and Album Of The Year. We also still have occasional nightmares anytime it's Grammy time and one of us gets that many nominations and you're an actual ARTIST, as India.Arie was nominated seven times in 2002, and lost every nomination she was a part of, including five to Alicia Keys. While he was mostly nominated for his huge breakout hit "Alright" (which was nominated three times), he was also nominated for Album Of The Year, Best Rap Album, Best Music Video, and Best Rap/Sung Collaboration. He walked away with five awards, which was a lukewarm present for us that felt he deserved to win everything he was nominated for, especially Album Of the Year (he lost that to 1989 by Taylor Swift).  However, we were happy he even walked away with anything. We were more impressed by his unbelievable performance at the Grammys, which was talked about for the entire week after.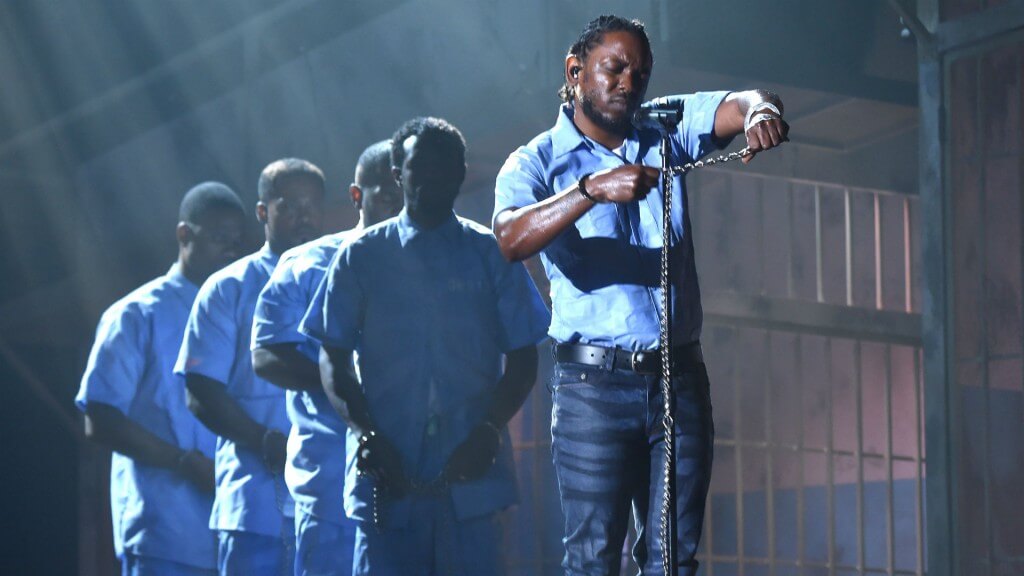 Speaking of his performances, while he would perform hits from his album, which is reaching legendary status at this time, he would also perform some tracks that had no titles with them. We felt they were unreleased cuts from the album. These were very impressive cuts, yet they were not on the album and of course heads wanted to know why. What resulted was Lebron James would go on Twitter and would tweet TDE head honcho Top Dawg about releasing these unreleased songs on one whole album, to which Top would gladly respond and in fact would release these untitled tracks that were perceived as cutting room floor cuts from TPAB. The album, untitled, unmastered, is an exceptional collection of demo tracks for the album, in which we're still trying to decipher why they weren't included (BTW, we still would like to know what is the FIYAH cut during the "Alright" video that was only thirty seconds long ?).
As you can see, the legacy of To Pimp A Butterfly is reaching landmark proportions.  This album was completely different from anything Hip Hop was presenting at that time, and still has set a standard in the game that now is the face of artistic, honest, poetic Hip Hop. This album became deeper than Hip Hop. This was Black culture. This became the face of our community, and one can only fathom if Kendrick can pull it off a third time official time (His untitled, unmastered album is considered his version of Nas' Lost Tapes album so it's not an actually full-length album of new recordings). There lies the situation. It's impossible and unfair to recreate albums like this. All we can do is hope King Kendrick can continue to push the artistic and lyrical envelope and keep pushing Hip Hop back to the art form it deserves to be classified as. You can call it overrated. You can call it historic. You can call it revolutionary. One thing is guaranteed: you'll never forget this album!