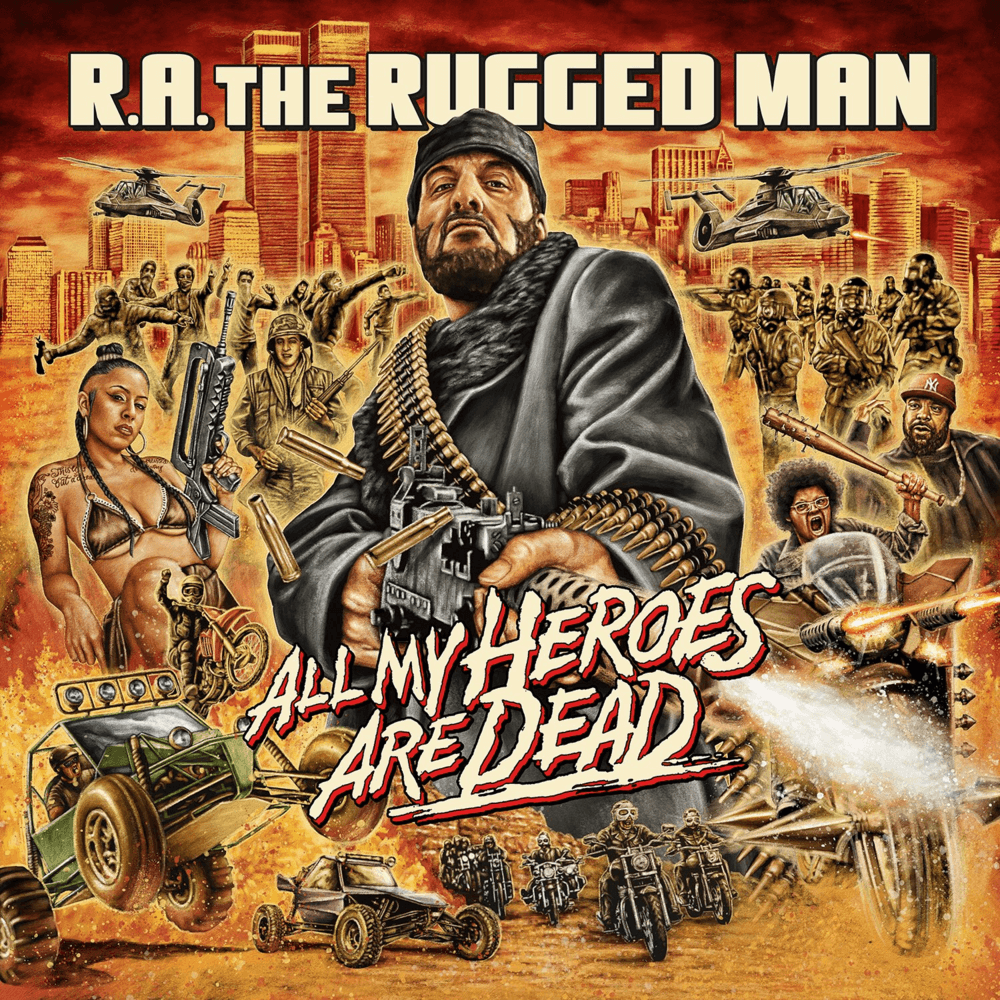 R.A. The Rugged Man is one of our favorite personalities in the Hip Hop game: he is totally authentic and says what he thinks, no matter what other people think about his opinions. Furthermore, when it comes to Hip Hop (and politics…), he knows what he is talking about – his interviews in which he continuously needs to school DJ Vlad are a testament to that.
But R.A. is not just one of our favorite personalities, he is one of our favorite emcees as well. Few, if any emcees can go bar-for-bar with R.A. The Rugged Man. His technical skill, his incredible flow, his breath control, and his bar-building skills are second to none. Due to all kinds of label woes and a strong-minded personality with an unwillingness to compromise, he only released two albums in the close to three decades he's been active in the game – but on those two albums, and on numerous guest appearances on other people's songs (where he usually bodies everybody else involved), R.A. has consistently shown an unbeatable lyrical ability. Anyone who saw him performing live knows he can rock a crowd too – as a real emcee should be able to.
So now here we have his third album, All My Heroes Are Dead. Is it on par with his previous work? Well, yes it is. All My Heroes Are Dead is a LONG album, at 22 tracks and 1 hour and 16 minutes, but there's a lot more killer more than filler. For those unfamiliar with R.A. The Rugged Man, the album may seem a bit schizophrenic. Some songs are personal or emotional, about family and fatherhood and such, other songs have some conscious and political tendencies, some are about Hip Hop (history) and some songs have that typical R.A. crass vulgarity (always with plenty of tongue-in-cheek and self-deprecating humor).
What all songs have in common though is R.A. The Rugged Man's unparalleled wordplay and lyrical skill. All My Heroes Are Dead has a host of guest artists, and unlike a lot of other rappers R.A. The Rugged Man really doesn't need any features to help carry his albums, but the feature list here is CRAZY.
Ice T. Chuck D. Kool G Rap. DJ jazzy Jeff. Brand Nubian. Ghostface Killah. Inspectah Deck. Masta Killa. Chino XL. M.O.P. Onyx. Immortal Technique. Vinnie Paz. Atmosphere. A-F-R-O. And others besides – this has to be one of the most impressive guest lists ever. Despite all these guests, this is very much a Rugged Man album, though – he is never outshined and nowhere overcrowded.
Legends Never Die was one of our favorite albums of 2013, this will be one of 2020's best. Awesome rhyming, amazing features and fire production too. Fans of mainstream pop-rap will likely not like this album, older heads and those in tune with Hip Hop history will. This is a perfect album for the HHGA demographic and an AOTY-contender.
"Some say I'm a troll and a grumpy old a-hole / 'Cause I prefer Kool Moe Dee and Melle Mel over J. Cole". Ha!
Stand-out tracks: "Gotta Be Dope", with incredible rhyming by R.A. and his protege A-F-R-O, and with cuts by the legendary DJ Jazzy Jeff, "The Slayers Club", the best posse cut you will hear this year (featuring Ice T, M.O.P., Onyx, Brand Nubian, Vinnie Paz, Chris Rivers, and Chino XL), "Dragon Fire", the other posse cut (with Ghostface Killah, Masta Killa, and Kool G Rap) that's almost as dope, "Golden Oldies" (with Atmosphere and Eamon) with all its nods to classic Hip Hop, "Who Do We Trust" featuring Immortal Technique, with its eery beat and thought-provoking lyrics, and the deep and emotional single "Wondering". 89/100
Also check: The Best Hip Hop Albums Of 2020