Before Ice Cube became a movie star and all-around celebrity, he was one of the most intense and influential rappers in the Hip Hop game. Like fellow gangsta rapper Ice T he succeeds in being a mainstream celebrity while at the same time retaining full Hip Hop credibility and the respect of the Hip Hop world. The reason for that is simple: like Ice T, he is an iconic figure in Hip Hop, who keeps representing Hip Hop in the same way he did over 30 years ago.
As a founding member of N.W.A and as one of the best emcees to ever pick up the mic, Ice Cube's legacy is epic. For this list, we only considered tracks from him as a solo artist – still hard enough to narrow it down to just 15. Anyway, this is our top 15 Ice Cube songs: no doubt a lot of classic Cube joints are missing from this list – if your personal favorites did not make the cut, just let us know in the comments!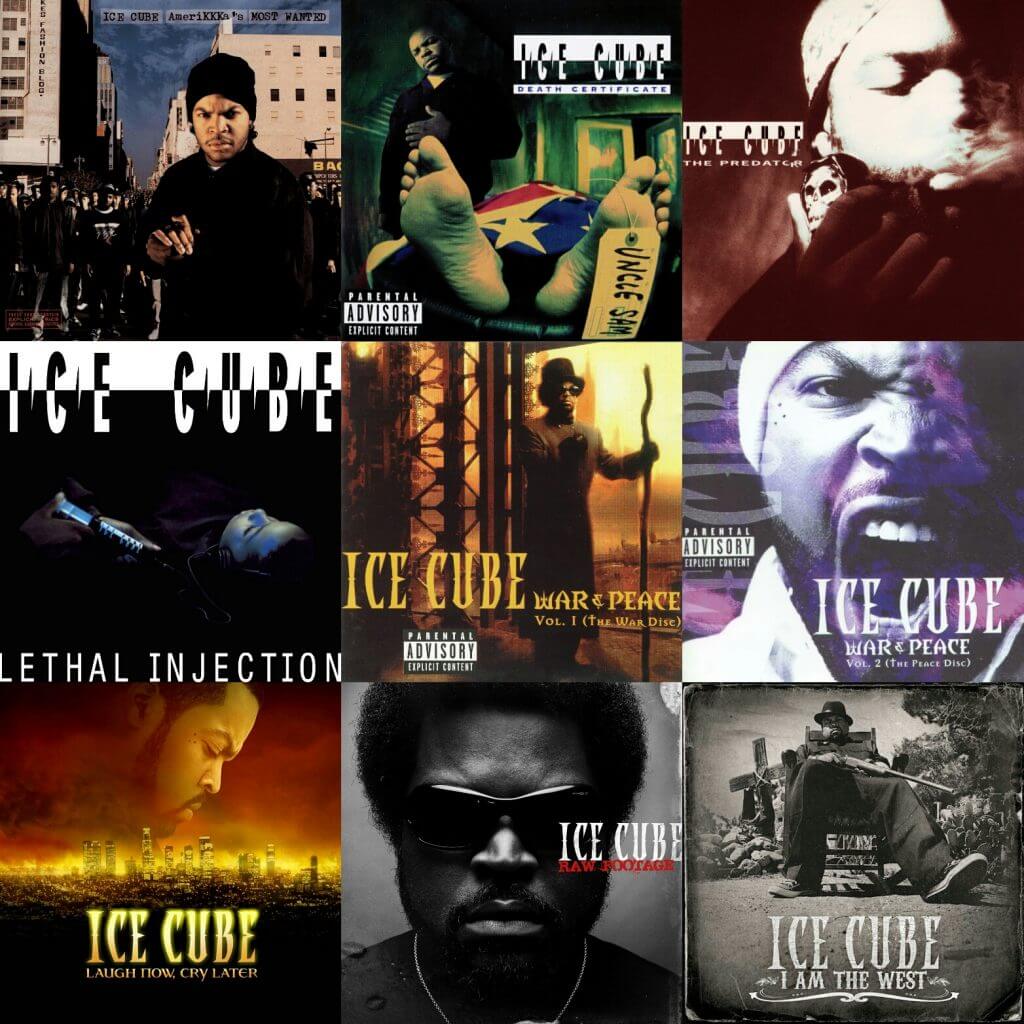 15. Hello ft Dr Dre & MC Ren (2000)
"I started this gangsta sh** / And this the motherf*****' thanks I get?"
From 2000's War & Peace Vol 2 (The Peace Disc), this N.W.A. reunion goes hard. After Eazy E died in 1995, the beef between the surviving members was squashed. On this track, they look back on their N.W.A days and the influence they had on the game.
14. Friday (1995)
You know it ain't no stoppin all tha doggs I'm droppin / It's Friday night so everythang is poppin…"
From the soundtrack of the 1995 hit movie Friday, this dope party track was the start of the beef between Ice Cube and Cypress Hill (who claimed Cube stole the hook of the song after being with Cypress Hill in the studio).
13. Endangered Species (Tales from The Darkside) ft Chuck D (1990)
"If I was old, they'd probably be a friend of me / Since I'm young, they consider me the enemy / They kill ten of me to get the job correct / To serve, protect, and break a n***** neck / Cuz I'm the one with the trunk of funk / And 'F*** Tha Police' in the tape deck…"
From Ice Cube's monumental solo debut AmeriKKKas Most Wanted, this epic collabo between the conscious voice of the East Coast and the angry voice of the West Coast delivers big time. Over a typical noisy Bomb Squad track, both emcees spit some venomous lyrics about police brutality and institutional racism against young black males.
12. This Is How We Do It (1993)
"Fool – you know how we do it…" 
In spirit and overall vibe an excellent sequel to It Was A Good Day. The stand-out track from Ice Cube's fourth album Lethal Injection.
11. No Vaseline (1990)
"Goddamn, I'm glad y'all set it off / Used to be hard, now you're just wet and soft…" 
One of the hardest dis tracks EVER. After the ugly break from N.W.A and the disses thrown at him by the remaining members on N.W.A's N****z4Life album, Ice Cube came back HARD with this song, the last track on his epic second solo album Death Certificate.
10. Once Upon A Time In The Projects (1990)
"I said 'f***' how much abuse can a n**** take / Hey yo officer you're making a big mistake / Since I had on a shirt that said I was dope / He thought I was selling base and couldn't hear my case…" 
A perfect example of Ice Cube's storytelling abilities, this is just one of the many dope tracks of Ice Cube classic debut AmeriKKKas Most Wanted.
9. Wicked (1992)
"People wanna know how come / I got a gat and I'm lookin out the window like Malcolm / Ready to bring that noise / Kinda trigger happy like the Geto Boys…" 
The energy level of this track is off the hook. The combined power of Cube's lyrics and the instrumental is just crazy. Wicked!
8. Steady Mobbin' (1991)
"Four or five n***** in a mothership / Better known as a deuce and we all wanna smother sh**…" 
The first single from Death Certificate is another one of Ice Cube's stories about his life in South Central L.A. Great beat, great vibe.
7. You Can't Fade Me (1990)
"Now the taste of alcohol is filling up my bladder / What's the date and time, it don't matter / Had a pocket full of phone numbers, I was trying to sort / To make a long story short…" 
A harsh tale of an (unwanted) pregnancy, which could be explained as a warning to use rubbers at all times. Cube once again flexes his storytelling abilities, but what makes this track really bang is the super dope beat by the Bomb Squad, with assistance on the production side of Sir Jinx and Ice Cube himself.
6. Gangsta Rap Made Me Do It (2008)
"Thank God when I bless the mic / You finally get to hear the s*** that you like / A n**** talkin bout real life so you can try to get this s*** right / Use your brain not your back use your brain not a gat…"
The first single from Ice Cube's 8th album Raw Footage. In this song, Cube addresses those who criticize gangsta rap. The point of the song is that Ice Cube thinks it is nonsense to use gangsta rap as a scapegoat for problems in society. Whether you agree or not, at least there is no doubt about how awesome this track is sonically.
5. Check Yo Self ft Das EFX (1992)
"I make dough but don't call me Dough Boy / This ain't no f****** motion picture…"
The second hit single from Ice Cube's third album The Predator, has Das EFX bring their own unique flavor to a track that uses the classic instrumental of Grandmaster Flash's The Message.
4. Jackin' For Beats (1990)
"Gimme that bass, and don't try to run up / Cause you'll get banked somethin sweet / Ice Cube and the Lench Mob, is jackin for beats…" 
Banking on the explosive success of his debut AmeriKKKas Most Wanted, Ice Cube quickly followed that album up with the EP release Kill At Will. This track has Cube talking about taking someone else's beats.
Whose beats are getting jacked here? In order: Call Me D-Nice by D-Nice, So Whatcha Sayin' by EP, Welcome to the Terrordome by Public Enemy, The Humpty Dance by Digital Underground, Funky Drummer by James Brown, Big Ole Butt by LL Cool J and Heed the Word of the Brother by X-Clan, in addition to a whole bunch of samples by various other artists.
3. Color Blind ft Threat, Kam, J-Dee, King T, Coolio & WC (1991)
"Here's another day at the stoplight / I'm lookin' in my mirror so I can see who can see me / South Central is puttin Ice Cube to the test / With four brothers in the SS…" 
An underrated track from Death Certificate, this is one of the dopest posse cuts ever and one of our favorite Ice Cube songs.
2. Dead Homiez (1990)
"Up early in the morning, dressed in black / Don't ask why? Cause I'm down in a suit and tie / They killed a homie that I went to school with (Damn!) / I tell ya life ain't sh** to fool with…" 
This heartfelt ode to homies that were killed shows a welcome other side of the too-often violence-glorifying parts of gangsta rap. Another classic track from the Kill At Will EP.
1. It Was A Good Day (1992)
"Just waking up in the morning, gotta thank God / I don't know but today seems kinda odd / No barking from the dog, no smog / And momma cooked a breakfast with no hog…"
Could there have been another choice for the no. 1 spot? This feel-good anthem is not just Ice Cube's best song, but one of the best songs in Hip Hop, period.