With the decade almost over, this is a little prelude to HHGA's list with the Top 150 Hip Hop Albums Of The 2010s, which will be published early in 2020. That list will be based on the input of different people and taking into account a bunch of different factors. The list you're about to check out is much more straightforward – this is a selection of albums released in the 2010s that I like best, based on nothing more than personal preference. So: there is no right or wrong here, these are just 18 of the albums released in this decade that I enjoyed most, and which I keep on regular rotation. Are your personal favorites on this list? Which ones do you have, would you add, or leave off?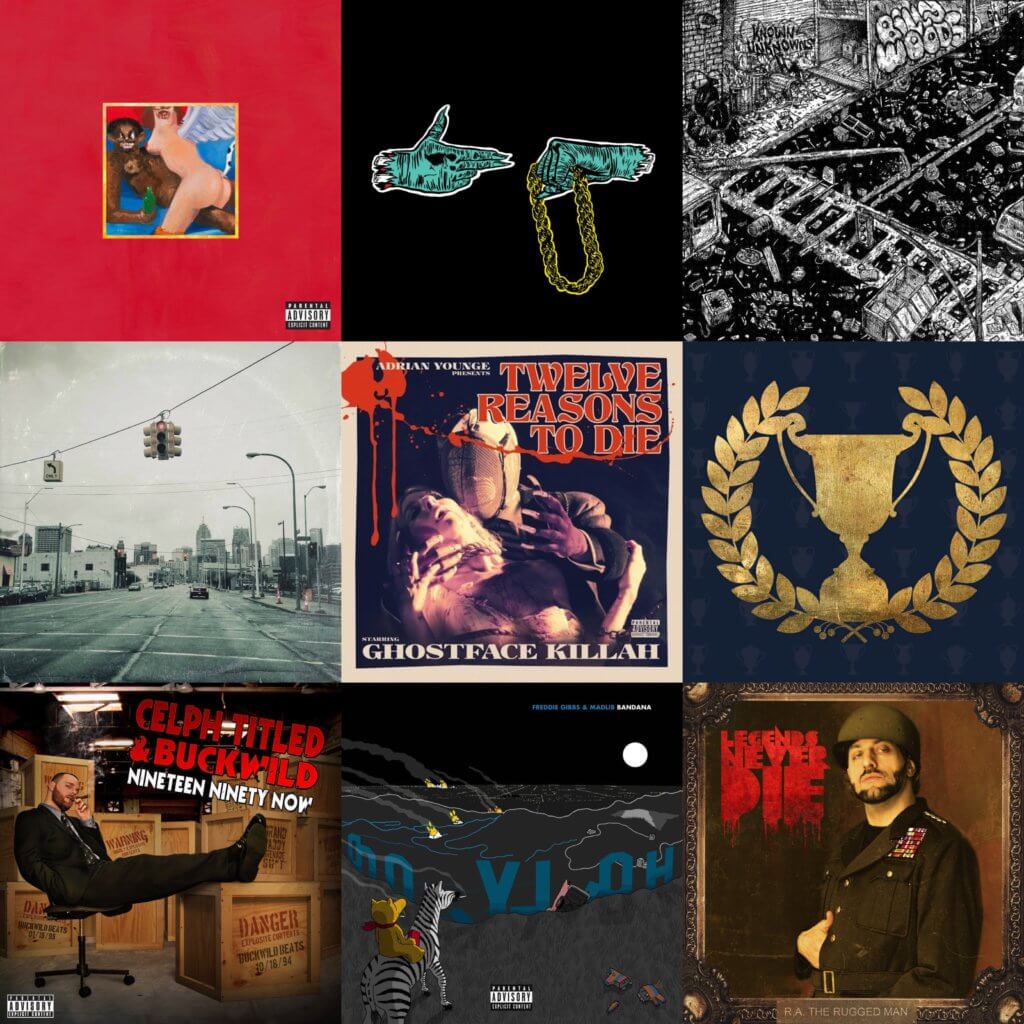 Run The Jewels - Run The Jewels 2 (2014)
Wow – who would have thought El-P and Killer Mike could outdo their collaborative debut Run The Jewels (2013)? That record was epic and unstoppable enough, but this one is even better – more layered and even darker as its predecessor. The out-of-the-box combination of El-P and Killer Mike has proven to be unbeatable. This album is sonically brilliant as well as lyrically deep and hard-hitting – RTJ2 easily is one of the best and most important Hip Hop albums of the 2010s , and my personal favorite of the decade.
CunninLynguists - Oneirology (2011)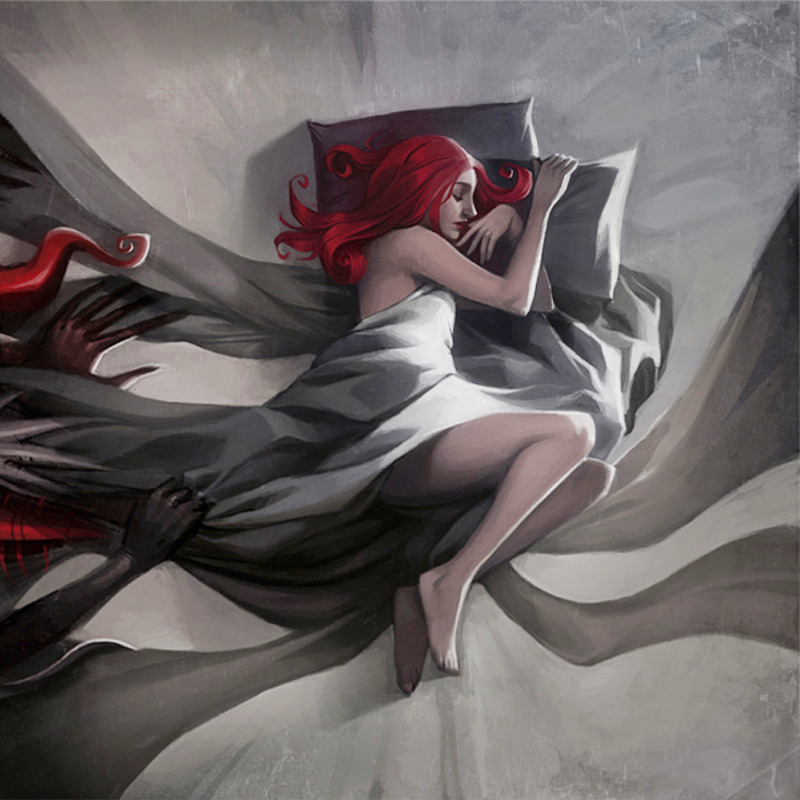 CunninLynguists is one of the most underappreciated crews in Hip Hop. Before dropping Oneirology in 2011, Deacon The Villain, Natti & Kno had already dropped four dope albums: Will Rap for Food (2001), Southern Underground (2003), A Piece of Strange (2006) and Dirty Acres (2007) – especially A Piece Of Strange is a masterpiece.
Oneirology means the study of dreams – listen carefully to tracks like "Darkness (Dream On)" and "Shattered Dreams" and you'll understand where the album's title is coming from. The lyrics and flows on Oneirology are dope as hell and the soundscapes are even better – once again it's Kno's production that's stealing the show. Oneirology is fantastic in every way – an exceptional follow-up to Kno's Death is Silent and another jewel in the CunninLynguists crown.
Rashad & Confidence – The Element Of Surprise (2011)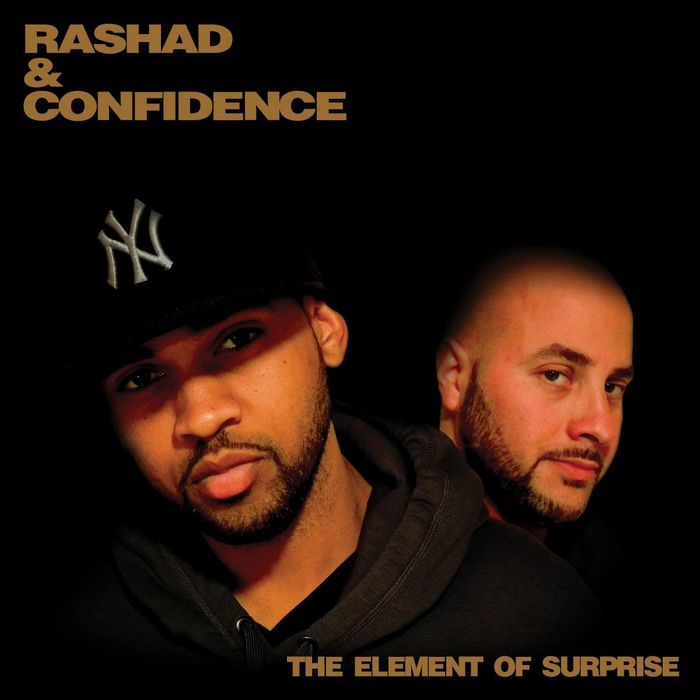 Too easily people label albums as classic these days, but this album deserves it – everything about Rashad & Confidence's The Element Of Surprise feels CLASSIC. The golden age-esque album cover, clearly inspired by Lord Finesse's debut album Funky Technician (1990), serves as a perfect primer for what you can expect. This album is boom bap Hip Hop at is very best. In the era of ringtone bubblegum rap, Rashad & Confidence stay true to Hip Hop's roots and bring the heat. The Element Of Surprise is produced to perfection with that early 90's feeling – echoing the best work of legends like DJ Premier and Pete Rock – and Rashad's great rhyming skills and storytelling matches Confidence's top-notch production.
The Element Of Surprise is pure Hip Hop. Golden Age Hip Hop fans who turned away from Hip Hop around the turn of the millennium because all the mainstream offered up was watered-down dumbed-down rap music, should check out albums like The Element Of Surprise and have their faith in and enthusiasm about Hip Hop restored.
I said The Element Of Surprise is a true classic and I will stick to that claim, even though there is one aspect that doesn't fit classic status: recognition and commercial success. It's a shame that a beautiful album like this has never reached a large audience. Wack albums released in the same year from Lil Wayne (Tha Carter IV) and Drake (Take Care) went multiplatinum, while The Element Of Surprise – superior in every aspect but sales – sold next to nothing.
Kno – Death Is Silent (2010)
On the four CunninLynguists albums preceding this project, Kno already amply proved that he can put a big stamp on an album in terms of production. In 2010 the CunninLynguists producer released Death Is Silent: a solo album on which he also accounts for a large part of the lyrics.
The production on this album is nothing short of spectacular, and the beats and the stories blend together like gears on a machine. "Loneliness", "Rhythm Of The Rain", "Spread Your Wings", "Graveyard", "I Wish I Was Dead", "They Told Me" and "The New Day" are all highlights, but this album's strength is its consistency. The whole album has the same feel, without ever sounding monotonous. This is an album to zone out on, to press play and let it run from start to finish – no need to skip anything, there are no fillers tracks and no stupid skits. Of course CunninLynguists colleagues Natti and Deacon The Villain make appearances, as do regular collaborators like Tonedeff and Substantial. But even if Kno will always be a producer before he is an emcee, he can carry an album on the microphone as well. He calls himself the Emo Premo on one of the tracks, providing lyrics that should shame most full-time rappers.
Death Is Silent is a true gem. Anyone with an interest in quality music with substance will like, if not love this melancholic masterpiece.
Run The Jewels - Run The Jewels 3 (2016)
The best record of 2016, Run The Jewels' third album is another hard-hitting winner – it's crazy to think how consistent their projects have been. El-P and Killer Mike's chemistry remains as great as it has always been, on this album they once again do pretty much everything right. El-P's production is amazing (of course), the lyrics are deep and thought-provoking, the flows are as good as ever, and the features all work. Even if RTJ2 is my favorite Run The Jewels album, RTJ3 is not far behind.
Freddie Gibbs & Madlib - Piñata (2014)
Typically I don't much care for gangsta rap or coke rap or whatever label is attached to tough-guy crime rhymes, but the fruits of the out-of-the-box collaboration between Gary, Indiana-based gangsta rapper Freddie Gibbs and the Oxnard, California native, left-field production-genius Madlib are a firm exception. As with Madlib's collaboration with MF DOOM, which resulted in the best Hip Hop album of the 2000s, his partnership with Freddie Gibbs leads to a product that is bigger than the sum of its parts. On Piñata Gibbs' coarse flow works perfectly with Madlib's soulful and funky soundscapes – Madlib's best work since 2004's Madvillainy if you ask me. Guest spots by the likes of Scarface, Raekwon, Danny Brown, Ab-Soul, and Earl Sweatshirt (among others) add extra flavor, which results in 2014's second-best album (just after RTJ2). I could have done without some of the skits, but all-in-all this powerhouse of an album truly is a masterpiece.
Killer Mike – R.A.P. Music (2012)
I love it when everything I value in Hip Hop comes together in one project. Killer Mike's R.A.P. Music (Rebellious African People Music) is such a project, one that fires on all cylinders. Hard-hitting, kick-ass beats for Killer Mike to spit his uncompromising and thought-provoking lyrics over, this is what Hip Hop is all about, reminiscent of the fire and fury early Ice Cube and Public Enemy albums brought – this album has that same sense of intensity and urgency.
Killer Mike was already able to boast a strong discography before the release of R.A.P. Music, but this album is on another level. His synergy with DefJux head-honcho El-P is awesome – something they would continue to prove with the excellent Run The Jewels albums that would follow this collaboration. Killer Mike's lyrics are raw and unapologetic yet intelligent and socially conscious at the same time – and the ingenious soundscapes provided by El-P only serve to strengthen Killer Mike's diverse lyrical content. R.A.P. Music was too real to attract big-time mainstream media attention, but it is an important album and a modern classic.
Kendrick Lamar – Good Kid, M.A.A.D. City (2012)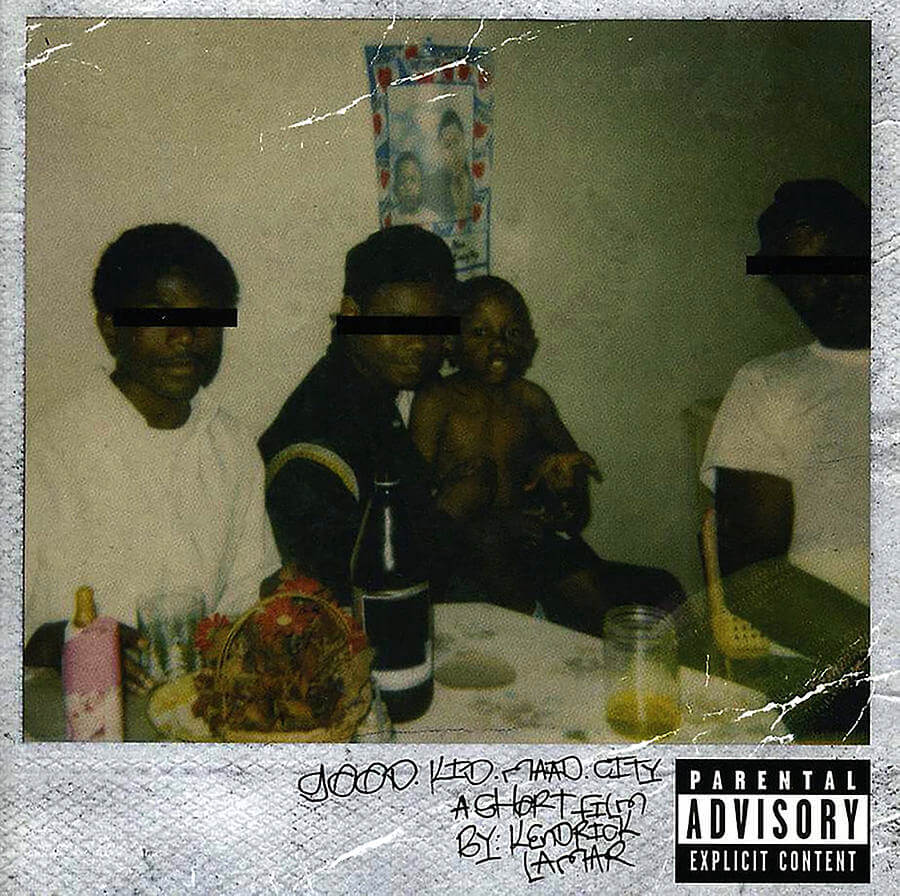 Arguably the biggest release of 2012, Kendrick Lamar's sophomore album – and major-label debut – deserves to be heralded as a modern classic. Billed as a "short film by Kendrick Lamar" on the album cover, GKMC is a concept album that follows the story of Lamar's teenage experiences in the gang- and drug-infested streets of his native Compton.
GKMC is a total experience and not just a collection of songs. A perfect example of a whole that is greater than the sum of its parts. That's not to say the individual songs on the album are lacking in anything – in fact, there are plenty of classic cuts on this one. The singles "Backseat Freestyle" and "Swimming Pools (Drank)" are easy favorites of course, but tracks like "Money Trees", "m.a.a.d. City" (with MC Eith),  "Compton" (with Dr. Dre) and the 12-minute epic "Sing About Me, I'm Dying Of Thirst" are awesome too – as is the production of the album from start to finish. The album cover and the inside sleeve work in harmony with the narrative of the album, which is a great touch. GKMC is a balanced and cohesive piece of work, that needs multiple listens to fully appreciate its intricacies and Kendrick's talent and skill.
Even if Kendrick Lamar's third studio album To Pimp A Butterfly (2015) received higher acclaim all around, GKMC is my personal favorite Kendrick album. I appreciate the scope and ambition and the cultural significance of TPAB, but for me, GKMC is a smoother and therefore better listening experience – one I return to much more often.
Rapsody - Laila's Wisdom (2017)
Even though 2019's Eve comes close, Laila's Wisdom remains my favorite Rapsody album. On Laila's Wisdom, Rapsody tackles a wide array of topics personal to her, over lush jazzy soundscapes mostly produced by Jamla-chief 9th wonder. Rapsody is a tier-A emcee with diverse delivery skills and she's lyrically potent enough to carry an hour-long album with ease, even if there are some great guest appearances by heavyweights such as Black Thought, Kendrick Lamar, Anderson .Paak, and Busta Rhymes to spice things up some. The album does lose some steam toward the end of the playlist, but no matter: Laila's Wisdom is an essential modern Hip Hop album that deserves to be mentioned in the same breath as Kendrick Lamar's Good Kid M.A.A.D. City and To Pimp A Butterfly.
Kanye West - My Beautiful Dark Twisted Fantasy (2010)
Because he is such an idiot excentric genius it's not difficult to dislike Kanye West, but it's impossible to deny the brilliance of this album. I have never been a big fan of Kanye West, but I'm not a hater either. I think his first three albums are pretty great (even if they all have flaws), but I don't care at all about his work after My Beautiful Dark Twisted Fantasy (although The Life Of Pablo is growing on me). My Beautiful Dark Twisted Fantasy sits in the middle of his career as an artist, and it is his absolute best work if you ask me.
Run The Jewels - Run The Jewels (2013)
El-P and Killer Mike exhibit a great deal of synergy and potential across this first release as Run The Jewels. Coming after their successful collaboration on Killer Mike's R.A.P. Music, forming a duo was nothing but a logical step. Although not even their strongest outing, Run The Jewels still is one of the better projects of the decade, laying the groundwork for even better things to come. Like RTJ2 and RTJ3, this project is aging very well, and with three straight near-perfect albums under their belts, there can be little discussion about the fact Run The Jewels is one of the greatest (if not THE greatest) duos in recent Hip Hop history. No doubt about it: Run The Jewels is my favorite act of the 2010s.
billy woods – Known Unknowns (2017)
Known Unknowns is my favorite album of 2017, unfortunately completely overlooked by most Hip Hop fans and noticed only by those heads who dig deep or those who have always been following the enigmatic billy woods.
billy woods' debut album Camouflage (2003) and the albums that followed in the 2000s were all fine enough, but it was the excellent History Will Absolve Me (2012) that started a new level of excellence in woods' career. Dour Candy (2013), Today, I Wrote Nothing (2015), Hiding Places (2019) (with Kenny Segal), and Terror Management (2019) are all top quality Hip Hop albums. Together with the projects he dropped as Armand Hammer (a collaboration with rapper/producer  Elucid) – Race Music (2013), Rome (2017) and Paraffin (2018) – and Known Unknows, that's eight straight very dope projects in the 2010s that should appeal to all Hip Hop fans who had enough of generic empty-headed mainstream rap.
Substance over fluff, creativity over genericness, intelligence over materialism – that's what characterizes billy woods, and knowing that dumb sh** dominates the mainstream means little chance on mainstream exposure for woods' music. Admittedly woods' music may be an acquired taste, but Known Unknowns is one of his easiest-to-get-into albums, mainly because of Blockhead's consistently dope and reasonably accessible production. Don't sleep on billy woods.
Apollo Brown - Sincerely, Detroit (2019)
The most complete portrait of the Detroit Hip Hop scene ever? With 56 featured Detroit artists (with Eminem being the most notable absentee), it will be hard to argue against that claim. Sincerely, Detroit is Apollo Brown's tribute to his hometown and a love letter to the culture. From different eras and different walks of life, veterans and newcomers alike lend their styles and deliveries to this 21 track album. Featuring artists like Royce Da 5'9", Black Milk, Trick Trick, Elzhi, Slum Village, Guilty Simpson, One Be Lo, Bronze Nazareth, Kuniva, Clear Soul Forces, Boog Brown and many, many more, Sincerely, Detroit is a nearly comprehensive look at the styles and flavors of Detroit.
In this day and age of short hype-circles and short attention spans Sincerely, Detroit is a project with extraordinary substance – and not just because it runs for 78 minutes. Where lots of artists are content with dropping a bunch of 25-minute projects each year to stay in the public for as much time as possible, Apollo Brown goes the other way: taking the time to craft a work of quality that really resonates and that will undoubtedly prove to have longevity: Sincerely, Detroit will not fall victim to those short hype circles – you just wait and see.
Sincerely, Detroit has 21 tracks – 20 full songs and an intro – and each and every track is beautifully put together, showing and proving that Apollo Brown is a master at his craft. His ear for detail is evident, and you can sense the passion and love that went into the creation of this album. 78 minutes is not too long if every single song is exquisitely executed. Apollo Brown's smooth boom-bap is the common thread that holds this album together and from the host of featured artists nobody disappoints – who shines most will likely be dependent on the personal preference of the listener. Among our favorite tracks are "God Help Me", "Dominance" and "Can't Lose" – not coincidently tracks on which DJ Los adds extra flavor with some dope turntable work – but there are no filler tracks on this gem of an album.
Apollo Brown has been one of Hip Hop's most consistent producers for over a decade now and with this project, he firmly solidifies his status as one of the game's top dogs. My favorite album of 2019.
Ghostface Killah & Adrian Younge - Twelve Reasons To Die (2013)
Ghostface Killah is Wu-Tang Clan's most prolific and most consistent emcee. Over the years he has put together an incredibly solid discography, with a lot of highs and very few lows. For me, Twelve Reasons To Die is Ghostface's best project of the 2010s, on par with 2006's Fishscale and in his catalog third only after Ironman (1996) and Supreme Clientele (2000).
Ghost crafted this concept album (based on a comic book with the same title), narrated by RZA, and with vintage-sounding production from famed producer Adrain Younge. Thanks to the narrative thread, the album flows with great cohesion. Appearances from the likes of Cappadonna, Masta Killa, Inspectah Deck, and U-God on tracks like "Blood On The Cobblestones", "Revenge Is Sweet", "Murder Spree", and "The Center Of Attraction" help make this album one of 2013's best, and one of my favorites of the decade.
Apollo Brown & O.C. - Trophies (2012)
For me, Apollo Brown is one of the best producers in the game today. The number of top-quality projects he has put his stamp on in this decade is amazing. His best work of the 2010s include Gas Mask (with DJ Soko & Journalist 103 as The Left) and Brown Study (with Boog Brown) in 2010, Clouds and Daily Bread (with Hassaan Mackey) in 2011, Dice Game (with Guilty Simpson) in 2012, Ugly Heroes (with Red Pill & Verbal Kent as Ugly Heroes) in 2013, Blasphemy (with Ras Kass) in 2014, Words Paint Pictures (with Rapper Big Pooh) and Grandeur in 2015, Everything in Between  (as Ugly Heroes) and The Easy Truth (with Skyzoo) in 2016,  Anchovies (with Planet Asia) in 2017,  No Question (with Locksmith) and Mona Lisa (with Joell Ortiz) in 2018, and of course what is arguably his best work so far: Sincerely, Detroit in 2019. 
Besides Sincerely, Detroit my favorite Apollo Brown project of the decade is Trophies, his 2012 collaboration with D.I.T.C. legend O.C. O.C. is one of the most slept-on emcees in Hip Hop ever: he had two near-perfect albums in the 1990s with Word… Life (1994) and Jewelz (1997) and he is still going strong as his latest projects Same Moon Same Sun (2017) and A New Dawn (2018) prove. Like on those two massively slept-on albums, on Trophies shows he is an emcee that can easily hold down an album by himself – he doesn't need guests to add flavor or variety. Trophies is 16 tracks of straight to the point Hip Hop; no frills, no gimmicks. There are no guest emcee appearances, no hook singers, no skits, no wasted moments – and despite the album is about one hour long, it never gets boring. The album's entire focus is on beats and rhymes, the result is one of the best neo-boom-bap albums of the decade. I love Trophies. 
Celph Titled & Buckwild - Nineteen Ninety Now (2010)
Legendary crate digger Buckwild came through with a sh*tload of vintage 90s beats for New York's Celph Titled's official solo-debut full-length (after the 2006 compilation The Gatalog: A Collection of Chaos). This album is simply excellent – similar to Trophies, it offers a dose of Hip Hop in its purest form: 16 tracks with nothing but dope beats, scratches, and rhymes. Well-placed guest spots from fellow Demi Godz and Army Of The Pharaohs members Vinnie Paz, Esoteric and Apathy, as well as features from seasoned emcees as R.A. The Rugged Man, Sadat X, Grand Puba, A.G. Diamond D, O.C., Chino XL, and Treach, combined with Buckwild's stellar production make this album one of 2010's best Hip Hop albums – together with Kno's Death Is Silent and Kanye's MBDTF. 
Nineteen Ninety Now rarely gets mentioned when the decades best Hip Hop albums are discussed – so here it goes: this one easily belongs to my top 25 albums of the 2010s.
Freddie Gibbs & Madlib - Bandana (2019)
The first full-length collaboration album of the Freddie Gibbs and Madlib, 2014's Pinata, is a modern classic. The question was if they could do it again – the answer is a resounding yes. Bandana is cut from the same cloth as its seminal predecessor and is almost as good. With Pinata they showed their apparent differences only served to create a result that was bigger than the sum of the two parts; with Bandana they prove it was not a fluke.
R.A. The Rugged Man - Legends Never Die (2013)
R.A. The Rugged Man is an exceptional emcee – better than your favorite rapper. Incredible flow and wordplay, with lyrics that are clever, humorous, self-depreciative, personal, and provocative – this guy really is something else. The beats on this album are dope too, Legends Never Die is one of the most entertaining albums of the past decade if you ask me, one I have on constant rotation.
Other Favorites
The Roots – How I Got Over (2010)
The Left – Gas Mask (2010)
Roc Marciano – Marcberg (2010)
Skyzoo & Illmind – Live From The Tape Deck (2010)
Boog Brown & Apollo Brown – Brown Study (2010)
Big Boi – Sir Lucious Left Foot: The Son of Chico Dusty (2010)
Common – The Dreamer / The Believer (2011)
Pharoahe Monch – W.A.R. (We Are Renegades) (2011)
Evidence – Cats & Dogs (2011)
Thurz – L.A. Riots (2011)
Phonte – Charity Starts At Home (2011)
Doomtree – No Kings (2011)
Murs – Love & Rockets Vol 1: The Transformation (2011)
Rapsody – The Idea Of Beautiful (2012)
Roc Marciano – Reloaded (2012)
Sean Price – Mic Tyson (2012)
Nas – Life Is Good (2012)
Big K.R.I.T. – Live From The Underground (2012)
Ab-Soul- Control System (2012)
Black Milk – No Poison No Paradise (2013)
billy woods – Dour Candy (2013)
Earl Sweatshirt – Doris (2013)
Demigodz – KILLmatic (2013)
Czarface – Czarface (2013)
Purpose & Confidence – Purpose & Confidence (2013)
El-P – Cancer 4 Cure (2013)
Ugly Heroes – Ugly Heroes (2013)
Pharoahe Monch – PTSD (2014)
Damani Nkosi – Thoughtful King (2014)
Dilated Peoples – Directors Of Photography (2014)
Hail Mary Mallon – Bestiary (2014)
Big K.R.I.T. – Cadillactica (2014)
Sage Francis – Copper Gone (2014)
Schoolboy Q – Oxymoron (2014)
Skyzoo & Torae – Barrel Brothers (2014)
PRhyme – PRhyme (2014)
Army Of The Pharaohs – In Death Reborn (2014)
Kendrick Lamar – To Pimp A Butterfly (2015)
Joey Bada$$ – B4.DA.$$ (2015)
Earl Sweatshirt – I Don't Like Shit, I Don't Go Outside (2015)
Czarface – Every Villain Needs A Hero (2015)
Scarface – Deeply Rooted (2015)
Apollo Brown – Grandeur (2015)
Lupe Fiasco – Tetsuo & Youth (2015)
Oddisee – The Good Fight (2015)
billy woods – Today, I Wrote Nothing (2015)
Common – Black America Again (2016)
Ryu – Tanks For The Memories (2016)
Apollo Brown & Skyzoo – The Easy Truth (2016)
ATCQ – We Got It From Here… Thank You 4 Your Service (2016)
Aesop Rock – The Impossible Kid (2016)
Czarface – A Fistful Of Peril (2016)
Elzhi – Lead Poison (2016)
Danny Brown – Atrocity Exhibition (2016)
Noname – Telefone (2016)
Kool Keith – Feature Magnetic (2016)
De La Soul – …And The Anonymous Nobody (2016)
CunninLynguists – Rose Azura Njano (2017)
O.C. – Same Moon, Same Sun (2017)
Sean Price – Imperius Rex (2017)
Big K.R.I.T. – 4Eva Is A Mighty Long Time (2017)
Blacastan & Stu Bangas – The Uncanny Adventures Of Watson & Holmes (2017)
O.C. – A New Dawn (2018)
Benny – Tana Talk 3 (2018)
August Greene – August Greene (2018)
Evidence – Weather Or Not (2018)
Masta Ace & Marco Polo – A Breukelen Story (2018)
Chuck Strangers – Consumers Park (2018)
Czarface & MF DOOM – Czarface Meets Metal Face (2018)
Royce 5'9″ – The Book Of Ryan (2018)
Phonte – No News Is Good News (2018)
Armand Hammer – Parafin (2018)
Noname – Room 25 (2018)
Saba – Care 4 Me (2018)
Rapsody – Eve (2019)
Gang Starr – One Of The Best Yet (2019)
Little Brother – May The Lord Watch (2019)
Skyzoo & Pete Rock – Retropolitan (2019)
Bobby J From Rockaway – Summer Classics (2019)
Epic Beard Men – This Was Supposed To Be Fun (2019)
billy woods & Kenny Segal – Hiding Place (2019)