Largely a second-generation crew of Hip Hoppers and producers from the Bronx, the "Diggin' In The Crates" crew consisted of Diamond D, Lord Finesse, Showbiz and AG, Buckwild, Fat Joe, Big L and O.C. Nearly all their releases share a common musical DNA – fat and crisp beats, short, staccato samples that repeat frequently within the verses, and call and response choruses. Honorary members Big Pun, Armageddon, Freddie Foxxx, and frequent contributor DJ Premier – just to name a few – added to a formidable roster of MC's and producers that preferred their underground status to the growing commercialization of Hip Hop during the 90's.
Though critically underrated and not spoken of enough as a crew, even after creating some of the most iconic records of the Golden Era, real heads understand the DITC movement and hold on close to the standard they helped create.
Many of the DITC crew are still going strong, with A.G., Showbiz and O.C. all having dropped dope albums in 2018 – especially O.C.'s New Dawn is excellent: one of the best albums of this year, in our opinion.
In this article, we take a look at the 10 best albums original DITC members released in the 1990s.
10. Fat Joe - Jealous One's Envy (1995)
Jealous One's Envy is the second studio album by Fat Joe. Fat Joe's best album is dope, a typical mid-nineties NYC boom bap album – more polished and consistent than his debut album and less commercial sounding than Jealous One's Envy's follow-up Don Cartagena (which was a banger nonetheless). A few filler tracks aside, Jealous One's Envy has plenty of dope tracks, with "Watch Out" being notable for having the first ever appearance on wax by Fat Joe's close collaborator Big Pun.
9. Diamond D - Hatred, Passions & Infidelity (1997)
One of the most under-appreciated albums to come out of the D.I.T.C. camp. Sure, Diamond D's second album is not Stunts, Blunts & Hip Hop, but most albums pale in comparison to that monumental masterpiece – so to judge Hatred, Passions & Infidelity harshly because it's not on par with its classic predecessor is hardly fair.
Hatred, Passions & Infidelity's biggest problem arguably was timing. Had it been released in 1994 or 1995 at the height of the NYC Hip Hop Renaissance, or even in the past decade, it probably would have gained more recognition. As it was, the album came out in 1997: an era when Puffy's shiny suit rap was taking over and when the Cash Money and No Limit rap factories seriously ramped up their production – an era in which Diamond D's traditional blend of boom bap was pretty much ignored.
Be that as it may: Hatred, Passions & Infidelity is a great album, that has aged rather well. Eye catchers are the single "The Hiatus" and the Kid Capri-produced D.I.T.C. posse cut "5 Fingas of Death", other highlights include tracks like "No Wonduh", "Flowin", "Gather Round", and the Phife Dawg featuring "Painz & Strife".
8. Lord Finesse - Return Of The Funky Man (1992)
After getting dropped from the Wild Pitch label Lord Finesse came back strong with his second album Return Of The Funky Man. Finesse's braggadocious rhymes are on point, with the often hilarious punchlines he was known for, and production (by Finesse, Showbiz, Diamond D, with some help from Aladdin and SLJ) is what you would expect from the DITC crew – nothing less than top-notch. Great beats, great rhymes – Return Of The Funky Man is a great album.
Return Of The Funky Man is not on Spotify.
7. Show & A.G. - Goodfellas (1995)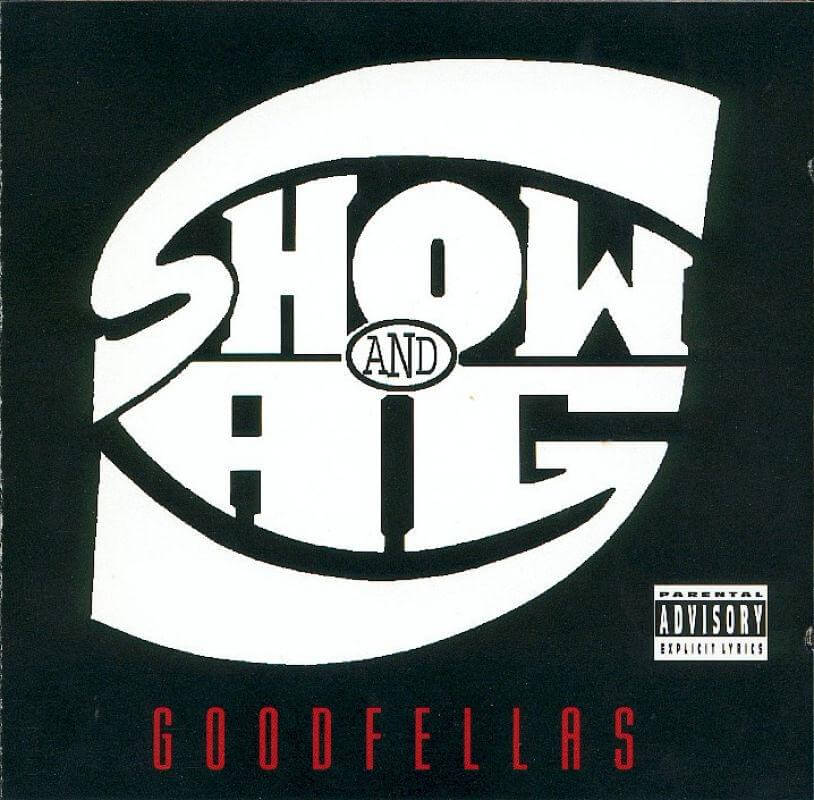 After their critically acclaimed debut album Runaway Slave in 1992, DITC members Show & AG came back strong with this sophomore effort. Sorely slept on and underrated, Goodfellas offers boom bap Hip Hop of the highest quality. Markedly darker sounding than their almost perfect debut record, Goodfellas is an excellent album in its own right.
6. O.C. - Jewelz (1997)
It can be argued that the labels 'slept on' and 'underrated' are overused and applied to far too many emcees – who are either not very good or not slept on at all. O.C. is an underrated emcee who well deserves the label though.
After his perfect (and yes – slept on) debut Word… Life in 1994, he returns with another outstanding (and slightly more accessible) album. Production is tight and comes from renown producers like DJ Premier, Lord Finesse, Showbiz, Buckwild, Da Beatminerz. Guest appearances from Big L, Organized Konfusion and Freddie Foxxx are the icing on the cake. This is one of those albums that have aged really well, like a fine wine.
5. Big L - Lifestylez Ov Da Poor And Dangerous (1995)
The classic debut of one of the most naturally gifted and best punchline emcees ever. Big L, rest in peace.
4. Lord Finesse - Funky Technician (1990)
Lord Finesse is one of the sickest punchline emcees in Hip Hop history, together with fellow DITC member Big L. Funky Technician can be seen as the first DITC album, and a dope album it is, start to finish. Finesse's braggadocious rhymes and ill punchlines are second to none and the production (mainly by Diamond D and Showbiz) is that typical early 90s NYC style, with additional work on the boards by DJ Premier on some tracks. Production-wise this album is a little bit rougher around the edges than Finesse's sophomore effort Return Of The Funky Man, but that roughness actually adds to the authenticity and the 'real Hip Hop vibe' of the album.
Funky Technician is woefully underrated, and not often mentioned when early 90s classics are discussed. It should be though – true Hip Hop heads undoubtedly know what's up and will surely have this one in their collection.
Funky Technician is not available on Spotify. 
3. Diamond D - Stunts, Blunts & Hip Hop (1992)
Released in the same year when a certain West Coast producer released an now classic album that was more about production than about the lyrical content, Diamond D did the same in New York for the East Coast – the biggest difference being that The Chronic has become a Hip Hop icon and Stunts, Blunts & Hip Hop merely a classic for those in the know.
But make no mistake: Stunts, Blunts & Hip Hop is a classic. Like Dr Dre, Diamond D always was a producer first and an emcee second and it shows. Like on The Chronic, the beats on this joint are flawless from start to finish. Stunts, Blunts & Hip Hop doesn't have a bad track on it, and at 23 tracks and almost 70 minutes, that's really saying something.. This is a true gem of Hip Hop's Golden Age.
Stunts, Blunts & Hip Hop is not available on Spotify. 
2. Showbiz & AG - Runaway Slave (1992)
This is a flawless album: top-notch production from Showbiz (and Diamond D) and a mix of clever, conscious and fun lyricism by A.G. and Showbiz, with guest appearances from Lord Finesse and Big L (among others) – this is the single-best DITC album in a series of excellent albums. Amazingly consistent and entertaining throughout. The album flew well under the mainstream radar but was quickly recognized as a classic by true heads. Quintessential NYC early 90's Hip Hop.
1. O.C. - Word... Life (1994)
O.C.'s Word… Life was released in the same year and is very similar in many ways to Nas' Illmatic (excellent beats, clever lyricism, overall cohesiveness), but incorrectly much less revered. Maybe due to insufficient promotion by O.C.'s Wild Pitch label, maybe because the competition in 1994 was so awesome – whatever the reason: Word… Life flew so far under the radar it's ridiculous. This easily is one of the best Hip Hop albums of the nineties.
Honorable Mentions
Fat Joe – Represent (1993)
Lord Finesse – The Awaking (1996)
Fat Joe – Don Cartagena (1998)
Show & AG – Full Scale (1998)