Dr. Dre, RZA, Pete Rock, Marley Marl, J Dilla – just to name a few; there are a lot of legendary producers in the Hip Hop game who are responsible for enriching the world with timeless music. There is only one who arguably tops all those names: DJ Premier.
DJ Premier is the innovator of the "scratched-sample hook", which makes his cuts immediately and eminently recognizable, and Premier has produced tracks for basically everyone who means something in Hip Hop: Nas, The Notorious BIG, KRS One, Jay Z, Big Daddy Kane, Mobb Deep, M.O.P., Snoop Dogg, Rakim, The Lady of Rage, Biz Markie, Lord Finesse, Big L, Mos Def, Bahamadia, O.C., Fat Joe, Dilated Peoples, AZ, Bun B, The Game, Ludacris, Joey Bada$$, Evidence and many more. More often than not the Premier-produced tracks are stand-outs on all these artists albums.
In this article we focus on 9 albums more or less completely produced by DJ Premier, 9 albums that should be owned by any self-respecting fan of Hip Hop music.
We could (and maybe should) have included Group Home's Livin' Proof album, which featured some of Premier's best soundscapes ever (11 of the 14 tracks on the album were produced by him), but the album was let down by subpar rhyming, which is why we left it off. Also left off this list are Gang Starr's first and last album – No More Mr. Nice Guy and The Ownerz; not because these albums don't deserve to be listed but because Gang Starr's 4 best albums are representation enough here of Guru's and Premier's combined efforts. With that said, let's get into it!
Gang Starr "Step In the Arena" (1991)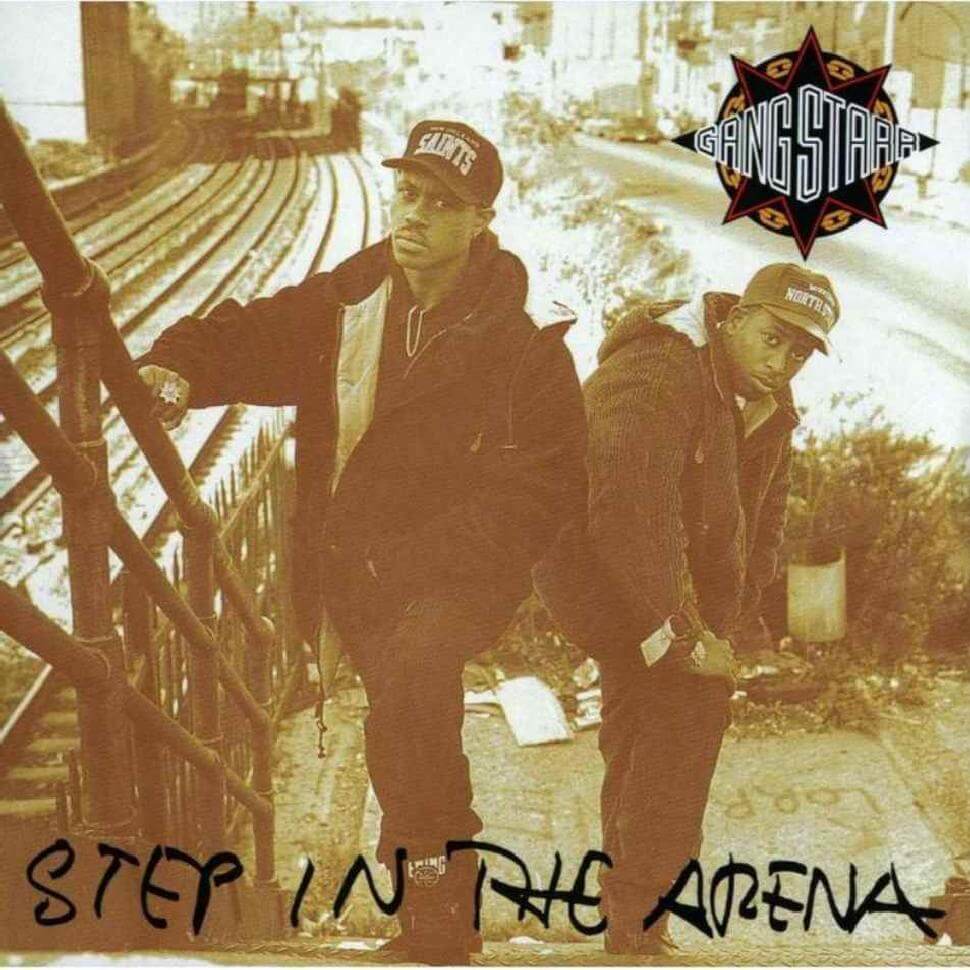 On their second album, Gang Starr really found their own sound. Guru's supremely recognizable monotone voice and DJ Premier's signature style of DJing and producing fully come together here. Step In The Arena was a groundbreaking album sonically and the real start of Gang Starr's near-flawless discography.
This is a long album but there are no filler tracks or unnecessary and annoying skits, you can listen to the whole album without having to skip a single song or interlude – the true mark of a classic. With absolute epic cuts like "Take A Rest", "Step In The Arena", "Execution Of A Chump", "Just To Get A Rep", "Who's Gonna Take The Weight", "Check The Technique" and "Form Of Intellect", Step In The Arena simply is unbeatable.
Gang Starr "Daily Operation" (1992)
Another album, another classic. Deep lyrics and deep beats – a testament to Guru's hypnotizing and intelligent emceeing and DJ Premier's superiority on the boards. If Step In The Arena was their breakthrough album, Daily Operation is the one that firmly secured Gang Starr's place among Hip Hop's elite.
After discovering their signature sound on Step In The Arena, Premier and Guru perfected it here, dropping another gem that can be played from beginning to end without having to skip any tracks. "Take It Personal", "Soliloquy Of Chaos" and "Ex Girl To Next Girl" alone are enough to ensure the classic status of this album, but knowing the rest of the tracklist is completely up to par, makes Daily Operation a flawless part of Gang Starr's impressive catalog.
Jeru The Damaja "The Sun Rises In The East" (1994)
In a year when Premier dropped another excellent Gang Starr album with Hard To Earn, he reserved his very best beats for Brooklyn emcee Jeru The Damaja. Jeru's intellectual street flows combined with Premier's best instrumentals result in a tight 10- song album with no filler tracks.
Gang Starr "Hard To Earn" (1994)
Markedly darker – both sonically and lyrically – than their previous albums, Hard To Earn is just one of Gang Starr's 5-star efforts. Guru and especially DJ Premier are in top form as always, cementing their status of one the most consistent acts in Hip Hop ever. 1994 may just have been Preemo's very best year in terms of quality output (also think of his work for Jeru, Nas, Biggie and others).
With cuts like "Code Of The Streets","Suckas Need Bodyguards", "DWYCK", "Tonz 'O' Gunz" and especially the uber-classic "Mass Appeal", Hard To Earn is one of the four timeless Gang Starr records.
Jeru The Damaja "Wrath Of The Math" (1996)
In an era when consciousness in Hip Hop was on its way out in favor of tales of violence and materialism, Jeru kept doing his thing. Wrath Of The Math may not be quite the classic Jeru's debut The Sun Rises In The East was, but it is an excellent album in its own right.
Insightful and profound, Jeru is relentless in his condemnation of gangsta posturing and the pimping out of Hip Hop by the big money suits, a condemnation which turned out to be highly prophetic. Outstanding lyricism and equally great production by DJ Premier – Wrath Of The Math is an album that is not to be forgotten.
Gang Starr "Moment Of Truth" (1998)
By 1998 Gang Starr status as one of Hip Hop's elite acts was secured. Guru had been busy with side projects such as Jazzmattaz and Premier was one of the game's most sought after and most celebrated producers. Also, Hip Hop's Golden Age was over by this time, with especially the NYC Hip Hop scene being a mere shadow of its former self (even if a couple of classic NYC projects dropped in that year).
So the question before the release of their fifth album – four years after Hard To Earn – was if Gang Starr would still be able to deliver the same level of quality we had gotten used to with their previous three albums. The answer was a resounding yes.
Moment Of Truth is hard and soulful at the same time, with both Guru and Premier once again bringing their A-game. Lyrical genius from Guru and musical genius from DJ Premier, with a few perfect guest spots – Hip Hop can not get much better than this.
"Above The Clouds", "The Moment Of Truth", "Work", "Royalty", "You Know My Steez", "JFK To LAX", "Betrayal" – all classic songs from what is a landmark album.
Blaq Poet "Tha Blaqprint" (2009)
Blaq Poet is a Hip Hop veteran who never really got wide recognition. He was first heard as a teenager on the 1987 track "Beat You Down" from the Bridge Wars, a diss song towards KRS-One and Boogie Down Productions. In 1991, Poet and DJ Hot Day formed a duo called PHD (Poet & Hot Day) and released their debut album, Without Warning on Tuff City Records. In 1996 they parted ways due to being unable to find another record label. Poet went on to team up with KL, Hostyle and Solo, creating the group Screwball. They released two albums and a compilation together before Poet went solo with the street album Rewind: Deja Screw, released 2006. The album featured production from DJ Premier amongst others. Poet later on signed to DJ Premier's Year Round Record label and released his second album, Tha Blaqprint in 2009.
Tha Blaqprint features guest appearances by the also Year Round Records signed group NYGz and Nick Javas, N.O.R.E., Imani Montana, Lil' Fame from M.O.P., and the late Screwball member KL. Blaq Poet flexs his veteran lyrical skills, and let's loose a barrage of gritty street narratives and some more introspective reflections over 15 solid tracks. DJ Premier, who provides 13 of the 15 beats, does what he does better than anyone: laying down atmospheric strings and loops, combined with heavy drums and his trademark scratched-up hooks. Tha Blaqprint is dope street-hop banger from start to finish and an essential album for DJ Premier fans.
DJ Premier & Bumpy Knuckles "Kolexxxion" (2012)
Kolexxxion is a collaborative album by Premier and NYC veteran emcee Bumpy Knuckles (a.k.a. Freddie Foxxx). Most of the beats on the album (all produced by DJ Premier except "Word Iz Bond" which was produced by Bumpy Knuckles) are beats that were rejected by other artists, such as the instrumental to "B.A.P. (Bumpy And Premier)", which was originally intended for Jay-Z's 2009 album The Blueprint 3, but by the time DJ Premier had sent it to him, it was too late for the beat to make the cut for the album), and "wEaRe aT WaR" (rejected by Immortal Technique). Other beats were rejected for projects by artists like Busta Rhymes, Kanye West, Jadakiss and Fat Joe.
Even if some of these beats are Preemo leftovers, the resulting album is pure, hard-hitting boom bap Hip Hop – easily on par with anything else released in 2012. Kolexxxion is another example of how soundscapes created by DJ Premier can elevate a project to that higher level, helped here with Bumpy Knuckles' prodigious mic skills, and guest spots form Flavor Flav ("Shake The Room") and Nas ("Turn Up The Mics").
PRhyme "PRhyme 2" (2018)
PRhyme 2 is the second release by DJ Premier and Royce da 5'9″, as PRhyme. Because the first PRhyme (2014) was an EP and not a full-length it is not included on this list, but the two releases deserve to mentioned in one breath as they constitute a perfect one-two punch of quality Hip Hop.
PRhyme 2 proves that after 30 years of creating top-notch beats and scratches, Premier is still as good as he ever was.