50 Under-appreciated 1990s Hip Hop Albums | Part 2: Discussing 'best ever' Hip Hop albums is fun, but at the same time often a futile exercise. It's fun because it forces you to think and sometimes to re-evaluate, and it's fun because talks with others can make you discover some great albums you otherwise might have slept on. But at times it's futile too because inevitably not everyone has the same amount of knowledge. Trying to pitch more obscure Hip Hop titles to people who have only listened to 2Pac, Biggie, Jay-Z, and Dr. Dre – and who don't want to look any further – can get kind of tiring. Some people seem to think these four are all Hip Hop ever had to offer. That's too bad because there has always been SO MUCH great Hip Hop by other artists out there. Casual Hip Hop listeners who ARE open to discovering some Hip Hop music they have never listened to before may find this list to be of value.
So no albums from 2Pac, Biggie, Jay-Z, and Dr. Dre on this list, nor widely celebrated classics from acts such as A Tribe Called Quest, Nas, Gang Starr, Mobb Deep, De La Soul, Public Enemy, Ice Cube, OutKast, Eric B & Rakim, EPMD, Redman, Wu-Tang Clan, Ice T, Scarface, The Pharcyde, Common, and other high profile artists. For this piece, we have selected – in no particular order – 50 excellent Hip Hop released in the 1990s that we consider being underappreciated, albums that don't get mentioned enough when 1990s Hip Hop is celebrated. Some albums listed here are better known than others, but even heads who are used to digging deep may discover an album or two they have missed out on for some reason.
Also read: 50 Under-appreciated 1990s Hip Hop Albums 
Hard 2 Obtain – Ism & Blues (1994)
When it comes to records by artists who released just one album in the '90s, Ism & Blues by Long Island trio Hard 2 Obtain is definitely up there with the best of them. Following the moderate success of their breakout '93 single "L.I. Groove," DJ Six Seven and MCs Taste The Terror and DL dropped their first and final LP in 1994 to a somewhat muted reception. But – in a year littered with exceptional releases – this wasn't just another average LP deserving to be left on the shelf gathering dust. What really makes this record shine is the beautiful production by The Stimulated Dummies (AKA SD50s), which gives the album a sonically rich, cohesive sound and vibe. Their fusion of jazzy loops and soulful samples layered over tight, swinging drum breaks interspersed with lush musical interludes is pure gold. Sure, Taste and DL won't set the world alight or appear in any greatest rappers of all-time lists, but they come up with the goods. Taste flexes his storytelling skills on "Local Hero" and "Heels Without Souls," plus his distinctive, gravelly vocals make him the standout rapper. Not only an album with a great name and eye-catching cover photo, Ism & Blues is also a true Golden Age sleeper with no gimmicks – a slept-on underground classic worthy of more props.
The Coup – Genocide & Juice (1994)
No doubt about it, The Coup had to feature on this list. Led by rapper, producer, screenwriter, and activist Boots Riley, the Oakland crew released three spectacularly overlooked albums in the '90s. 1994's Genocide & Juice is my personal favorite. Their second and arguably best album explores the futile struggle of the disenfranchised oppressed by the corrupt system of the ruling classes, set over grimy, at times melancholy live Oaktown funk. Boots is one of Hip Hop's more slept-on storytellers. Alongside fellow MC E-Roc, he delivers engaging, socially conscious messages to powerful, sometimes comical effect. The pair take on the role of famous, crooked business moguls trying their hand at rapping – bragging about their wealth and mocking the less fortunate on the hilarious, brilliantly executed "Pimps (Free Stylin At The Fortune 500 Club)." "Name Game" expounds on hardworking rap artists not reaping their financial rewards, Boots rapping: "Your sh** can go gold and the only cash you got is the silver kind that don't fold." And on the climax of "Fat Cats, Bigga Fish," Riley conceives possibly the most inventive and insightful observation of gentrification ever recorded. The term 'Hip Hop Classic' can often be used too loosely – but Genocide & Juice is an album richly deserving of such an accolade.
Yaggfu Front – Action Packed Adventure! (The Original Motion Picture Soundtrack) (1993)
Relocating to New York to pursue their Rap career, Yaggfu Front became the first Hip Hop crew from North Carolina to land a major record deal. Unfortunately, the trio ended up releasing just one full-length project. But with their largely self-produced debut, D'Ranged & Damaged, Jingle Bel, and Spin 4th crafted one of the dopest albums to emerge from the '90s. From tales of escaping the clutches of highway state police; downing a toxic potion concocted in science class gifting Spin 4th with uncontrollable, out-of-this-world rapping powers; to the trio rhyming their way out of captivity on a pirate ship – Action Packed Adventure! lives up to its name. The North Cackalacka rappers also know how to rock braggadocious bars, like on the crazy single "Busted Loop" and the fat drums and heavy bass of "Hold 'Em Back (What's The Meaning?)." Loaded with original concepts, tons of flavor, and super-fresh, jazz-infused beats, this criminally underrated LP is a bonafide Golden Age Hip Hop gem. Yaggfu Front stands for You Are Gonna Get F**ked Up (if you) Front and Action Packed Adventure! remains undeservedly fronted on by many. As the trio wildly exclaims on the title track: "What's the adventure it's action-packed / where's the excitement it's on the track / once you get started you can't turn back!"
Scientifik – Criminal (1994)
When thinking of Boston's iconic MCs from the '90s era, Gang Starr's Guru (RIP) and Beantown legend Ed O.G immediately spring to mind and rank at the top of the list. But don't leave Scientifik out of the equation, even with his comparatively limited catalog. Anyone doubting the Lawtown rapper's credentials should peep his killer LP Criminal from 1994. Boasting production from the likes of Buckwild, Diamond D, and The RZA over Scientifik's no-nonsense raps, this is one incredibly overlooked album in a year stacked with stellar releases. Sadly, the project received next to no promotion and flew well under the radar. Record label Definite went bankrupt shortly after the LP dropped, and Scientifik resorted to selling copies of the album from the back of his car. Close to releasing the follow-up to his debut, tragedy struck in 1998 when Scientifik died in a fatal shooting and motor accident – the exact details behind his death remaining a mystery to this day. Rest In Peace to a dope MC behind an album of outstanding quality that deserves more shine.
Digable Planets – Reachin' (A New Refutation Of Time And Space) (1993)
Seattle-born Ishmael Butler (Butterfly) moved to New York in the late '80s, working as an intern at Sleeping Bag Records. Linking with Philadelphia's Craig Irving (Doodlebug) and Maryland native Mary Ann Vieira (Ladybug Mecca), the trio formed Digable Planets, releasing their inaugural LP in 1993. Ish – the brainchild of the group and their full-length debut – was lead producer and arranger; his creative and musical genius stamped all over the record. The album's loose concept centers on a trio of insect-like alien musicians and MCs beaming down to Earth to spread peace, love, and positivity. And it's mission accomplished – the organic, jazzy grooves, mellow vibes, smooth raps, and free-spirited innocence creating a cathartic, soul-enriching listen. Digable Planets are often labeled an alternative Hip Hop act and Reachin' dismissed as just another '90s jazz-rap album. Both do the group and their enduring work an incredible disservice. Of course, Hip Hop and Jazz were symbiotic in the '90s, and Digable's debut is one of the quintessential Jazz-Rap records of its time. But Reachin' is so much more than that – it's one of the finest examples of '90s Hip Hop that dared to try something different and break boundaries without compromising any artistic integrity.
Masta Ace Incorporated– Slaughtahouse (1993)
Wait – Slaughtahouse?! If you're questioning its inclusion on this list, hear me out. A vital release in 1993, Masta Ace's second LP is a time capsule of the era and his finest work. Frustrated and disillusioned with the glorification of violence and ignorance in Hip Hop, Ace conceived a project as conscious-minded as his debut but with a much grittier feel. The title track – a satirical swipe at studio gangsters and fake thugs – perfectly parodies the wack Rap gaining momentum and popularity in the US at the time. Ace's scathing rebuttal on the second half of the track is merciless. The perpetrating MCs meet their demise at the Slaughtahouse – where "freestyling skills are sharp like axes, and suckers get the chills." The album also addresses the dangers lurking on the mean streets of ghetto America on "A Walk Through The Valley," the cinematic "Late Model Sedan," and the brilliant back-and-forth between Ace and Paula Perry on "Who U Jackin'?." Ace's narratives are utterly absorbing and astutely observed – his messages powerful and prescient. The production helped set the album's dark, moody tone: thunderous, brooding basslines and dusty jazz samples over dirty, crashing drums, as evidenced on tracks like "Saturday Night Live" (one of the illest posse cuts of the '90s featuring cuts by DJ Premier) and the rumbling bass and screeching horns of "Jeep Ass Niguh." So is Slaughtahouse appreciated? For sure. But is it appreciated enough? Definitely not. In fact, Masta Ace's magnum opus deserves universal praise as a stone-cold Rap classic and awarded its rightful place in the pantheon of all-time great Hip Hop albums.
Ill Biskits – Chronicle of Two Losers: First Edition (1996)
Several albums from the Golden Age received little fanfare or promotion, often being given a limited release before suddenly getting pulled – leaving the record languishing on the shelf. The first and final LP by German-born, Virginia-based duo Ill Biskits sadly met this fate in 1996. Featuring beats by Mike Loe, Jesse West, and D.I.T.C. producer heavyweights Buckwild and Lord Finesse, Chronicle Of Two Losers has that traditional mid-'90s boom-bap sound: anthemic horns, prominent, crispy snare drums, and smoothed out, filtered basslines. Rappers Deeda and Kleph Dollaz (RIP) spit profoundly introspective, existential rhymes, seldom straying from the project's core themes. Combined with the lack of guest vocalists, this can create a slight lack of variety. But the duo's ability on the mic and the album's superb production will tempt you away from reaching for the fast forward button. This lost jewel in the crown of Hip Hop's Golden Age remains in the annals of '90s Rap history as a coveted holy grail that demands an official, remastered vinyl release. For the real heads and connoisseurs of that East Coast, D.I.T.C. flavored mid-'90s goodness – this one's for you.
Al' Tariq – God Connections (1996)
There were mixed feelings – especially for this listener – when Fashion parted ways with The Beatnuts to pursue a solo career. The Third Of The Trio was a firm favorite amongst fans of the World's Famous. So while this was disappointing news for many, Kool Fash coming through with some solo material was an exciting prospect. After assembling his God Connection crew with Problemz and Black Attack of underground NYC quartet Smoked Out Productions and Dominican duo Rawcotiks, Fashion signed with Correct Records and dropped his one and only solo LP under the alias of Al' Tariq in 1996. Thankfully, the split with his Beatnuts brethren appeared amicable, and the sound of God Connections was akin to the crew's first LP. Psycho Les & JuJu blessed the bulk of the album with their incomparably dope beats – and the three reunited on the banging "Peace Akki." No I.D., along with frequent Intoxicated Demons collaborators V.I.C. and Lucien (of ATCQ "Luck Of Lucien" fame), also grabbed a piece of the action behind the boards. Correct Records collapsed shortly after the album's release, leaving it out of print until a long-overdue deluxe reissue in 2010. Al' T, Problemz, and Black Attack formed Missin' Linx in the late '90s. Their underground smash "M.I.A." was followed by a well-received EP in 2000, but God Connections endures as Al' Tariq's best work and one of the finest albums of '96.
The B.U.M.S (Brothas Unda Madness) – Lyfe 'N' Time (1995)
Coming up in the rap game through their affiliation with Sway & King Tech of LA's infamous Wake Up Show, Oakland rhymers D.Wyze and Evocalist released Lyfe 'N' Tyme in 1995 after appearing on '94's Streetfighter soundtrack. Long-time Wake Up Show DJ and Oaktown beatmaker Joe Quixx supplied the dope sounds for the vast majority of the LP. Though not as prolific as his West Coast peers, Quixx was one of the hottest producers out of Cali many heads had never heard of – and Lyfe 'N' Tyme is pure sonic perfection. His mid-tempo head-nodders flavored with exquisite jazz samples and luxurious basslines blend superbly with D.Wyze and Evocalist's spirited, freestyle-flavored raps. The Brothas Unda Madness also had something to say on their debut. The aspirational title track is dedicated to the players, hustlers, and ghetto entrepreneurs and realizing your dreams while staying true to yourself. And the perfectly produced "Elevation (Free My Mind)" – their ode to music industry woes and shady A&Rs – is a reminder to everyone about Industry Rule #4080. Sorely overlooked and now long out of print, this lost Left Coast gem should be in every discerning Hip Hop head's collection.
3rd Bass – Derelicts of Dialect (1991)
Matching the impact of their debut LP was a tall order, but 3rd Bass picked up right where they left off on The Cactus LP with Derelicts Of Dialect. The Stimulated Dummies, Prince Paul, and KMD joined 3rd Bass and Sam Sever on the boards for their second full length. The upgraded, sample-heavy production made the trio's sophomore effort sound as fresh and dynamic as anything on offer in 1991. As quoted from the promo cassette's inlay: "Derelicts of Dialect deals with the conflict between how the world sees the MC, the DJ, and by extension the kid in the kicks and the hoodie, versus how they view themselves and each other." Pete Nice and MC Serch pull off this loose concept, well… nicely. But 3rd Bass wasn't just about the MCs. DJ Richie Rich was an integral part of the group and is undoubtedly one of the era's most unrecognized turntable maestros. His razor-sharp scratching skills and killer cuts are in full effect and essential to the album's sound. Pete and Serch take time to pay homage to their DJ on "Daddy Rich In The Land of 1210," as Richie Rich shows off his superior technique on the Ones and Twos. To this day, Derelicts Of Dialect doesn't get its just dues – but in a year jam-packed with top-notch, groundbreaking projects, it deserves a seat at the table alongside the greatest albums of '91.
Ragga Muffin Rascals – Really Livin' (1992)
Despite the presence of hardcore, political artists together with the explosion and dominance of Gangster Rap in the early '90s (and without wanting to come across as overly nostalgic here), the sheer variety on offer during Hip Hop's Golden Age meant a healthy amount of '90s rap was full of positivity and all about having fun. With its upbeat production and feel-good rhymes, Really Livin' by Canadian Hip Hop trailblazers The Ragga Muffin Rascals was a record that manifested this type of Rap. Independently released in 1992, the Vancouver crew's debut exhibited all the youthful exuberance and boyish enthusiasm of young, talented Hip Hoppers not taking themselves too seriously. Its fresh, unique sound reflected the cultural diversity of the group's members – their mix of rhythmic Canadian Reggae Rap and sample-based, jazz-influenced Hip Hop creating an exciting, original combination. Not to be confused with the reworked (and equally dope) 1993 release, the original '92 version of Really Livin' is a rare, obscure piece and certifiable Canadian Hip Hop gem.
Cella Dwellas – Realms & Reality (1996)
Part of the legendary line-up on the Loud Records roster, Flatbush, Brooklyn rhyme duo Phantasm The Tall Man and U.G. The Imagination entered the Hip Hop world with their "Land Of The Lost" 12″ in 1994. An appearance on Masta Ace's Sittin' On Chrome LP and a couple more singles followed before they unveiled their full-length debut in '96. Full of superhero, horror movie, and Dungeons & Dragons-style references and metaphors, the album brilliantly blurs the line between fantasy and reality. Over a backdrop of perfect, sometimes eerie boom-bap beats by Nick Wiz, Norm & Lord Digga, Megahurtz and the Dwellas themselves, Phantasm and U.G. use their scrolls and manuscripts to conjure up mythical, other-worldly images of wizards, sorcerers, demons, and monsters – unlocking the further dimensions of the mind and exploring the mystical realms of the fantastical with skillful flows and maniacal vocal inflections. Realms & Reality didn't fare as well as other Loud Records releases – but it's one of the more creative and imaginative Hip Hop records of the '90s. A mad underrated Golden Age treasure well worth unearthing from the land of the lost.
Da Lench Mob – Guerillas In Tha Mist (1992)
Da Lench Mob came out firing with their explosive, post-Rodney King and LA riots-driven, unapologetically pro-Black debut LP in 1992. Bucking back at the oppressive US institutions and power structures with unabated fury and militant aggression, Guerillas In Tha Mist is full of hardcore beats and abrasive raps. The South Central LA trio of Jay Dee, T-Bone, and Shorty was strongly linked with Ice Cube – who had a considerable presence on the album vocally and on production. The frenetic sound of their debut has a lot in common with The Predator, but Da Lench Mob's raps are angrier and feel more threatening. The lyrical content is violent and cold-blooded, the trio pulling no punches – Jay Dee in particular rhyming with venom and menacing conviction. Guerillas In Tha Mist is a remorseless, no holds barred record – a riotous, white-knuckle listen from start to finish. To say this is one of the hardest albums of the '90s is an understatement. It's a controversial, polarising piece of work – but one with a resounding message nonetheless.
Odd Squad – Fadanuf Fa Erybdy!! (1994)
Revered Texas label Rap-A-Lot Records released a slew of '90s Gangster Rap classics by such legends as Scarface, Big Mike, and The Geto Boys. Houston's Odd Squad broke that mold with their unique brand of stoner raps, lighthearted party joints, and Southern-fried funk on 1994's Fadanuf Fa Erybody!!. The self-deprecating humor and playful shenanigans of Devin The Dude, Rob Quest, and Jugg Mugg are two key ingredients of making this record such fun. Quest – who alongside Mike Dean and N.O. Joe contributed to the LP's brilliant production – lost his sight as a teenager. The self-proclaimed Hip Hop Stevie Wonder jokingly pokes fun at his blindness on "I Can't See It," a jazzy, boom-bap banger and standout cut. But the album's main attraction is Devin The Dude, whose infectious charisma, melodic hooks, and harmonious, nonchalant raps steal the show. No surprise then that he embarked on a successful solo career, releasing a steady string of dope projects to this day. Famously cited by Scarface as the best release in Rap-A-Lot's celebrated catalog, Fadanuf Fa Erybody!! is deserving of such high praise. So look beyond the low-hanging fruit and usual suspects and track down this lost Southern Rap masterpiece – you won't be disappointed.
Movement Ex – Movement Ex (1990)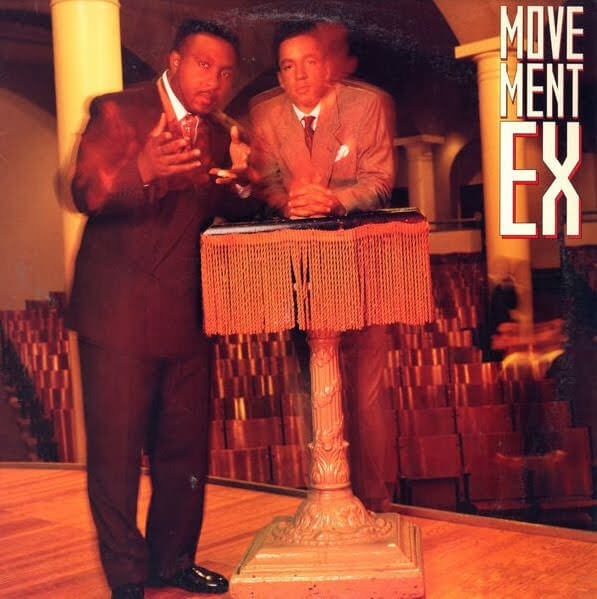 The dynamic duo of DJ and MC was a firm staple of Hip Hop's Golden Age. Eric B & Rakim. DJ Premier & Guru. Pete Rock & CL Smooth. Lord Mustafa & DJ King Born Allah… Who?! many of you might ask. Well, while the last pairing isn't as well known or celebrated as the others mentioned, the LA duo's one-and-only album is definitely worth checking out. Lord Mustafa's rhymes are steeped in 5%er ideology, supreme mathematics, and three crucial pillars of Hip Hop: knowledge, wisdom, and understanding. The strong presence and immense talent of DJ King Born is possibly the album's main draw. The DJ is the cornerstone of Hip Hop – and Movement Ex shows King Born some love by placing him right at the forefront alongside Mustafa. He totally kills it, ripping up every single track – and even has his own solo cut. Single-handedly showcasing the turntables as an instrument, King Born cuts, scratches, and transforms his way to one of the most spectacular DJ performances ever put on wax. To a degree, Movement Ex is what you'd get if you mixed Public Enemy, BDP, and Brand Nubian together with a dash of early Main Source. But make no mistake – their quietly militant, revolutionary-minded LP has a style and flavor all of its own.
Main Source – F**k What You Think (1994/1998)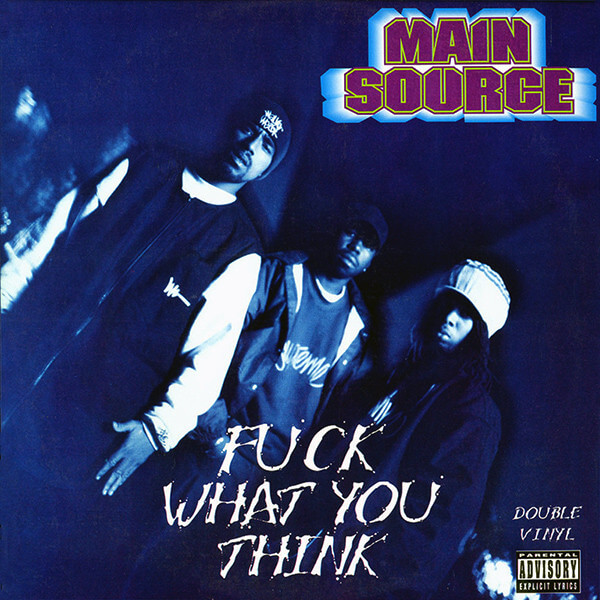 Following up Breaking Atoms was never easy – especially after Large Professor had left the group. Despite the challenges ahead, Main Source's second effort turned out to be an incredible piece of work. Queens-bred, 1988 New Music Seminar MC champion Mikey D (formerly of Paul C and LA Posse fame) replaced Extra P – his hardcore lyrics and battle-hardened, aggressive delivery giving the album a raw, street edge. While sticking with the same sample-laden formula and signature sound of their debut, K-Cut & Sir Scratch also incorporated a more contemporary style. The audio treats keep coming, and though not as fresh and innovative as Breaking Atoms, the phenomenal production arguably rivals its predecessor. As with the first LP, a handful of next-generation NYC Rap hopefuls feature on the sequel. Kool G Rap's wife Shaqueen appears alongside Jadakiss and Sheek Louch of The LOX and MC Lotto on "Set It Off" and rips a verse on the title track. Disputes between the group's management and record label led to Wild Pitch shelving the album ahead of its scheduled release in 1994 – the LP not officially seeing the light of day until 1998. Perhaps if F**k What You Think was recorded under a different artist name and not delayed, it would be heralded as the legitimate '90s classic it deserves to be.
Class A Felony – Class A Felony (1993)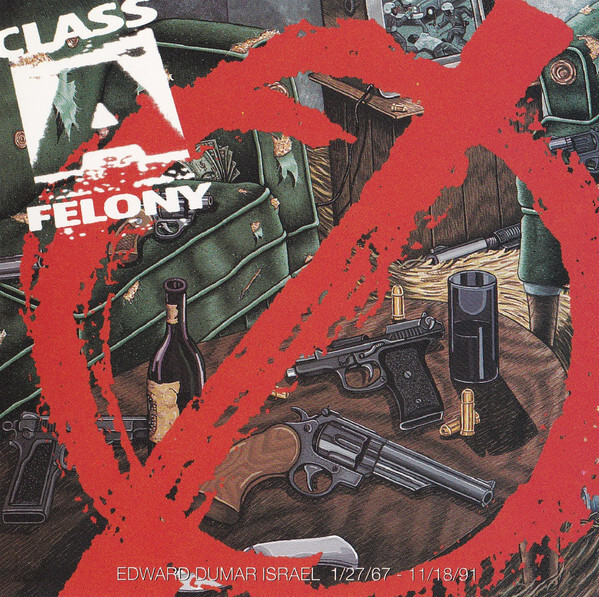 Many lost gems from the Golden Age have a story behind them. Class A Felony by Amityville, Long Island duo Lord Dumar (RIP), and DJ Stitches is no different. Their self-titled and only LP – eventually released in 1993 – remains in Hip Hop folklore as a long-forgotten, neglected obscurity. Lord Dumar proves why he's one of the nicest unheard of MCs on this record, rapping with the consummate ease of a seasoned rhyme veteran. Every word, syllable, line, bar, and verse is delivered with commanding authority and unerring potency, demanding the listener's immediate, undivided attention. In a 2014 interview, DJ Stitches claimed to have been a founding member of De La Soul and says he contributed to 3 Feet High & Rising. The talent and ability he displays on the production tip on Class A Felony is definitely indisputable. Joined by DJ Mark The 45 King, he uses classic samples and fat drum breaks to create killer tracks with varying styles and tempos. Due for release in 1991, the album was delayed a couple of years after Lord Dumar was tragically shot dead in a botched robbery attempt. In dedication to Dumar, the LP ends with a strong anti-violence message on the Diamond D-produced "I Can't Take No More" performed by Diamond and Lakim Shabazz. Once shrouded in mystery, more details surrounding the album and duo have emerged – and the good folks at Chopped Herring Records released the LP on double wax in 2016. But Dumar's passing, the delay in release, and poor promotion derailed any chance of the project getting the exposure it needed and deserved at the time. Consequently, Class A Felony is among the most underappreciated albums in Hip Hop history – and Lord Dumar still doesn't get his proper flowers.
Yall So Stupid – Van Full Of Pakistans (1992)
Before Outkast put the South firmly on the map, Atlanta-based rappers H2O, Unkle Buk, Sha Boogie, Logic, and producer Spearhead X represented A-Town as Yall So Stupid. Signed to Rowdy Records in 1992, they released the largely unnoticed Van Full Of Pakistans the following year – an LP full of boisterous adolescence and bugged-out raps. One notable appearance comes from DJ Majesty of labelmates Da King & I, who produces one of the album's standout cuts, "Bootleg Beatdown." But the lion's share of production came from Spearhead X, whose boom-bap-centric beats presented a fresh alternative to the sound coming out of ATL. Even the skits here are entertaining enough not to disrupt the LP's flow – a rarity for many Hip Hop albums. Ultimately, Yall So Stupid's time on Rowdy was brief. Released from the label due to poor sales just months after the LP dropped, the group disbanded soon after; and H2O and Spearhead X formed part of Mass Influence later in the decade. You won't find any vans or Pakistans whatsoever on Y'All So Stupid's debut – but that doesn't make this slept-on treasure any less worthy of being included here.
Onyx – All We Got Iz Us (1995)
After kicking in the door with 1993's platinum-selling debut LP Bacdafucup, The Madface Invasion returned with the unforgettable All We Got Iz Us in '95. Just one look at the album's cover and listen to the lead single "Last Dayz" (a go-for-self war cry and call to arms in the fight against the New World Order) tells you that you're in for their darkest, most vicious LP. Produced entirely by Onyx themselves, the trio from Queens show their prowess on the boards, creating rowdy, slow-tempo bangers with speaker-distorting basslines and sinister samples. Sticky Fingaz, Fredro Starr, and Sonee Seeza rhyme with feverish, visceral intensity as if their life depends on it. Depicting the violence, desperation, and hopelessness of life on the evil streets of the USG (United States Ghetto), their lung-busting vocals, razor-edged flows, and smash-mouth raps tear the roof off and strike from every angle. An artistic triumph for Onyx, All We Got Iz Us is nihilistic to the extreme and full of gutter, grimy street anthems. It's the absolute epitome of hardcore mid-'90s East Coast Hip Hop – a walk in New York not for the fainthearted.
Capital Tax – The Swoll Package (1993)
Oakland was a hotbed for Hip Hop talent in the '90s, from Digital Underground, Hieroglyphics, and The Coup to legendary Oaktown veteran Too Short. Few, though, will have heard East Oakland crew Capital Tax. That's not to say they didn't leave their mark on the Bay Area Rap scene. Dropping The Swoll Package in 1993, Capital Tax came up with an album that didn't typify the region's sound – creating a style all of their own, unconstrained by their geographical boundaries. Producer DJ Smooth G's intricately spliced jazz, funk and soul samples, and gritty, bouncy boom-bap beats had a unique, bicoastal flavor. The album's subject matter also helped set it apart from many other Bay Area releases. Rapper TMD (Total Mind Devastator) creatively tackles the topic of male impotence with "Mista Wonka." And on "I Can't Believe It," he carefully illustrates how poverty and drug addiction can impact family life. TMD could also rip the mic – as demonstrated on "The Masha" and "Nottie Natural." Sadly, The Swoll Package was met with minimal fanfare and largely slept-on, getting lost in the shuffle amongst the landmark releases of 1993.
Boogie Down Productions – Sex & Violence (1992)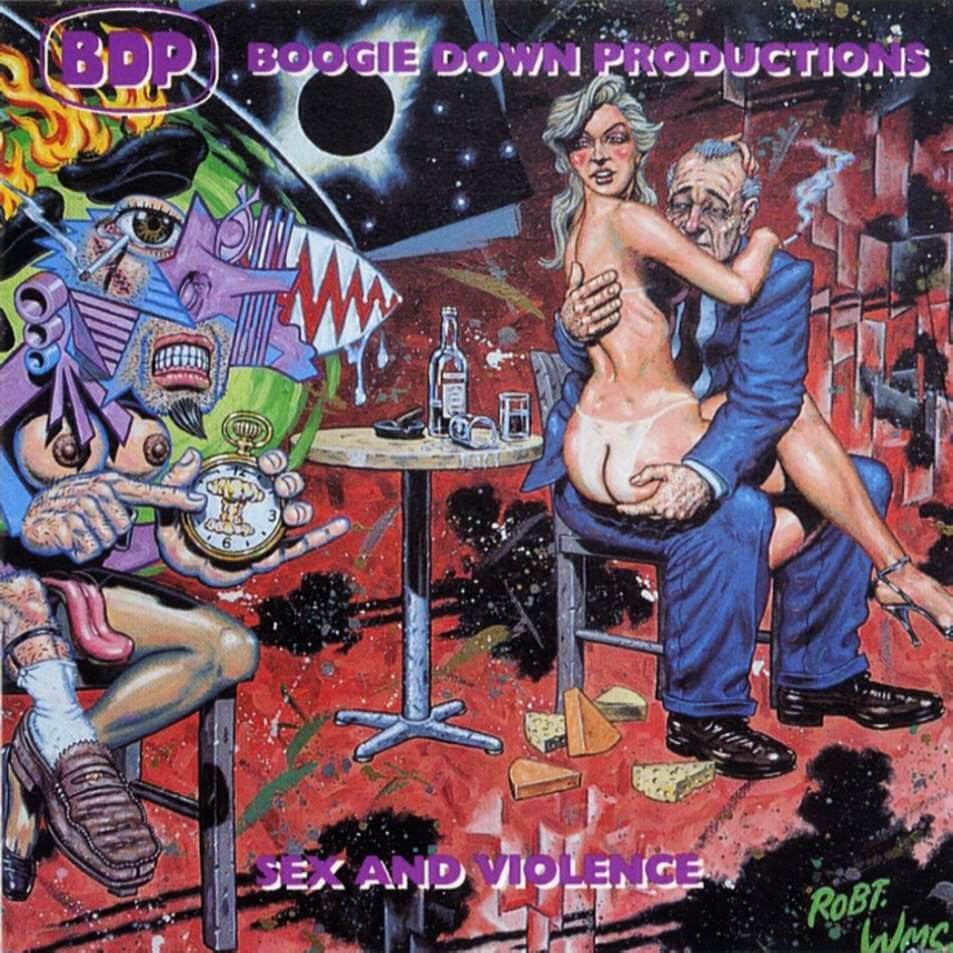 Sure, Sex & Violence wasn't as impactful or influential as Criminal Minded, but BDP came back fresh for '92 and went out with a bang on their final LP. KRS One was at his boastful, arrogant best, unleashing a verbal and lyrical onslaught and stomping on all competition. He attacks wack crews and sucker MCs on "Like A Throttle," "We In There," and the slamming "Duck Down." Elsewhere, he touches on his beef with X-Clan on "Build And Destroy;" and drops knowledge like only The Teacha can on "Who Are The Pimps?" and Prince Paul produced "Drug Dealer." The minimalist production perfectly matches KRS One's raw, uncompromising style: stripped-down beats, booming drums, and bass – that raucous, back-to-basics trademark BDP sound. The Source awarded the LP 4.5 mics – and rightly so – but it performed dismally sales-wise. Hip Hop music in the US was at a crossroads and moving away from the political, conscious lyricism and hardcore street poetry of artists like KRS One. The obscure, confusing cover art and the unforgettable incident where BDP bum-rushed the stage at a PM Dawn show probably didn't help much, either. But when all is said and done, Sex & Violence is one of the greatest hardcore NYC Rap albums of the '90s.
Threat – Sickinnahead (1993)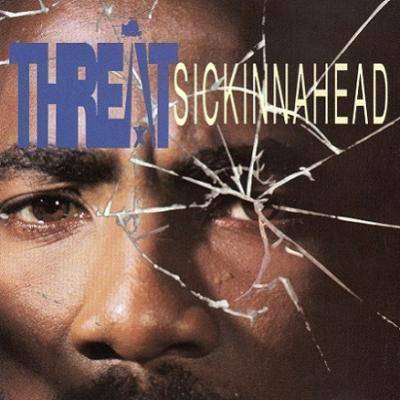 Down with LA producer vet DJ Pooh, South Central rapper Threat first appeared on "Color Blind" off Ice Cube's Death Certificate before working with King Tee, Tha Alkaholiks, and many others. After several stints behind bars, he came out with Sickinnahead in 1993. Written while he was locked up, his debut LP is an unrepentant stomp through South Central's sprawling ghetto streets – or as Threat dubbed it: the LA Zoo. One thing was for sure straight off the bat – Threat was no studio gangster, giving the album that true LA hood grit and sharp realism. Produced mainly by DJ Pooh and Bobcat, Sickinnahead has that traditional West Coast bounce, rather than the more prevalent G-Funk sound dominating the region. This was Threat's only full-length release, but he remained a key contributor to the Cali scene. Lending his songwriting and storytelling skills to a host of West Coast projects, he earned a living as a ghostwriter for Ice Cube and numerous Death Row artists, among others. Lost amongst the more commercially successful, critically acclaimed Gangster Rap albums from the '90s, Sickinnahead is an unheralded Cali classic waiting to be rediscovered.
Artifacts – Between A Rock & A Hard Place (1994)
New Jersey graffiti writers and Rap duo the Artifacts dropped a pair of outstanding LPs in the '90s, swapping their fat markers and Krylon cans for microphones and rhyme books. Helmed by the single "Wrong Side Of The Tracks" – the duo's love letter to graff writing – Between A Rock And A Hard Place is one of the dopest yet most underrated releases of 1994. Tame One and El Da Sensei rhyme about anything and everything from biters and backstabbing rappers and freestyle battling in cyphers to throwing up fat pieces, bombin' trains, and tagging up the streets, with crazy ill comic book, cartoon, TV show, and video game references to boot – all while paying homage to the four elements of Hip Hop. T-Ray, Buckwild, and Tame One's cousin Redman bring forth the sound to bang your head to. Booming, speaker-rattling basslines, and clattering drums dominate throughout – it's Rap music perfection and simplicity personified. The Brick City Kids stay true to their craft and graffiti writing roots on their debut – preserving the culture and keeping their feet planted firmly on the wrong side of the tracks.
Crusaders For Real Hip Hop – Déjà Vu - It's '82 (1992)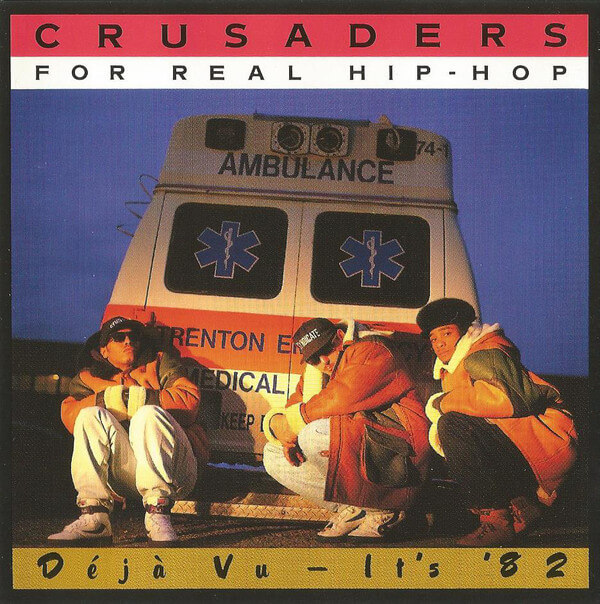 I had to include at least one album featuring the remarkable production talents of underground hero Tony D on this list. Whilst not regarded as one of the powerhouse producers of the '90s, his indelible contribution to Hip Hop during its Golden Age shouldn't go unacknowledged. More than just the guy who tangled with Naughty By Nature over the "O.P.P." controversy, he worked with the likes of Poor Righteous Teachers, YZ, King Sun, and many others. The New Jersey native could also get down on the mic. Under the rapper-producer alias of Don Nots, he came through with a crew called Crusaders For Real Hip Hop in 1992 – a collaboration with Mr Law and Rahzii Hi-Power. The short-lived trio released just one album: Déjà Vu – It's '82 – an early '90s Rap obscurity harking back to the early days of Hip Hop and featuring simply fat beats and dope rhymes front to back. Once again, Tony D showcased his mastery of the SP-1200 with a selection of wicked drum and sample combos – the production a definite highlight of the piece. Aside from a couple of 12″ releases off the album, that was that for the Crusaders. Sadly, Tony D passed away after a car accident in 2009 at just 42 years old – and he still doesn't get the recognition he truly deserves. RIP, Tony D.
WC & The Maad Circle – Ain't A Damn Thang Changed (1991)
It was a strange, one-off occurrence in Hip Hop history. On 17th September 1991, LA crew WC & The Maad Circle released their debut album Ain't A Damn Thang Changed. Over on the East Coast, NYC duo Nice & Smooth dropped their sophomore LP the same day. Its title – Ain't A Damn Thing Changed. Both albums are also sorely underrated – but in many ways, they couldn't be more different.
Following his split with DJ Aladdin as the duo Low Profile, WC teamed up with his brother DJ Crazy Toones, Compton rapper Coolio and Big Gee to form WC & The Maad Circle (Minority Alliance of Anti-Discrimination). Their full-length debut chronicles the harsh realities of life on the streets of South Central LA. WC was the expert ghetto street narrator, Coolio the plucky newcomer; the funk-filled tracks and album's themes seamlessly interwoven with Crazy Toones' arresting cut and paste-style interludes. Da Lench Mob's Chilly Chill and West Coast legend Sir Jinx (along with WC and Crazy Toones) bring the Cali funk flavor to the fullest, with MC Eiht of Compton's Most Wanted and Jay Dee from Da Lench Mob supplying dope guest features. Simply put, Ain't A Damn Thang Changed is all killer, no filler – a straight-up West Coast classic that deserves a lot more recognition.
Nice & Smooth – Ain't A Damn Thing Changed (1991)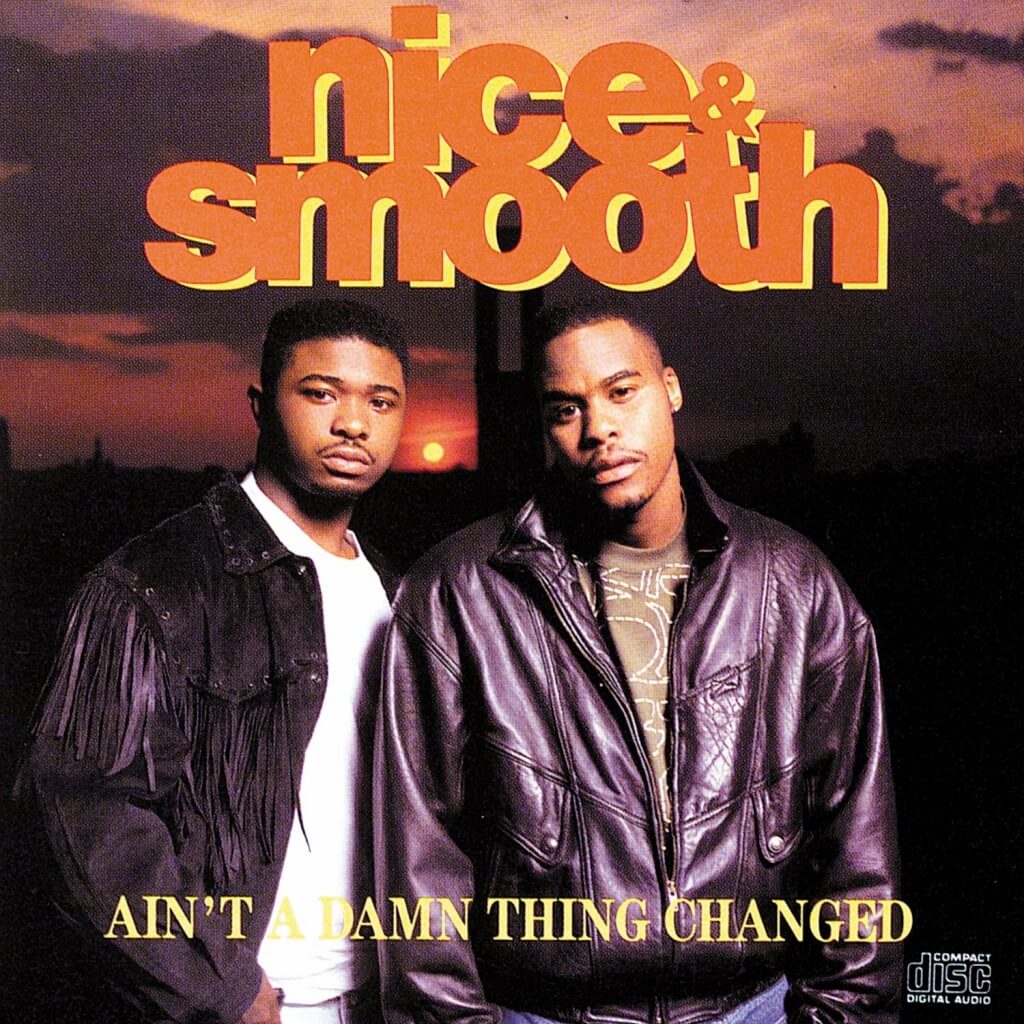 As implied by its title, the inimitable Greg Nice and Smooth Bee took an 'if it ain't broke, don't fix it' approach to their second LP. Incorporating the characteristics that gave their debut such universal appeal, Nice & Smooth's undeniable chemistry and unmistakable, diametric styles once again took center stage. Greg N-I-C-E injected his raw energy, party flavor, and magnetic hypeman persona into every track. His prominent, echoing vocals, braggadocious rhymes, and infectious hooks complemented his comrade's charismatic, silky-smooth raps and R&B harmonies perfectly. The two keep coming with more and more hits. "Hip Hop Junkies," "How To Flow," the Tracey Chapman-sampling "Sometimes I Rhyme Slow," and "Down The Line" produced by DJ Premier and featuring Guru, Preacher Earl, Asu, Melo-T, and a tongue-twisting verse from Bas Blasta. This collaboration led to Nice & Smooth and Gang Starr joining forces on "DWYCK", quoted by Preemo as Gang Starr's "return the favor" record to Greg Nice and Smooth Bee.
Not just sharing virtually identical names and the same release date, this LP and WC & The Maad Circle's Ain't A Damn Thang Changed are two of the greatest Hip Hop albums of the early '90s – yet still not acknowledged as such. Ain't a damn thing changed.
The Future Sound – The Whole Shabang Volume 1 (1992)
"You are about to embark upon a fascinating adventure into wellbeing." And so begins The Future Sound's long-forgotten, largely unheard The Whole Shabang Volume 1. Affiliated with Original Flavor, TFS consisted of New Rochelle rapper-producer pairing Flashback The Funky Tacticioner and The Rhythm Kingpin Relay. The duo's production flair is evident throughout their only full-length release – the vibrant, colorful collage of samples from Sly & The Family Stone, Pharoah Sanders, Minnie Ripperton, and others fundamental to the album's sweet, soulful, jazz-influenced sound. Flashback & Relay are a far cry from top-tier MCs – and their cryptic, metaphysical lyrics can prove a little tricky to decipher at times. But they rap with humility and grace, bringing nothing but good vibes and inspirational messages of growth and enlightenment through melody, rhythm, and poetry without sounding arrogant or preachy. Much more than your run-of-the-mill, obscure random Rap record, The Whole Shabang is a hidden treasure from the Golden Age and one of the most positive, uplifting albums of the '90s.
Da Grassroots – Passage Through Time (1999)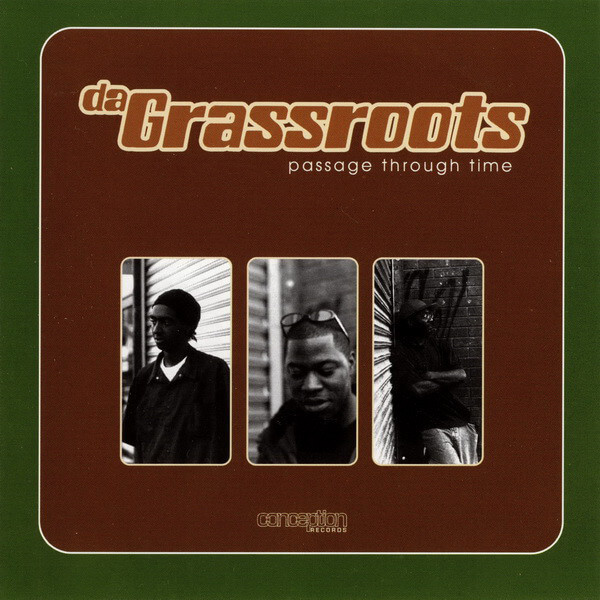 Highly respected and influential production team Da Grassroots were at the core of Canada's burgeoning underground Hip Hop scene in the mid to late '90s – their beats consistently dope and hugely sought-after. Toronto trio Mr Attic, Swiff, and Mr Murray singly and collectively helped set the city's audio standard, becoming the go-to and in-demand production crew. Eventually releasing their much-anticipated producer album just before the turn of the century, Passage Through Time was an all-out production tour de force and well worth the wait. Featuring a who's who of certified Toronto Rap legends including Saukrates, Choclair, Ghetto Concept, and Thrust alongside many of the city's up-and-coming MCs, this was a celebration of Hip Hop from the T-Dot. An underground Canadian Rap classic but highly slept-on LP, Passage Through Time exhibited Da Grassroots' accomplished skills on the boards and showcased the great wealth of Hip Hop talent north of the US border.
Anotha Level – On Anotha Level (1994)
Sometimes you just want to kick back and throw on some dope tunes to vibe to when you're at a party, hanging with the crew, or lounging at home, right? Then look no further than 1994's On Anotha Level. The perfect soundtrack to all of the above, this album bucked many of the West Coast Gangster Rap stereotypes with its playful, party-orientated sound and subject matter. Discovered by Ice Cube – who executively produced and featured on the album – LA's Anotha Level were strictly on the hitting skins, smoking blunts, bugging out, and coolin' in Cali tip. OK, Bambino, Ced Twice, Stenge, Stix, and Stones aren't exactly what you'd class as upper-echelon MCs. Stenge sounds uncannily like Imani from The Pharcyde (who feature on the final track and album highlight "Phat-T") – but they can definitely spit. Just don't expect to hear anything deep and meaningful on this record. By and large, this is an album full of flavor by five MCs simply having fun with it – capturing the vibe of long, hot summer days and good times in the City of Angels.
Pudgee Tha Phat Bastard – Give 'Em The Finger (1993)
'90s East Coast Rap albums don't come off much harder or louder than Give 'Em The Finger. First-time listeners may be surprised to find that the production was handled predominantly by The Trackmasterz. Possibly the heaviest, illest selection of neck-snapping head-nodders you'll ever hear from Poke & Tone is right here on this record. And boy do they bring the noise – their banging beats just the ticket for Bronx-based, Puerto Rican MC Pudgee to spit his raucous, simile-filled, punchline-packed bars over. Features include a vociferous guest verse from Kool G Rap, a rare, show-stopping performance from Snagglepuss on the rowdy "Doin' MCs Sum'n Terrible," and a cameo from MC Lyte on the intro of "Lady In My Life" – a song dedicated to Pudgee's mother. Regrettably, the LP suffered from poor promotion and flew over many people's heads, ending up Pudgee's only album release. For fans of that straight-up, booming '90s New York Hip Hop, this overlooked gem is an absolute must.
Digital Underground – Sons Of The P (1991)
Led by the late Shock G, pioneering Oakland collective Digital Underground paved the way for other Rap acts in the '90s to "Doowutchyalike". After the triumph of their debut LP and the platinum-selling "The Humpty Dance" by Shock G's alter-ego Humpty Hump, DU had it all to do on their next effort. And despite their second album not reaching the heights of Sex Packets, it certainly didn't disappoint. Delving deeper into the intergalactic P-Funk inspired sounds of The Underground and its extended family, Sons Of the P invites the listener to "take the train to another place of positive elevated experience and existence." DU considered themselves Hip Hop's heirs to the P-Funk throne – hence the album's title. And Sons Of The P fittingly features the king of Parliament-Funkadelic himself, George Clinton. "Heartbeat Props" is the LP's most poignant moment, insisting black leaders and recording artists are given their flowers while they can still smell them. Its message is just as relevant today – particularly in light of Shock G's sad and untimely passing this year. Regrettably, the DU visionary and frontman didn't get the accolades he truly deserved while he was still here. But it's not too late to give the surviving members of Digital Underground their heartbeat props for their contribution to Sons Of The P. Rest In Peace, Shock G.
Trends Of Culture – Trendz... (1993)
Throughout the '90s, there were a ton of Rap acts vying for position and trying to catch the listener's attention from coast to coast. Many albums were buried under the sheer magnitude and quality of releases – and you had to stay on your toes to keep up with everything dropping. But the beauty of it all is there are loads of dope albums to discover and revisit. Trends of Culture's debut LP from 1993 is one of those records that went missing. Released on Motown's Hip Hop subsidiary label Mad Sounds, Harlem trio Grapevine, Nastee, and DJ M.O.L. created an album with all the hallmarks of many a '90s NYC Rap record: slamming, hollow drums, heavy basslines, big, brassy horn blasts, and loud, hollered choruses – with a Lord Finesse remix of their "Off & On" single thrown in for good measure. While there's nothing particularly original or inventive to make Trendz… stand out from the crowd, it's an essential piece for fans of that classic '90s East Coast boom-bap Rap – and what's not to like about that?
Goodie Mob – Soul Food (1995)
Met with a chorus of boos and heckles, Outkast's Andre 3000 confidently declared that "the South's got something to say" when picking up Album Of The Year at the 1995 Source Awards. One listen to Goodie Mob's debut LP proved he wasn't playing. First appearing on Southernplayalisticadillacmuzik, Khujo, Big Gipp, T-Mo, and Cee-Lo Green helped define an era for Southern Hip Hop with Soul Food – strongly backing up Andre's bold, heartfelt proclamation in the process. With the help of Organized Noize's hauntingly atmospheric, slow-rolling, bass-filled production, Goodie Mob cooked up a hearty, good old-fashioned pot of conscious, sociopolitical, gritty Dirty South Rap. Using intricate, multi-syllable rhyme patterns and rapping with emotion, wisdom, and foresight, the four Atlanta MCs deal with the trials and tribulations faced by young African Americans lost in a system "designed to keep our third eyes blind". A timeless record that grows on you and rewards repeated listens, Soul Food is a substantial, nutritious serving of lyrical and musical nourishment for the soul, spirit, and mind.
Rough House Survivers – Straight FromThe Soul (1992)
Whilst not home to a large number of Hip Hop artists, the city of Mount Vernon has had its fair share of Rap legends – from Pete Rock & CL Smooth to Heavy D & The Boyz and DMX. One of the lesser-known crews from 'Money Earnin' Mount Vernon' was the Rough House Survivers, whose debut LP Straight From The Soul arrived in 1992 on Relativity Records. Bad Boy Entertainment's Tony Dofat was at the helm for most of the album's production. His dope set of beats with their horn-heavy jazz loops and samples over super-fat drum breaks wouldn't sound out of place on Mecca & The Soul Brother. Pete Rock & CL Smooth and Brand Nubian were clear influences on the group, and CL, Grand Puba, and Sadat X feature on the LP. Straight From The Soul didn't make much noise upon its release and slipped through the net – yet another forgotten '90s Hip Hop album with definite replay value that's totally worth checking out.
Frankie Cutlass – Politics & Bullsh*t (1997)
Harlem-based Puerto Rican DJ and producer Frankie Cutlass left an indelible imprint on the '90s as the man behind the massive hit "Puerto Rico" and the smash Nuyorican posse cut "Boriquas On The Set." At the turn of 1997, he unveiled his second studio LP Politics & Bullsh*t, a star-studded affair featuring a plethora of old and new NYC MCs rhyming over Frankie's hard-but-smooth production. The amount of top-notch talent Frankie assembled for the album is extensive. Busta Rhymes, Kool G Rap, M.O.P., Mobb Deep, Fat Joe, Keith Murray, Sadat X, Lost Boyz, Smif-N-Wessun, Heltah Skeltah, Rampage, Doo Wop, and Evil Twins all clock in with dope verses. The LP also finds Juice Crew members Big Daddy Kane, Craig G, Roxanne Shante, and the late, great Biz Markie reunited on "The Cypher: Part III." Producer albums can often sound somewhat disjointed, like a collection of loosely thrown together tracks and artists for a mixtape. But the carefully constructed, cohesive sequencing and immaculate production of Politics & Bullsh*t make it one of the best of its kind.
King Tee - Tha Triflin Album (1993)
Is Compton's King Tee one of the West Coast's most unheralded Rap artists? Judging by his skill, influence, and consistent output of dope material – along with being ignored in many Greatest Rappers Of All-Time lists – the answer is a resounding "yes." Of the four albums he released from 1988 to 1995, Tha Triflin' Album arguably takes the crown. Flaunting his 'drunk tekneek' with a confident swagger, King Tipsy spits braggadocious bars and drunken tales over stomping boom-bap beats that put the bump in the trunk. Production comes courtesy of DJ Pooh, Mad Kap's Broadway, DJ Aladdin, King Tee himself, and Marley Marl – the Juice Crew legend's organ-laced remix of "At Your Own Risk" a definite highlight. Featuring Ice Cube, Threat, and Mad Kap, Tha Triflin' Album is also notable for introducing Tha Alkaholiks to the Hip Hop world. And Tha 'Liks come correct with hungry, inebriated performances on the party-starting bangers "I Got It Bad Y'all" and "Bust Dat Ass." Hands-down one of the fattest albums from 1993, The Triflin' Album is an essential piece of West Coast Rap action.
Poor Righteous Teachers – Black Business (1993)
No list of underappreciated '90s Hip Hop albums would be complete without at least one project featuring Poor Righteous Teachers and the supreme vocal talents of Wise Intelligent. The incomparable New Jersey MC is arguably the most underrated rapper of all time. His impeccable, multisyllabic, ragga-tinged flow is in full effect on PRT's third LP. Rapping with increased intensity and more commanding delivery, he drops lyrical bombs all over the banging instrumentals while schooling listeners with his 5%er theologies. In a departure from their first two efforts, Wise Intelligent and fellow 'PRT P-osse' members Culture Freedom and the late Father Shaheed (RIP) produced the bulk of Black Business – longtime PRT collaborator Tony D supplying just four of the album's twelve cuts. Predominantly switching to a sound more in tune with the boom-bap stylings of East Coast Hip Hop in 1993, the slamming, horn-filled beats accentuate Wise Intelligent's emphatic delivery and complex rhyme schemes. PRT's output, together with Wise Intelligent's original style and superior rapping ability, deserves celebration and recognition on a much larger scale. The trio had a remarkably consistent four-album run in the '90s – and their penultimate LP could be the best of the bunch.
Boogiemonsters – Riders Of The Storm: The Underwater Album (1994)
Alaskan native Vex Da Vortex, Bronx-bred Mondo, and Jamaican brothers Myntrik and Yodared formed Boogiemonsters while studying at Virginia State University. After successfully securing a major label deal with Pendulum/EMI Records, they released Riders Of The Storm: The Underwater Album in 1994. Their spiritual, philosophical rhymes and prophetic religious themes set over ethereal jams with warm keys, wailing synths, and deep, hypnotic bass created an unusual but refreshing sound for its time – with several beats having a real Dilla-esque vibe. The mood turns dark and somber on "Mark Of The Beast" and "Old Man Jacob's Well," but these moments are nicely offset by more lighthearted, uplifting tracks like "Boogie" and "Bronx Bombas." The abstract flows and high-pitched, harmonized raps sound reminiscent of The Pharcyde and Souls Of Mischief – but each MC packs a unique punch and individual style. Vex and Mondo dropped the final Boogiemonsters album God Sound in 1997 after Yodared and Myntric parted ways with the group. But Riders Of The Storm stands as their best effort – a mid-'90s jewel that you won't regret opening your mind and ears to.
Paris – Sleeping With The Enemy (1992)
Hip Hop artists are no stranger to censorship, and San Francisco rapper Paris can certainly attest to this. Just as his second LP, Sleeping With The Enemy, was due for release in 1992, Tommy Boy Records dropped him from the label. Its staunch anti-police and US government content and the album's insert showing Paris hiding behind a tree near the White House, brandishing a firearm and waiting for the oncoming then-US President George Bush was considered too inflammatory by the record execs. But Paris would not have his voice silenced. Determined to release the album by any means necessary, P-Dog unleashed it on his own independent label, Scarface Records. Driven by his fearless hunger for revolution and backed by an explosive soundtrack of high-octane beats, menacing basslines, and frantic scratching, the Black Panther-inspired MC raps with vengeance and ferocity. Relentless from start to finish, even the comparatively laidback, contemplative tracks don't slow the album's momentum and intensity. Paris acknowledged in the liner notes that the project was censored and rushed. Despite this, Sleeping With The Enemy is a classic and one of the most politically charged, fiercely militant Hip Hop records ever – the true audio definition of no justice, no peace. Make way for a Panther.
Zhigge – Zhigge
Several '90s Hip Hop releases came from artists with a load of potential who dropped just one LP before fading into obscurity. These albums rarely went beyond the cult status of an excellent but often unrecognized Golden Age record. Five-man Harlem outfit Zhigge was a prime example. Their self-titled major-label debut ended up their only studio album before the group vanished into thin air. Fortunate enough to rock their rhymes over some of Salaam Remi's earliest and best production work, the dancers-turned-rappers delivered a project packed with freestyle-frenzied, uptown party flavor over Salaam's high-tempo, sample-filled beats. Much of the album comes off like a collection of hype posse cuts and party tracks performed live on the block. The Afrocentric vibe and conscious message of "Born Black" and cautionary "All That Glitters Ain't Gold" add the finishing touch to the LP's philosophical finale. Zhigge disappeared nearly as quickly as they arrived on the scene, but they left behind a dope '90s gem that still doesn't get its fair share of the spotlight.
No I.D. – Accept Your Own & Be Yourself (The Black Album) (1997)
No I.D. is many things to Chicago Hip Hop and a prolific, gifted producer. The Kanye West mentor worked extensively with Common Sense and blessed Nas, Jay-Z, Ghostface Killah, Lupe Fiasco, and many others with his magnificent production talent. In 1997, alongside fellow Illinois producer and MC Dug Infinite, he presented Accept Your Own & Be Yourself – his first and only solo venture. The duo's lyrics are down-to-earth and relatable, rhyming with substance about overcoming adversity and striving for a better day. But what really makes this album so exceptional is No I.D.'s beats, which are nothing short of sensational. At times his instrumentals are elegant and sumptuous ("Sky's The Limit," "Pray For The Sinners"); on others, he brings the heat with dramatic vibes ("We Rock Like This," "Mega Live"). Sonically speaking, this is a juggernaut of an album – a sleeping giant and production masterpiece. In terms of beat-making, sample-sourcing and song-crafting, Accept Your Own & Be Yourself unquestionably cemented No I.D. as Chi-Town's finest.
Lost Boyz – Legal Drug Money (1995)
Representing South Jamaica, Queens, MCs Mr Cheeks and Freaky Tah (RIP), DJ Spigg Nice, and Pretty Lou had a real knack for fusing rough-n-rugged, impassioned street bangers with infectious party anthems; adeptly straddling the fine line between underground ghetto flavor and mass appeal. Their standout debut LP was the perfect embodiment of the LB Fam sound. Featuring the Easy Mo Bee-produced smash singles "Jeeps, Lex Coups, Bimaz & Benz" and "Lifestyles Of The Rich & Shameless" and the tragic love story "Renee," Legal Drug Money is a heavy dose of pure, uncut Hip Hop adrenaline. A handful of tracks were re-recorded without their original samples for the album's commercial release on Universal Records in 1996. The promo LP from 1995 on Uptown Records has all these samples intact, along with songs that didn't make the final cut on the '96 release, making it the definitive version. Full of irresistible underground charm and straight-up street heat, this utterly essential mid-'90s NYC classic will have you coming back for more.
Mad Kap – Look Ma Duke, No Hands (1993)
Hip Hop and Jazz. The perfect marriage – particularly during the Golden Age, with artists incorporating jazz music into their sound by either sampling the genre's greats and lesser-known performers or using live instrumentation. Occasionally, it was a bit of both. Enter LA's Mad Kap, composed of MCs Coke and Motif and rapper-slash-trumpeter Dr Soose. Their debut LP Look Ma Duke, No Hands is a meticulously crafted recipe of lush, obscure jazz samples, upright bass, and boom-bap beats, with Dr Soose's live trumpet licks and solos putting the icing on the cake. Sadly, this was Mad Kap's only LP, but two of the group's members didn't disappear altogether. Coke reemerged as a member of the group Colored Section, who dropped the independently released Bomb MC in 1998. Dr Soose – still active in the music biz – has produced tracks for Freestyle Fellowship and Kendrick Lamar, among many others. The album's title is doubtless a nod to just how effortless and sublime Look Ma Duke, No Hands sounds, and as one of the LP's standout tracks declares: "The Proof Is In The Pudding." So sit back, relax, put the needle on the record and let Mad Kap take you on a Hip Hop-Jazz journey like no other – with no hands!
Rottin Razkals – Rottin Ta Da Core (1995)
Alliances in Hip Hop help open the door for aspiring artists in the Rap game, providing that much-needed exposure to get put on – and this was especially prominent in the '90s. Case in point: close Naughty By Nature affiliates and fellow East Orange, New Jersey (AKA Illtown) residents Rottin Razkals, composed of Chap, Fam, and Diesel. After appearing on "Knock Em Out Da Box" from NBN's 19 Naughty III LP, they released their debut LP in 1995. Executively produced by Kay Gee, the album featured beats by Naughty By Nature and guest vocals by Diesel's older brother Treach on two tracks. Consequently, Rottin Ta Da Core has that classic NBN sound: synth and keyboard-heavy, bouncy hardcore joints and party jams, with lively back-and-forth raps and catchy call-and-response choruses. The group's MCs displayed skill and ability on the mic – though you'd be forgiven for mistaking these cats for Naughty themselves, which could explain why this one got lost in the mix. Perhaps they could have named themselves Naughty Rottin Razkals By Nature – but with beats and rhymes as dope as this, who cares!
Maestro Fresh Wes – Naaah, Dis Kid Can't Be From Canada?!! (1994)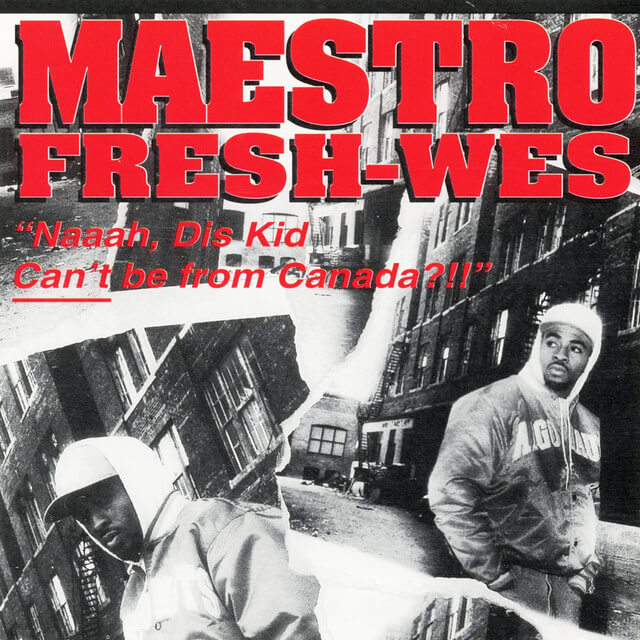 This kid is definitely from Canada. In fact, Toronto's Maestro Fresh Wes is a true Hip Hop pioneer and considered the godfather of Canadian Rap. Whilst highly regarded and ubiquitous in the Canadian scene, Fresh Wes was a relative unknown outside the Great White North. Attempting to widen his appeal and break into the US Hip Hop market, he relocated to Brooklyn in the early '90s. His Showbiz-produced single "Fine Tune Da Mic" dropped in 1993, swiftly followed by Nah Dis Kid Can't Be From Canada?!! the year after. Featuring production from Showbiz, renowned engineer and bass player Anton Pukshansky and Maestro himself, with guest vocals from Percee P and Show B-I-Z, the album sounds a bit like Show & A.G.'s Runaway Slave. That raw, jazzy Bronx flavor is the order of the day – Fresh Wes had clearly been diggin' in those crates. Ultimately, Maestro's New York venture wasn't a huge success, and he moved back north soon after. But what this LP may lack in originality and variety, it certainly makes up for in sheer dopeness.
Del Tha Funkee Homosapien – I Wish My Brother George Was Here (1991)
Del Tha Funkee Homosapien – that's Ice Cube's cousin, right? Well, yes – and the cosmic P-Funk samples and deliciously thick grooves of Del's debut LP gave it a sound similar to Death Certificate and other West Coast releases from 1991. But Del took a decidedly different direction on his first go-round by taking a leaf out of Digital Underground's book and the like rather than the Gangster Rap manual. The unconventional themes and witty narratives of I Wish My Brother George Was Here took listeners on a journey through the mind and into the world of The Funkee Homosapien. A perceived outsider and misfit, he's "down with Da Lench Mob and straight from the ghetto" – but "under the sun in the meadow." Del – who penned Ice Cube's "Gangster's Fairytale" – also shares his cousin's penchant for colorful, illustrative storytelling. "The Wacky World Of Rapid Transit" is an amusing tale about the ordeals of traveling on the bus. "Sleepin' On My Couch" finds Del griping about the antics of so-called friends who treat his house like a hotel and outstay their welcome. And on "Same Ol' Thing," he laments the state of Hip Hop, shining a light on the 'fraudulent foes' and copycat rappers invading the industry. Just a late teen when recording the LP, Del rapped with the skill and confidence of an MC working on his tenth album, never mind his debut. And I Wish My Brother George Was Here was the first of many outstanding releases to come from the Funkee Human Being.
Heltah Skeltah – Nocturnal (1996)
The Boot Camp Clik was on a roll in the early to mid-'90s. Black Moon was first out the gate, blowing up the spot in 1993 with their hardcore underground smash Enta Da Stage. In '95, Smif-N-Wessun dropped Dah Shinin' – considered one of the crew's best releases (The Source's controversially stingy 3-Mic review aside). It was then time for the next crop of BCC talent to burst on the scene. First up was Brownsville duo Ruck & Rock as Heltah Skeltah, who released Nocturnal in 1996 after appearing alongside fellow newcomers Originoo Gunn Clappaz on the '95 single "Blah / Leflah." Ruck (aka Sean Price) was arguably the Boot Camp's most technically gifted MC – his understated delivery and effortless, precision flow flawless throughout the LP. Rock – armed with a deep, baritone voice and intimidating presence – was the perfect foil for his partner in rhyme. Da Beatminerz, Baby Paul, Sean J Period, and E-Swift of Tha Alkaholiks produced most of the album, with Mr Walt and Evil Dee bringing that typically blunted, dusty BCC sound and continuing their rich vein of form. Although there's a slight lack of cohesion and no strong theme holding the album together, heads hungry for that classic Boot Camp Clik dopeness can't go wrong with Nocturnal. Sean Price, Rest In Peace.
Bush Babees – Gravity (1997)
Coming out swinging with their rambunctious 1994 debut LP Ambushed, Bush Babees returned in '97 with their second album, Gravity. A more mature, introspective piece of work compared with their first effort, the Flatbush trio of Mr Man, Lee Majors, and Y-Tee had turned from boys – or Babees – to men. The trio came with thoughtful, reflective rhymes straight from the soul, taking a sincere, heartfelt approach on what would prove to be the group's final LP. Musically, the tempo had slowed down a notch compared to their debut, and the beats were more soulful, jazzier, and melodic. The UMMAH, De La Soul's Posdonous, and Sean J Period played a big part production-wise, with Q-Tip and Mos Def providing guest vocals – the crew's association with the Native Tongues evidently a strong influence on their change in direction. The album's title symbolized how grounded and focused the Bush Babees had become – the force of gravity holding their universe together. As Lee Majors states with conviction on the outro: "I did this joint my way… I kept it real to myself – I held it down Gravity style."
Camp Lo – Uptown Saturday Night (1997)
From late 1994 to 1996, Ski (AKA Ski Beatz) from Original Flavor and Bronx rappers Geechi Suede and Sonny Cheeba worked on a series of demos, their collaboration birthing 1997's exceptional Uptown Saturday Night. Two of Hip Hop's most unsung MCs, Geechi Suede and Sonny Cheeba were revelations on the mic – effortlessly bouncing off one another and exchanging lines with delicate ease and flamboyant swagger. Their distinct vocal stylings, unique cadences, and pimped-out street slang paint vivid pictures over Ski's extravagant rare groove samples and jazzy, soul-drenched backdrops. Notable guest spots include De La Soul's Trugoy The Dove, who raps on and produces the bouncy "B-Side To Hollywood." And Butterfly from Digable Planets goes rhyme-for-rhyme with Geechi Suede on the addictive "Swing." Hailed a cult classic in some circles, Camp Lo's dazzling debut oozes '70s nostalgia and flavor, perfectly capturing the sound and essence of the Blaxploitation era. One of the fliest, most distinctively original sounding albums of the '90s that has stood the test of time.
Da King & I – Contemporary Jeep Music (1993)
Brooklyn duo Da King & I first broke onto the scene as Izzy Ice & DJ Majesty with their "Soulman" b/w "Funky Freestyle" single in 1988. Five years on, producer Majesty ('Da King') and MC Izzy (the 'I' of the duo) dropped Contemporary Jeep Music on Dallas Austin's Rowdy Records imprint. To put it bluntly, this album slams, and Majesty's production is magnificent throughout. The uptempo tracks laced with heavy jazz loops, chunky snare drums, killer beat switches, and seamless chorus transitions make for an exhilarating listen. And Izzy's certainly no slouch on the mic. His confident delivery and slick wordplay compliment Majesty's beats to a tee and help form the producer-rapper chemistry so prevalent at that time. Even DJ Premier had to get in on the act, with Preemo's remix of "Flip Da Scrip" appearing on the b-side of the duo's final single off the LP. So just how was one of the fattest Hip Hop records of the early '90s so slept-on, and why is it still so underappreciated? As with many albums featured on this list, it's a testament to the abundance of high-caliber releases that blessed Hip Hop's Golden Age.