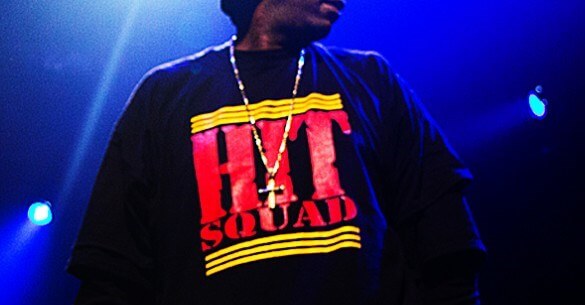 8 Incredible Hip Hop Entourages
Junior MAFIA (Notorious BIG)
These guys probably had the best number of hits, which, hello? Is this a surprise? Being founded by one of the hardest rappers that ever lived make for an unquestionable hot track every damn time, and Players Anthem is a timeless masterpiece. Li'l Kim goes into straight assassin mode, dropping complex profane lyrics nonstop over Clark Kent's fiya beat. Let's not overlook that Cease's incredible intro, tho.
The Outlawz (2Pac)
Sure, I could have gone with Thug Life instead (which includes the outstanding lyricist Rated R) but Hit Em Up was monumental. Pac had declared open warfare on Biggie, causing an incredible coastal beef that ended with their lives. Hip Hop has always been serving up beef, but nothing has ever come close to approaching the impact of their conflict, with Pac being the only one willing to just spit it directly, making a hot hot track well before Ether was ever needed. His crew backed him up 100%, dropped incredibly dope disses.
Terror Squad (Fat Joe)
Absolutely LOVE this crew's efforts, regardless of how things may have eventually turned out. I'll just chaulk that up to the unbearable weight that the absence of Big Pun left on Joey Crack and the rest, leading to understandable misunderstandings.
Pun was truly one of a kind, and his fellow squad members dropped some of the cleverest lyrics you'll ever hear. Although a Beatnuts song, "Off The Books" really showcases Pun and Cuban Link's mic destroying skills.
Hit Squad/Def Squad (EPMD)
Hit, Def, whatever. EPMD's half together crew probably holds the best lyricists in any Hip Hop group this side of the Wu. I mean, look at what we're talking about:  Redman, K-Solo, Das EFX, Keith Murray…. SHEESH.
These mercernaries straight up kill any track they appear on, as well as had outstanding individual solo efforts. Redman is obviously the standout rapper of the gang, but I feel the hypest track the squad ever put out had Reggie supplying the funky beat for a fly ass teenage MC.
Flavor Unit (Queen Latifah)
Before the royal one went on to bigger and better things in the entertainment world, Latifah ruled over a badass collective of NYC/New Jersey rap gladiators.
Treach and Chip Fu could easily go buckwild on any track, while hitmen Heavy-D and Dres (Black Sheep) came with all kinds of style and originality. Formerly the 45 King's crew, Latifah took the reigns and never looked back, leaving the entire Hip Hop world rollin' in her wake.
Roc-A-Fella (Jay-Z)
Man, I just can't even begin to get into all the Jay-Z hate. The boy is BAD, period. Needless to say, if you're rocking with Jay, you'd better be a damn good lyricist. The Roc Familia didn't disappoint, with heavy hitters like Beans, Amil and Bleek bringing that straight heat on every track they blessed. It's quite a shame that the dynasty had to end, but that's just the way it goes in Hip Hop.
No Limit (Master P)
The masterful entrepreneur Master P helmed quite a collection of soldier MCs, most coming out of the Bayou and his own family album. Silk had great off-kilter moments, Mia X was a flamethrower and Mystikal's stutterstep will make you believe in the Lawd. There's plenty of hits to choose from but c'mon… you know DAMN WELL which song I'm about to drop.
Lench Mob (Ice Cube)
Here comes another crazy "what if", which Hip Hop is tragically littered with. Back when Cube shook off his NWA past, he founded a groundbreaking crew from South Central.  They were political, hardcore and lyrical as hell, with J-Dee being the amazing standout of the group. I can't help but think that he would have been glorious as "The Guerilla" in Westside Connection later if things had gone differently. Like I said before, that's Hip Hop for you.