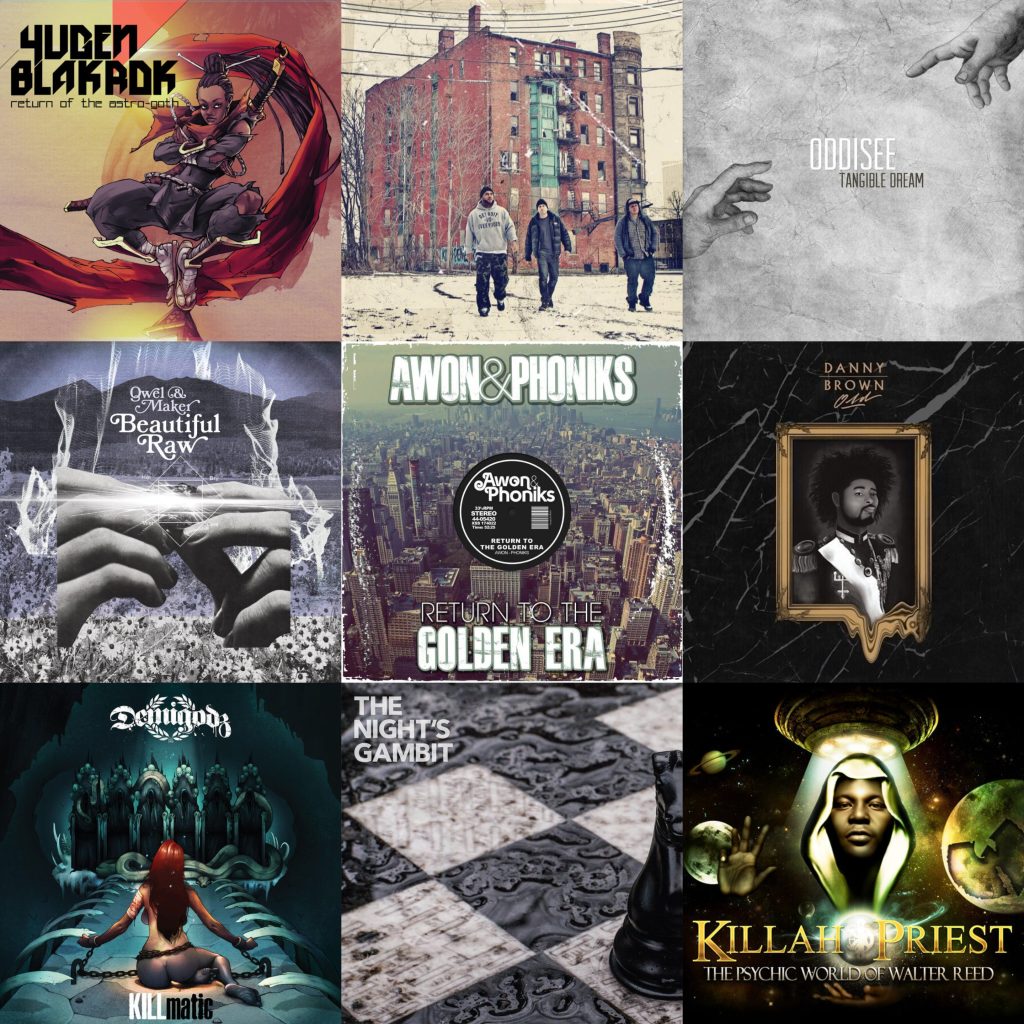 2013 was a pretty good year for Hip Hop. While 2012 remained the best of the decade up till that point, 2013 also had a lot of quality Hip Hop to offer as well. Killer Mike had 2012's best album with R.A.P. Music, and his continued collaboration with El-P – now as a duo called Run The Jewels – resulted in 2013's best album. The usual mainstream darlings (Eminem, Jay-Z, Drake, Kanye West, J. Cole) had the best-selling albums of the year, but as always best-selling does not necessarily mean best. For this list, we have selected 10 albums – presented here in no particular order – that are among the best Hip Hop had to offer in 2013, albums that have aged really well and that deserve more shine than they got upon their release ten years ago.
Yugen Blakrok – Return Of The Astro​-​Goth
Yugen Blakrok is an emcee from South Africa and her debut album Return Of The Astro​-​Goth is one of the most underrated albums on this list. Hypnotic instrumentals and empowering content, complemented by Yugen Blakrok's powerful voice and silk-smooth flow – Return Of The Astro​-​Goth is a totally immersive experience, an atmospheric masterpiece to get well and truly lost in.
Ugly Heroes – Ugly Heroes
Ugly Heroes is a trio consisting of MCs Verbal Kent and Red Pill, along with producer Apollo Brown, and Ugly Heroes is their self-titled collaborative debut album. As always Apollo Brown's sound is straight from the nineties, with polished bass-heavy beats, complimented by atmospheric strings and piano chords. This is blue-collar Hip Hop, Ugly Heroes focuses on the struggles of Verbal Kent and Red Pil, who present themselves as working-class MCs from Chicago and Detroit, describing the struggles of working-class life. Filled with serious content and unflinching lyrics, backed up by deep and slow head-bobbing beats – this is one of the many gems produced by Apollo Brown, an excellent album that deserves a lot more attention than it got.
Oddisee - Tangible Dream
Washington DC's Oddisee really is something else. He is an incredible producer AND a great lyricist. He is responsible for two near-flawless albums as one-third of the Diamond District trio, and he has released a string of great solo projects. Tangible Dream is his best solo effort of this decade, along with The Good Fight (2015). This album is full of great tracks. "Tomorrow Today", "Back Of My Mind", "Killin' Time", "Be There" and "Tangible Dream" are just a few of the stand-out tracks on this awesome project.
Qwel & Maker - Beautiful Raw
You may know Chicago emcee Qwel as part of the Typical Cats crew, who had three pretty good albums with Typical Cats (2001), Civil Service (2004), and 3 (2012). In addition to his work as a solo artist, Qwel has been releasing projects ever since 2004 with producer Maker. Beautiful Raw is their fourth collaborative album and their best. Maker's instrumentals serve as the perfect backdrop for Qwel's rhymes – which were some of the best recorded in 2013. Qwel is an excellent rapper, one of the best most of you probably have never listened to. Those who are up to speed with Qwel's work will know it to be true, those who have slept on Qwel up to now are in for a treat – before you go check out his back-catalog, begin with this album, enjoy Maker's beats and really listen to Qwel's lyrics to appreciate his skill and intricate wordplay.
Awon & Phoniks - Return To The Golden Era
Awon & Phoniks' Return To The Golden Era is pure gold. Dope beats, scratches, lyricism, storytelling – all you could want in a mature Hip Hop album is present here. Portland, Maine producer Phoniks hooking up with Brooklyn-born Virginia-resident Awon has brought the world a bunch of great Hip Hop – their collaborative debut album Return To The Golden Era arguably is the epitome of their chemistry. This album will satisfy the cravings of all those who dig smooth and jazzy Hip Hop music. No skippable tracks on here, but a special mention goes out to "Forever Ill", which features Awon's wife Tiff The Gift – one of the best and most slept-on female emcees of this decade.
Danny Brown - Old
Old is Danny Brown's third studio album, and it's another intriguing presentation – a great lead-up to what would turn out to be Danny Brown's masterpiece: Atrocity Exhibition (2016). But Old is more than just a stepping stone, it proves once again Danny Brown is one the most unique personalities in 2010s Hip Hop. Old is an album with very different sides, it's like it is two albums in one. The first half of the 19 tracks show us an introspective and more serious Danny Brown who touches upon all kinds of his craziness and personal turmoil, the second half is not much less crazy in subject matter but is a little more lighthearted, consisting more of club bangers. Both sides work – Old manages to stay cohesive despite the diversity presented, and overall it's a good showcase of the different sides and the crazy, messy life of Danny Brown. Old will not be for everyone, but all those who allow themselves to be captured by Danny Brown's wild personality, unique lyrical style, and left-field production choices will consider Old a treasure.
Demigodz – KILLmatic
KILLmatic is a 2013 album by the supergroup Demigodz. Demigodz is a Hip Hop collective whose line-up has changed several times over the years – as of 2012, the group consists of Apathy, Celph Titled, Ryu, Esoteric, Motive, & Blacastan. With production from Apathy (who also serves as executive producer for the album), DJ Premier, Teddy Roxpin, Chumzilla, Snowgoons, Skammadix, Will C, and Marco Polo, and guest appearances from renowned rhyme spitters as R.A. The Rugged Man, Planetary, and Termanology KILLmatic is an hour of HEAT. 100% pure uncut Hip Hop: hard rhymes, booming beats, dope scratches, and killer samples – just listen to "Dead In The Middle", which uses the epic Big Pun verse 'dead in the middle of Little Italy little did we know that we riddled some middlemen who didn't do diddly' as the hook. KILLmatic: non-stop blood-pumping beats and lyrics from beginning to end.
Ka – The Night's Gambit
Coming on the heels of the solid Grief Pedigree (2012), Ka's The Night's Gambit proved to be a major creative step ahead for the Brownsville, NYC native. Ka showcases he is an extremely gifted emcee, with next-level poetical lyrics, clever metaphors, and subtle wordplay – with this album's narrative centered around chess. Musically more stripped down and minimalistic than Chief Pedigree was, The Night's Gambit is an atmospheric delight that may not be for everybody, but that will be appreciated by Hip Hop connoisseurs.
Killah Priest – The Psychic World Of Walter Reed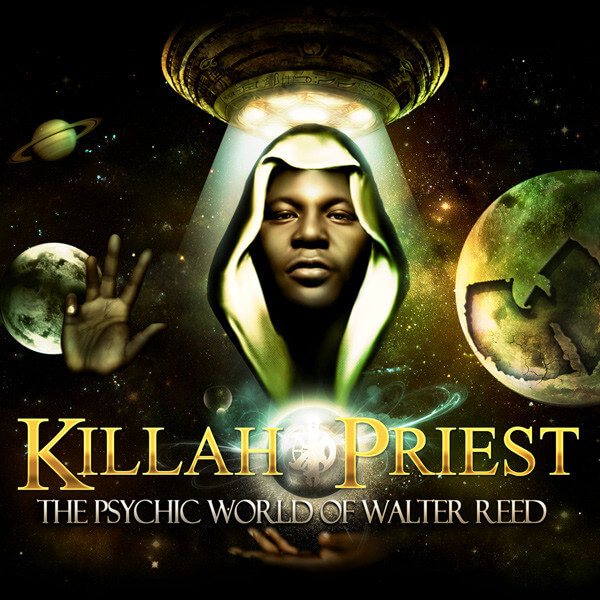 41 tracks, 2 hours & 17 minutes of music – The Psychic World Of Walter Reed is a monster of an album. Despite its length, Killah Priest's tenth album is one of his best. In typical Killah Priest fashion, The Psychic World Of Walter Reed is laced with cryptic observations, cosmic imagery, and religious references, all of it mixed up with street wisdom – his content can be heavy-going at times, making his music something for a niche audience. But there's plenty to enjoy even if you are not inclined to dissect all of Killah Priest's relentlessly dense lyrical content – his resonating baritone is a joy to listen to, and the beats on this album are dope. It says a lot that the instrumentals crafted by elite beat crafters like RZA, 4th Disciple, and Ayatollah don't even stand out – the beats from producers like Jordan River Banks, Ciph Barker, and Kalisto are just as good: for a 41-track album, The Psychic World Of Walter Reed is incredibly cohesive and consistent.
With The Psychic World Of Walter Reed, Killah Priest solidified his status as one of the most consistent artists out of the extended Wu-Tang family, second only maybe to Ghostface Killah (who not coincidentally had the best feature on this album). The Psychic World of Walter Reed may not be an easy or straightforward listen, but it's an intriguing one – one that deserves attention. Killah Priest is to be applauded for his vision and artistic audacity, few (if any) artists are able to do behemoth projects like this one, and coming out on top, Killah Priest succeeded admirably.
R.A. The Rugged Man – Legends Never Die
R.A. The Rugged Man is an exceptional emcee – better than your favorite rapper. Few, if any emcees can go bar-for-bar with R.A. The Rugged Man. His technical abilities, incredible flow, breath control, and bar-building skills are second to none. Due to all kinds of label woes and a strong-minded personality with an unwillingness to compromise, he only released two albums in the more than two decades he's been active in the game – but on those two albums, and on numerous guest appearances on other people's songs (where he usually bodies everybody else involved), R.A. has consistently shown an unbeatable lyrical ability.
Legends Never Die is R.A.'s second album, displaying his superior flow and wordplay, with lyrics that are clever, humorous, braggadocious, self-depreciative, personal, and provocative – this guy really is something else. The beats on this album are dope too, Legends Never Die is one of the most entertaining albums of 2013.