With our fourth Hip-Hop Three-peat entry, we are going to dive into perhaps the first group that came to many minds when we introduced this notion of Hip Hop Three-Peats – A Tribe Called Quest. Throughout this series, I have referenced the inspiration of NBA Three-peat Champions in helping recognize the higher echelon of extraordinary performance that is required to release three consecutive classic albums. I won't say that Tribe is Jordan's Bulls and their two three-peats but the Shaq & Kobe three-peat Lakers come to mind. I could draw some parallels, but would rather not – let's get into these championships!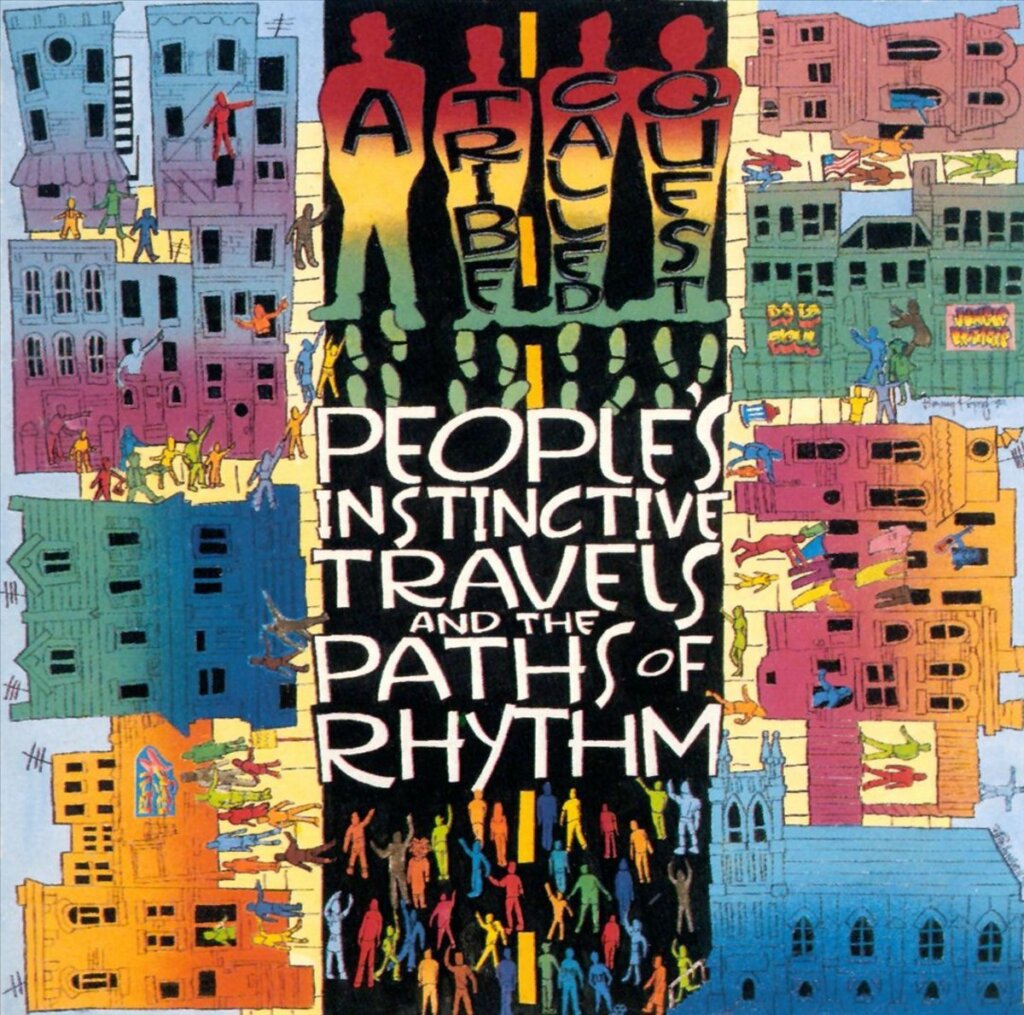 FIRST CHAMPIONSHIP – PEOPLE'S INSTINCTIVE TRAVELS AND THE PATHS OF RHYTHM (1990)
Where We Were:
In 1990, we were enjoying the barrage of quality music that was turning this time into Hip Hop's Golden Age. From Eric B & Rakim, Big Daddy Kane, and even NWA – we were getting bombarded with classic after classic. Just when things could not get any better, one of four peculiarly dressed artists left his wallet in El Segundo.
What made them outstanding:
Dispelling assumptions – I was guilty. The quick glance assumption made me (and probably a few others) think these guys were De La knockoffs. WRONG. They were original with their primary connection to De La being their choice to stand apart from everyone else. These cats were authentic from the jump.
Stickiness – their songs were catchy, nearly infectious as listeners would find themselves, rapping, humming, or otherwise replaying Tribe's songs in their head after the initial listening experience.
Their sound – beyond the lyrics, their beats were distinctive. Lyrically with what they said and how they delivered their words, they expanded on their distinctiveness. There was something about these guys that had listeners feeling like "you gotta put me on."
What we could have done without:
This is tricky because hindsight could have us getting real nit-picky. But recalling the context of 1990 and the fact that this group seemingly came out of nowhere (for many listeners) – this album is a remarkable introduction to a new group. We needed every bit of this album.
Championship Moment:
I believe this extends beyond 1990. The championship moment is enduring because even for late-coming Tribe fans, revisiting this album is a joy. It aged very-well. Among the highlights, I found "Can I Kick It?" to be sort of a beacon to where they were headed and I was anxiously awaiting the ride.
How it impacted me:
In 1990, I was in the tenth grade and concerned with the height and flatness of my hightop fade. I liked "El Segundo" but it was "Bonita Applebum" that made me a fan. Even right now, when you read these lyrics:
38-24-37 (mmm, mmm, mmm)

You and me, hun, we're a match made in heaven
a happy feeling and/or memory takes over your mind. Only a classic song has that type of impact.
SECOND CHAMPIONSHIP – THE LOW END THEORY (1991)
Where We Were:
It was the start of our senior year of high school and I had worn out Ed O.G. & Da Bulldogs' Life of a Kid in the Ghetto and King Sun's Righteous but Ruthless. We were ready for something new. My man, Jay, copped the "Check the Rhime" cassette single and we played it non-stop while getting more and more amped for the album.
What made them outstanding:
More Phife! Want to make a good team great? Increase the input from a talented teammate.
Their sound jumped up several notches in uniqueness. For some old heads, when the notion of jazz and Hip Hop come up, they think of the late Guru from Gangstarr. Guru was indeed that dude; yet, for me, all jazz and Hip Hop talk begins with Q-Tip (with a brief shoutout to Jazzy Jeff and the "Touch of Jazz" joint on their first album).
The imagery – they evolved from bohemians into regular cats. But more important than that? The Afrocentric-theme lady mascot is iconic!
What we could have done without:
Not applicable – The Low End Theory is perfect.
Championship Moment:
"Scenario" is the best posse cut of all-time!
The video was ground-breaking. Phife and Tip shined and Busta Rhymes' guest verse is classic. Moreover, with this album Phife's line about himself is also prophetic for the group:
My days of paying dues are over, acknowledge me as in there
How it impacted me:
I was a fan but I was not a hardcore, ride-or-die fan. In all honesty, my love of jazz music, particularly the jazz fusion era, made me revisit The Low End Theory with a different ear and different anticipation. I love it more now than I did in '91. Not that it wasn't deserving of the love then, but I was not as sophisticated of a listener to really appreciate those samples and beats. In '91, I thought the album was very good; however, as an adult, I know this joint is a classic.
THIRD CHAMPIONSHIP – MIDNIGHT MARAUDERS (1993)
Where We Were:
Dr. Dre's The Chronic had changed Hip Hop. Particularly catapulting the West Coast to the top of Hip Hop popularity. While I never heard of Tribe getting involved with that East vs. West nonsense, I believe that the release of Midnight Marauders and the Wu-Tang's 36 Chambers definitely started shifting the momentum back East. Their joint releases perhaps kickstarted the birth of the "second" Golden Age.
What made them outstanding:
"Electric Relaxation" – my favorite Tribe track of all-time.
Good – better – best progression we saw with Run DMC's Three-peat is also evident with Tribe's Three-Peat with Midnight Marauders being best of their classics.
The album cover – not only did fans think they were dope, but other artists and producers also wanted to be down with their iconic group. Plus, the Afrocentric-themed lady was back!
What we could have done without:
No complaints here – it's an album you can listen to again and again.
Championship Moment:
That euphoric moment when you realized that it doesn't get better than this. For some of us, the flip side of that thought was the realization that it wouldn't.
How it impacted me:
As a sophomore from the Midwest at a college on the East Coast, I was standing rigid in my unimpressed-with-East-Coast-rappers position. Really, it was just adolescent defiance. I was homesick for the rappers with whom I was most familiar while gaining an albeit begrudging appreciation for new music coming from the East.
On the day Midnight Marauders dropped, I was at a rehearsal for a production our forensics team was putting together. My classmate, Willita, was from New Jersey and damn near had the album memorized by our rehearsal that evening. She would not stop saying "Do that, do that, do that, that, that" throughout rehearsal. I tried to be annoyed but then she let me listen to "Award Tour" and I was infected with her enthusiasm.
EPILOGUE
The passing of Phife casts a somber pall over my Tribe memories. The loss of an artist with whom we grew-up is a reminder of our mortality. The differences that existed among the group members is a reminder of the ebbs and flows of our childhood friendships. The music that they sampled was a reminder that our music stands on the shoulders of those who came before us.
These dudes were game-changers. They are the soundtrack of some of my fondest memories. Moreover, their last album, We Got It from Here… Thank You 4 Your Service is very good and is a fitting capstone to their discography. Whenever you want to recapture the magic of your youth, press play on track 9 of The Low End Theory, then do those punches in the air with each of those "unh, unh, unh (s)" and … well take it from there:
Back in the days on the boulevard of Linden

We used to kick routines and the presence was fittin'…