With our second Hip-Hop Three-peat entry, we will acknowledge the brilliance of OutKast. If you are uncertain of who Big Boi and Andre 3000 are and what they stand for, allow Dungeon Family member Big Rube to explain:
Operating under the crooked American system too long

OutKast, pronounced outcast

Adjective meaning homeless, or unaccepted in society

But let's look deeper than that

Are you an OutKast?

If you understand and feel the basic principles and

Fundamental truths contained within this music, you probably are
Got it?
Let's proceed.
With this series we are celebrating Hip Hop acts that, much like three-peat NBA champions, released three consecutive classics. Consecutive being the operative term. One of my favorite rappers, Common, has an excellent body of work; yet, he is the San Antonio Spurs of Hip Hop championships. His classics, Resurrection (1994), Like Water for Chocolate (2000), and Be (2005), were not back-to-back-to-back. But today's featured artist? Well, a strong case can be made for a Four-peat depending on your position on Southernplayalisticadillacmuzik and/or Stankonia. I will acknowledge that you can't lose either way; but I will keep it consistent and focus on the three-peat.
FIRST CHAMPIONSHIP – SOUTHERNPLAYLISTICADILLACMUZIK (1994)
Where We Were:
The post-Chronic era featured a preponderance of weed-smoking. Just about every other Hip Hop album had some dude coughing or making a reference to good ole Mary Jane. I'm not much a conspiracy theorist but I will say this, just a handful of years prior nearly everyone had their Africa medallions, then the cultural pride diminished and the so-high persona took center stage. I always thought that was a peculiar occurrence.
What made them outstanding:
The Dungeon Family – from the beats, to the cameos, or perhaps evening the criticism/coaching that led to the improvement of skills – it is impossible to talk about OutKast without the Dungeon Family;
By being their authentic selves, they introduced a whole new flavor to a national audience;
Redefined the image of Southern Hip Hop. Much love to MC Shy-D and the 2 Live Crew; yet, they were not regarded as bonafide MCs. Big Boi and Andre 3000 changed that. Hip Hop purist would argue for Scarface and I would not disagree. The point remains that these dudes could really spit.
What we could have done without:
It would be too easy to harp on the interludes now, but back then? They worked and helped the flow of the album. The notion of what we could do without does not apply.
Championship Moment:
"The South got something to say!" was the last line of Dre's speech at the 1995 Source Awards when they won Best New Artist. In my opinion, this is one of the best and hardest flag-planting, chest-thumping moments in Hip Hop history.
How it impacted me:
These were my dudes. The first rappers I identified with as peers or cool cats that are my age, going through the things I'm going through, and responding to them in ways I would respond. The fan-celebrity kinship I felt with Dre & Big Boi and by extension, the Goodie Mobb, would never be replicated.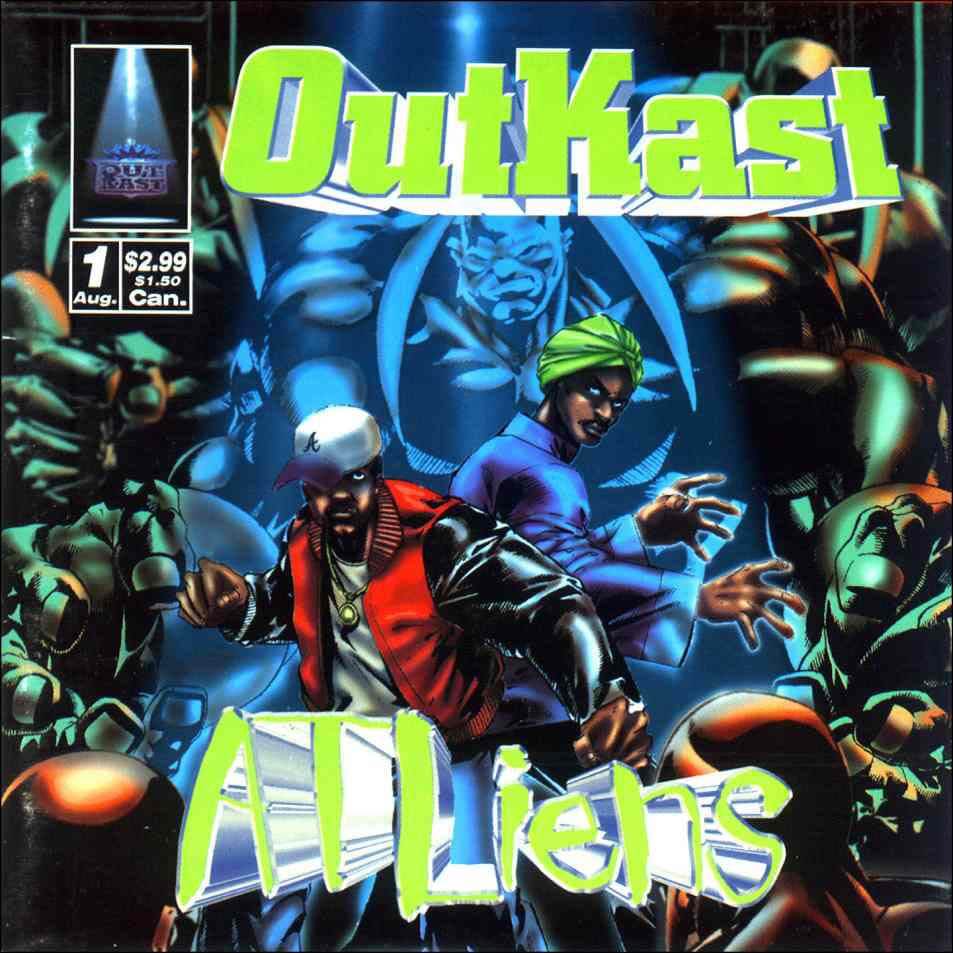 SECOND CHAMPIONSHIP – ATLIENS (1996)
Where We Were:
Organized Noize, the production team within the Dungeon Family were now a known entity in music. In '95, another group from the Dungeon Family, Goodie Mob, had dropped their classic and still underrated debut album, Soul Food, and their success fed into the growing buzz for the new OutKast joint.
What made them outstanding:
They evolved – their presentation, lyricism, and thematic concepts took a leap forward;
Sonic cohesion – the sequencing of ATLiens is remarkable. Each track flows into the next. It is designed/formatted as almost a singular experience – an album and not a collection of singles;
The beginning of Dre & Big Boi producing their own tracks.
What we could have done without:
I'm proud to display my bias – this album is perfect. I would not change a thing.
Championship Moment:
You can relive it. Go to your favorite sound system and cue up "Elevators" and within the first twelve seconds you will be transported to another worldly audio experience. They have not even started rhyming but you KNOW from the beat that this sh** is going to be on point! You also know that you sang along when they said:
Me and you

Your momma and your cousin too

Rolling down the strip on Vogues

Coming up, slamming Cadillac doors
Yessir!! Out the gate, the first single was a championship moment.
How it impacted me:
The summer of '96 was tough times for me. I had a college degree and no job. My girlfriend tried to boost my spirits and took me on a drive through the city. We were rolling down Wyoming Avenue and listening to WJLB, when the legendary Reggie Reg announced he was going to spin the new OutKast. He plays it. The joint was so fire, he immediately plays it again. Me and my girlfriend, with mouths agape, look at each other in amazed disbelief. Oh sh**!! that joint thumped!!!
Fast forward a couple of months, I'm driving my then three and five-year-old nephews in my bench seat, two-door Ford Ranger and of course, we're listening to OutKast. Right on cue, the three-year-old turns to his brother and asks, "hey man, 'member me from school?" And the five-year-old replies, "nah, not really." Yes, I played this album so much I made an impression on the next generation.
THIRD CHAMPIONSHIP – AQUEMENI (1998)
Where We Were:
Hip Hop was no longer moving into the mainstream; it was becoming the mainstream. Puff Daddy's Shiny Suit Era was in full swing and Hype Williams videos were mini-movies. Cash Money records was ascending. The Neo-Soul sound was taking over R&B and Lauryn Hill was becoming a super-duper star.
What made them outstanding:
Dre's presentation definitely established his eccentrics while Big Boi was still the ATL player with whom we were accustomed. Their imagery was the balancing opposites that the album title invoked;
A guest spot from Raekwon? A respected New York MC on a track with some MCs from the South? That was unprecedented;
Many believe this is their best album. I really, really, really like it; but my heart remains with ATLiens. Nevertheless, this joint was SLAMMIN'! I mean, this was "the hardest sh** since MC Ren."
What we could have done without:
In a random shuffling of the CD, "Nathaniel" may leave you scratching your head. But it flows well in a sequential listen of tracks. To this day, I got a friend who uses this as his go-to freestyle when he's being silly.
Championship Moment:
The Source crowning them with five mics on the original review, not the retrospective ones. Before the internet and social media were norms, The Source was the Hip Hop bible. The Source reviewers were hella stingy with the 5 mic rating which made the albums who were bestowed the honor, even more impressive.
How it impacted me:
By now, you have figured that in my longing for ATLiens, Aquemini got less play. That does not diminish it's classic status one bit; yet, it does connote that the personal bond I had with OutKast wasn't the same. They weren't just my guys. They were our guys because they soaring upward in celebrity status – an ascension they deserved. Aquemini and The Miseducation of Lauryn Hill trigger the same type of nostalgia for me as they embody growing diverse sounds and that growth and diversity matched how my life was changing. To that effect, I was still growing with OutKast.
EPILOGUE
OutKast's fourth album, Stankonia, was a beast!! I took to it more than Aquemini. Think back when you first heard:
Inslumnational, underground

Thunder pounds when I stomp the ground (WOO!)

Like a million elephants and silverback orangutans

You can't stop the train
More impressive than that was the Organized Noize produced "So Fresh, So Clean".
Even with their steady progression in artistry, lyricism, and hits, I don't think anybody could have predicted the mega-smash that was Speakerboxxx / The Love Below – which I will proclaim as Hip Hop's best double album. It is certified diamond in sales which makes it the BIGGEST selling Hip Hop album ever.
How is that for "Two Dope Boyz in Cadillac"? Dre wasn't bullsh***ing when he said the South had something to say.
With a unique blend of originality, lyrical skill, the courage to evolve, and some dope beats, OutKast are without a doubt, Hip Hop Three-peat Champions!  (Actually, Four-peat, but that's another essay for another day and a fact that separates them from A Tribe Called Quest).
Even the sun goes down, heroes eventually die

Horoscopes often lie, and sometimes 'y'

Nothin' is for sure, nothin' is for certain, nothin' lasts forever

But until they close the curtain, it's him and I: Aquemini.