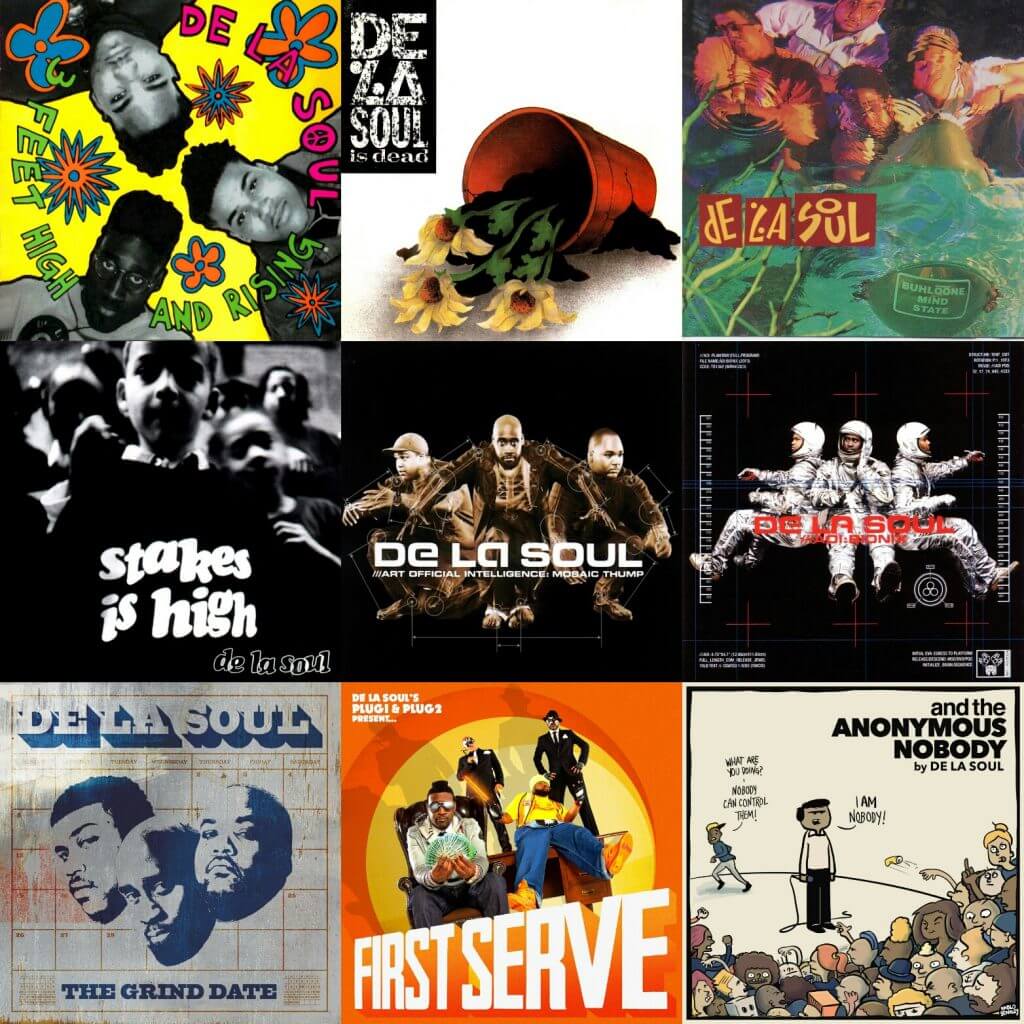 NEW YORK, NY (January 3, 2023) – Seminal Hip Hop group De La Soul announce that the iconic group's entire catalog will be available on all streaming platforms and digital retailers for the first time on March 3, 2023. For the first time ever, De La Soul's back catalog will be available to fans on all streaming platforms including their albums 3 Feet High and Rising (1989), De La Soul Is Dead (1991), Buhloone Mindstate (1993), Stakes Is High (1996), Art Official Intelligence: Mosaic Thump (2000), and AOI: Bionix (2001). As part of this momentous release, the group will also be issuing exclusive merchandise, vinyl, CDs, and cassettes via their label AOI and distributed by Chrysalis Records.
After decades of fighting for their highly demanded back catalog, Posdnuos, Dave, and Maseo have officially retained control of the rights to the master recordings through their new relationship with Reservoir and Chrysalis Records. "It's been 20-plus years overdue, but finally, we are here," says DJ Maseo.
Posdnuos, Trugoy, and Maseo came together to form De La Soul in the late '80s. By the early '90s, the group emerged as a unique collective, utilizing influences from early Hip Hop and catapulting the genre into its Golden Age and beyond. Their acclaimed debut album, 3 Feet High and Rising, was released on March 3, 1989, and produced by Grammy award-winning Hip Hop producer Prince Paul. 3 Feet High and Rising broke ground in various ways; tracks were layered with heavy slang, inside jokes, thought-provoking metaphors, and unconventional references, all while utilizing innovative rhyme flows and patterns.
Additionally, all this was infused with an eclectic mix of unique and funky samples featuring everything from Steely Dan, Hall & Oates, Johnny Cash, and foreign-language learning records. It was the first Hip Hop album to introduce the use of skits connecting tracks throughout and the first album to represent African American kids living in the suburbs who came from a working middle-class community. With the help of Prince Paul, De La Soul's distinctive musical backdrops earned them impressive attention from fans, peers, and critics alike. The one-of-a-kind album was inducted into the National Recording Registry, a list of sound recordings deemed "culturally, historically, or aesthetically significant" by the Library of Congress. The trio evolved hip-hop and demonstrated the value of masterful album creation as a complete work of art.
Today marks an important moment for Hip Hop fans spanning generations to rediscover the historically significant and musically impressive catalog of De La Soul. The group, which has been together for over 30 years, is still celebrating its successes today. Their hit track, "The Magic Number," was featured during the closing credits of the blockbuster Marvel film Spiderman: No Way Home in 2021, and their album And the Anonymous Nobody… featuring David Byrne, Damon Albarn, Usher, and Little Dragon was nominated for a Grammy for Best Rap Album in 2017. To this day, De La Soul continues to perform to global sold-out audiences.
About De La Soul
De La Soul is a New York-based trio whose members Posdnuos, Trugoy, and Maseo created the Hip Hop masterpiece 3 Feet High and Rising, initially released on March 3, 1989. The group is best known for its eclectic and innovative sampling, quirky lyrics, and contributions to the evolution of jazz rap and alternative Hip Hop subgenres. The band won the Grammy for Best Pop Vocal Collaboration for their song "Feel Good Inc." with The Gorillaz in 2005. In 2015, De La Soul raised over $600,000 on Kickstarter from fans to independently release their album And the Anonymous Nobody…, which was their first #1 on the Rap Albums chart and was also nominated for a Best Rap Album Grammy.