I can't think of a more appropriate time for the release of A Tribe Called Quest's new album, We Got it From Here….. Thank You 4 Your Service. With the passing of many beloved artists (one of them just happened to be Phife Dawg), the appointment of a Far Right regime in the United States, and constant civil unrest–both domestically and abroad, 2016 has been a heavy year. In one of the most tumultuous years of my lifetime, one could argue that this was the moment when the world needed A Tribe Called Quest record the most. I think this project is what the Low End Theory would sound like if it were released today.
Though there are plenty of calls for citizens of the world to unite, the youthful optimism of past albums is missing. This is a revolutionary album; dark and political, but it manages to avoid being corny, heavy-handed, or too preachy; attributes often associated with older, "conscious" rappers.
The polish and perfection in the album's sound is a perfect storm of time, talent, and wisdom. Since the last Tribe collaboration, Q-Tip has had the chance to build a million dollar studio at his home. If you consider the innovations in sound since 1998, the accumulation of record collecting  that incurred in that time period, and figure in the engineering experience that both he and DJ Ali Shaheed Muhammad garnered, then you will not be surprised at all by the impeccable production of this album.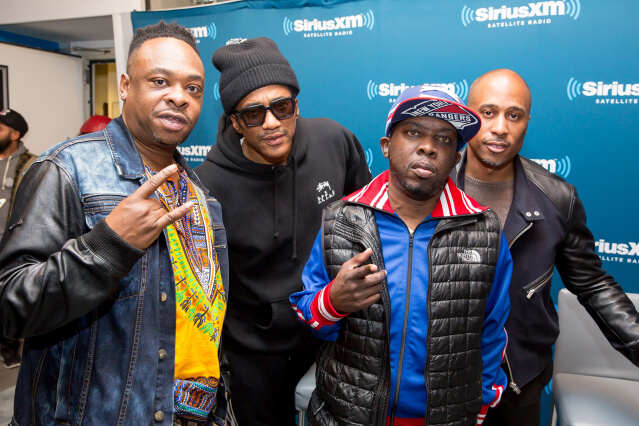 With the squad on hiatus, most of the general public forgot just how dope of a production team the group has in Muhammad and Q-TIp. Just because they flew under the radar, doesn't mean they haven't been busy. Both worked in tandem with J-Dilla (R.I.P.) under the working name of The Ummah, as well as other projects with artists (Muhammad with the likes of Adrian Younge and Souls of Mischief, and Q-Tip, who of course produced Nas' One Love, had just recently given Pusha T the beat for F.I.F.A. for Pusha's latest album).
Q-Tip has always maintained a balance between staying fresh and innovative, while also keeping a foothold in the classic aesthetic. This album bears repeated listens.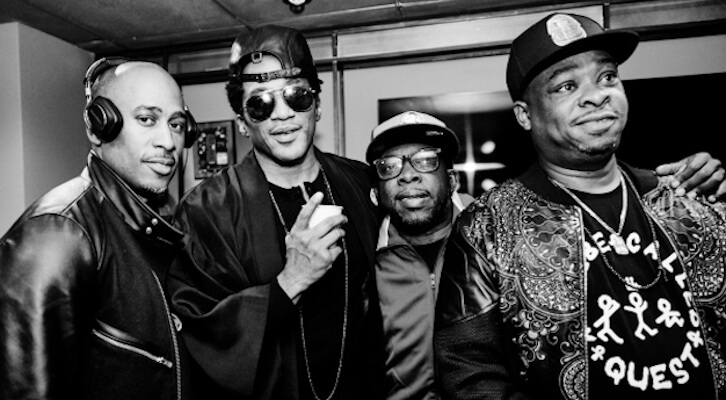 Veteran artists often make the mistake of clinging to what worked when they first started popping, or they chase the newest sound and completely alienate their original fanbase. If the Beatles or the Rolling Stones were to release an album right now, I doubt anyone other than hardcore fans would be checking for it (Even Wu-Tang fans want to forget the Clan's most recent project, A Better Tomorrow). It is easy to appreciate how good of an album We Got It From Here is considering that many rap artists' creative peaks last about as long as the average NFL running back's career.
The most glaring examples of the Tribe's embrace of new sounds and new artists are found in collaborations with Jack White, Kendrick Lamar, and Elton John. We are even treated to the GOAT himself, Andre 3000, on one of the album's best cuts, "Kids". The way Q-Tip and Andre trade bars sounds so natural and electric, that it makes one wonder if there will an extended collaborative project from the two in the near future.
While there is the familiar combination of funk, cadence, and melody that you expect from their songs, it all feels in step with the world today. The lyrics of Phife Dawg, Q-Tip, Jarobi, (and sometimes Busta ) range from melancholic, poignant, political, and humorous (Phife even manages to throw in his famous sports similes using Tony Romo, Jason Whitten, and shouts out John Wall).
"Dis Generation" which samples Musical Youth's "Pass The Dutchie",  is a nod in the direction of the younger lyricists (Earl, Joey, Kendrick and Cole) that also distances the group  from the "Get Off My Lawn" curmudgeons that constantly criticize this new era of Hip Hop .
Mind blowing cuts like "Wall of Sound" beg to be listened to on a pair of quality headphones, while "We The People" can induce whiplash if you're not careful. "Enough" uses a sample of "Bonita Applebum" to bookend their journey from their debut album, People's Instinctive Travels and the Paths of Rhythms. Both "Melatonin" (which I half expected to hear De La Soul on. The beat sounds tailor made for them) and "Lost Somebody" sounds like they would have been right at home on the Beats Rhymes & Life record. The chorus on Black Spasmodic evokes the Queens, New York of the 1990's, and "Ego" has a Low End Theory feel to it.
"Conrad Tokyo" is one of the smoothest, cleanest beats you will ever hear produced–with some well placed call and response from Kendrick Lamar– that made me want to revisit the Midnight Marauders album. Darker sounding songs like "Killing Season" and "Mobius" feel like they could have been made for Yasiin Bey (formerly Mos Def)  and the Rza.
The meticulous detail that went into this project makes it even easier to appreciate this group's efforts. The artwork by Richard Price has a Basquiat aesthetic to it, one that connects with the other album covers, but stands alone in its uniqueness. The subtle genius of a Gene Wilder sample from Charlie and The Chocolate Factory was lost on me, until I remembered that Wilder passed away not that long ago himself. The social critiques and allusions to SNL and VH-1 reveal the current social milieu in the same manner that songs like "Skypager" and "Midnight" accomplished back in the 90's.
Not only do I argue that this is A Tribe Called Quest's best and most relevant album, I will go as far as to say that it is the most important album of the year. It feels like their darkest, most political, and personal project to date. While past albums contained plenty of party/feel good cuts, this album is meant for a different kind of consumption.
This album has the sort of perspective that is impossible to gain in one's 20's. While there are still shreds of typical Tribe humor, the immediacy of its musical soundscape intimates that the party is over and that the time for action is now.
We Got it From Here….. Thank You 4 Your Service is an album that is meant to be absorbed and digested rather than just played. I'm willing to bet that years from now, young and upcoming rappers and producers will point to this album as one of the most inspiring events from the year 2016.