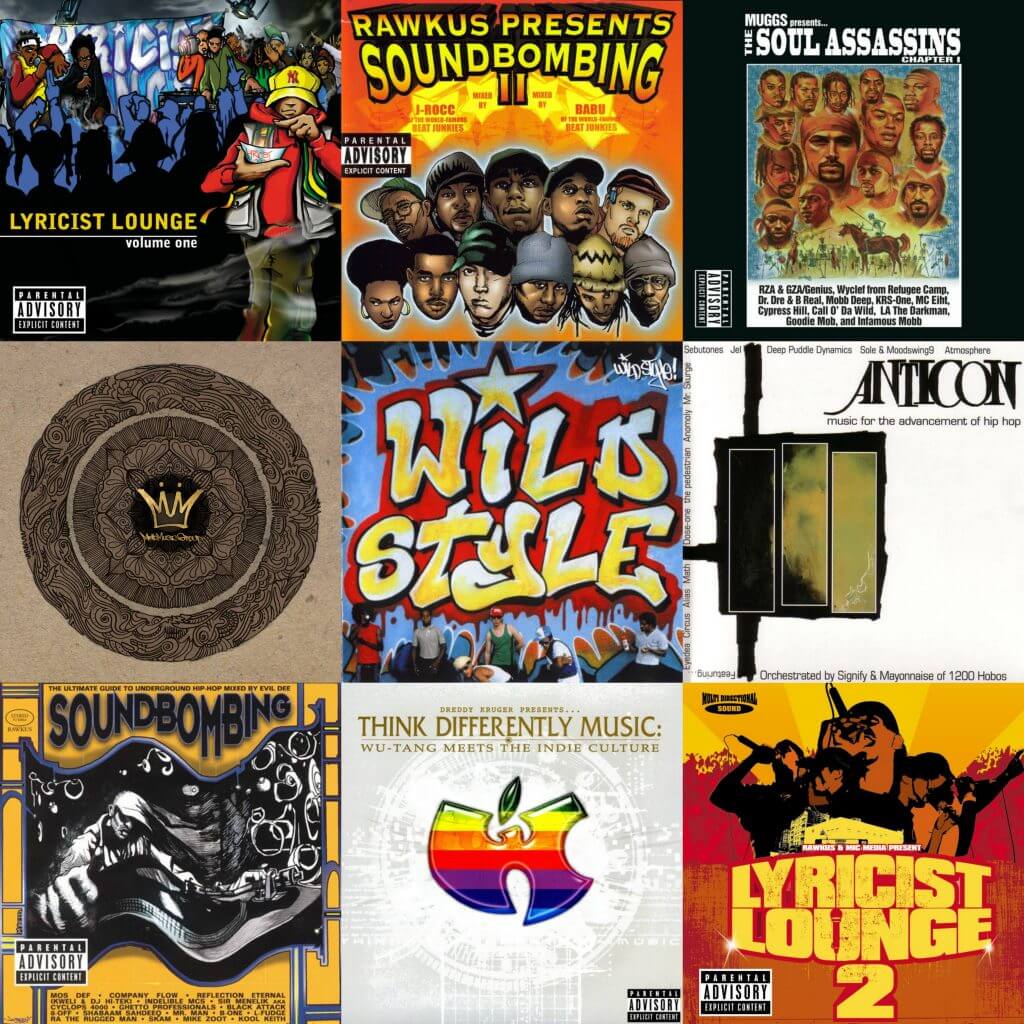 [A compilation album comprises tracks which are compiled from other recordings, either previously released or unreleased. The tracks may be from one or several performers; if from several performers there may be a theme, topic or genre which links the tracks. When the tracks are by the same recording artist, the album may be referred to as a retrospective album or a greatest hits album.]
For this list, we have selected 15 of the very best Hip Hop compilation albums, excluding Greatest Hits albums from one single artist. What do you think? Did YOUR favorite compilation album make the list (or the honorable mentions)? Don't hesitate to share your opinion in the comments!
15. D.I.T.C. (2000)
A nice compilation album (with songs recorded between 1997 and 1999) bringing all the talent from the D.I.T.C. crew – Lord Finesse, Showbiz & A.G., Diamond D, Fat Joe, O.C., Buckwild and the late Big L – together, with guests such as KRS-One and Big Pun to up the lyrical quality even further. Strangely enough – with such a group of talented beatsmiths – the beats are not always up to par. That said, this is a dope album and a must-have for fans of that NYC boom bap.
14. 8 Mile Soundtrack (2002)
Throughout history, there have been a lot of excellent Hip Hop soundtracks, especially in the 1990s (just check the honorable mentions). Because these soundtracks are all the musical companion to a movie, usually they also contain a fair number of R&B tracks – which can take away from a truly enjoyable listening experience.
The 8 Mile soundtrack easily is one of the best soundtracks ever. Only one or two out-of-place tracks here (Boomkat's "Wastin' My Time" most notably), and a lot of dope ones – especially Nas' "U Wanna Be Me", Gang Starr's "Battle", Rakim's "R.A.K.I.M." and of course Eminem's best song "Lose Yourself". D12, Xzibit, Obie Trice and 50 Cent all turn up with typical tracks from their vaults – the result is an all around excellent album.
13. Marley Marl - In Control Vol 1 (1988)
With the Juice Crew and it's individual members in full effect, 1988 was also the year for this Marley Marl compilation album. An album filled with dope tracks by the likes of Intelligent Hoodlum, Biz Markie, Masta Ace, MC Craig G, MC Shan and Roxanne Shante, with the stand-out "The Symphony" – with epic verses from Big Daddy Kane and Kool G Rap – as its biggest attraction.
12. Judgment Night Soundtrack (1993)
Ok, ok, this is not strictly a Hip Hop album – as it mashes up Hip Hop with heavy metal – but Judgment Night has to included here nevertheless. Accompanying the cult-classic movie, admittedly not all tracks on this soundtrack hit the spot, but those that do are timeless classics.
"Just Another Victim" by House Of Pain with Helmet is one of them, others include "Me Myself & My Microphone" by Run DMC with Living Colour, "Fallin'" by De La Soul with Teenage Fanclub, "Disorder" by Ice T with Slayer and especially the two standouts: "Another Body Murdered" by BooYaa Tribe with Faith No More and "Judgment Night" by Onyx with Biohazard. Classic album.
11. Definitive Jux Presents II (2002)
Not for everybody, but dope as hell nonetheless. The sci-fi/techno/industrial sounding and heavily layered beats produced by El-P, Aesop Rock, RJD2, and others from the Def Jux roster will be too inaccessible for the casual Hip Hop listener, but those who are open to discovering new flavors are in for a wholly enjoyable experience with this dose of avant-garde, left-field Hip Hop.
10. The Sugar Hill Records Story (1997)
The ultimate history lesson. This box-set, containing 56 tracks is the definite collection of songs from the legendary Sugarhill Records label. The 5 CD's contain almost all their essentials from the early eighties, like the 14-minute version of Sugarhill Gang's "Rapper's Delight", Grandmaster Flash & The Furious Five's groundbreaking "The Message", Funky 4 + 1's "That's The Joint", Treacherous Three's "Yes We Can Can", Melle Mell's "Beat Street" and many many more.
In a 56 track collection it's inevitable there are a bunch of lesser tracks as well, but overall this collection is simply superb and an essential part of any self-respecting Hip Hop fan's music collection.
9. Lyricist Lounge 2 (2000)
Another fine compilation album for true Hip Hop fans, filled with great performances by top lyricists such as Mos Def, Pharoahe Monch, Kool G Rap, Big L, Ghostface Killah, Talib Kweli and others. Maybe not as surprising or grassroots raw as the first Lyricist Lounge, nor as epic as the second Soundbombing compilation – but a dope album nevertheless.
Obvious standout is the epic Mos Def, Pharoahe Monch & Nate Dogg collabo "Oh No", but there is plenty more to enjoy here. There would be another Soundbombing after this one, but this was the last of truly excellent Rawkus Records compilation albums.
9. Wu-Tang Meets The Indie Culture (2005)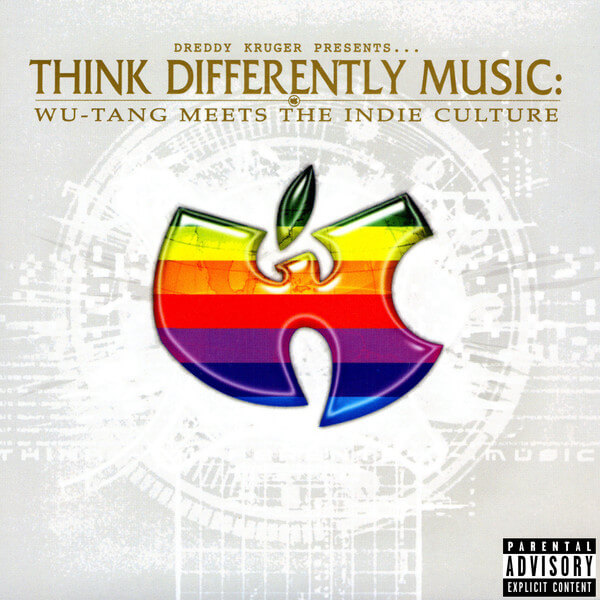 There have been a lot of compilation albums coming out of the extended Wu-Tang family, this one is the best of them.
Wu-Tang Meets The Indie Culture includes collaborated tracks by Wu-Tang Clan members, Wu-Tang Clan affiliates, and various other underground Hip Hop artists such as R.A. The Rugged Man, J-Live, Cannibal Ox, Aesop Rock, Sean Price, Casual, Ras Kass, Del and MF DOOM.
Put together by Dreddy Krueger (Royal Fam) and mostly produced by Bronze Nazareth, this album is dope from start to finish.
7. Soundbombing (1997)
This is a hate-or-love-it kind of album. Rawkus Records first compilation in their now legendary Soundbombing / Lyricist Lounge series, this first Soundbombing is so raw and rough, it may be inaccessible to the more casual Hip Hop listener.
DJ Evil Dee mixes everything together (he lets the listener know it annoyingly often too…). When he's not screaming "Evil Dee is on the mix" the Hip Hop on display is mostly excellent. Mos Def, Talib Kweli, Indelible M.C., Company Flow, Black Attack, Sabaam Saadeeq, R.A. Rugged Man, Sir Melenik all bring the heat on dope, true Hip Hop tracks.
A very good first effort (only let down by Evil Dee's overbearing presence) with really no weak tracks – a good opening salvo to the epic 2nd and 3rd editions in the Rawkus compilation sequence.
6. Anticon Presents: Music For The Advancement Of Hip Hop (1999)
Anticon – an indie Hip Hop label based in Los Angeles – dropped a slept on gem with Music For The Advancement Of Hip Hop.
Music For The Advancement Of Hip Hop may be a hate-it-or-love-it kind of album, as it is not run of the mill Hip Hop. Avant-garde, left-field, experimental – these are all labels that can be stuck to this release, but make no mistake: this is Hip Hop to the core, with creative and dope beats, intelligent lyrics and real turntablism.
Standouts are the fantastic opening track "Rainmen" from Deep Puddle Dynamics, Buck 65's "Untitled", Alias' "Divine Disappointment" and the brilliant "Savior?" from Slug, Eyedea & Sole, but almost the whole album is excellent – music for the advancement of Hip Hop, indeed.
5. Wild Style Soundtrack (1983)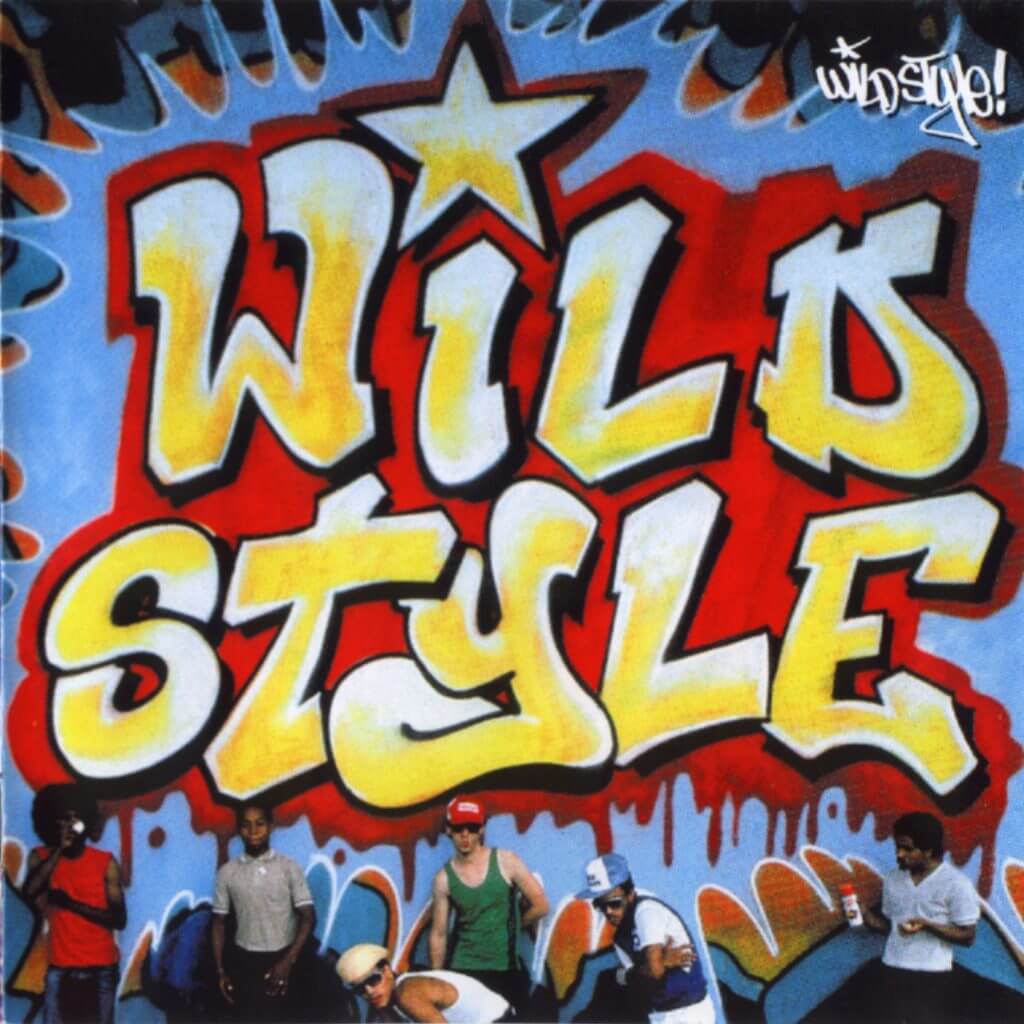 What needs to be said about Wild Style? It simply is an ESSENTIAL movie that both depicted and helped shape Hip Hop culture, and the accompanying soundtrack is just as important.
With classic recordings of performances by legends like DJ Grand Wizard Theodore, Cold Crush Brothers, Busy Bee, Double Trouble, Fantastic Freaks and others, Wild Style is a hugely important document – a unmissable snapshot of the second phase in the birth of Hip Hop.
4. Mandala Vol. 2, Today's Mathematics (2014)
This album from Mello Music Group simply is one of the best compilations in Hip Hop, ever. Mandala Vol. 1: Polysonic Flows is excellent too, but this second volume absolutely takes the cake.
Dope beats, great rhymes, creative sampling and a large cast of superb emcees from the MMG roster – this album easily is one of 2014's best.
3. Muggs Presents... The Soul Assassins Chapter I (1997)
DJ Muggs is one of the most underrated producers in the music industry. From his early work as a DJ for The 7A3 and his breakthrough as part of Cypress Hill to his work for the likes of Funkdoobiest, House of Pain, Ice Cube and many more – Muggs has earned high acclaim in the Hip Hop game, as well as multi-platinum success. He also produced for mainstream groups like U2 and Depeche Mode, making him a well-respected name in the world of music.
His first compilation album The Soul Assassins Chapter I was a modest success, reaching #86 on the Billboard 200, but earning critical praise all around. The album features KRS-One, Dr Dre, B-Real, MC Eiht, LA Tha Darkman, Mobb Deep, RZA, GZA, Goodie Mob, and Wyclef Jean, and really has no weak songs. It offers straight up, bare bones Hip Hop from start to finish and is one of the strongest compilation albums in the history of Hip Hop.
2. Rawkus Presents: Soundbombing II (1999)
A step up from the already dope first Soundbombing album, Soundbombing II is something special. With appearances from Mos Def, Talib Kweli, Common, Pharoahe Monch, R.A. The Rugged Man and many more, with a dope early Eminem track – this album is fire from start to finish. Soundbombing II has that pure and raw mixtape Hip Hop feel, with one dope track after the other blending into another, expertly arranged and mixed together by Beatjunkies DJ's J-Rocc and Babu.
Highlights include Eminem's "Any Man", Medina Green's "Crosstown Beef" (feat Mos Def), The High & Mighty's "B-Boy Document" (feat. Mos Def & Mad Skillz), R.A. The Rugged Man's "Stanley Kubrick", Pharoahe Monch's & Shabaam Sahdeeq's "WW III", but it's all good.
Soundbombing II is one of the two near-flawless compilation albums to come from Rawkus Records, the other one is the #1 on this list.
1. Lyricist Lounge Vol. 1 (1998)
Crucially important in establishing the Rawkus movement, this album is a monument in underground Hip Hop. A double album – with album #1 'hosted' by De La Soul and album #2 by Kool Keith & Sir Menelik – Lyricist Lounge Vol. 1 offers more than two hours of pure Hip Hop gold. Raw Hip Hop beats and scratches combined with clever and socially conscious lyrics – there are virtually no weak tracks here, and A LOT of standouts.
"Criminals In Action (C.I.A.)" by Rage Against the Machine frontman Zack de la Rocha, KRS-One, and The Last Emperor is one of the highlights, as are Mos Def's & Q-Tip's "Body Rock" and "Action Guaranteed" by O.C. & Ras Kass. But make no mistake, this whole compilation album is dope a.f. – appearances by aforementioned artists as well as the likes of Talib Kweli, Bahamadia, Rah Digga, Punchline, Wordsworth, Mike Zoot, Company Flow, Juggaknots and many more virtually guarantee top quality.
To top it off we have album one closer "Live from the DJ Stretch Armstrong Show with your host Bobbito 'The Barber'", a 12-minute freestyle session featuring Black Thought, Common, Pharoahe Monch, and Absolute. What more is there to want?
Lyricist Lounge Vol. 1: true Hip Hop, no gimmicks, DOPE.
Honorable Mentions
Krush Groove (1985)
NWA & The Posse (1987)
Colors Soundtrack (1988)
Rhyme Syndicate – Comin' Through (1988)
The First Priority Music Family: Basement Flavor (1988)
Boyz N the Hood Soundtrack (1991)
Juice Soundtrack (1992)
Trespass Soundtrack (1992)
The Flavor Unit – Roll Wit Da Flava (1993)
Who's The Man? Soundtrack (1993)
Menace II Society Soundtrack (1993)
Above The Rim Soundtrack (1994)
Return of the DJ, Vol. 1 (1995)
The Show Soundtrack (1995)
Friday Soundtrack (1995)
Murder Was The Case Soundtrack (1995)
Tales From The Hood Soundtrack (1995)
New Jersey Drive Soundtrack (1995)
Funk Master Flex – The Mix Tape, Vol. 1 (1995)
10th Anniversary: Rap-a-Lot Records (1996)
Relativity Urban Assault (1996)
America Is Dying Slowly (1996)
Wild Wild West Gang Related Soundtrack (1997)
Dangerous Grounds Soundtrack (1997)
In Tha Beginning…There Was Rap (1997)
Soul In The Hole Soundtrack (1997)
Slam Soundtrack (1998)
Belly Soundtrack (1998)
Wu-Tang Killa Bees – The Swarm (1998)
Tommy Boys Greatest Beats Vol. 1 (1998)
DJ Clue – The Professional (1998)
Pete Rock – Soul Survivor (1998)
Straight Outta Compton: N.W.A 10th Anniversary Tribute (1998)
The N.W.A Legacy, Vol. 1: 1988–1998 (1999)
Black Mask Soundtrack (1999)
Wu-Chronicles (1999)
Ghost Dog Soundtrack (1999)
Muggs – Soul Assassin II (2000)
Ego Trip's The Big Playback (2000)
Loud Rocks (2000)
DJ Tony Touch – The Piece Maker (2000)
Nuthin' but a Gangsta Party (2000)
Nuthin' but a Gangsta Party 2 (2001)
DJ Clue – The Professional 2 (2001)
Wu-Chronicles, Chapter 2 (2001)
Soundbombing I (2002)
DJ Jazzy Jeff – The Magnificent (2002)
Swizz Beatz Presents G.H.E.T.T.O. Stories (2002)
The N.W.A Legacy, Vol. 2 (2002)
Tunnel Rats Present… Underground Rise, Volume 1: Sunrise/Sunset (2003)
Beef Soundtrack (2003)
Music Inspired by Scarface (2003)
Bad Boy's 10th Anniversary… The Hits (2004)
The Hip Hop Box (2004)
DJ Tony Touch – The Piece Maker 2 (2004)
Get Rich Or Die Tryin' Soundtrack (2005)
The Very Best Of Death Row (2005)
Rawkus' Best of Decade I: 1995–2005 (2005)
Bucket Of B-Sides Vol. 1 (Def Jux) (2005)
15 Years on Death Row: The Definitive Collection (2006)
Big Apple Rappin': The Early Days of Hip-Hop Culture in New York City 1979–1982 (2006)
DJ Clue – The Professional 3 (2006)
DJ Jazzy Jeff – The Return of the Magnificent (2007)
Mathematics Presents Wu-Tang Clan & Friends Unreleased (2007)
Peanut Butter Wolf Presents Stones Throw: Ten Years (2007)
N.W.A Family Tree (2008)
Wu-Tang Chamber Music (2009)
DOOM – Unexpected Guests (2009)
DJ Premier Presents Get Used To Us (2010)
Helpless Dreamer (Mello Music Group) (2010)
Shady XV (2014)
Our Vinyl Weighs A Ton – This Is Stones Throw Records (2014)