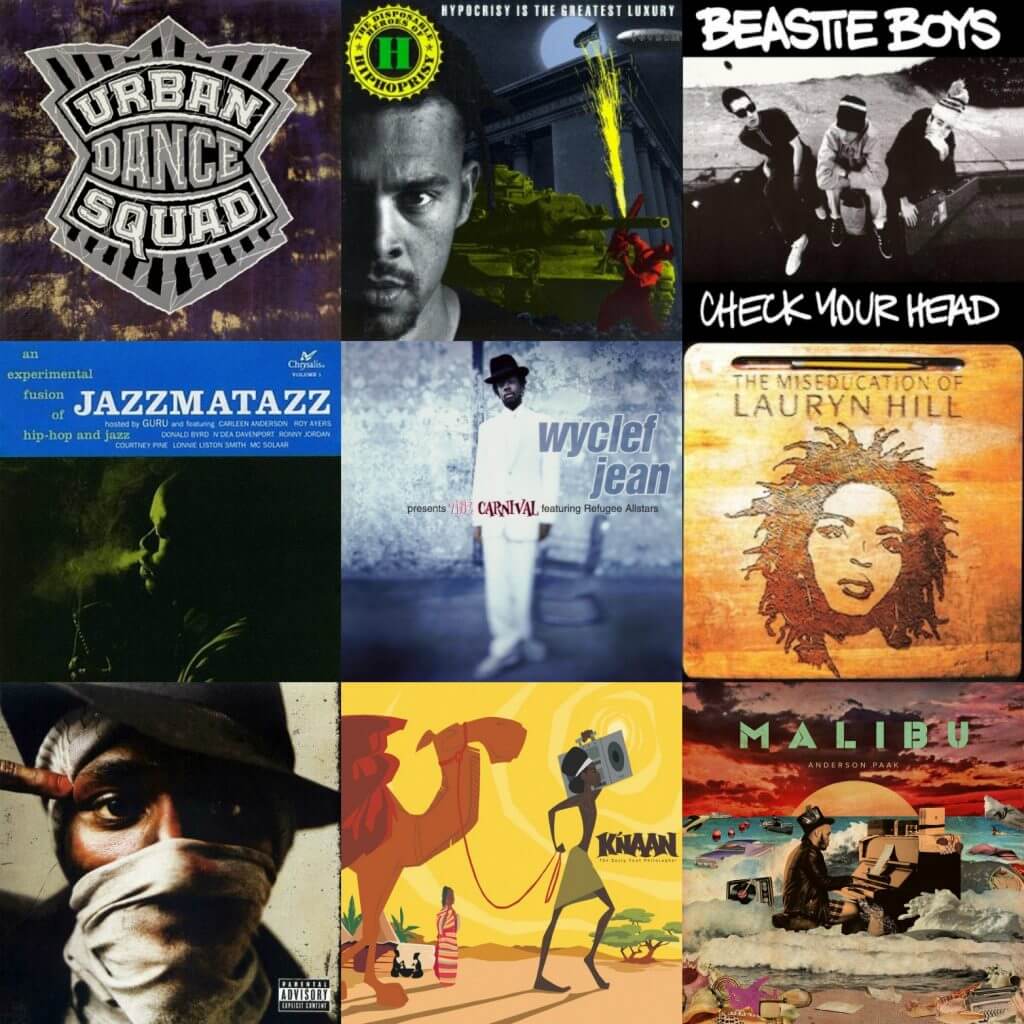 Sometimes the best music is created when artists allow themselves to break free from genre conventions and just go where their artistry, inspiration, and talent leads them. The results can be hit or miss and listening to the products of their creativity may require an open mind, but some of the best albums in music history were the result of genre-bending efforts.
For this list, we have selected fourteen great albums that have something to do with Hip Hop but that can not be pigeonholed in any way. What do you say? Do you know them all? Which one do YOU like best? Which album should also be on this list? Disqus in the comments!
Urban Dance Squad - Mental Floss For The Globe (1989)
Mental Floss For The Globe, the debut album by Dutch 'rap rock' band Urban Dance Squad was one of the first true Hip Hop influenced crossover albums, with one foot planted as firmly in Hip Hop as the other was in other genres such as rock and funk.
The album spawned the hit singles "Deeper Shade of Soul," "No Kid" and "Fast Lane" (sampling J.V.C. Force's classic "Strong Island"), tracks that gained the band international recognition, including in the United States, where they toured with Living Colour.
Ahead of its time.
The Disposable Heroes Of Hiphoprisy - Hypocrisy Is the Greatest Luxury (1992)
Political, conscious, smart (maybe somewhat preachy) lyrics over experimental, innovative and genre-crossing production – Hypocrisy Is the Greatest Luxury is a wholly enjoyable AND important early 90s album by Rono Tse and Michael Franti (who also gained great recognition as part of the Beatnigs before and Spearhead after being part of The Disposable Heroes).
"Television: The Drug Of A Nation", "Satanic Reverses", "Hypocrisy Is The Greatest Luxury", "California Uber Alles" and especially the poignant "Language Of Violence" remain relevant classics to this day.
Rage Against The Machine - Rage Against The Machine (1992)
Dubbed 'rap metal' when they burst on the music scene in 1992 with their classic self-titled debut, Rage Against The Machine left an indelible impression. Zack De LaRocha's aggressive tonality and his rap-sing style of delivery, combined with the group's aggressive political stand, made this album one to watch for when it was released.
Always skirting close to Hip Hop sensibilities (just listen to RATM's great remake of Eric B & Rakim's classic "Microphone Fiend"), RATM's debut album was a quick and easy favorite for those Hip Hop heads able to look a little over genre boundaries. This is a timeless classic.
Body Count - Body Count (1992)
Body Count is the eponymous debut album of Ice T's metal band Body Count. Lyrically the album is totally unapologetic, focusing on various social and political issues ranging from racism to police brutality to drug abuse.
There are a few weaker tracks, but standout tracks like "There Goes The Neighbourhood", "Momma's Gotta Die Tonight", "The Winner Loses" and the uber-controversial "Cop Killer" more than make up for it.
Body Count is not the best Body Count album (that would be Manslaughter), but the most important one – as it was instrumental in opening up heavy metal audiences to Ice T's music in particular and Hip Hop in general.
Beastie Boys - Check Your Head (1993)
As much an alt-punk-rock album with funk, soul and jazz influences as a Hip Hop album, Beastie Boys' third effort is yet another self-reinvention. After the frat-boy fun of the classic Licensed To Ill and the sampling genius of the creative masterpiece Paul's Boutique, this album has a mash-up of styles that offers something for everyone.
"Pass The Mic", "So Whatcha Want", "The Maestro", "Professor Booty", "Jimmy James" – great tracks aplenty on Check Your Head, arguably the Beastie Boys' most musical LP.
Guru - Jazzmatazz (1993)
Jazzmatazz, Vol. 1 is Guru's debut solo studio album, after three albums with DJ Premier as Gang Starr. Jazzmatazz is one of the first albums to combine a live jazz band with Hip Hop production and emceeing. 
According to Guru himself:
"Jazz's mellow tracks, along with the hard rap beat, go hand-in-glove with my voice."
Or as he says on the intro of the album:
"Peace yo, and welcome to Jazzmatazz: an experimental fusion of Hip Hop and live jazz. I'm your host the Guru. That stands for gifted, unlimited, rhymes, universal. Now I've always thought of doing something like this, but I didn't want to do it unless it was going to be done right, know what I'm saying? Cause Hip Hop, rap music, is real. It's musical, cultural expression based on reality. And at the same time, jazz is real and based on reality. So I want to let you know that it was indeed and of course and pleasure to work on such a project with so many amazing people. For instance I got Donald Byrd, Roy Ayers, Lonnie Liston Smith, Branford Marsalis, Ronny Jordan, N'Dea Davenport, Courtney Pine and MC Solaar all in the house. Plus I got Gary Barnacle, Carleen Anderson, D. C. Lee, Simon Law and Zachary Breaux doing much work. So without further delay, I say to you, listen and enjoy.
And an enjoyable listening experience it is. "Loungin", "No Time to Play", "Slicker Than Most" and the exceptional "Le Bien, Le Mal" (with Frenchman MC Solaar rapping in his own language) are standouts, but the whole albums flows beautifully – just like Jazzmatazz Vol 2, which would be released in 1995. Great work by one of Hip Hop's great voices. RIP Guru.
Count Bass-D - Pre-Life Crisis (1995)
Count Bass-D is an underrated producer and musician who dropped a great number of worthwhile albums in his two decades in the music biz. His recording debut Pre-Life Crisis is a fun, feel-good album, where Count uses real instruments and holds his own – rapping and singing – on the mic too.
Slept on and forgotten, this experimental album definitely is worth checking out. Pre-Life Crisis offers purer Hip Hop than most other entries on this list but is still pushing genre boundaries because of the progressive styles used by Count. Fresh lyrics, dope music – Pre-Life Crisis is a fine album by any standard.
Wycleff Jean - The Carnival (1997)
The second part of a near-perfect Refugee Camp trilogy, starting with The Fugees' The Score in 1996 and concluding with Lauryn Hill's Miseducation Of Lauryn Hill in 1998.
Wycleff Jean's The Carnival is just about as good as these other two classics. Musically rich and diverse, the album is filled with colorful tales of life, women, music and the culture of his native Haiti.
Standout tracks include "Gunpowder", "The Year Of The Dragon", "Guantanamera" and the the single "Gone Til November", but the whole album is great – a perfect Hip Hop album for non-Hip Hop fans.
Lauryn Hill - The Miseducation Of Lauryn Hill (1998)
One of the greatest albums of all-time? This genre-bending album incorporates styles such as Soul, R&B, Jazz, Rock, Gospel as much as it does Hip Hop.
Similar to her time with The Fugees and to artists such as The Roots and OutKast, Lauryn Hill is not afraid to experiment, and here she allows her talent to produce the album that suits it. The result is an all-time classic musical masterpiece. "Ex-Factor", "Every Ghetto, Every City", "Lost Ones" and "Doo Wop (That Thing)" are the centerpieces of an all around monumental album.
Saul Williams - Amethyst Rock Star (2001)
An integration of spoken word poetry, Hip Hop, jazz, and rock, Saul Williams' Amethyst Rock Star escapes simple genre classification. With its intelligent and philosophical lyrics and often experimental soundscapes, this album can be hard to get into and definitely is not for everyone. Nevertheless, Amethyst Rock Star provides an admittedly dense but ultimately satisfying listening experience – if you allow yourself to open your mind to it.
Mos Def - The New Danger (2004)
Mos Def second solo album is a hate-it-or-love-it kind of affair. Many critics slammed the album upon on its release, but were they right to do so? Sure, those who expected Black On Both Sides Part 2 were right to be disappointed. The New Danger is nothing like Mos Def's epic debut album and nothing like Black Star, his brilliant collaboration with Talib Kweli, either. And it is also true that the album is overlong and the order of the songs is somewhat clunky – the different styles used can give the album an incohesive feel.
But.
The New Danger should not be hated for what it is not but enjoyed for what is. An experimental and eclectic album, fusing Hip Hop with rock, soul, funk, R&B and more. Mos Def's fearless attempt to break genre boundaries should be admired, even if it does not always work. The New Danger is a challenging listening without a doubt, but not half as bad as the critics would have you believe. Those who can set aside Black On Both Sides expectations and are willing to listen with an open mind can find a rewarding listening experience in The New Danger.
K'naan - The Dusty Foot Philosopher (2005)
What an album! One of 2005's, or even the decade's, hidden treasures. Canadian-Somalian K'naan raps and sings about life, his vision on the (Hip Hop) music industry and especially his experiences as a refugee from perpetually war-torn and anarchic Somalia.
He succeeds in blending Hip Hop with soul and African vibes in an unforced way, resulting in an album that is filled with great music. One of the highlights is "What's Hardcore", in which he mocks gangsta rappers like 50 Cent by comparing their hood tales to growing up in his own hometown Mogadishu:
I'm a spit these verses cause I feel annoyed,
And I'm not gonna quit till I fill the void,
If I rhyme about home and got descriptive,
I'd make 50 Cent look like Limp Bizkit,
It's true, and don't make me rhyme about you,
I'm from where the kids is addicted to glue,
Get ready, he got a good grip on the machete,
Make rappers say they do it for love like R-Kelly,
It's HARD, harder than Harlem and Compton intertwined,
Harder than harboring Bin Laden and rewind,
To that earlier part when I was kinda like
We begin our day by the way of the gun,
Rocket-propelled grenades blow you away if you front,
We got no police ambulances or firefighters,
We start riots by burning car tires,
They looting, and everybody starting shooting…

So what's hardcore? Really, are you hardcore? Hmm.
Honest and genuine, The Dusty Foot Philosopher is a remarkable album that should resonate with any and all fans of music with substance.
Georgia Anne Muldrow - A Thoughtiverse Unmarred (2015)
A Thoughtiverse Unmarred is an exceptional album, lyrically and sonically. Listening to Georgia Anne Muldrow you can hear echoes of giants like Erykah Badu and Lauryn Hill, but Georgia Anne Muldrow has her distinct own sound.
In the words of Mos Def:
"She's incredible. She's like Flack, Nina Simone, Ella, she's something else. She's like religion. It's heavy, vibrational music. I've never heard a human being sing like this. Her voice is wildly, finely expressive. It's so singular. It's hip-hop, the way that she approaches it rhythmically, she's got so many jazz influences. It's something else and you can just feel it. With "Georgia Anne Muldrow Presents Ms. One" (Someothaship) she's like J. Dilla, the legendary producer. She makes her own beats, she rhymes, she sings, and she plays. If people love Amy Winehouse, they're going to get their minds blown when they hear Georgia Anne Muldrow."
If you're looking for a companion to Lauryn Hill's Miseducation, you need to get this conscious and affirming gem from Georgia Anne Muldrow.
Anderson.Paak - Malibu (2016)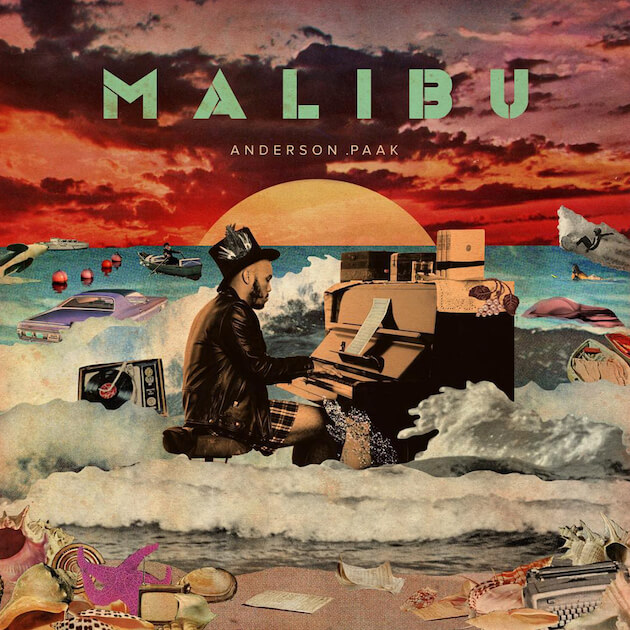 An instant classic. Anderson .Paak's Malibu is one of those once-in-decade albums, comparable to and on par with Lauryn Hill's Miseducation. On Malibu (his fourth album) .Paak blends a variety of styles (Hip Hop, R&B, soul, electronic, rock, gospel) into his own unique signature sound, showcasing an incredible virtuosity and musical talent.
Malibu truly is a modern-day masterpiece, one that will stand the test of time and will be more and more revered as the years goes by, much like what happened with Lauryn Hill's classic.
2016's album of the year – no discussion possible.