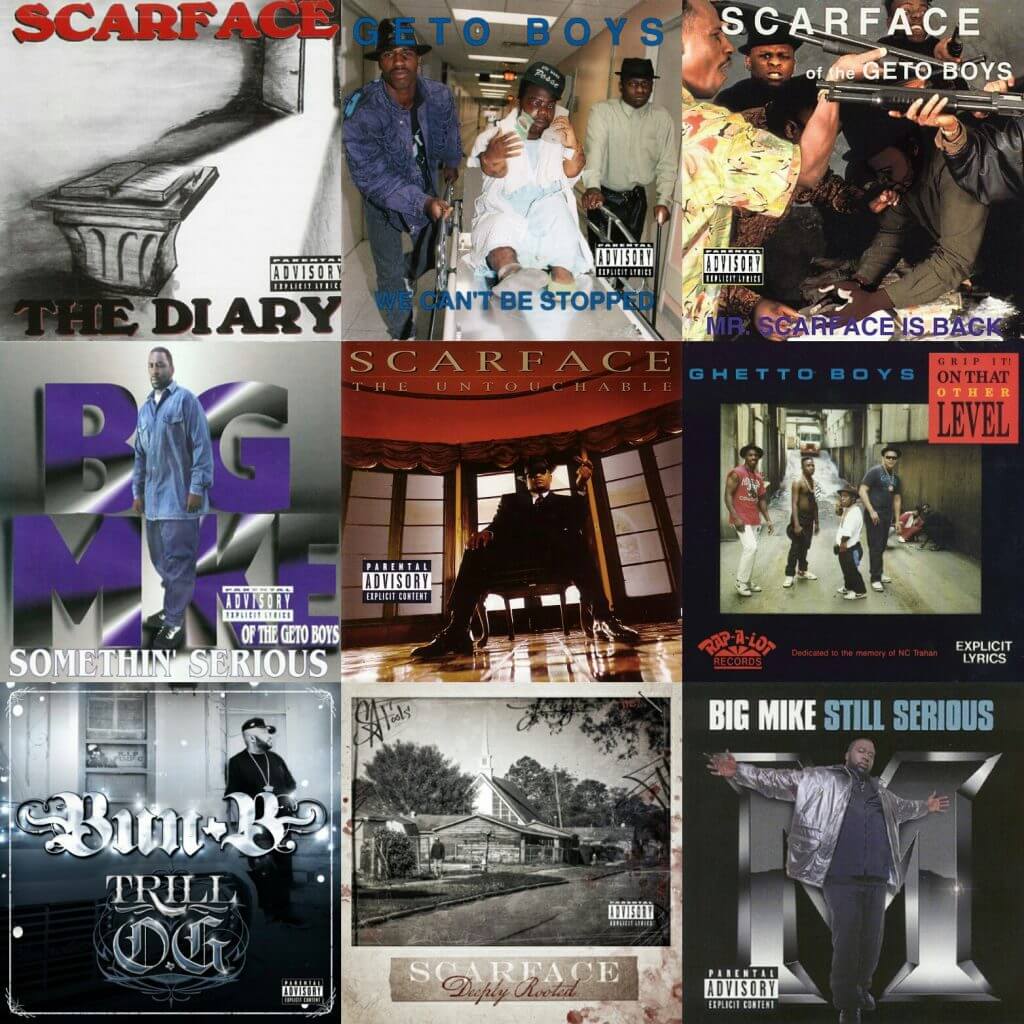 Back with another salute to a prominent Hip Hop label. This one can easily be considered as one of the most influential southern labels in history. Straight outta Texas, James "J" Prince founded a label that wanted emphasis on southern emcees, and it was because of him that we were exposed to legends like Scarface, The Geto Boys, and Devin The Dude.
Deemed controversial and envelope-pushing, they were always considered one of the realest labels out. Although Face and The GB's dominated the majority of the success of the label, others like Devin, Big Mike, 5th Ward Boyz, Do or Die, and DMG helped the label maintain their streetwise credibility and thus their industry respect. With all this being said, let's get into the fifteen best albums to emerge from this label.
15. Bushwick Bill - Phantom Of The Rapra (1995)
Everyone's favorite diminutive psychopath, Bushwick Bill, dropped his debut solo album, Little Big Man, in '92 to mixed reviews. Over the top with hardcore narratives and graphic violence, this album wasn't for the faint of heart.
For his second album, Phantom Of The Rapra, he slightly mellowed on the violence and did more personal tracks and introspective cuts. The fluidity of the album was also more noticeable and it resulted in his best solo album to date. These days, he's more tuned towards God and it was this album where we saw perhaps a glimpse into his future moral journeys.
14. Devin The Dude - Just Tryin' Ta Live (2002)
Houston's favorite stoner, Devin The Dude, is as comical as he is talented. Starting off as half of The Odd Squad, he delivered his dope debut, The Dude, which contained the cult classic "Boo Boo'n". On the heels of that album came his sophomore album, Just Tryin' To Live.
Just as laid-back, if not more than his debut, this album was draped in soul and blues appeal. He also collaborated with giants Dr. Dre and Texas native the legendary DJ Premier on two cuts, thus showing his versatility. Devin's music is the perfect music to get high to on a sunset evening in the South, and this album is trademark Devin.
13. Scarface - The World Is Yours (1993)
The genius that is Mr. Brad Jordan is renowned and legendary. We saw this early on with his disturbing, yet incredible solo debut, Mr. Scarface Is Back (see later). He had to follow that up with something equally as potent. He arguably did so with The World Is Yours.
While not quite as acclaimed as his debut, many view this album as a cult classic. Definitely more comical but every bit as misogynistic as his debut, cuts like "Dying With His Boots On", "Still That Nigga", and "He's Dead" are still quite intense and sociopathic, while cuts like "Now I Feel Ya" are slightly more personal. Regardless, Scarface dropped a hot one here and it was a sign of more things to come.
12. Geto Boys - The Resurrection (1996)
After The Geto Boys broke up during the recording of Til Death Do Us Part, heads were wondering if we would ever see them reunite for another album.
The answer came in '96 with The Resurrection. Face, Willie, and Bushwick sounded like seasoned veterans and like they never lost a step. Still filled with brutal imagery and hood commentary, The Resurrection was touted as one of their best albums and rightfully so. This was vintage Geto Boys and cuts like "Geto Boys & Girls" and "The World Is A Ghetto" accurately showed the iconic trio at their very best work of being fearless and non-fuck-giving.
11. Bun B - Trill (2005)
When you mention legendary southern acts, if UGK isn't one of the first that come to mind, you're not Hip Hop…AT ALL. Bun B and the late Pimp C helped blaze the trail (along with Geto Boys and Eightball & MJG) of how southern Hip Hop became acclaimed. There would be no Outkast, Goodie Mob, Luda, or T.I. without acts like these. When Pimp C got incarcerated, we knew it would be a tough thing to keep the trill movement going, but we were confident Bun would pick the ball up and keep rapping that UGK name – and boy did he with his solo debut Trill. No shortage of heat on this release, which was the first of the Trill series. His single "Draped Up" is just southern glory!
10. Scarface - Last Of A Dying Breed (2000)
Having to follow-up two straight genuine Hip Hop classics like The Diary and The Untouchable was damn near impossible. Mr. Scarface had the unenviable task of doing so, but he definitely made a valiant effort with Last Of A Dying Breed.
While not exactly a cohesive or consistent album, the album is still a favorite of many a Scarface fan. Cuts like the standout "Sorry For What", as well as the extra butter funky "It Ain't Pt. 2", "Conspiracy Theory", and "In My Time" are staples of this very dope album. Say what you will about how high or low this album is on your list of Face favorites, it still is another example of why Face is considered one of the greatest to ever do it.
9. Big Mike - Still Serious (1997)
New Orleans' own Big Mike had been known locally as one-half of The Convicts with Mr. 3-2 (he was most known for his guest verse on UGK's incredible cut "One Day" from their landmark album Ridin' Dirty).
The pressure was on for him to follow up his excellent solo debut Somethin' Serious (see later), and he did in fact deliver an equally dope album in Still Serious. Perhaps a little more fluid than the first album, Still Serious was also more commercially successful. Big Mike was two for two with this heat seeker.
8. Scarface - Deeply Rooted (2015)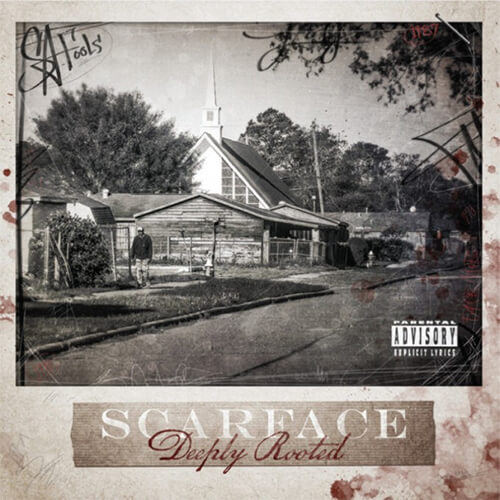 It had been seven long years since we had heard anything from the legendary "Mr. Mr. Scarface". While we were digging his last album, Emeritus, we felt his hunger for the game was waning.
With Deeply Rooted, not only did he go back to basics, he sounded as refreshed and as rejuvenated as ever. Not since his stellar album The Fix in 2005 did we hear him sound so full of spirit. Balancing hardcore street tales with introspection, and deeply personal stories with uncompromising honesty, tracks like "Steer", "God", and the uplifting "All Bad" are defining moments for Brad Jordan, and if there were any disputes about who the real king of the south was, they died from this release.
7. Bun B - Trill O.G. (2010)
After the heartbreaking and sudden passing of tag team partner, Chad "Pimp C" Butler, the world was wondering how Bun would carry the UGK name without him.
The follow up to Trill was II Trill, and it was a very dope follow up, but it was the third and final installment in the Trill series that became his magnum opus. Showing his versatility as an emcee, there wasn't a weak spot anywhere on this release. From classic slab-sounding cuts like the Drake-assisted "Put It Down"and the reflective "It's Been A Pleasure" to the speakers knocking "Get Down For Mine" and "Lights, Camera, Action" and the Premo-powered "Let 'Em Know", Bun held his own as an O.G. should.
Rated five mics in The Source, this album was rightfully labeled a classic. For goodness sake, there's a track with Pimp C AND 2Pac on there, and it's DOPE. The Pimp would unquestionably be proud.
6. Geto Boys - Grip It! On That Other Level (1989)
If there was a southern version of N.W.A. at this time, it was undeniably four cats from South Ward, Houston. Scarface, DJ Reddy Redd, Bushwick, and Willie D were unrelenting and fearless on this album.
Every bit as controversial and jarring as Straight Outta Compton, Grip It! On That Other Level was raw as raw could get. Many see this as their best effort, and that's a credible argument. From Bushwick's angst-ridden "Size Ain't Shit" to the highly graphic "Mind Of A Lunatic" to the vicious "Trigga Happy Nigga", this album was the definition of uncompromising, and an iconic group had arrived.
5. Scarface - The Untouchable (1997)
In '97, Scarface had the arduous task of following up the landmark album that was The Diary from three years earlier. He answered with The Untouchable, which many have regarded as The Diary Pt. II. It's a valid argument, as he had an "if it ain't broke, don't fix it" ethic going into the album.
While his earlier albums like Mr. Scarface Is Back and The World Is Yours were filled with images of graphic violence, schizophrenia, and depression, The Diary marked a shift in his content slightly, as his sense of paranoia was nixed for burgeoning introspection and glimpses of spirituality.
With The Untouchable, he continued it with concrete-hard cuts like "Ya Money Or Your Life", more morbid cuts like "Faith" and the crossover smash – his duet with 2Pac – "Smile" to result in a platinum plaque for him. One of the most defining albums of the nineties, Face was officially in charge, if you hadn't known it before.
4. Big Mike - Somethin' Serious (1994)
Getting shine on the Geto Boys' rather compelling Til Death Do Us Part, filling in for an absent Willie D, New Orleans native Big Mike had a sound and southern drawl that made him sound like he was an original member.
The anticipation was on for this cat to drop his solo debut, and it was worth the anticipation and then some. Filled with the bluesy funk that the south was known for, this was one of the label's most heralded albums that wasn't Face or the Geto Boys.
Raw and honest, Big Mike's debut was acclaimed and seen as one of the best debuts from a southern artist since…well…Face's debut. While we're familiar with the silky smooth "Playa Playa", other cuts like "On Da Real" and the standout "Daddy's Gone" made this album a prize.
3. Scarface - Mr. Scarface Is Back (1991)
When it comes to misogynistic, macabrely humorous, and brutal violent debuts, Scarface's debut has to be considered among the top of the list, if not THE top album.
One of the most influential of its genre, Face presented a vivid look inside the mind of a deranged lunatic with Mr. Scarface Is Back, and was as relentless as any album you had heard before. Continuing the shock value of Grip It! On That Other Level and We Can't Be Stopped, Mr. Scarface Is Back is an entertaining piece of music regardless, if you're not utterly shocked and dismayed by the end of the album that is.
Cuts like the unapologetically violent "Diary Of A Madman", "A Minute To Pray, A Second To Die", and "I'm Dead" helped pave the way for his future status as one of Hip Hop's master storytellers as well as one of the game's most honest.
2. Geto Boys - We Can't Be Stopped (1991)
The album that officially put Bushwick, Face, and Willie on a worldwide platform. Seen as one of the most disturbing, yet influential albums to ever emerge from the south, H-town's finest hit paydirt with the iconic hit "My Mind's Playing Tricks On Me".
Every bit as controversial as their prior effort Grip It! On That Other Level, they tackle areas such as paranoia with the aforementioned cut, blatant misogyny on the hilarious Willie D solo cut "Ain't A Gentleman", the morbidly humorous Bushwick solo cut "Chuckie", and dissing award shows on "Trophy".
Other engaging cuts like "Gotta Let Your Nuts Hang" and "Another Nigga In The Morgue" make this album one of the most talked about Hip Hop releases ever released and still is a staple in the gangsta rap arena.
1. Scarface - The Diary (1994)
The best album to ever emerge from Rap-A-Lot is also one of the most defining ones in Hip Hop history. Face's third album, The Diary, is a wonderfully executed masterpiece that started to show a method behind the madness, and also started to show a morbid sense of spirituality on certain tracks.
While his playful charm was evidenced on "Goin' Down", he was back to his insightful yet very vivid storytelling ways on cuts like "The White Sheet", the highly introspective title track, and his huge hit "I Seen A Man Die". This was Face at his finest hour and it has since earned him a place on the Mount Rushmore of Hip Hop.
Honorable Mentions
Do Or Die – Picture This
Scarface – My Homies
Bun B – II Trill
Devin – The Dude
Ganksta NIP – Interview With A Killa
DMG – Rigormortiz
Seagram – Souls On Ice
5th Ward Boyz – Rated G
Almighty RSO – Doomsday: Forever RSO
Yuknouth – Thugged Out: The Albulation
Z-Ro – Crack
Z-Ro – Let The Truth Be Told
Def IV – Nice And Hard
Willie D – Controversy
OG Style – I Know How To Play Em
Convicts – Convicts
Geto Boys – Till Death Do Us  Part
Odd Squad – Fadanuf Fa Erybody!
The legacy of Rap-A-Lot is that J Prince put together cats from in and around his neck of the woods to make some of the realest music one could imagine. An undisputed innovator in southern Hip Hop, Rap-A-Lot made it possible for today's southern giants to have room in the game. You just can't beat that.