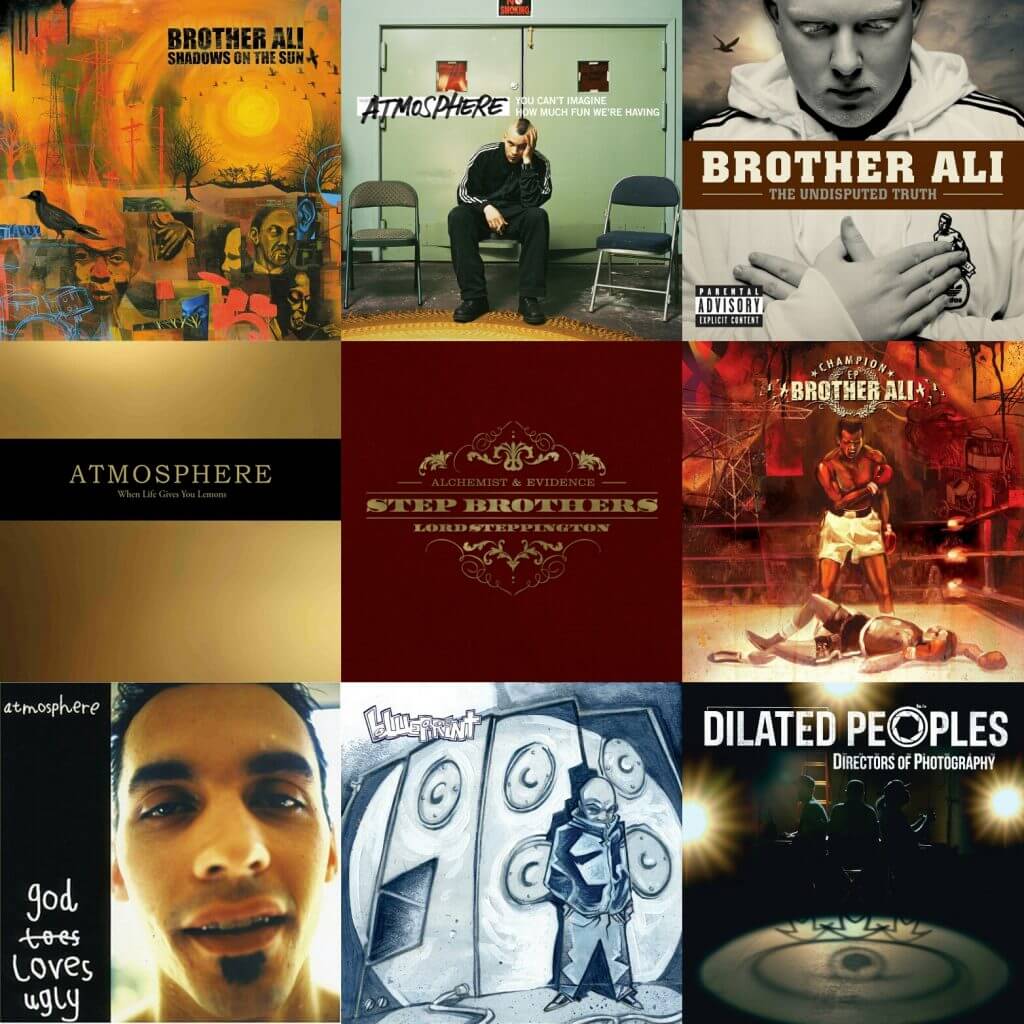 This article salutes an underground label based out of Minneapolis, MN. Rhymesayers Entertainment has been the home to established and universally acclaimed acts Atmosphere (co-founders of the label) and Brother Ali, but over the years many more acts have aligned themselves with this very acclaimed label.
One of those labels you've been sleeping on for over a decade, Rhymesayers has put out some of the most memorable Hip Hop to ever grace our ears. This is a list of the best albums to get released from the fantastic Rhymesayers label.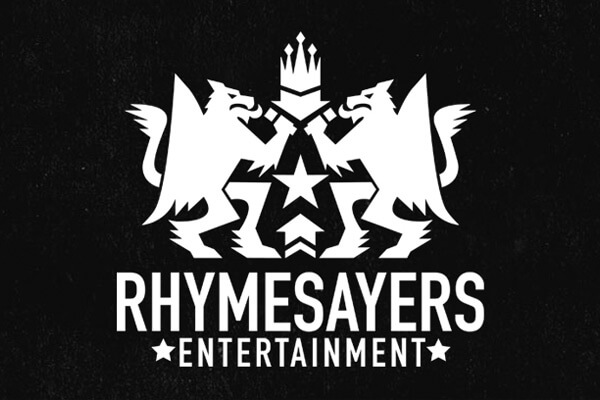 15. Aesop Rock - The Impossible Kid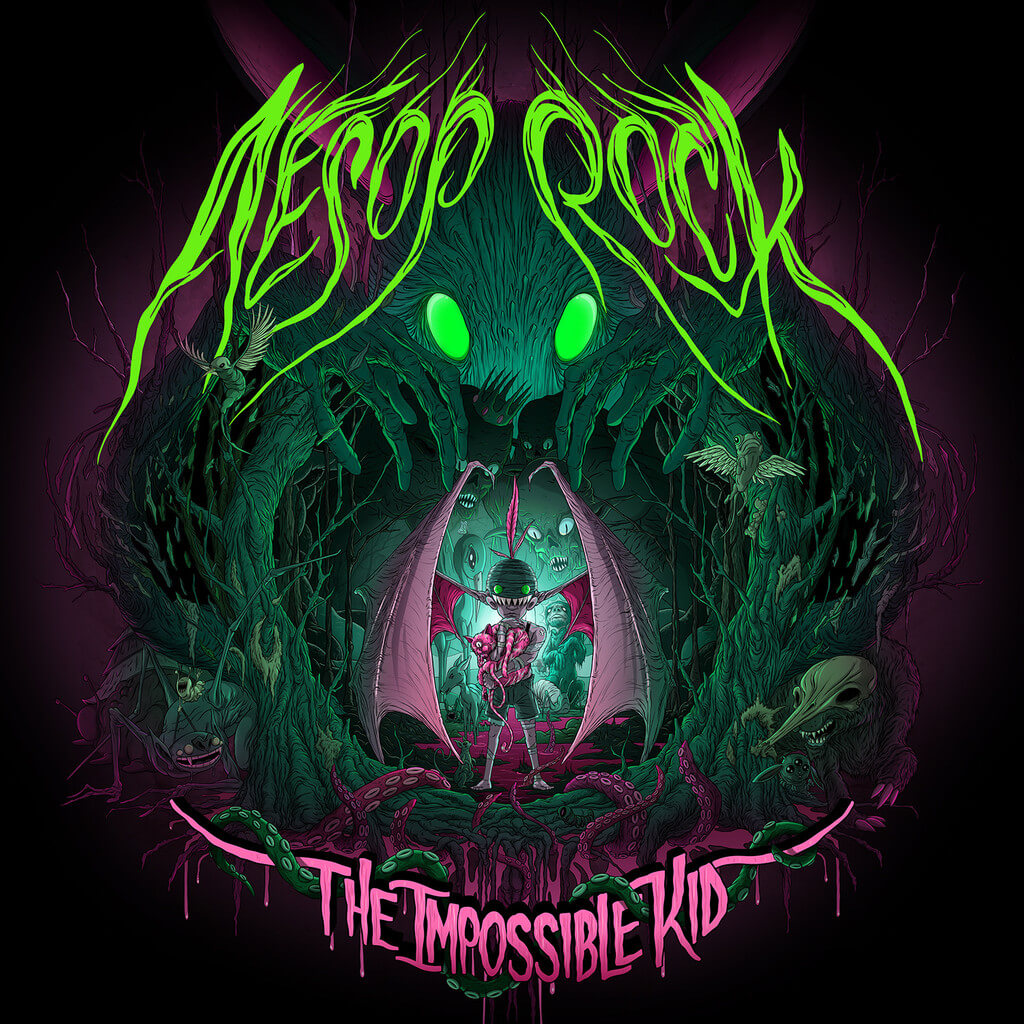 Rhymesayers' residential complex vocabularian Aesop Rock returned this year after a four-year absence to give us The Impossible Kid. This album sounds like he never missed a beat. While most known for his outstanding Labor Days, he has also given us pretty good albums like Skelethon and None Shall Pass.
On The Impossible Kid he reached a new level of artistic merit, while still clearly showing his conflicted mentality about life and about himself in the world. As a great side note, this became his highest charting album to date, debuting at number three on the R&B/Hip Hop Charts and number thirty-three on the Billboard two hundred. Aesop Rock's already devout following is steadily growing.
14. MF DOOM - MM...Food
Ah, the allusive MF DOOM. After releasing Venomous Villain under the Viktor Vaughn alias, and the masterpiece known as Madvillainy, he released MM…Food under the DOOM moniker – all in the same year of 2004.
This time, the supervillain constructed an album based around food, while applying themes such as fake friends, false fame, and loose women to items such as chicken, hoe cakes, and many other dishes. Without question a very unorthodox album, it's also trademark DOOM, and it contains some of his best board work – especially on cuts like "Potholders" and "Hoe Cakes" – plus Madlib's guest production on "One Beer" is just stellar. Any and all DOOM fans must have this album in their collection.
13. Brother Ali - The Truth Is Here (EP)
There isn't a bigger and more acclaimed act on Rhymesayers than Brother Ali. Don't get me wrong: that's not intended as a dis because as you'll read on about this label, Rhymesayers is chock full of tremendous talent and incredible emcees. It's just there's something very special about Brother Ali. His knack for storytelling mixed with socio-consciousness and political awareness is that of legend.
His EP of 2009, The Truth Is Here, was just another example of how needed his presence is in the game. Fantastic cuts like "Baby Don't Go" and "Good Lord" are just pieces of the exemplary puzzle Brother Ali has constructed for us to put together to see his greatness.
12. Blueprint - Adventures In Counterculture
Ohio native Blueprint has been well known in the underground for some years now, primarily for his work with Illogic as Greenhouse Effect and with producer RJD2 as Soul Position.
On this album, Adventures In Counterculture, he goes experimental with a few different sounds such as electro and techno on "My Culture", but his music almost always comes with meaning and substance like on the brooding "Stole Our Yesterday" and "So Alive". A consistently deep thinker and an emcee for the lost, Blueprint expands his horizons and crafts an album that can be remembered as one for those who need to know someone who is speaking for their conflicts and confusion.
11. Jake One - White Van Music
Seattle, Washington's residential Hip Hop beatsmith Jake One has been steadily bubbling for the last few years now. Primarily an underground producer, he started moving up the ranks to crafting beats for the likes of 50 Cent, Prodigy, Evidence, and especially for De La Soul's amazing cut with MF Doom on The Grind Date, "Rock Co.Kane Flow".
In 2008 he finally decided to release his debut compilation album, White Van Music, and it banged. Really banged. Appearances from the likes of Busta Rhymes, Prodigy, Freeway and others made Jake One's knocking production front and center and placed the album among the best producer compilation albums in recent memory.
10. Brother Ali - US
Already achieving incredible acclaim after incredible acclaim, Brother Ali became the voice of the underground, and arguably the most important fixture in indie Hip Hop. Every album he put out was stellar and essential Hip Hop.
He hit us in '09 with US, an extension of prior albums as The Undisputed Truth and his masterwork Shadows On The Sun (see both later). Standouts include "Crown Jewel" and the superb "House Keys", which show his dexterity and passion on the mic. There is no more consistent emcee than Brother Ali, and this was just another example of why he needs to be considered among the greats.
9. Dilated Peoples - Directors Of Photography
The almighty Dilated Peoples. One of the most influential acts to emerge from LA over the past decade and a half, Evidence, Rakaa Iriscience, and DJ Babu are known for highly acclaimed albums such as The Platform, Neighborhood Watch, and especially Expansion Team.
Just as revered in the mainstream as they are in the underground, the Peoples released their first group album in eight years with Directors Of Photography, their first on Rhymesayers. Arguably their best work since Expansion Team, the guys flow like water from track to track without missing any steps or beats.
With phenomenal production from The Alchemist, Oh No ("the CRAZY "Century Of The Self"), 9th Wonder ("The Bigger Picture"), Premo ("Good As Gone"), and Jake One ("Show Me The Way"), Dilated rips tracks apart and continue to show why the game needs them.
8. Blueprint - 1988
Taking it back to the beginning of the celebrated "golden age" of Hip Hop, Blueprint brought back the boom-bap with 1988. This is one of those albums that make you wanna get away from it all in a Hip Hop way and reflect on a better time in the game, with lo-fi production, boomboxes, and good ol' fashioned hunger.
There's no shortage of quality material here with tracks as "Inner City Native Son", "Boombox", and "Trouble On My Mind", and by now, Blueprint is starting to show his worth in Hip Hop. Many consider this his best solo album to date, an album that truly showed the talent he possesses.
7. Atmosphere - God Loves Ugly
The flagship act of the label lies with its founders, Slug and Ant – collectively known as Atmosphere. On their second album God Loves Ugly, they wanted to show how far away they were from conventional, traditional Hip Hop imagery and themes.
Absorbing their need to be different, we hear some of the most conceptually intriguing and dense Hip Hop of the millennium. Considered one of the first "emo rap" albums, Atmosphere brings a passion and an intricate poetic nature that makes this one of their very best albums. Don't believe me, "Fuck You Lucy" will be a clear indication.
6. Brother Ali - Champion EP
All hail Brother Ali. The angry Albino outta Minnesota had made one the most landmark indie Hip Hop albums of all-time with Shadows On The Sun in 2003 and followed it up with an equally thunderous EP, entitled Champion.
It's only appropriate that the late, great Muhammad Ali is sketched on the cover of the EP, as Brother Ali is sounding like he's fighting to be the champion of this Hip Hop shit. Every track sounds like he's seriously going for his, and cuts like "Sleepwalker" and "Chain Link" are filled with intensity and a focus that will convince you Ali definitely is a Hip Hop force to be reckoned with.
5. The Alchemist & Evidence are Step Brothers - Lord Steppington
We had been waiting for a few years for close friends Evidence and The Alchemist to do a collab album. After ALC would do production work for Dilated Peoples and on Ev's stellar solo debut, The Weatherman LP, it was only right for this album to come together.
After dropping a couple of singles like "Ron Carter" (which didn't make the final cut of the album) and "Step Masters", Lord Steppington was here and man did it deliver. Non-stop bangers from these two and the chemistry between the two made it a fantastic marriage. Some of the best production you heard throughout all of 2014, the wittiness of Al and the slow-flow of Ev, along with the sizzling production of Al made this a complete winner and one of the best Rhymesayers albums ever.
4. Atmosphere - When Life Gives You Lemons, You Paint That Shit Gold
By 2008, we were already familiar with just how great this duo of Slug and Ant had become. Their fantastic God Loves Ugly and the classic You Just Can't Imagine The Fun We're Having made Atmosphere a big name – and their follow up When Life Gives You Lemons, You Paint That Shit Gold is just as good.
They basically proved the truth of the statement "If it ain't broke, don't fix it" with this album – as Ant brought some of his best production to date and Slug, as usual, wore his heart on his sleeve all over the album, as well as doing great storytelling work. The result was their highest charting album ever, debuting at number five on the Billboard Top 200, a heavy accomplishment in itself. With cuts like "In Her Music Box" and "Me", it's definitely not hard to see why this album was starting to bring them more and more national recognition.
3. Brother Ali - The Undisputed Truth
How do you possibly follow up the breathtaking album that was Shadows On The Sun, and the equally vicious Champion EP? The answer came in the form of The Undisputed Truth.
With the exception of acts like De La Soul, A Tribe Called Quest, EPMD, Mobb Deep, and Outkast, it's not often an artist can put together back to back classic full-length albums, but Brother Ali pulled it off. Exhibiting as much ferocity and vigor as anything we heard from him prior, Ali is poignant and open with his thoughts and emotions all throughout this exceptional piece of art. The activist comes out in cuts like "Truth Is" and the vulnerable emcee comes out in the bitter letter to his ex-wife "Walking Away".
There aren't many artists, yesterday or today, that match Ali's ability to preach to the masses while showing his heart at the same time. He does it and does it effortlessly.
2. Atmosphere - You Can't Imagine How Much Fun We're Having
In 2005, Slug and Ant had been riding off the acclaim of their God Loves Ugly album, as well as the Lucy Ford EP before it. However, it was their fifth overall album that changed everything. The album, You Can't Imagine How Much Fun We're Having, is as beautifully crafted and put together as any album you could find that entire decade.
Frankly, with the exception of the mastery he put together on Brother Ali's Shadows On The Sun, Ant had never been better behind the boards, and Slug was just fantastic on the mic, every bit as open and honest as he could possibly be. The vivid imagery of "Say Hey There", the fascinating "Pour Me Another" and the touching standout "Little Man" help to make this album their absolute magnum opus.
You Can't Imagine How Much Fun We're Having ultimately defined Atmosphere critically, as this was a highly acclaimed piece of work.
1. Brother Ali - Shadows On The Sun
The album that made Rhymesayers Entertainment one of the most intriguing labels in the entire underground. It's not often the term 'brilliant' gets used, especially in post-millennium Hip Hop, but in 2003 Brother Ali constructed a brilliant album entitled Shadows On The Sun.
Over some of the most engaging Ant production ever heard, Ali paints honest, poignant, and compelling pictures for the listener in such reflective ways all over the album. While every track is exceptional in its own right, perhaps it's the painfully open "Forest Whitaker" – where he bravely points out all his physical imperfections while embracing them at the same time – showing the importance of self-love in one of the most empowering cuts to ever. A landmark underground release much like Madvillainy or Champion Sound, Brother Ali delivered one of the best Hip Hop albums of that entire decade, and it still stands as one of the most exquisite releases today.
A classic in every sense of the word.
Honorable Mentions
Freeway & Jake One – The Stimulus Package
Brother Ali – Mourning In America & Dreaming In Color
RJD2 & Blueprint are Soul Position – 8 Million Stories
Atmosphere – Seven's Travels
Atmosphere – Southsiders
Evidence – Cats & Dogs
Slug & Murs – Felt 3: A Tribute To Rosie Perez
Eyedea & Abilities – First Born
If you do not know all there is to know about this Rhymesayers, I suggest you stop sleeping on this label and check all these and their other releases. Clearly, Rhymesayers has delivered some of the best albums in Hip Hop ever, and one can only guess what's the next big acclaimed album to drop.