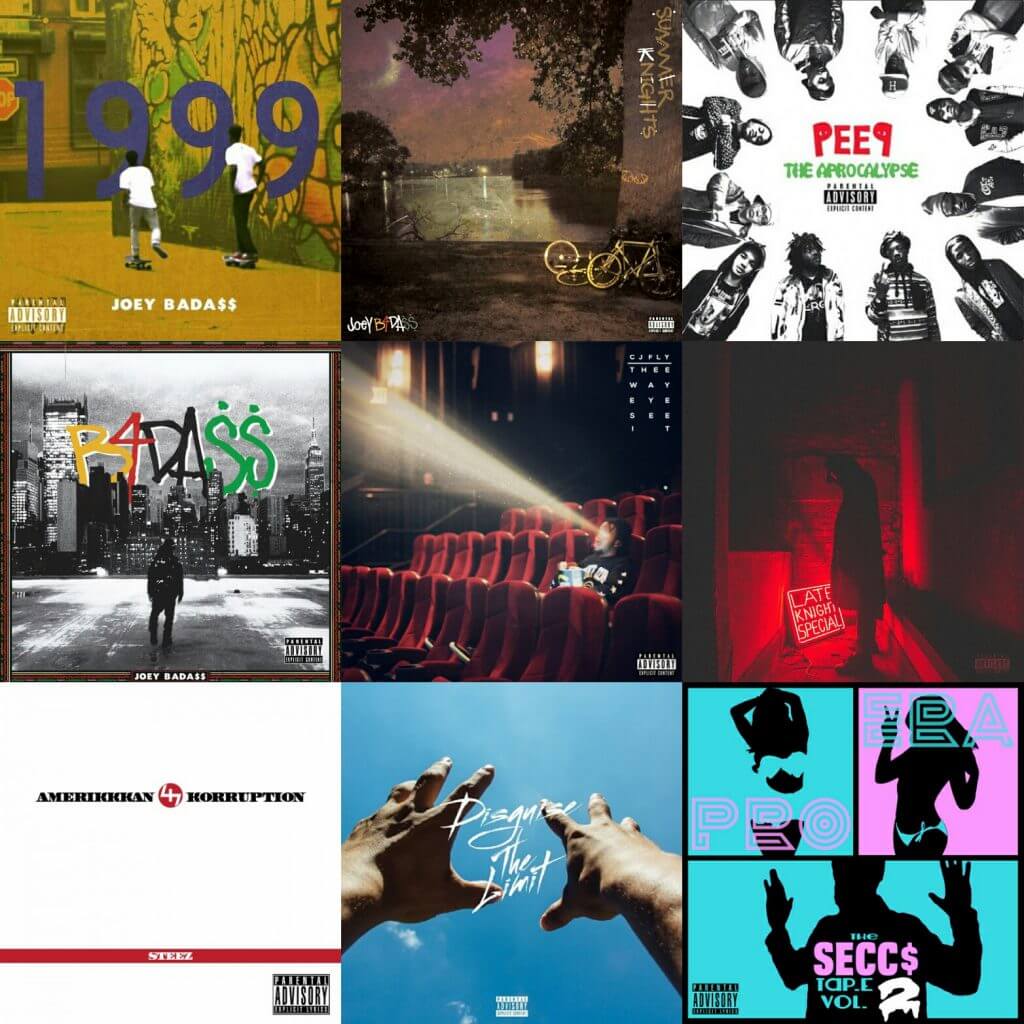 NYC collective Pro Era has been turning heads for a number of years now within the underground and with the emergence of Joey Bada$$ as one of the leaders of the new school, Pro Era is set to unleash a new crop of stars for the general public.
Members such as Kirk Knight, Chuck Strangers, Nyck Caution, Powers Pleasent, CJ Fly, and the late Capital Steez all have greatly contributed to building the success and buzz of this young collective. Part of the "Beast Coast" movement – along with extended family such as Flatbush Zombies, The Underachievers, and the A$AP Mob – it's very possible this could be the clique that brings prominence back to NYC Hip Hop. Without further ado, let's get into the best projects to emerge from the camp.
10. Pro Era - The Secc$ Tape
One of the first mixtapes from the camp as a collective unit came in the form of The Secc$ Tape, a ten track collection showing their softer sides of infatuation, hokey crushes, and passionate sexual audio soundscapes. Strong cuts from Joey, Capital Steez, and CJ Fly stand out with this short but dope release.
9. Pro Era - The Secc$ Tape Vol. 2
Extending off their aforementioned mixtape in the Secc$ series, they continue more of the same boyish charm, with the occasional misogynistic themes, this time they highlight performances from others like Dezzy Hines, Dyemond Lewis, Dirty Sanchez, and Kirk Knight.
Cuts like "Chocolate Strawberries" and "Dirty Dancing" bring back ol' school courting vibes, and makes for just as fun of a listen as the prior.
8. Nyck Caution - Disguise The Limit
One of the younger prospects of Pro Era is Nyck Caution, whose debut Disguise The Limit is a tight debut, in which we see the poignancy of a young new jack in the game. This album has fairly dope and very varied production from residential in-house producers Chuck Strangers and Kirk Knight to southern heavyweight MetroBoomin – but it's his ability to be vulnerable in multiple points on the album such as "Density" and the touching ode to Steez "Out Of Reach" that make this album well worth the listen.
7. Capital Steez - AmeriKKKan Korruption
God Bless the dead. The late Captial Steez was a forefather, along with Joey and CJ, to the whole Pro Era movement. For a reason only he knew, Steez decided to end his young life Christmas Eve of 2012.
Before his life ended, he completed a mixtape entitled AmeriKKKan Korruption, which was a mixtape in every sense, as there was a mix of original songs and freestyles he did over already established beats from Madlib, MF Doom, and Premo.
The talent of Steez was enough to make him a standout player in the camp. He was a star on the rise, with or without Pro Era. There are talks of another Steez album being posthumously released. Hopefully it will surface, as talent like this needs to be preserved and widely heard.
6. Kirk Knight - Late Knight Special
Pro Era's instant go-to producer also came from behind the boards and lit a booth up. Kirk Knight dropped what can only be stated as a surprisingly hot debut album last year.  Not that we doubted it would be flames once he was to put out something, but more so as to the enormity of how crazy it was.
From the riotous "Brokeland" to the reflective "Heaven", this album is a must-have for all those who want a fresh new look into the rise of Pro Era that's not Joey Bada$$.  Expect more fire from young Mr. Knight in the future, hopefully this album is a sign of future greatness from him.
5. CJ Fly - Thee Way Eye See It
There's something special about CJ. This original Pro Era forefather has a vocal and rhyme distinction that makes him more noticeable than most of the others.
His debut, Thee Way Eye See It, is as fresh of a debut to emerge out of NYC in years, and really showcased his ability to do good to great storytelling. Cuts like "Eyetalian Frinchip" and the Joey Bada$$- assisted "Sup Preme" are total listens, and it could be argued that this is a big pinpoint in the critical acclaim of Pro Era.
4. Joey Bada$$ - B4. Da. $$
We had been eagerly awaiting his full-length debut album since his highly acclaimed prior mixtapes 1999 and Summer Knights (see both later), and boy did he deliver.
Undoubtedly his most complete and most confident piece of work, B4.Da.$$ is a coming of age to the young Brooklynite. Outstanding audio contributions from the likes of Quest love, Statik Selektah, and DJ Premier only enhance the incredible talent this young emcee possesses.
From the moment you push play, there are too many standouts to state a true fave, which is always good. Without question, Steez is looking on and proud. From the dark grooves of "Big Dusty" to the rambunctious "No. 99", this is packed with enough power to make anyone an instant Pro Era follower.
3. Pro Era - P.E.E.P.: The APROcalypse
While their Secc$ tapes were fairly decent and worth rotating, this mixtape was just FUEGO. The whole crew, including posthumous verses from Steez, laced this album.
Bleeding of nineties NYC Hip Hop (which is a huge part of Pro Era's acclaim), this album has hard hitters in various, yet consistent, shapes and sizes. The blatant Audio Two-ripped "Florists", the lyrical hunger of "Last Cypher" and "K.I.N.G.S." help highlight one of the best crew/family albums in years and everyone played their part.
An instant throwback to the good ol' days of NYC Hip Hop, this is guaranteed to satisfy lovers of Boot Camp, D.I.T.C., and Def Squad.
2. Joey Bada$$ - Summer Knights
How does one follow-up a classic like 1999? Joey Bada$$ knew he had to come every bit as hard with his follow-up mixtape, Summer Knights, and did he ever.
Incredible tracks like "Sweet Dreams", "47 Goons", and the Alchemist-crafted "Trap Door" just scratch the surface on this exceptional mixtape that should've been a full-length album. A flagship album for those "stuck in the nineties" cats, Summer Knights has some of the best soundscapes overall from any album within Pro Era and shows just how much the lyrical talent of Bada$$ keeps growing.
1. Joey Bada$$ - 1999
In a word: WOW. Not in over a decade has there been a mixtape this NYC bled than Joey Bada$$' debut, 1999. Clearly indicating a certain time period that was true with him, the sounds from 1999 were a shining indicator of such. Our first true introduction to the Pro Era camp was really done on this album, but clearly Bada$$ was the star on this stellar mixtape.
Practically flawless, 1999 has grown to become the go-to album that represents what Joey and Pro Era are all about and stands as one of the best mixtapes this millennium.
With debuts coming from Chuck Strangers and Dessy Hinds, it's clear Pro Era isn't going anywhere, as they shouldn't. With so many people claiming to bring back NY Hip Hop, they're truthfully lame compared to these cats and anyone associated with them. Know this: Pro Era is the future – and don't say I didn't tell you so!