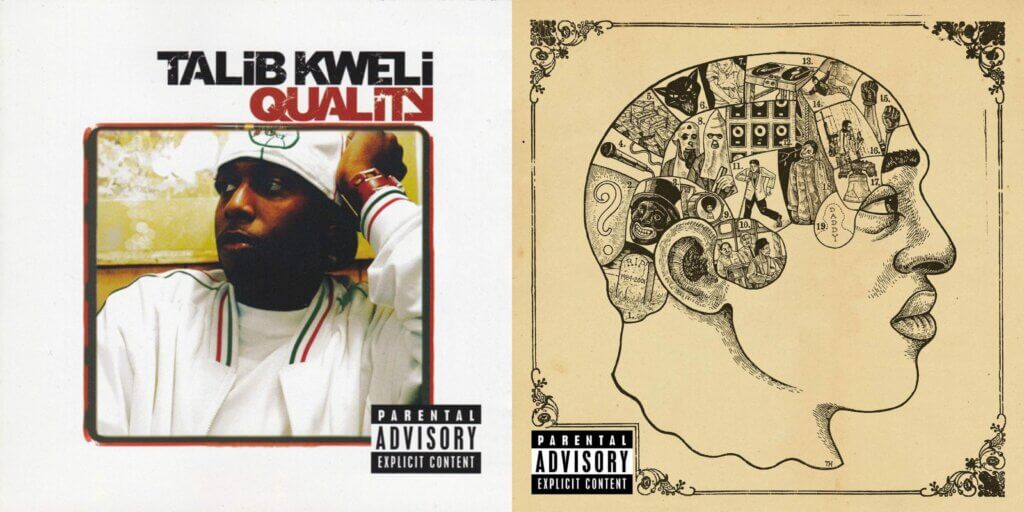 It's easy to be nostalgic about the music of my youth, but by the time I was grown, married, and paying a mortgage – my musical purchases came with a lot more discernment. Particularly in 2002, I was not using Napster or other online mediums to explore new artists. When I spent my money, it had to be a sure thing. Few things were surer than the dilemma faced by Hip Hop heads in November 2002 when we had to choose between Talib Kweli's Quality and The Roots' Phrenology. By this time, my money situation was better than it was when I was choosing between Big Daddy Kane and EPMD. I could afford to buy more than one cd; however, I preferred one at a time to give the artist a focused listen.
If you have been following us, then you know the choice of purchasing just one cd is broken down into a few categories and as objectively as possible, assigned points between 0 – 2. The categories are:
Pre-release history: What did we know about these groups prior to the reviewed albums' release?
Review of three songs that either charted highest or had the biggest buzz.
How did it age / does it still sound fresh? The other day, I was being silly with my daughter and played some UTFO – she hated it. When I was fifth grade, me and classmates had our respective parts of "Roxanne, Roxanne" memorized (I was Doctor Ice and yes, I can explain to you really what doctors must do). I thought it was the best song ever. Now, over 30 years later, well … it sounds dated.
Game-Changer or Pace-Keeper: This is a perspective that can only be gained with hindsight. I separate Hall of Famers from All-Stars. For example, Common's Resurrection is a game-changer but his One Day It'll All Make Sense is a pace-keeper.
Ultimately, the album with the highest score is the one you and I probably should have purchased first.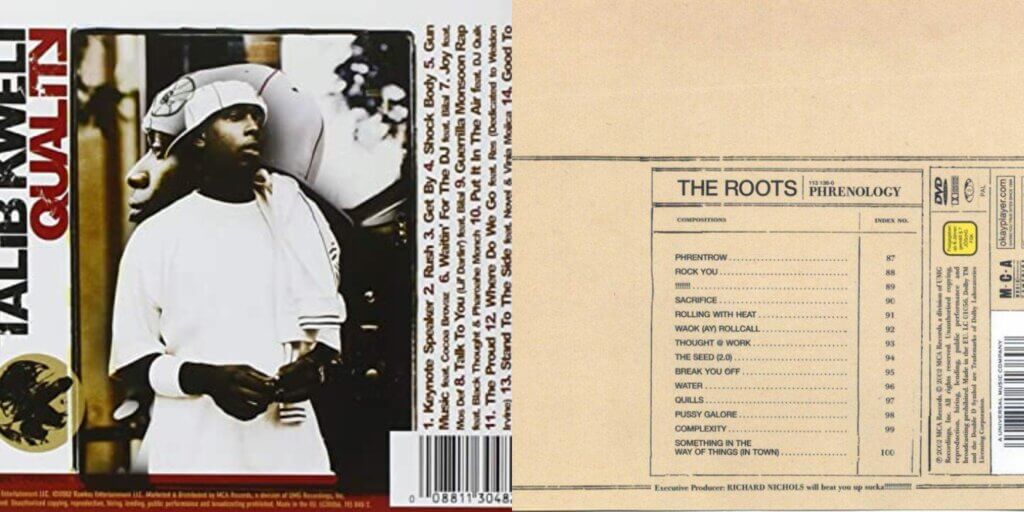 PRE-RELEASE HISTORY
Most of us knew Talib Kweli as the other half of Black Star with Mos Def (Yasiin Bey). With Black Star, I found myself favoring Mos more but still maintaining a healthy respect for Talib. Especially, when he said:
looking in the sky for God,

but all I see is miles of smog,

and broken dreams,

finding their way,

on the wings of the obscene,

thoughts that people put in the air ...
Yeah, dude could bring it. Plus, Rawkus Records was lightning in a bottle for Hip Hop aficionados.
Talib Kweli – 2 points
The Roots weren't on the come up in 2002, they were bonafide stars. They were Grammy award winners and had released four albums to wider and wider acclaim (although I still haven't heard their first album, Organix – shame on me). They had the respect of the underground and the popularity to go with it – all of which was deserved. Looking back, I imagine they had something to prove with Phrenology.
The Roots – 2 points
SONG REVIEWS
"Get By" may be Talib's signature song. Produced by an up-and-coming Kanye West, it was a banger!
Talib opened with these lines:
We sell crack to our own out the back of our homes,

we smell the musk of the dusk in the crack of the dawn,

we go through episodes too, like Attack of the Clones,

work 'til we break our back and you hear the crack of the bone.
Wait, what? Yessir, he got all those syllables in cadence. I played this song so much my wife knew it by heart.
Talib Kweli – 2 points, 4 total
"Break You Off": I heard that originally this song was supposed to feature D'Angelo but to me, Musiq was a great compliment to a smoothed out Black Thought. The only way you're not feeling this song is if you're the boyfriend of the lady who got broke off.
You tellin' me you deeply appreciate the company

The time we spend 'I feel the same

It's a shame you ain't my girlfriend'

Cause listen: you need a brother with that physical fix

That come through in a mix for you with no head tricks or fraud

You need a new position,

Somethin' to get you open like its Eucalyptus got you ready to go for your's

Come on and work wit' me,

you won't get hurt wit' me

Just keep it real and you'll get broken off certainly

Dealing with this you won't be takin' a loss;

You need to leave I'm alone and roll with the one whose breakin' you off.
C'mon man, at some point in your life, you imagined being smooth enough to pull off a heist like that.
The Roots – 2 points, 4 total
"Shock Body" is an example of why album sequencing is so important. It wasn't released as a single but it is mandatory that I hear it immediately after "Get By." As an adult, I could better "hear" what was meant by the classification of a 'battle MC' and "Shock Body" sounds like Talib at his battle best:
Watch how Talib Kweli Greene do it

What I bring to it

You hear the theme music

My rhymes' are life support, dog, breathe to it

Rhymes are bright, the sunshine beams to it

Stop haters in their tracks like high beams

Watch the movement you was at the crime scene screaming "I ain't do it"

But, I seen through it, it's obscene how I spew it

Martin Luther King had a dream to it, people cling to it

I seen your momma lean to it in a green Buick

Wack ni***s get passed over so much they seem Jewish

Better leave and do it now or seem foolish

This music I bleed to it, I raise my seeds to it

I MC with the truest in the game

I stay hungry like I'm the newest in the game

And stay hot like I'm bluish with the flame

You heard the truth when it came

And you knew it was the name that you couldn't pronounce

Now I'm all up in your mouth
YESSIR! Talib would win the cipher with bars like that!
Talib Kweli – 2 points, 6 total
"Sacrifice" – again, a track not released as a single but one of my all-time favorites. Even now, nearly 20 years later, my daughters can recite this song as I have played it so much. ONLY Black Thought can come off like this:
Listen, I got you phobic off of this like arachnids

Drastic, it ain't plastic it's Pro-Blackness

Grown man tactics, no pediatrics

The kind of track that make the comeback miraculous

The catalyst, Thought with the knack for splashin'

I'm dashin' I mastered the craft of mashin'

The level-headed thoroughbred, the female's passion

Mag-netic attraction be keepin' them askin'
Black Thought man, believe dude is more of the Truth than Paul Pierce.
The Roots – 2 points, 6 total
"Where Do We Go" is a JDilla track that sort of mellows the pace and allows listeners to grasp the ideas behind Kweli's rhymes. If there was just one bar from Kweli that I could say encapsulates the depth behind his rhymes, it is:
What you gonna do when you gotta face

The manifestation of the words that you put in space
Although it is a limiting label and he is much more, Kweli personifies what it means to be a conscious rapper or a thinking man's MC.
Talib Kweli – 2 points, 8 total
"The Seed 2.0": I really appreciate how The Roots sort of remix a song by another artist, maintain the integrity of the original, and introduce the original artist to a whole new audience. I bought Cody Chestnutt's album after this. Moreover, the versatility that has come to define the group is on full display on what initially comes off as a rock & roll track.
But this is The Roots and you know they flipped it.
The Roots- 2 points, 8 total
HOW DID IT AGE?
These albums are essential to the soundtrack of my young manhood. So to me, they haven't aged as I still play songs from them consistently.
Not that I said "songs" and not the whole albums. Perhaps this is my Achille's Heel as a fan of The Roots, because they are so talented and diverse, their albums display those attributes. I tend to gravitate to a third of the songs on every album and replay them constantly. For another artist or group, I may be more critical of this diversity and perhaps incorrectly call it a lack of focus. Not with The Roots, they are more than a rap group.
Which brings me back to Talib. In the way I tend to cling to about a third of the songs on every Root's album, I do the same with Talib. In his case, it's usually my preference of the beats. Quality is maybe the best balance of beats and lyrics in Kweli's catalog.
Talib Kweli – 2 points, 10 points
The Roots – 2 points, 10 points
GAME-CHANGER of PACE-KEEPER
Whoa. By a very slim margin, I'd say Quality was more of a game-changer because it is a solo album where we previously experienced Kweli with either Mos Def or Hi-Tek. He spit the same fire but he was the sole focus of the album.
The Roots maintained their quality output from their Grammy win. Additionally, both Black Thought and Kweli are featured guests on the other's album. Yet, as fans we had expectations and The Roots delivered. With Kweli, we had questions and he delivered. I REALLY feel like I'm splitting hairs right here, but….
Talib Kweli – 2 points, 12 total
The Roots – 1 point, 11 total
Looking back to 2002, the albums were released a week apart. My then-pregnant wife left work at lunch to amble through Best Buy and purchase Quality for me so that I could have it on day one. Two Fridays later, I swung by Puffer Red's to cop Phrenology. Both would become my favorite albums by these artists.