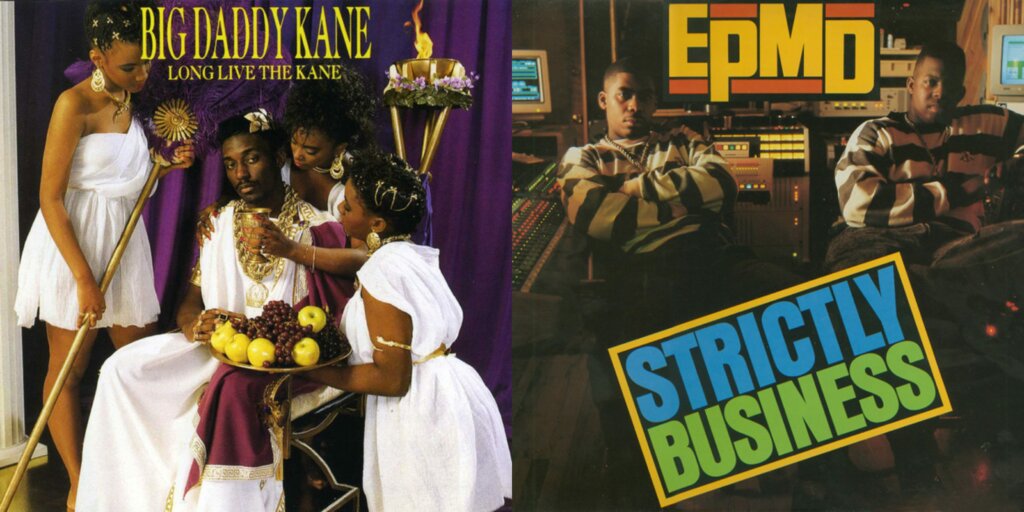 In June 1988, the summer before I started high school, I faced a choice. Choices similar to that one make up the premise of these nostalgic Hip Hop essays: only having enough money for one purchase but torn between two albums released that month. Today's choice is between Big Daddy Kane's Long Live the Kane and EPMD's Strictly Business and the choice is as difficult today as it was then.
By now, I hoping you are aware of our use of categories and objectively assigned points between 0 – 2. The categories are:
Pre-release history: What did we know about these groups prior to the reviewed albums' release?
Review of three songs that either charted highest or had the biggest buzz.
How did it age / does it still sound fresh? You may have bumped this loudly from your speakers back then, but how would it sound today? I recently listened to Ice T's Power and Rhyme Pays albums. Power aged better.
Game-Changer or Pace-Keeper: Hindsight makes this perspective clear. It separates Hall of Famers from All-Stars. For example, LL Cool J's Bigger and Deffer is a game-changer but his Walking with a Panther is a pace-keeper.
In the end, the album with the highest score is the one you and I probably should have purchased first.
PRE-RELEASE HISTORY
I first saw Big Daddy Kane in the "Biz Is Going Off" video. Soon afterward, Biz's verse and Kane's appearance in the "Vapors" video were my cues that this would be my guy. Again, this is the summer before high school – that time when teens are determining how they want to be seen or accepted in high school. When I saw Kane, I wanted to be that cool. Plus, Biz's line about him 'fighting everyday' had a great bit of personal relevance.
Big Daddy Kane – 2 points
The first time I saw the "You Gots To Chill" video was the first time I heard EPMD. I'm not sure if a group could deliver a better introduction than that.
EPMD – 2 points
SONG REVIEWS:
"Ain't No Half Steppin" was swagger before we used the term. But more importantly, we were introduced to a top-shelf lyricist.
I had already heard Rakim and would not be that awed by an MC until I heard Kane. I really couldn't have counted the number of times I tried to say:
The best, oh, yes, I guess, suggest the rest should fess

Don't mess or test your highness

Unless you just address with best finesse

And bless the paragraphs I manifest 
as smoothly as Kane did. This was definitely going to be my role model.
Big Daddy Kane – 2 points, 4 total
"You Gots To Chill" is SLAMMIN'! Numerous artist have used the same Zapp sample but no one has ever hit as hard as these cats did with it.
What is remarkable is that their rhyme scheme was not very remarkable; however, their flow took mundane lines like: "if you're tired, then go take a nap" to a whole 'nuther level!
EPMD – 2 points, 4 total
"Raw (remix)": Oh s***. If "Raw" had never been made and an MC spit these rhymes today – they would be an instant YouTube sensation. I mean seriously, it's not a lot of MCs who can top:
Ruling and schooling MC's that I'm dueling

Watch them all take a fall as I sit back cooling

On my throne, with a bronze microphone

Hmm, God bless the child that can hold his own

Cause I get raw
Big Daddy Kane – 2 points, 6 total
"It's My Thing": Years later, I learned this was their first single. Back in '88, it was my favorite track on the album. What I now know as flow, back then I just thought these dudes were rhyming effortlessly. One indicator of an outstanding artist is that you recognize them as soon as you hear them – EPMD are instantly recognizable.
EPMD – 2 points, 6 total
"Set It Off" follows "Raw" on the album and there is no let down in Big Daddy's lyrical excellence. In "Ain't No Half-Steppin'", he mentions opening a school of MCing; which wouldn't be necessary if students of the rhyming studied "Set It Off."
Big Daddy Kane – 2 points, 8 total
"Strictly Business" doesn't have the firepower of "Set It Off" but it is still a gem. It sets the tone for the album. Moreover, I'm willing to bet that I wasn't the only one who wanted a fisherman hat after watching the video.
EPMD – 2 points, 8 total
HOW DID IT AGE?
This is really tough. Both sound like late 80's production. While Kane's lyricism is more noteworthy; I don't think it's far-fetched to say EPMD are underrated rhymers. All of which to say, sonically – they have aged about the same.
So to break this stalemate, we will have to employ the Skip-A-Track Test to distinguish. Both albums have ten tracks and included what was then the obligatory DJ cutting & scratching track. Yet, right now in 2020, you have the remote to an awesome sound system and these albums … let's do it:
Long Live The Kane   – Listen
Raw   – Listen
Set It Off   – Listen
The Day You're Mine   – Skip
On The Bugged Tip   – Skip
Ain't No Half-Steppin'   – Listen
I'll Take You There   – Listen
Just Rhymin With Biz   – Listen
Mister Cee's Masterplan   – Skip 
Word To The Mother(land)   – Listen
Strictly Business   – Listen
Because I'm Housin'   – Listen
So Let The Funk Flow  – Skip
You Gots To Chill   – Listen (twice)
It's My Thing   – Listen
You're A Customer   – Skip
The Steve Martin   – Skip
Get Off The Bandwagon  – Skip
DJ K La Boss   – Skip
Jane   – Skip
Big Daddy Kane- 2 points, 10 points
EPMD – 1 point, 9 points
GAME-CHANGER of PACE-KEEPER
Considering that there are number of heads that feel that 1988 kicks off the Golden Age of Hip Hop, both of these albums have a hand in that declaration. They did not sound like Run-DMC, Grandmaster Flash & the Furious Five, or even LL Cool J. The beats sounded fresh when compared to early and mid-80s Hip Hop, The wordplay and flow were also a collective improvement from what had been previously released (except Paid in Full which is a category all by itself and possibly Criminal Minded). I consider them part of the overall game-changing momentum of the times.
Big Daddy Kane – 2 points, 12 total
EPMD – 2 points, 11 total
Rewind back to '88 and a 13-year-old Sabin Prentis bought Big Daddy Kane. I would make the same choice today. Back then, building on the notion that Big Daddy was the entertainer I looked up to the most, the idea of some beautiful ladies feeding me fruit captured my imagination more than sitting in the studio with my mans. I bought EPMD soon thereafter and pronounced that "I'm like Zoro, I'll mark an (S) on your back!" Both albums are staples in my current music collection.