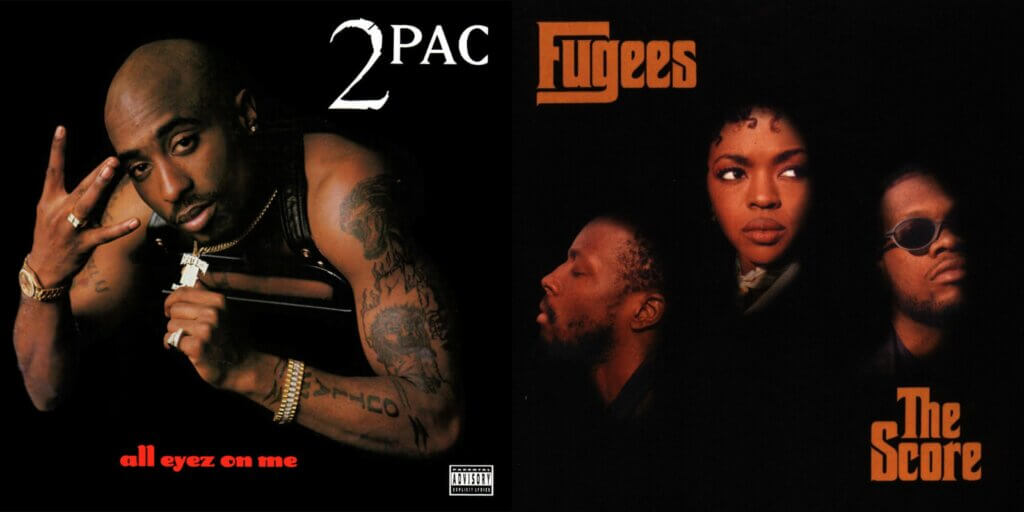 I'm an avid rooter for the underdog. Sometimes, I'm right, like when picked Kawhi's Raptors over Embid's 76ers. Sometimes, I'm wrong, like picking the Fab Five to beat Duke. But nevertheless, I won't let my love for the underdog lead to scenarios that are downright foolish. For example, doing a Just One essay matching any artist up against The Chronic or A Nation of Millions… To paraphrase Ghostface, "it's some sh** you just don't do!"
However, not all sacred cows are so sacred. Few artists provoke more blind irrationality than Tupac. Bring up Tupac and folks get all up in their feelings. Indeed, dude is an icon and was tragically taken from us too soon; but sentiment won't allow me to say he was the best MC/lyricist in Hip Hop history because that ain't true.
Today, we're going to challenge one of Hip Hop big dawgs, Tupac, with a group you may have heard of – The Fugees. All Eyez On Me and The Score dropped on the same day (shout out to my man, Malik for pointing that out) and we're going to use our scoring categories to determine which of the two you should have purchased first. The categories are:
Pre-release history: What did we know about these artists prior to the reviewed albums' release?
Review of three songs that either were released as singles or had underground buzz.
How did it age / does it still sound fresh? Always a troublesome area to gauge. Honestly, I listen nostalgically to Biz Markie's "Albee Square Mall" (and "do the buu-one-two while saying my grace") but by no means should I blast that from my car stereo. Nah, nostalgia says keep that in that house because it didn't age well.
Game-Changer or Pace-Keeper: Game-changers get the nod. You remember where you were when you first heard Eric B & Rakim's Paid in Full but their Follow the Leader is just a fond memory because it was a pace-keeper of extraordinary lyricism.
Everybody clear? In the words of The Roots, "I shall PROCEED …"
PRE-RELEASE HISTORY
Allow me to state my bias, I think Me Against The World is Tupac's best album. But whatever album you may deem as the best, there is no denying that in February 1996, Mr. Shakur was well known to Hip Hop heads coast-to-coast.
2Pac – 2 points
The Fugees visited my alma mater, Hampton University, to promote both their albums. I didn't really get into Blunted On Reality but when I got a chance to usher their concert with Groove Theory, George Clinton, and a then-unknown Maxwell (I saw his warm-up but don't know why he didn't perform) – I thought I had died and went to heaven. Particularly having the fortune to see Lauryn Hill up close, I couldn't think of a better angel than that. For a band looking to better their debut album, The Fugees had a buzz that was building.
The Fugees – 2 points
SONG REVIEWS
"California Love": I can't think of a song I'm tired of hearing more than this one. BUT when it dropped? Coupled with the fact most folks didn't know Pac was out of prison? Man, it was MAJOR. I won't go into much detail about the type of club I was in when I first heard the song but the performances from that night align some pretty captivating memories with the song.
Yet, I mentioned being tired of hearing this because it got so much airplay. I got older relatives that sing Roger Troutman's part during the family reunion. Needless to say, it was a mega-hit.
2 Pac – 2 points, 4 total
"Fu-Gee-La": At first, I didn't think the Teena Marie loop was going to work. But I underestimated Wyclef's magic and the hypnotic siren Lauren proved to be. It was nowhere near as big as "California Love" but it was a significant upgrade over their first album. Clef was right when he said, "We used to be number 10, now we're permanent at one."
The Fugees – 2 points, 4 total
"2 of Americaz Most Wanted": 2Pac and Snoop is a better combination than Harden and Westbrook. Yep, I mentioned those two because at first it seems like they won't fit, but DJ Quik put his thing down on the production and they delivered a classic.
So now they got us laced

Two multi-millionaire motherf****rs catchin' cases

Bi***es get ready for the throw down, the s**t's about to go down

Me and Snoop about to clown

I'm losin' my religion, I'm vicious on these stool pigeons

You might be deep in this game, but you got the rules missin'

N***as be actin' like they savage, they out to get the cabbage

I've got nothin' but love for my n***as livin' lavish
2Pac – 2 points, 6 total
"Killing Me Softly" is probably the bonafide hit that made a very good album great. It feels like Hip Hop although it's definitely R&B. I'm not sure how much you know about Roberta Flack, but it is damn near sacrilegious to attempt to remake one of her songs. But they did and knocked this joint out the park! "One time, one time."
The Fugees – 2 points, 6 total
"Ambitionz As A Ridah": Hands down, my wife's favorite 2Pac song (mine is "Picture Me Rollin'"– which I covered last year in Battle of the Posse Cuts). This is her go-to track for testing out any sound system. Additionally, when we're doing a long family road trip and it's her turn to take the wheel, all of us are awakened by her enthusiastic recital of
I won't deny it, I'm a straight ridah

You don't wanna f**k with me

Got the police bustin' at me

But they can't do nothin' to a G

I also think it thumps and is flag-planting declaration for starting a album.

2Pac – 2 points, 8 total
"Ready or Not":
Lauryn Hill is a dope MC. Not a dope female MC, but a dope MC, period. Check out this rhyme scheme:
I play my enemies like a game of chess

Where I rest, no stress, if you don't smoke sess

Lest I must confess, my destiny's manifest

In some Gor–tex & sweats, I make tracks like I'm homeless

Rap orgies with Porgy and Bess

Capture your bounty, like Elliot Ness, yes
The Fugees – 2 points, 8 total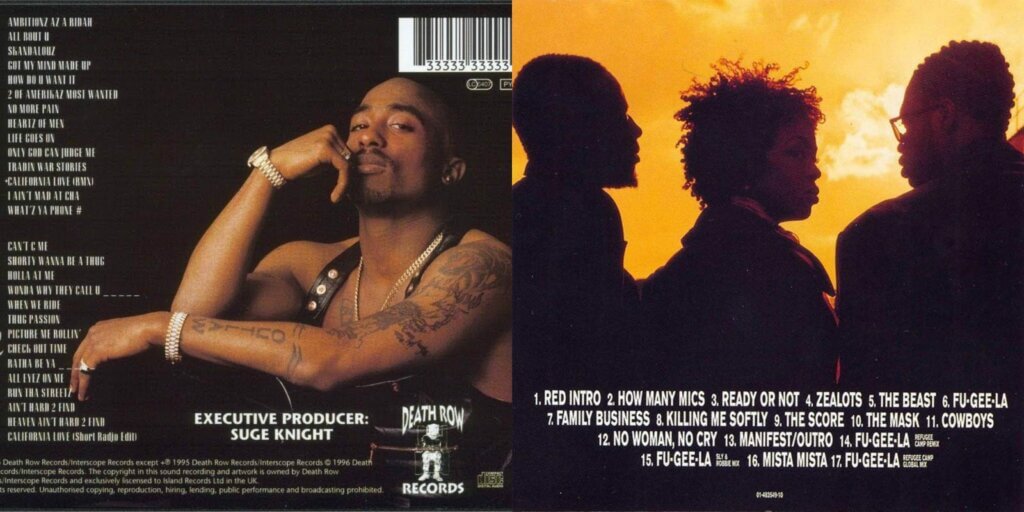 HOW DID IT AGE?
Both of these albums capture a moment of time quite possibly because they defined that moment in time. In some ways, All Eyez on Me was the capstone or one of the last big album to an era that was coming to a close. The Score was a harbinger of what was to come. I'm not sure you can put together fans of either that listen to these albums all the way through without skipping a track. Both have their standout tracks, personal favorites, and forget-ables.
To close to score
GAME-CHANGER of PACE-KEEPER
All Eyez on Me was a pace-keeper. For all of the dope tracks and the handful of skip-ables, as an album, it was an evolution of the then-popular Death Row vibe. I would say Makavelli was more of a game-changer than All Eyez on Me.
The Score was a game-changer. It was a quantum leap from their first album and a precedent for their forthcoming solo albums. In some ways, it laid a template for the next few years of popular music. It was a magic-in-a-bottle moment.
2Pac – 1 point, 9 total
The Fugees – 2 points, 10 total
Rewind to February 1996 and you're at Sam Goody or the neighborhood mom & pop record store, which should you purchase first? Actually, I didn't buy either when they first dropped. I was a little disappointed in the persona that 2Pac had evolved into and I was reluctant on trying out The Fugees. Eventually in '96, much like today's exercise, The Score was my initial purchase.