Don't Feed The Monster is the tenth studio album by Queens, New York emcee Homeboy Sandman – his second one on the Mello Music Group label, following the short but sweet Dusty LP (2019). Homeboy Sandman is a well-respected underground emcee, who has been building an impressive body of work ever since he debuted with his Nourishment EP in 2007. His conversational style of rapping is an acquired taste – Homeboy Sandman firmly belongs to a left-field corner of Hip Hop, the same niche contemporaries like Open Mike Eagle and Quelle Chris occupy.
It's Quelle Chris who is responsible for all the production on Don't Feed The Monster, his quirky beats the perfect foil for Homeboy Sandman's intricate thoughts and observations. Don't Feed The Monster offers close to an hour of music: 15 tracks, no useless skits, no filler, and only one guest appearance – by Quelle Chris, of course.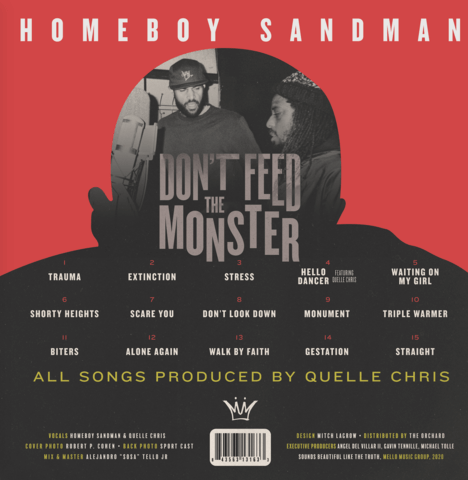 Lots of highlights on Don't Feed The Monster – from the painful memories of the intensely open and personal opening track "Trauma" to the humorous (and for some of us very relatable) "Waiting For My Girl" to cuts like "Extinction", "Stress", "Don't Look Down", "Monument", and "Alone Again" – with this album Homeboy Sandman opens a window to his world to offer a view on his state of being, showing a wide range of emotions and insights on what obviously is a cathartic album for him.
Don't Feed The Monster is a confirmation, and one of Homeboy Sandman's best albums yet. 82/100
Download Don't Feed The Monster
Also read: The Best Hip Hop Albums Of 2020