A Tribe Called Quest's last two albums, The Love Movement and Beats, Rhymes & Life, are critiqued for lack of excitement. I disagree because I've never been underwhelmed by anything J Dilla has been a part of and each album contains timeless cuts. Still, the criticism is understandable. For some, the Tribe-vibe had become stale. But after an 18-year-long hiatus, during which we lived through the tragic passing of Phife Dawg, ATCQ returned in a gigantic way. We Got It From Here… Thank You 4 Your Service enlivens Tribe's distinguishable elements, unveils new techniques and re-solidifies a legendary legacy.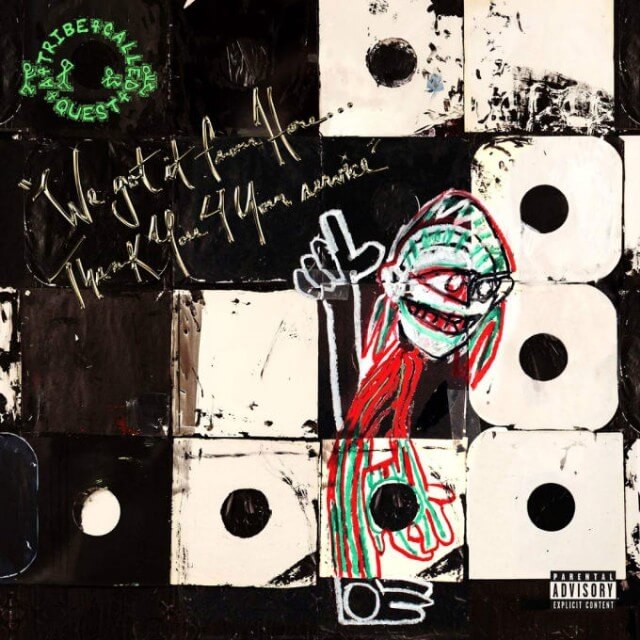 The 16-track-album is separated into two eight-track sections. But regardless of this partition, it flows seamlessly for the full 61 minutes. This is partly because they sustain their fun-loving-yet-somehow-never-corny intangibles. From start to finish, there's a consonant aura of positivity, congruency, and benevolence. It feels like when you hang out with an old friend for the first time in years and the loving energy doesn't need any rekindling. Pressing play, the listener (perhaps if he/she is an audio engineer) might detect the reverberating laughter overpowering the first four bars of Jarobi's verse on "The Space Program," but the hysteria is vital; it's a chaotic ballad that marks the pursuit of the album: how to maintain a kindred spirit when seeking to overcome the system(s) designed to defeat you.
During and/or after The Love Movement, there were rumors of turmoil amongst group members. But they must've settled the differences because the new record demonstrates impeccable chemistry. There's plenty of interchanging within verses; on many of the tracks, two emcees will layer their vocals together to fortify camaraderie. They also enhance their topicality by building on each others' ideas throughout verses.
On "Black Spasmodic," Phife exemplifies his command, through intent and execution. Q-Tip then inherits Phife's energy to deliver a tribute to his deceased friend — it's perhaps the best example of lyrical ingenuity on the entire project. He starts it with "my n**** spirit be talkin' to me, let me explain / not through evil mediums, tarot cards, and Ouija games / but through mixing chords and boards / and even drum machines—he be saying: / 'N**** f*** awards, keep reppin' Queens.'" Tip unveils the magnitude of he and Phife's musical bond by contrasting it with the pseudo-power of spirit games. He then assumes the voice of Phife and offers the listener some advice that the Muggsy Bogues Height Homie might've given him before he passed: to keep puttin' on for the home turf. It's a divine tribute that doesn't overwhelm the listener with emotion.
On "Conrad Tokyo" — a noisy assessment of contemporary politics in the U.S. that features a stellar Kendrick Lamar verse — they employ chanting. This is an element that we've seen from ATCQ on past albums ("We Can Get Down" from Midnight Marauders and "Scenario" from The Low End Theory, among others). It's artful and further personifies their unity. "Ego" does the same thing, sounding so marvelously evocative of OG Tribe cuts. Still, as corroborated in '96, they elected to "Keep It Moving."
My favorite joint is "Dis Generation," a rhapsodic anthem about the mysterious ways of the ever-changing world. The rhetoric involves everything from "Blu-Ray" to "chemtrails" as they try to characterize both their position in the Hip Hop enterprise and the world at large. It's also another example of strategic vocal-layering and seamless back-and-forth between emcees. Q-Tip drops a pivotal line with: "talk to Joey, Earl, Kendrick, and Cole, gatekeepers of flow / they are extensions of instinctual soul." It's a tasteful shoutout from The Abstract, directed at four prolific up-and-comers in Hip Hop (hopefully they heard that and were instigated a little bit!). But even still, in the grand context of the album, no particular cut, or moment — ehh… say what you will about when "We The People…." dropped on you for the first time — shines above the rest. It's the near-perfect culmination of everything that makes Tribe Tribe.
The soundscape is plentifully reminiscent of all their decades of work. Like any ATCQ LP, they incorporate a wide range of chords, luscious synths, vocal samples laced into verses/hooks, scratches and crunchy snares. They even brought back the same sample from their 1990 classic "Bonita Applebum" for "Enough!!," innovatively filtering it to make it just recognizable enough. But this is key: it sounds like the past, but they correspondingly — as they promised on the first cut from People's Instinctive Travels and the Paths of Rhythm — "Push It Along."
The flows, the lyrical rhetoric, and the beats are a trifecta of freshness. On "Solid Wall Of Sound," Q-Tip flexes a Bordering On Trappy But Simultaneously So Far Removed From That flow that bounces nicely with the archetypal Caribbean vibes channeled by Phife and Busta. They even feature Anderson .Paak and Elton John on the album. A move like this immensely diversifies the feature-selection, which could have incited tumultuous dynamics. But they were careful about placing them. They allowed the features to shine — I haven't even mentioned Andre 3000 on "Kids…," sheesh — without delocalizing the album's themes, or its sonic coherency, and the results are a virtuous fusion of musical excellence.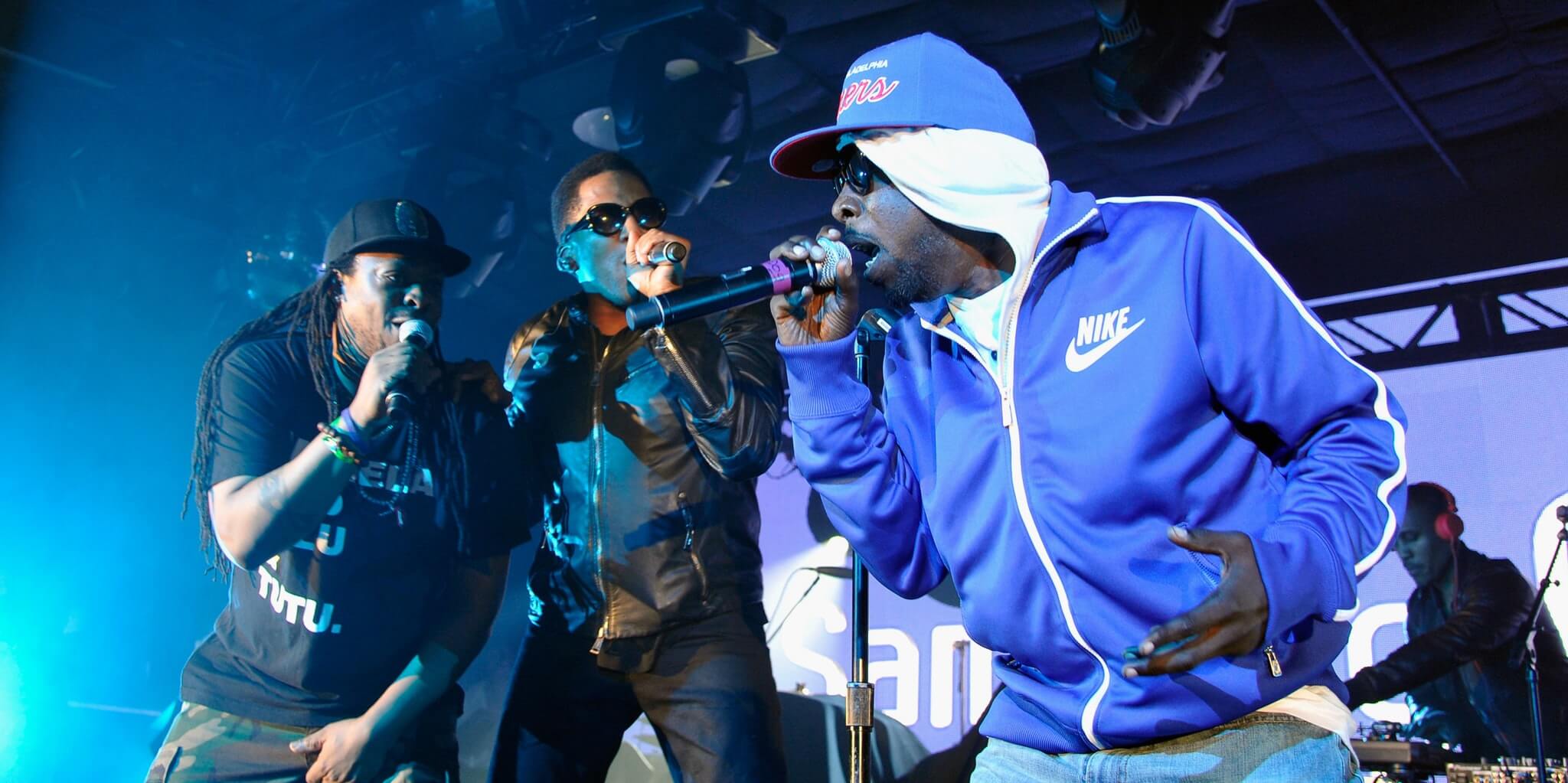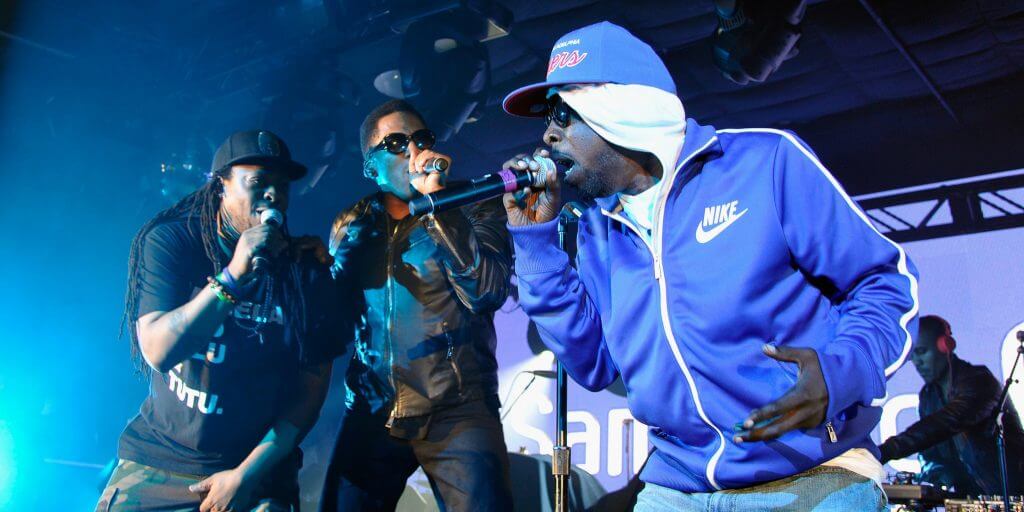 We Got It From Here… Thank You 4 Your Service is brilliant. Diverse yet cohesive, nostalgic yet hyphy, political yet playful. Although it may be a farewell record, the group's chemistry is at an apex. They sound rejuvenated. The features are implemented ingeniously — from Anderson .Paak to Elton John and everyone in between, the roles are craftily selected and executed. Plus, Busta Rhymes and Consequence make their usual appearances, sounding like no steps were lost since the 90s. They explored their fundamentals, chiseled 'em, and delivered in a huge way. Phife Dawg may be gone, but at least he's looking down, assassinating haters with a five-foot-wide grin.
P.S. this is perfect: https://www.youtube.com/watch?v=j-nMzliSLfE