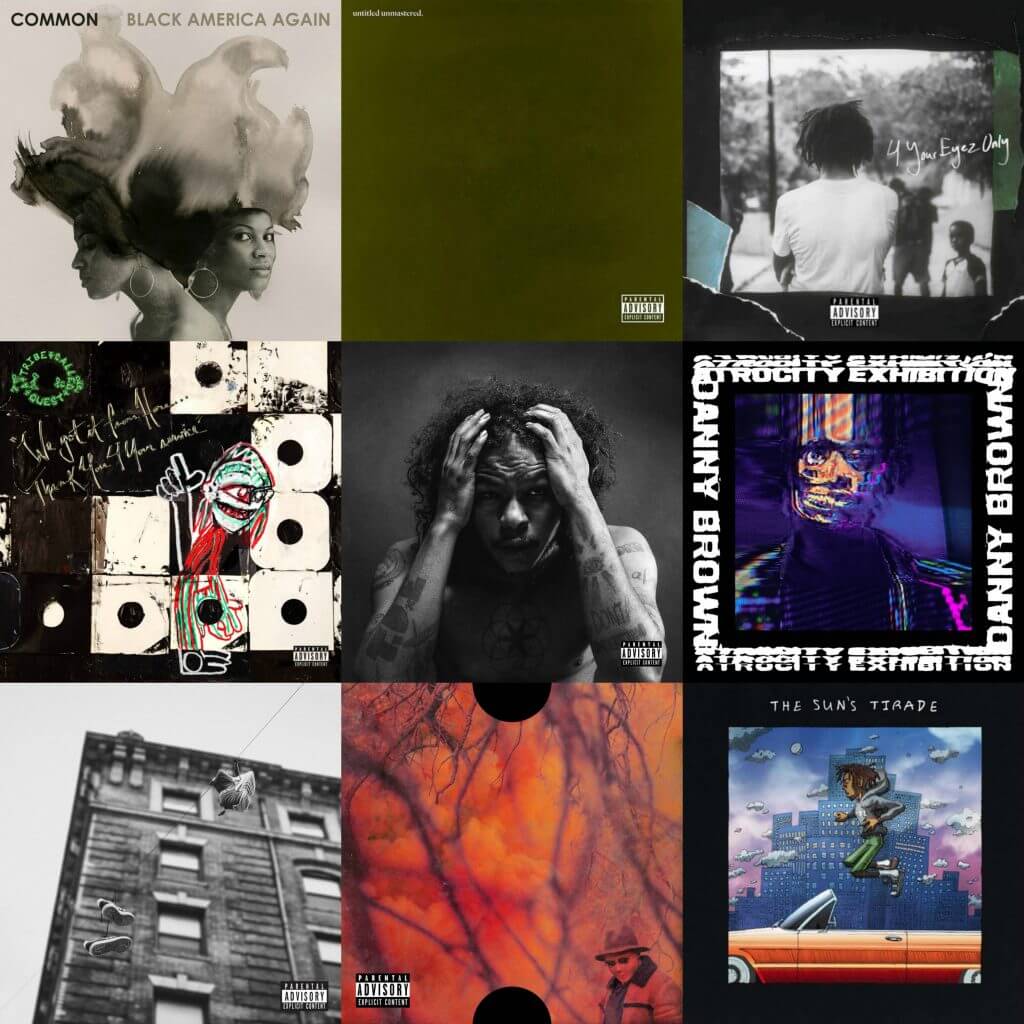 It's time to review the best Hip Hop releases of this year. Let's be honest folks. This year, up until recently, has been somewhat stale. There was a period during this year with a lot of material being released that was just average or sub-par. There were some here and there that showed greatness, but overall, on a consistent level, nothing was enormously substantial.
However, once August and September came around, the tide started to turn to where we started to get more and more blazing releases. Then November comes around and MAN!!! Releases from Common, A Tribe Called Quest, Czarface, and others who came out with CRAZY albums. Of course, Hip Hop usually comes very much alive in the fourth quarter as it is, but December is when everyone likes to get in that last minute rush to drop material, and what a December we've had (and it's not over yet).
Here's one thing you'll notice about this list: TDE put out the most exceptional material from one label/group this entire year. More than any year prior, this has been a dominant year for them. Without further ado, let's get this show started.
30. Masta Ace - The Falling Season
Legendary Juice Crew member Masta Ace has put out some incredible material. His earlier albums like Takes A Look Around and Slaughtahouse were some good releases, it wasn't until he dropped Disposable Arts in 2001 where his career took a turn, in a very acclaimed fashion.
Deemed a classic, Disposable Arts reintroduced the art of the concept album in a narrative form, delivering one of the new millennium's most prized gems. He followed it up with A Long Hot Summer, which was basically every bit as fantastic. Since then, he's released bangers like his MF Doom-assisted MA DOOM: Son Of Yvonne, his collaborated album with Ed O.G., and his group eMC (their album The Show was especially sizzling).
Now he gives us The Falling Season, which goes back to the conceptual album and this time, this takes us through his high school years. Experiencing typical high school issues like girls, conflicts with parents, and being bullied, Ace holds well and in a game where the young are really trying to hold down the fort, artists like this thirty-year vet show that they can still put it down.
29. J Dilla - The Diary
The late, great James "J Dilla" Yancey was and is a Hip Hop treasure. We've gone over just how much of an impact he's made for the culture. Upon his earthly departure, he left us with a lot of fruitful gems to digest.
His latest is his long-shelved solo album The Diary. Completed while he was on MCA Records, this collection of cuts is vintage Dilla with surprising yet dope collaborations with the likes of Snoop and Kokane. He also shares production credits with the likes of Hi-Tek, Madlib, Nottz, and Pete Rock, which was even more of a benefit. It even contains the underground smash, "Fuck The Police", which heads had been clamoring to get their hands on for many years.
The more we hear Dilla, the more we miss him, but also the more we realize how amazing his board work talent really was. He also wasn't a bad lyricist either. Let's face it, we can never get enough Dilla.
28. Statik Selektah & KXNG Crooked - StatikKXNG
One of the craziest lyricists to emerge from the west is the artist formerly known as Crooked I. KXNG Crooked got up with Statik Selektah to create this beyond dope EP, StatikKXNG. Statik's always on point production matches the lyrical ferocity of Crooked to the T.
From cuts like the Termanology-assisted "Let's Go" to "Lost A Fan", Crooked continues to show why he's one of the most feared lyricists on the planet (let's not forget he's still one-fourth of the notorious Slaughterhouse collective) and why Statik is one of the most sought after producers in rap today.
27. Mac Miller - The Devine Feminine
Over the last few years, we've seen an evolution of Mac Miller, both lyrically and as a man. It's almost like his newfound sobriety has brought out his best work, and his latest offering, The Devine Feminine, is another example.
Following up his biggest album to date, GO:OD AM, he drops this ode to love and infatuation over some of the most mellow and melodic production of this entire year. Cuts like "Congratulations", "Dang!", and "God Is Fair, Sexy, Nasty" are examples of just how far we're continuing to see Mac Miller go within this game.
We have to thank Ariana Grande for this newfound embracing of genuine love and affection because he has created one of the best albums within his discography.
26. Flatbush Zombies - 3001: A Laced Odyssey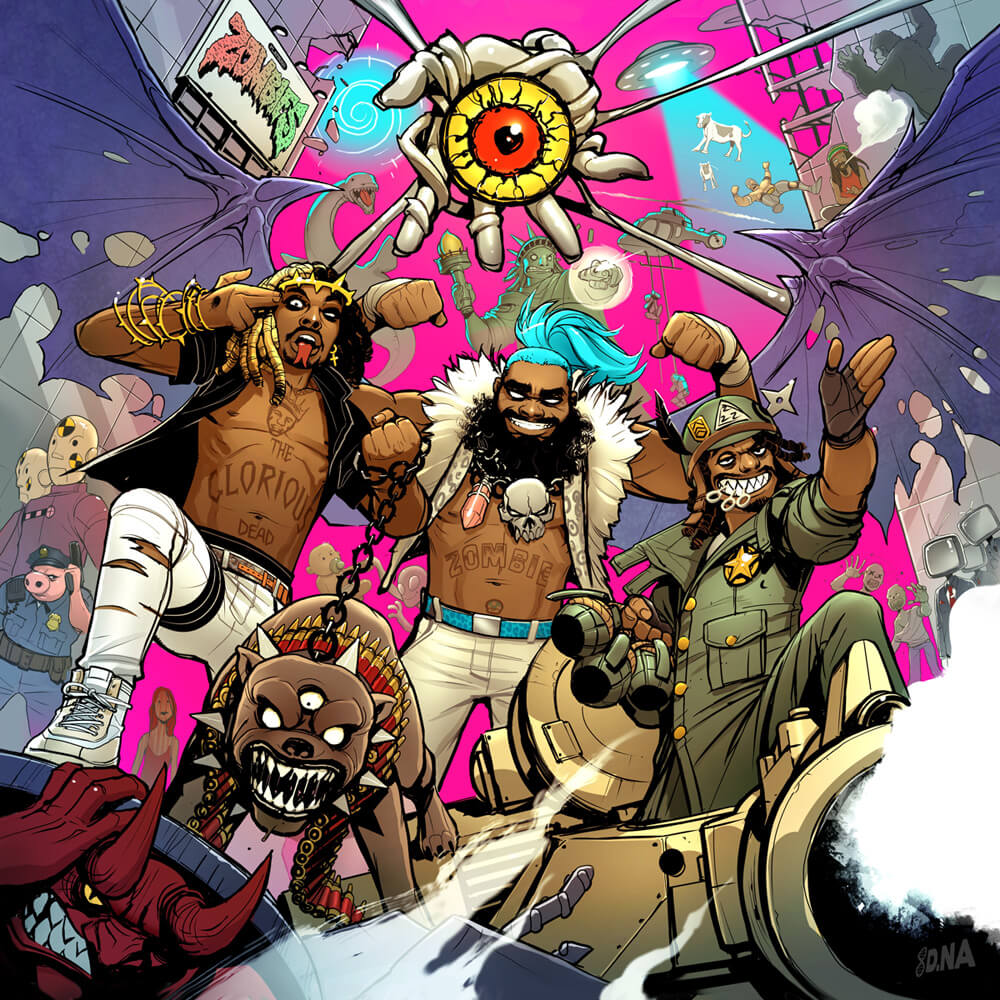 Proud members of the "Beast Coast" movement, along with A$AP Mob, Underachievers, and Pro Era, the Flatbush Zombies dropped a slept-on, yet acclaimed mixtape in BetterOffDead in 2013.
This year, they delivered their first official full-length album, 3001: A Laced Odyssey, and it literally further propels the talent that Erick Arc Elliot, Zombie Juice, and Meechy Darko possess.
Standout are quite a few on this album, including "Bounce" and "A Spike Lee Joint", and show that their mixtapes of D.R.U.G.S. and BetterOffDead only previewed things to come for this unorthodox yet very talented trio.
25. Nyck Caution - Disguise The Limit
We've heard tremendous material over the last couple years from Pro Era's Joey Bada$$, CJ Fly, and Kirk Knight to mostly great reviews and critical acclaim.
Next up to bat is Nyck Caution, and his debut mixtape, Disguise The Limit, handles the Pro Era aura very well. One of the youngest of the crew, his young eyes meets his mature thoughts and he lets his pen cry on quite a few cuts on this release including "Baptize", "Show No Love", and "Basin". There's a lot more to Caution's story, and we're looking forward to hearing more from him.
24. Kanye West - The Life Of Pablo
Let the heat begin. I can handle it, trust me. The best way I can describe this album is a beautiful mess. Kanye, in the very tumultuous personal year he has had, managed to scrape out his long overdue follow-up to Yeezus. While this was a better project overall than the previously mentioned album, this is still fairly much considered an all-over-the-place album.
However, in the moments he hits, he hits HARD. While it took forever seemingly to get a final tracklist from him, the standouts are very, very noticeable. We see bits of "old Kanye" with flame cuts like "No More Partying In LA" and "FML" then he takes us to church with "Ultralight Beams" and presents one of the standout cuts from him in recent memory with "30 Hours". This is another polarizing album from a polarizing fixture but still remains as one of the year's best.
23. Dave East - Kairi Chanel
Harlem's Dave East has been on the lips of quite a number of people since his very impressive Hate Me Now a year ago. Now he has delivered his latest offering Kairi Chanel, which is named after his daughter. Once again displaying his lyrical prowess and considered to be among the new powerhouses of NYC Hip Hop, this Nas-protege has standouts upon standouts on this mixtape such as "Keisha", the police brutality cut "Don't Shoot", and the simply bananas "It Was Written". The new voice of Harlem is set to be a star, especially once his Def Jam debut hits, hopefully in 2017.
22. Elzhi - Lead Poison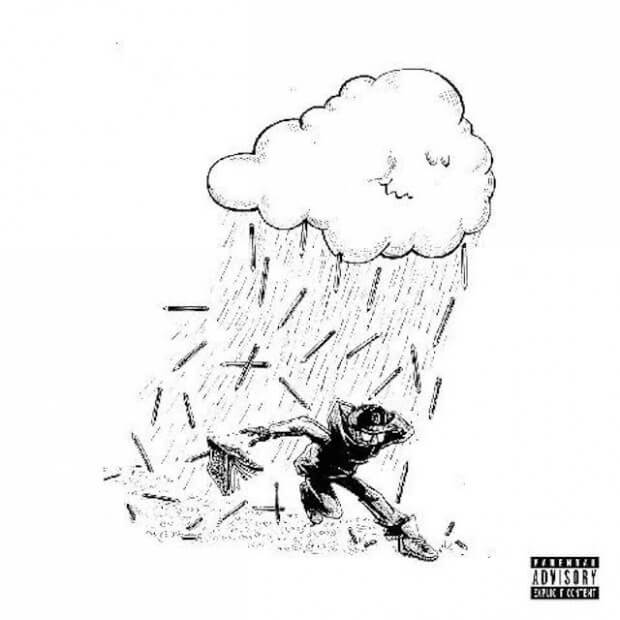 Hard times happen to us all. With artists, it usually leads to some rather compelling work. In the case of one of the nastiest lyricists from the D, Elzhi, it definitely benefited him. Not seen since his tribute to Nas' Illmatic, Elmatic, he went through death and depression for a period of time.
While we're glad he emerged with a newfound appreciation of life as a human being, we're just as happy to hear him spitting again, and with Lead Poison, we get all he had been going through. His most personal body of work to date, Elzhi has emerged from the dark clouds of his life with tracks like "Two 16s", "Friendzone", and the deeply poignant "February" to show that with all he's endured, he still has a story to tell.
21. Joe Budden - Rage & The Machine
Jersey Joe is back at it again. A year removed from what many felt was the album of his career with All Love Lost, he reemerges with another powerhouse album with Rage & The Machine.
Nowhere near as personal or intimate as his prior album, he goes back to shit talking and letting lyrics take center stage, backed up with the very consistent and knocking production from AraabMuzik. Rediscovering his lyrical fire that got him into being one-fourth of Slaughterhouse, this album is one of the most complete albums you'll find within his discography, with banging cuts like "By Law", the Jay-Z salute "I Gotta Ask", and "Idols". Without a doubt, we need more albums like this from this polarizing individual.
20. Torae - Entitled
Coney Island's own Torae is one of the game's most vicious and passionate emcees – and based on his latest endeavor, Entitled, nothing has changed.
Never taking any shorts lyrically, Torae brings fire on every cut as if it's last time spitting. Easily blending in with other blazing albums from him like Double Barrel, For The Record, and his fantastic collaboration album with Skyzoo, Barrel Brothers, cuts like "Coney Island's Finest", "Clap Shit Up", and "Let 'Em Know" are exemplary cuts that show that Torae needs to be mentioned a lot more along the elite emcees currently repping NYC and Hip Hop as a whole. With boardwork from the likes of Pete Rock, Apollo Brown, and Premo, this album will heat up your winter.
19. Royce 5'9" - Layers
One of the most complete emcees in the entire game is Royce 5'9″. Proudly hailing from the D, Royce has been known for obliterating mics and crafting very dope albums over the decade and some change he's been doing this. This Bad Meets Evil/Slaughterhouse member dropped his latest album, Layers, to acclaim from everyone who had the good fortune of peeping this release.
Flirting with different styles on this album, he also continues to let us more in into who Ryan Montgomery is, not just as an emcee but as a human being. Balancing the personal with shit talking, Royce has made some of the best music of his career since going sober, and with cuts like "Gotta Know" and "Off", it's clear Royce is still very much a feared, yet respected, emcee.
18. Lloyd Banks - All Or Nothing: Live It Up
The youngest in charge within the G-Unit camp is Lloyd Banks. Seen as the most talented overall member of the crew, we've heard substantial projects from Banks such as his Halloween Havoc mixtape series. This year, he dropped what has to be considered the best work of his career in All Or Nothing: Live It Up, which shows Banks going back to the hungry, raw young Queens emcee that had the world at attention. In short, there's no shortage of heat on this mixtape. None. This is front to back a playthrough release.
Rhyming over some of the most hard-hitting beats you'll hear all year from relatively unknown producers (Save for Ty Knitty-formerly of Infamous Mobb fame), Banks got the chip on his shoulder back with cuts like "Insomniac", "Price Of Life", and "Pledge Of Allegiance" and the result is nothing less than incredible.
17. Havoc & The Alchemist - The Silent Partner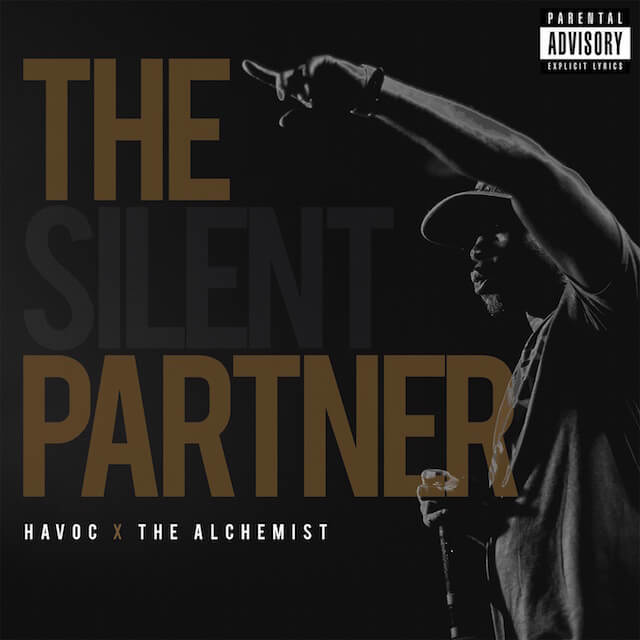 What would a year-end countdown list be without some sort of contribution from Allan The Chemist or without Mobb Deep in some sort of way?
This year comes in the form of both of them, with Havoc collaborating with the longtime Mobb producer Alchemist for The Silent Partner. In 2013, Al and Prodigy came together for the very impressive Albert Einstein and previously hooked up for the even better Return Of The Mac.
Now it's Hollywood Hav's turn, and he does every bit as great of a job. Over some of Al's most brooding production to date, Havoc keeps the same grimy nature that has made him and his partner P legends in the game. With guests contributing such as P himself, Method Man, and Cormega on the AMAZING "Hear Me Now", Havoc holds his lyrical own and Alchemist continues to amaze and impress as one of Hip Hop's most gifted producers.
16. The Game - 1992
Bompton in the house, as Jayceon Taylor brought the heat for yet another year with 1992, which is the follow-up to his instant classic Documentary 2/2.5 from last year. With this album, he goes back to a turning point year for him, which is when he discovered his passion for Hip Hop, but also the time when the gang lifestyle was calling him.
Arguably the best album cover all year, this album also ranks among one of The Game's best, which is saying something considering he already has one of the most consistent and impressive discographies in all of Hip Hop to this day. There's no filler material on here, as Bongo (who was responsible for a great deal of fire on The Documentary 2/2.5) delivers the production goods on this sick album. From "Grew Up On Wu-Tang" to "However Do You Want It", and "The Soundtrack", 1992 is another victory for The Game and shows his momentum isn't slowing down anytime soon.
15. Chance The Rapper - Coloring Book
The most surprising breakout act of 2016 is Chance The Rapper, a promising emcee from Chicago that has been putting out highly acclaimed material for a few years now. Attracting the attention of the likes of fellow Chi-town native Kanye West, Chance appeared on West's aforementioned The Life Of Pablo on the all-star gospel fest "Ultralight Beam".
Now we have Chance's this mixtape, Coloring Book, which is a FAR cry from his previous mixtapes, especially the most recent Acid Rap. This mixture of hood-hop and early Sunday morning service, Coloring Book showed his star appeal with this triumphant release. With the majority of the mixtape delving into subjects like God, spirituality, and overcoming dark moments, this was arguably the most upbeat and positive albums all year, and it was right on time.
Cuts like "Angels", "Blessings", and "Finish Line/Drown" featuring T-Pain and Kirk Franklin make it accessible for not just the Jesus seekers, but the ones who just want some positivity in their lives musically, and Chance spoke to all of the above. Not to mention he made history for being the first unsigned artist to be nominated for a Grammy, much less at least four. A new star is here folks.
14. Royce 5'9" - Tabernacle: Trust The Shooter
Earlier we reviewed Royce's Layers, which showed us more personal images of Detroit's finest. Before that, as in a week earlier, Royce dropped an EP teaser, Tabernacle: Trust The Shooter. In many aspects, this EP was even crazier than Layers.
While there were two cuts that were on both releases ("Wait" and the haunting yet powerful "Tabernacle"), there were other cuts like "Black History", "Which Is Cool", and "Rap On Steroids" which are just ferocious and easily is among the most fire releases Royce has delivered to this day. The thought is obviously "What kind of full-length would this have been?" In any case, this is power-packed and highly flammable.
13. De La Soul - And The Anonymous Nobody
The legendary De La Soul returned to the stage, or should I say the booth, after twelve years with their Kickstarter crowd-funded album, And The Anonymous Nobody. This Grammy-nominated album (their first ever) was highly anticipated, and the result was a very De La album: full of unexpected surprises and different sounds.
While not the boom bap previous albums like The Grind Date and Stakes Is High are, And The Anonymous Nobody still has a very vanguard appeal to it and shows how far to the left these three highly revered emcees still are.
With guests ranging from Usher, 2 Chainz, and Snoop Dogg to Talking Heads front man David Byrne, this album is an acquired taste but those willing to give this a chance will realize that this is a special album which shows that after thirty years, De La still know how to push boundaries and artistic envelopes. As far as they're concerned, stakes are still high.
12. Oddisee - Alwasta
Fresh off his simply excellent album from 2015, The Good Fight, Mello Music's Oddisee emerged this year with a surprise EP titled Alwasta, which is definitely more somber and possibly more intimate than The Good Fight. However, Oddisee's ability to present stories that everyone can relate to all around shows his blue collar approach to giving people stuff we can all feel.
Among the best producers you've always slept on, Oddisee brings some more of his best with tracks like "Lifting Shadows", "Slow Groove" and "Asked About You", and while we eagerly await his next solo offering, we can vibe out to this impressive follow-up EP to one of last year's most pleasant surprises.
11. Ka - Honor Killed The Samurai
Among the shadowy, fog-laced streets of Brownsville comes seasoned vet Ka with yet another fantastic collection of gritty street life mixed with priceless mental jewels with Honor Killed The Samurai.
Approaching the album with a "samurai" mentality, we get blessed with occasional samples of kung-fu masters spitting gems to students, which is somewhat the point of what Ka is doing to the masses.
Known for very dark and percussion-less production, his whispering-like style is remarkable and tracks like "$", "Mourn At Night", and "Destined" are so wrapped with brooding, after-midnight type auras, mixed with his amazing storytelling abilities, you feel you're sitting on the same cold park benches with him.
10. Rapsody - Crown
What can we say for NC's residential lyrical queen, Rapsody? From her highly acclaimed mixtapes such as Thank H.E.R. Later and She Got Game to her debut full-length album, The Idea Of Beautiful, and her show-stealing verse on Kendrick's "Complexion", Marlena Evans has star written all over her stars.
The newly signed Roc Nation artist dropped her very delightful EP, Crown, at a very important time with the current age we're in. Empowering both Black women and men alike, this practically flawless EP is just another example of why Rapsody is clearly one of the brightest stars next to fully blow.  When Dr. Dre AND Jay-Z proclaim her status as their favorite female emcee, how does one argue?
9. Isaiah Rashad - The Sun's Tirade
Tennessee's TDE representative, Isaiah Rashad, dropped a damn impressive debut EP in 2014 with Cilvia Demo. Heads saw how talented this kid was, and knew he was in the company of greatness. The question was "Could he hold his own with a debut full-length?". The answer is a resounding yes in the form of The Sun's Tirade.
Deeply personal and vivid, this prodigious debut from Zay is the type of debut that legacies start to build upon, with tracks like "4 The Squall", "Free Lunch", and "B-Day". Tackling subjects like suicide, depression, and heavy drug usage, this debut is just that intriguing to get to know a little more about the South's newest critically acclaimed star.
8. ScHoolboy Q - The Blank Face LP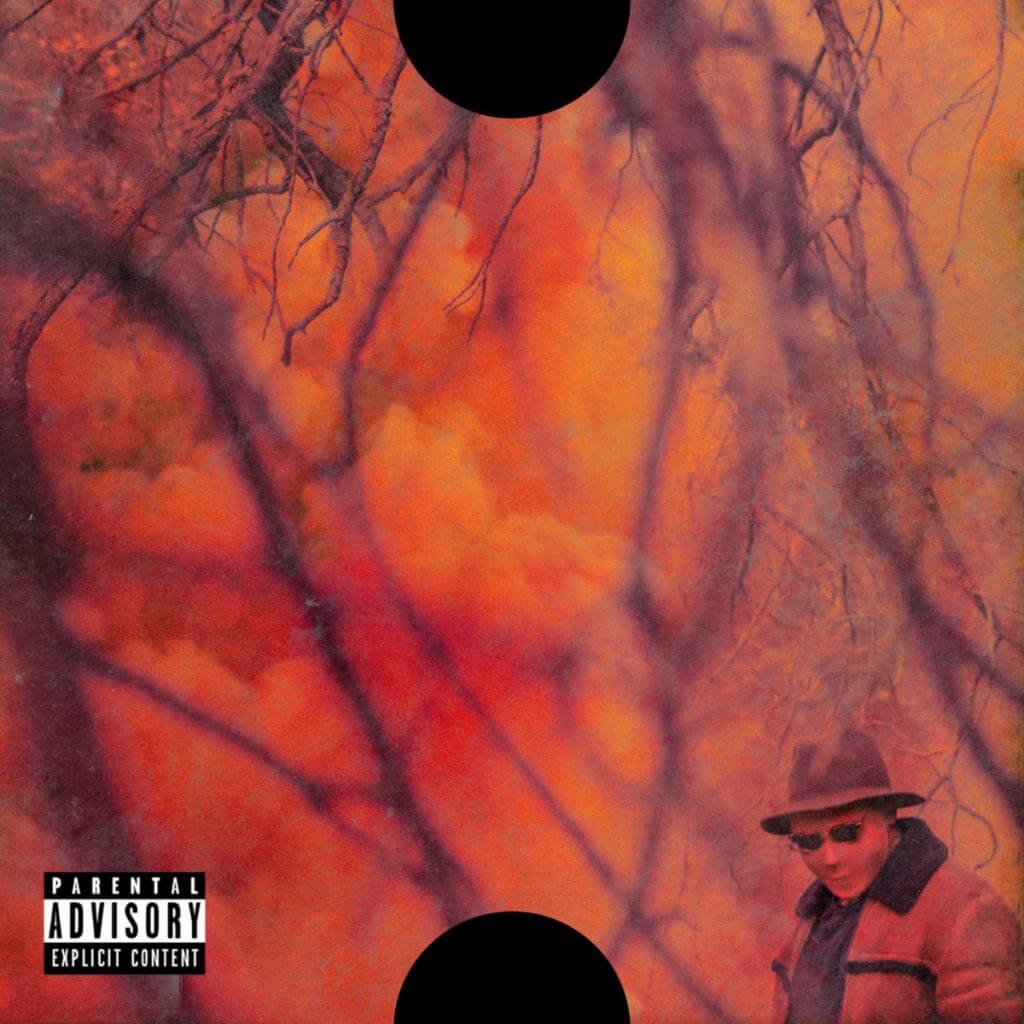 Staying the mighty awesome TDE for a second, ScHoolboy Q officially tasted stardom two years ago with his platinum album Oxymoron. The Grammy-nominated album delivered heat after heat and we knew this would only be the beginning. The album has been heralded as one of the best major label debuts in years, and rightfully so.
This year, he followed that up with perhaps an even better effort with The Blank Face LP. Even more gritty, the Hoover Crip balances catchy radio hits with vivid tales of street life and drugs. Way too many standouts on this one, ScHoolboy Q delivers in so many ways on this album and highly deserves to be mentioned in Album Of The Year talks with any publication or from any fan of TDE.
He may not be the thinking druggie like Ab-Soul, the conflicted poet like Kendrick, or the introverted hustla like Jay Rock, but his niche is simple: the no-frills gangsta that gives no fuck what anyone thinks. One should expect another Grammy nod for this outstanding release.
7. Apollo Brown & Skyzoo - The Easy Truth
What do you get when you put one of the game's most technically gifted emcees with one of the game's hottest in-demand producers? You get The Easy Truth, which is the name of the debut collaborative effort between Skyzoo and Apollo Brown.
This is just pure boom-bap Hip Hop. No frills, plain and simple. Both guys are known for widely acclaimed projects before this one and with The Easy Truth they have presented one of the most complete projects of the year – with cuts like "Visionary Riches", "Couple Dollars", and "Jordans & A Gold Chain", this is clearly an album that we'll still be discussing years later.
Detailing hardships while trying to make it in Hip Hop, Sky painted a dazzling picture of the struggle and the smoke and mirrors associated with the business. With Apollo providing his brand of phenomenal board work, The Easy Truth is nothing short of stunning.
6. Danny Brown - Atrocity Exhibition
One of the most interesting fixtures in Hip Hop is Detroit representative Danny Brown. His very unorthodox style is seen as an acquired taste for some, but the self-proclaimed Hip Hop rock star dropped what has to be considered the best effort of his career with Atrocity Exhibition.
If there was such a thing as a Hip Hop punk album, this might be it. Clearly a psychedelic trip from an avid drug user, this album also comes out as borderline brilliant. Grim in some aspects, cleverly strategized in others, this is an album that will define Danny Brown for many years to come.
With stunning cuts like "Lost", "Rolling Stone" and the Black Milk-produced knocking posse cut with Earl Sweatshirt, Kendrick Lamar, and Ab-Soul "Really Doe", this easily outdoes any album before it, but you have to wonder how much deeper into his own abyss will he fall.
5. Ab-Soul - DWTW (Do What Thou Wilt)
TDE's lonely stoner AB-Soul has been the most anticipated emcee to drop a new album this year that's not named Kendrick. All eyes were on him to follow-up what was a slightly disappointing album in 2014's These Days…, and boy did he deliver with DWTW.
Unquestionably his best album since 2012's Control System, DWTW is part ode to women, part deep angst thinker with clear chips on his shoulder. In any event, this album is basically breathtaking and has been in serious talks of being the best of the year. With cuts like the amazing "D.R.U.G.S.", "Invocation", and "Threatening Nature", it's not hard to see why. His best lyrical effort in years and over some of the best production he may have ever rhymed over, Soulo has hit a new career benchmark.
4. A Tribe Called Quest - We Got It From Here...Thank You 4 Your Service
In what was undeniably the year's biggest story, we got a new (and final) album from one of Hip Hop's most beloved and legendary groups, A Tribe Called Quest.
After the saddening passing of member Phife Dawg, heads basically knew Tribe was gone as well with him. Known for delivering some of the most timeless albums of any era within Hip Hop, this new Tribe album was just the great news the culture needed, and it didn't disappoint whatsoever.
Tribe's remaining members Q-Tip, Ali Shaheed Muhamad, Jarobi White, and honorary members Consequence and Busta Rhymes, gave us a swan song to always remember with We Got It From Here…Thank You 4 Your Service. Exciting collaborations with guests such as Elton John, Jack White, Kanye West, Kendrick Lamar, Taleb Kweli, and Andre 3000 made the album even more intriguing, and with cuts like "Conrad Tokyo", "Killing Season", and "Kids", this album sounded like a vintage Tribe album, only with a 2016 twist.
Even though it's bittersweet (don't trip, we did get some Phife verses posthumously), we rejoice in the final curtain call of a group that defined perseverance and greatness. Take a bow guys, you deserve it.
3. J. Cole - 4 Your Eyez Only
If there's one person in Hip Hop that has had a historic past couple of years, it's been NC native J. Cole. Making history as the only Hip Hop artist to go triple platinum with no guest features with 2014's 2014 Forest Hills Drive, Cole became one of the most important voices this generation. Willing to abandon stardom in order to make honest, personal music became his agenda and his mission, and he greatly continued it with 4 Your Eyez Only.
Perhaps even more poignant than before, he tackles subjects such as prejudice, marriage, fatherhood, and self-conflict with honesty and openness on cuts like "The Neighbors", "She's Mine", and the wonderful title track. Can he repeat the same magic he brought with Forest Hills Drive? Time will tell, but don't bet against him.
2. Kendrick Lamar - Untitled, Unmastered
After a career defining 2015 with one of music's modern masterpieces, To Pimp A Butterfly, the Grammy Award winner dropped a surprise collection of unfinished cuts and demos appropriately entitled Untitled Unmastered. Heads had been begging for an album full of performances with what were unreleased cuts assumedly from To Pimp A Butterfly. Top Dawg granted the request, and it was simply astonishing.
For unfinished cuts, cutting room floor cuts, and demos, these tracks were easily some of the best Hip Hop moments of the year. It's scary to think that these unfinished, unmastered cuts were better than the majority of cuts we heard all year long that were mastered and released. Do yourself a favor: just push play and let King Kendrick take you away with his brilliance.
1. Common - Black America Again
Stunning. Beautiful. Wonderful. These are just a few of the adjectives to describe Common's latest album, Black America Again. Not since his seminal classic BE in 2005 have we heard Common sound this good over some of the most breathtaking production of his career, provided primarily by Kareem Riggins, Robert Glaspar, and Frank Dukes.
In this age of Donald Trump running the show, police killing Blacks, and society at large being manipulated, this album couldn't have come at a better time. Common clearly wanted to present the strength of our community through love and honesty.
He celebrates the beauty of the Black woman with cuts like "Red Wine" and "The Day The Women Took Over", while empowering the Black community as a whole with the unreal title track with music icon Stevie Wonder and the staggering "Letter To The Free", but also presents a GORGEOUS tear-jerker with gospel star Tasha Cobbs "Little Chicago Boy", which is an ode to his deceased father, Pops Lynn. This may arguably be the most important album within his entire celebrated discography, and that's saying something considering the aforementioned BE, and classics like Like Water For Chocolate and Resurrection.
There wasn't another album that spoke to us as a whole for healing, communication, and empowerment quite like Black America Again this year. In much the same mold as To Pimp A Butterfly, this album is not just a reminder of how exceptional of a talent Common is, but also speaks to how today's world can greatly influence stellar work while calling for artists and Black people alike to step up and know their worth.
An instant classic, Common has made us raise our fists in the air with pride with this extraordinary piece of work.
Honorable Mentions
Aesop Rock – The Impossible Kid
Yasiin Bey – Dec. 99th
Murs & 9th Wonder – Brighter Daze
D.I.T.C. – D.I.T.C. Sessions
Logic – Bobby Tarentino (mixtape)
Czarface – A Fistful Of Peril
Reks – The Greatest X
Ras Kass – Intellectual Property: SOI2 (mixtape)
Noname – Telefone
Vince Staples – Prima Donna
A$AP Ferg – Always Strive & Prosper
Atmosphere – Fishing Blues
Various Artists – The Hamilton Mixtape
Homeboy Sandman – Kindness For Weakness
Jeezy – Trap Or Die 3
T.I. – Us Or Else
Termanology – More Politics
Mr. Lif – Don't Look Down
Tech N9ne – The Storm
Kevin Gates – Islah
Smoke DZA & Pete Rock – Don't Smoke Rock
Mick Jenkins – The Healing Component
Westside Gunn – FLYGOD
Blueprint – Vigilante Justice
Ugly Heroes – Everything In Between
Vinnie Paz – The Cornerstone Of The Corner Store
Ill Bill – Septagram
Apathy – Handshakes With Snakes
Slaine – Slaine Is Dead
Wise Intelligent – Stevie Bonneville Wallace
Sadat X – Agua
Kool Keith – Feature Magnetic
Craig G – I Rap And Go Home
As you can see, this has been a year of polarizing Hip Hop. When the music was good, it was great, and in the cases of Common, Cole, and Tribe, new instant classics have been presented for our ears.
While this may not have been as extensive of a crazy year as say 2014 and 2015, artists made a last ditch effort to help 2016 be an excellent year for Hip Hop. We also have seen how these things work. The year is not over, as The Lox's first full-length studio album in seventeen years, Filthy America…It's Beautiful will drop on the sixteenth of December, and could VERY easily be added to the Honorable Mentions list simply because of being a late entry.
Next year, expect potentially new landmark releases from Kendrick, Nas, the reunited Pete Rock & CL Smooth, and the HIGHLY anticipated Run The Jewels album, RTJ3, among many, many others. While I'm almost certain to get heat over some on this list, please remember, IT'S MY LIST. You can have your own and no one will get mad, trust me. However, do me one favor, if your favorite album or albums didn't make the Top 30, at least look to see if they made it onto the Honorable Mentions before bitching, which means, although it wasn't in constant and consistent rotation doesn't mean it wasn't a good album. Nothing wack makes my list, believe that.
With that, I'm gone. Hope to see you again in 2017, or sooner if situations warrant.